In these dark days of financial collapse and (f)unemployment, it's natural that more and more people are on the prowl for a job. Want a competitive edge? You don't have to be a web designer or an awesome graphic designer to take advantage of Flavors.me. And it does feel like taking advantage. (I fully expect a (deserved) rebuke from our own graphic designer, who has actual knowledge of shit like this.)
Make a snazzy, elegant resume or portfolio website in seriously no time flat. Sign up, plug in your basic info, connect as many social media feeds as you please, and wham! Look at that awesome site you made. You must be really skilled, right? You're probably prime employment material already. You do have that glow about you. I bet you would never get drunk on the job, from the looks of it.
Connect Flavors.me to Twitter, LinkedIn, Tumblr, Vimeo, Flickr, WordPress and many, many more, and watch the feeds all coalesce before your eyes, inventing a brand new (effortlessly impressive) you. And if you want to up your level of web-crafting expertise from 'entirely unskilled' to 'mainly incompetent,' you can upgrade to a paid account for $20 a year and use a custom domain. Yeah, did I mention this is all free?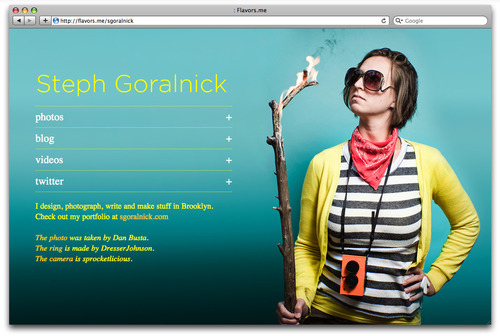 What a great walking stick. Hire her!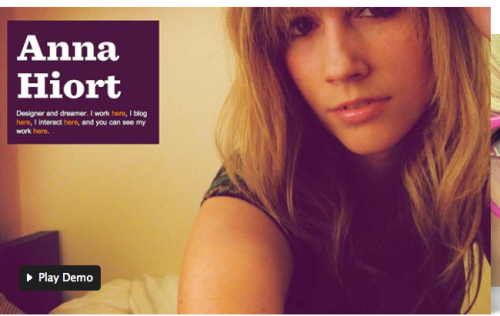 She probably already landed a job.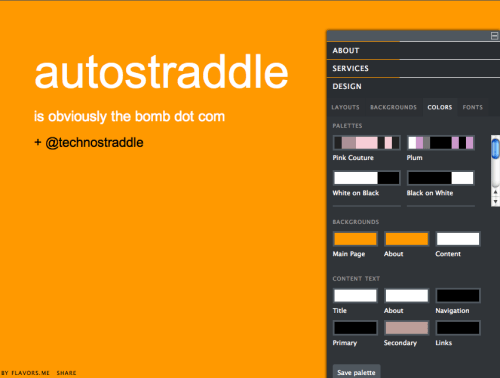 (See? Even we could do it.)