There is a sense of community that comes with being a person of color, but for some of us, settling into that community isn't always comfortable. Because we don't get a membership card along with our birth certificate, finding our identity comes with the burden of having to "prove" yourself. Whether you're bi-racial, adopted, or otherwise ethnically ambiguous, there will always be that person who wants to know, needs to know: "What are you?" And while most of us have a stock answer, secretly we're thinking "I've got no clue, dude." Many of us struggle to prove our authenticity to ourselves first, and find ourselves deeply attached to little reminders of our roots. And those reminders, large or small, become the thread that weaves the stories of our lives. These are a few of those stories.
---
Hannah Hodson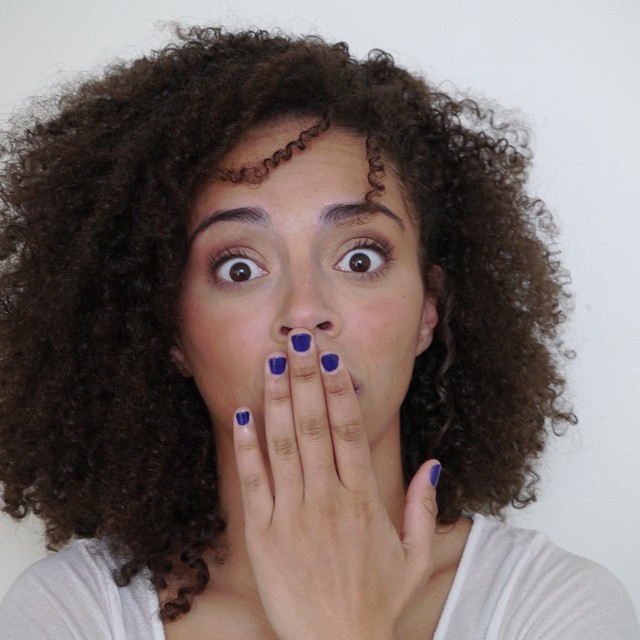 I have always gravitated towards "alternative lifestyle" looks. When I got my septum pierced I was worried people might confuse me for one of "those queers" (It seems my fashion choices have always preceded my self-discoveries). One thing I have always wanted is to dye my hair a whacky color or get it all chopped off into a funky 'do. As I've embraced my bisexuality that urge has only grown stronger. But there's a part of me that has feels a longer standing allegiance to being a biracial woman. In particular, I've always felt like I need something to prove to others and myself that I am authentically African-American. Somehow, even as I remind myself that authenticity is an unattainable social construct, I yearn for a cultural heritage that I might recognize in myself when I look in the mirror.
Once, when I had lice as a kid, my father took me into the backyard and buzzed all of my hair off. He was very satisfied with his handiwork. My father, a white guy, had always been my hairdresser. My Black mother had her hair relaxed since she was a child and in fact the texture of my hair was more similar to the white boy 'fro my father had rocked in his teenage years (before he went bald, that is) than hers. My hair was his domain. This meant that when I got lice it was also his job to slather my head in margarine and a swim cap before bed, boil all of my hairbrushes and discard my scrunchies. After my third infestation, he thought he would just save himself some trouble and just get rid of my hair alltogether. I don't remember having a problem with it.
Upon returning home my mother was devastated that he would "mutilate" me like that. My Jamaican pre-school teacher and nanny told him that he had cut all of my "power" off. While pretty much nobody asked me how I felt about it, these two women were concerned for two very different reasons. My mother had internalized her idea of what good hair looks like: mine. And while she was content to douse her hair in chemicals every month, she saw potential for me. Her hard work and education afforded my sister and I opportunities that she had to fight for. Our fair complexions and loose curls would further help us live privileged lives. Maybe she was jealous? I mean she was also angry because it's ridiculous that my dad thought it would be okay to shave my head without consulting her, but I think she saw in me the image of perfection, and he took that away from her. My nanny, on the other hand, saw my hair as my "power": my Blackness. I think that stuck with me. Not only has my "good hair" been a marker of the many privileges I enjoy as a half-white person, but a way to remind myself that I am genetically, authentically, Black as well. One does not dilute the other.
And so, I rock my natural hair long and wild. I spend exorbitant amounts of money on paraben and silicone free hair products so that I can grow it longer and wider. I hang onto my curls like they are the very things that define me. I think it's difficult to find a sense of balance when you are constantly being told you're "not really black" or "not really gay." Even as I consciously tackle these issues I feel like my hair is my security blanket, my constant. And it is precious. And you may not touch it because it is a mystery to you and that is okay with me. I'd prefer to remain mysterious while I figure my own shit out.
---
Carmen Rios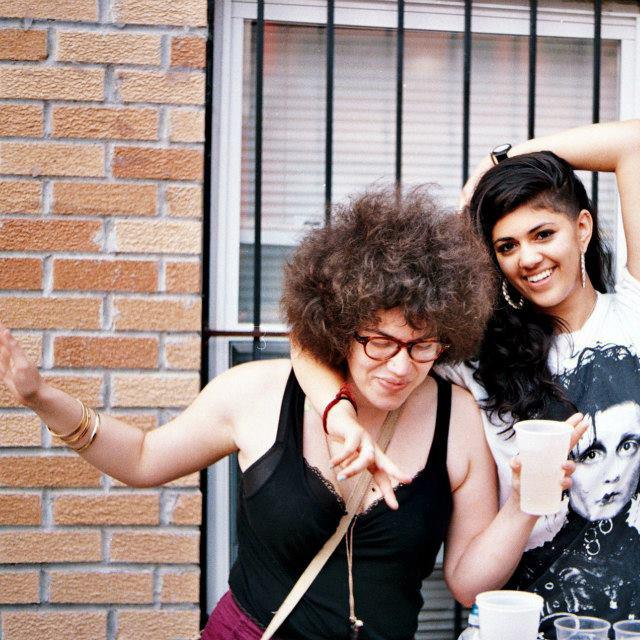 When I was a little girl, I notoriously insisted to my mother that one of her childhood photos was a photo of me. "C'mon, mom, seriously. When did you take this photo of me?" My mom is white, Italian, Bronx-bred and Jersey-raised. I am my mother's duplicate, a tiny reminder of herself. I was raised by my mother and my mother alone, and in every way I am my mother's daughter.
Except for the hair.
When I was younger, back before elementary school, I had long, soft, simple hair that fell in place and got put up in bows and buns and big hair clips all the time. I loved my hair. And then, when I got older, it changed. It tangled almost instantly, grew at the speed of light, and had more volume than any other head of hair in all of my majority-white, suburban classrooms. I was different. I didn't know why. I fucking hated it.
I have my father's hair. My hair stylist as a kid told me the texture was "hexagonal," something she'd never seen before or really studied. By the time I graduated high school, I had attempted to straighten my hair dozens of times. None of the chemicals worked, except one, made up of various chemical compounds that were applied once a year in a six-hour non-stop marathon of hair care. My stylist used to close her shop down and have us show up on a Saturday morning, bagels in hand and magazines at the ready.
Someone told me once that my Puerto Rican roots didn't matter because my father wasn't in my life. "It's not like you're even really Puerto Rican." It all came back in that instant like a flood. I remembered kids teasing me about my hair all throughout my childhood and late adolescence. I remembered crying in the mirror and in the bathroom and on my mother's bed as we tried process after process to make me "normal," "beautiful," white. I remembered the day I cut my hair into an afro, and all the days after that where people verbally accosted me for it, interrogated me for it, judged me for it, made fun of me for it. (And I will most certainly never forget the people who pronounced it Car-Man Rye-Ohs, because that shit ain't right.)
There's this photo of my father that I saw once when I was in his brother's home, and he's graduating, and he's young, and he has an afro. It was years before I would cut my own, but when I eventually did I would think about it and assure my mom I knew exactly what I was doing. "I have dad's hair. I know what it's gonna look like. I know it's gonna work." Sure enough, it rose at the roots and never fell down and stayed all the way up there for years.
My father's hair watched me graduate college without my cap on, watched me buy the leather jacket and boots and go to my first lesbian bar, helped me kiss a girl for the first time. That hair taught me lessons and how to love myself and how to shine and be vibrant and be brave and be real. That hair taught me how to fight. That hair taught me to be weird and different and outrageous and authentic. And in a world where it can be easy for me to feel invisible and forget my own name, it still reminds me who I am.
---
Intern Cecelia
I remember the day I decided I was going to be really, super white. It was the summer of fifth grade and I filled journals with scribbled hate manga to spite all the Carly's, Zoe's and Taylor's of elementary school. Then, I opened a new journal, this time filling it with hundreds of cut-and-paste pictures of beautiful girls in magazines. I didn't know it then, but the privilege of being white passing means having the ability to choose how I'm viewed by others. Because regardless of my cultural background, racially I am pretty damn close to white on the spectrum from brown to white. Being authentically white was as close within my reach as some hair dye and a pair of tweezers, and because of that, I was obsessed with proving I could pass.
Unfortunately, when you're eleven and sick of being bullied and having only internet friends, you don't really see the "caution, permanently internalizing white heteronormative ideals" signs posted ten years ahead in the future. I didn't realize that I was socialized to define success as inherently linked to whiteness, so I feverishly collected trophies (being adopted into rich white boyfriend's family, becoming the bully) to nurse the hope that no one would notice I didn't belong, because it always felt like I was almost there.
In reality, I've always been a Japanese and Jewish southern queer kid raised by a single mother from a lower-middle class background. These are the markers of my identity that, for years, never fit neatly into my plan. I'm unraveling the feeling that I should be ashamed of these things one at a time. A little over a year ago I started chiseling back the layers of my identity to find the queer underneath, eight months ago I actually started calling myself queer, and a few weeks ago I had one of those transcendent moments of self-actualization where my body clicked into the word queer without feeling hesitation or fear.
Truly accepting myself means letting go of the security that comes from trying to fit into convenient categories. I'm not sure what I am these days, but at least I'm not worried about what I'm supposed to be. Being a mixed race queer has taught me that there's probably no way I could ever truly be what I'm supposed to be, anyway. After years of buying into an identity pitted against my own personal love and acceptance, it's nice to finally live in the question of myself. Accepting ambiguity feels like being welcomed home.
---
Alley Hector
I often like to start my family story with names. See, my name is Alley Hector. I made an Iranian friend in Turkey once whose name was Ali and he said, "Hey our names are the same. But that's a man's name." It wasn't the first time I had been called Mr. Ali Hector in correspondence. My surname, my family name, too, is a "man's name." It also sounds vaguely Latino. Indeed, I am vaguely Latina. But not because of this name. This name, my family name, is completely made up.
The man who bore the last name "Hector" was semi-well-meaning dude, now a year dead, who married my single grandmother in 1964 when my mother was 14. He adopted her and my aunt, two girl-children with different fathers, born out of wedlock in 1950's north Jersey. It was a pretty grand gesture so perhaps he deserved to attach his name to ours forevermore. Funny thing was, his father had actually completely made it up when he emigrated from Germany to sound more American. My mother's biological father's surname was Janin, though she had originally gone by Dennis, my grandmother's maiden name, because that guy didn't want to leave his surname behind. Which brings me to my father, who most likely didn't want to leave his either, which is why I am not Alley González. But okay — this is supposed to be about being mixed race, not personal family drama. Unfortunately, for me, one cannot be teased out from the other.
Luis E González was from Caracas, Venezuela, schooling in NY/NJ in training for an engineering job with a prominent oil company. Though I've never seen him, my mother describes him as a short, thin man with olive skin and dark hair. Now Mom is a white mutt from the Tri-State area and I am too. My skin and hair are darker than hers but I still walk this country like the privileged white person I am. But there's still that dark skinned guy, just sitting there uncomfortably in the background of my family tree, with no names lined up behind him.
In elementary school I'd often sign my homework Allison González-Hector and I was always trying to take Spanish lessons or do country reports on Venezuela. I even brought a mildly alcoholic drink to school during presentations one day, a coming-of-age drink you imbibe on your 15th birthday called Ponche crema. And I really did think then I'd have a Quinceañera some day. But by the time I actually was a teenager I wasn't quite as ready to celebrate this culture I really only knew secondhand, this ethnicity of a man who had walked out and never looked back.
Now it feels disingenuine either way.
I was raised in whiteness and I walk through this world as white. I strive to be an ally to my QPOC siblings and seldom claim a space among them. But is disavowing my lineage just as harmful as pretending I have a knowledge of life as a QPOC that I do not? And here's where family drama, cultural context, the larger institutions of racism, and immigration policies get all muddled. Now, where is that immigrant who moved from Caracas to get a degree in the states to help me when I need him? (I mean, I have all these questions, Dad, about who I am and where I come from, what languages I should speak and what my place is as an American.)
Actually, it turns he's in Texas, and on LinkdIn. I found him there about 6 months ago based on his former employer. So I contacted him (you know, just to let him know I had a few questions about life and race and family).
But I'm still waiting to hear back.
---
KaeLyn Rich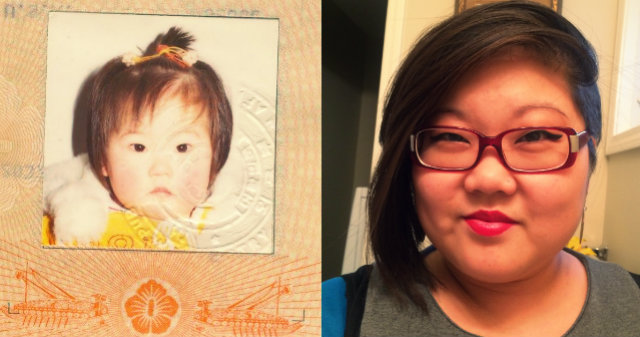 I was one of the smart kids in high school, an A-student, with a whole pod of straight-laced friends who didn't drink or cut class. Like so many young closeted queer-mos, I have always been attracted to the extremes. Something about your feelings and desires and longings frantically trying to claw their way out through your arteries makes us want these things, amplifies the wanting: piercings, wild hair, getting too drunk on cheap beer and red wine, tattoos, skirt-hikes in dirty bar bathrooms, getting the boi or girl in the leather jacket, being the boi or girl in the leather jacket. Whether that was about being the only Korean in my school or about being in the closet or neither or both, the feeling was overwhelming. I can still feel the places in my body scorched by that wanting, that deep frenetic desire.
Somewhere around my senior year of high school, I started to quietly lash out. I kept up my grades, but started wearing funkier clothes and makeup, dyed purple streaks in my hair, went out with older bad boys from other schools, snuck into bars with a chalked ID, and fumbled my way into my sexuality. When I went to college, I picked a school where I'd be the only one from my high school class. The night I arrived on campus, I went to a frat party and made out with girls. By the end of the first weekend, I had pierced my tongue. And before thanksgiving break, I had my first tattoo.
I knew my first tattoo would be my Korean last name, the name I was assigned before I was adopted. My Korean name was probably not my first birth name, as my "origin story" is one of those adoptee story cliches and was probably meant to cover a less sweet story. (On my adoption paperwork, I am a "foundling," meaning no one surrendered me or took me from my first home. I was "found.") My name on my adoption paperwork is Lee Eun Jeong. I can't pronounce it correctly because I don't know Korean. I do know the the "l" in "Lee" is pronounced like a "y" sound in Korean.
I know this because the white guy who did my tattoo of my Korean name was stationed in Korea for four years. When I walked into his shop, he said my laugh sounded Korean. My laugh is different or, uh, distinctive, you might say, but I'd never thought of it as possibly being tied to my ethnicity. Until I finally embraced being Korean, which really only happened a few years ago, I always felt like an imposter, that I was white by nature of the passing privilege handed down by having white parents. That bits of my Korean-ness were showing anyway, despite my best attempts at hiding them, was both unsettling and fantastic. I had him do my name tattoo and two others after that.
My name is KaeLyn Rich, my legal name, the name my parents gave me when they adopted me, the only name I know and answer to, the name I can pronounce. My first name was Lee Eun Jeong, assigned by the orphanage, strange on my tongue. My last name is my Dad's Italian family name, changed from Ricigliano at Ellis Island. My mother's family names are Swedish and German. I am part of my family's legacy, but the legacy behind my family names is not mine, not really. I will never resemble any great aunt or have kids who look like my father's brother. My people didn't live in these countries, eat these foods, wear these clothes. My family is my family, held tight by loving and legal bonds. My family names, however, do not correspond to the nameless baby girl "found;" to the girl with the generic Korean name adopted; or to me, now, the American woman with the pseudo-Gaelic first name. KaeLyn is the name I know, the best version of me, the familiar and the strong and the passing and the comfortable. The foreign name permanently inked on my spine in black and red, I will always be reaching back to.