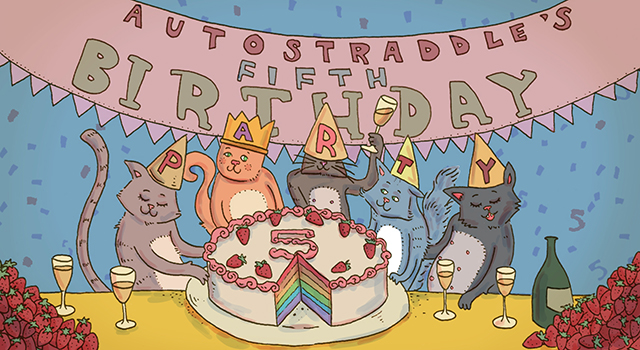 We're celebrating Autostraddle's Fifth Birthday all month long by publishing a bunch of Top Fives. This is one of them!
---
Raise your hands, all ye work-from-homers! I'm right there with you! Except "there" might not actually be your home—it could be the house you are currently house-sitting, the coffee shop down the street, the beach or the park or, goodness I hope so, a "work-cation" where you take a trip to work somewhere pretty (preferably one that has actually given up the winter weather).
So as you're toting around your entire life to all these fabulous places that your higher-stress-than-probably-it-should-be job, the question becomes: how on earth do you keep your work together and organized while you do it? I maybe have a few answers you will like.
---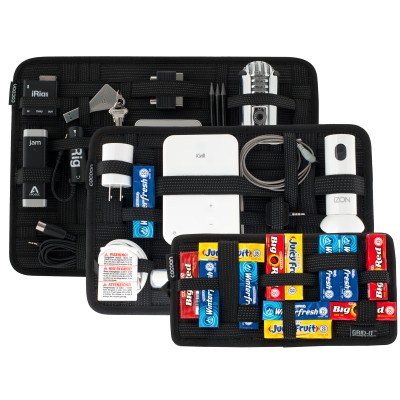 1. Put Everything On The Grid
If you are like me, you've got a million cables and an external hard drive. Not to mention pens, a flash drive, your phone, the power brick for your iPad and a wallet. This is probably a thing you will like — Grid-It is, essentially, a ton of elastic cords on a board that allow you to put everything in your bag all nice and laid out. So when you're fishing for your phone to pay for your Starbucks with that nifty app, fish no more! Just pull the grid out and pull your phone off it instead of spending precious seconds/minutes (depending on the bag, jeez, I have a really big backpack) attempting to locate it. Probably you will lose your wallet less. Probably you will locate a flash drive you forgot about.
---
2. Kick The Paper Out Where You Can
Forget Post-It-Note reminders: you've got nowhere to put them when you're moving around like ya do. Instead, keep your reminders and lists in a place that is syncable and portable. I rotate to-do apps pretty regularly (I get tired of things easily and apps update). Right now, I'm digging Producteev's redesign (with apps for Mac, Android, and iOS), but other v. viable options include Wunderlist, Any.do and Todoist—all of which have free versions and some of which have paid, premium versions. We've also got an entire round-up of to-do apps here, in case those don't really float your boat. Another way to kick your paper habit is to digitize your notes as well— Evernote, One Note, Simplenote and The Journalist are all amazing options (again, all are free and some have paid premium services). If you prefer more a freeform drawing and handwriting style, try Bamboo Paper — Notebook by Wacom or Paper by 53. But I feel you if you can't kick the paper all together — I'm a journal keeper myself. So if you've got physical paper, just remember:
---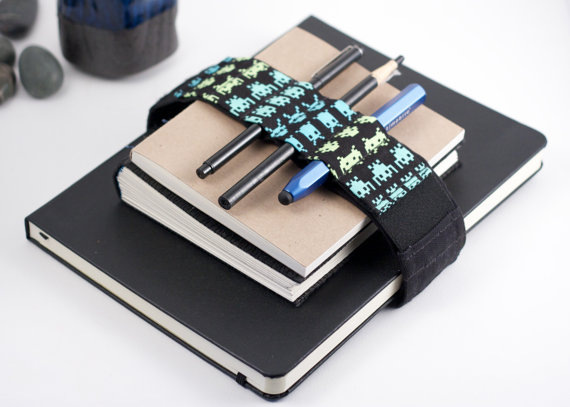 3. Put Like Things Together
Is your work more of the sketchbook or handwritten variety? Keeping your various journals/composition books/doodle books all together is another way to keep your mobile office from looking like a tornado struck your bag, and this Journal Bandolier will keep pens/pencils/paintbrushes attached to them so you can pull everything you need out in one fell swoop. And in this case you get to support an artisan from San Francisco—Emily Oinen, also known as cleverhands on Etsy. The above pictured journal bandolier is space invaders, because I know y'all. But she's got a bunch more different kinds.
---
4. Cut Down On the Amount of Instruments You Carry (or Make Them Travel-Sized)
Another great way to organize your mobile office is to cut down on the sheer amount of crap in your bag. Probably you have a bunch of weird envelopes and cryptic notes you don't need anymore, and yes I'm saying to clear those out. But also be on the lookout for the Swiss Army Knives of office supplies—the combination gadget. My favorite example of this is the above pictured Solid Titanium Pen + Stylus by Big i Design. Why carry a pen and a stylus when you can carry just one thing? Another excellent example is making your phone into your phone and your wallet—you can do that with this Adventure Time wallet, this Bookbook or this Q Card wallet. Also de-bulk the large items you cart around—if you're the kind of freelancer with a lot of creative meetings or a tutor with a math student, carry a whiteboard that rolls up instead of one that doesn't. Do you need your giant over the ear monster headphones, or can you deal with just the earbuds?
---
5. Don't Discount Your File Organization System
If your bag is organized and your tasks are organized it still won't do you any good if you can't find what you're working on. We ran an article on just this topic about a year ago—my number one tip for anyone struggling under the weight of their digital files is to grab a piece of paper and literally draw out your ideal file organization system (the one that makes the most sense in your brain). Then execute that file organization system on your computer. It can seem way less daunting if you map it first. I also recommend downloading a powerful search tool—I've been playing around with Found, which searches files across your Evernote, Gmail, Google Drive and Dropbox as well as your computer and any other additional hard drive you tell it to.
---
This has been the seventy-third installment of  Queer Your Tech with Fun, Autostraddle's nerdy tech column. Not everything we cover is queer per se, but we talk about customizing this awesome technology you've got. Having it our way, expressing our appy selves just like we do with our identities. Here we can talk about anything from app recommendations to choosing a wireless printer to web sites you have to favorite to any other fun shit we can do with technology.
Header by Rory Midhani