Find Your Fit is a style advice column helping real queer people find the masculine, butch, and tomboy styles that make them look and feel hot.
Hello Mika!

I tend to lean femme of centre (when I can be bothered hahaha) but a little while ago I went to a launch party dressed more masc-ish – button-up white shirt, black vest, slacks. This got a LOT of positive response, especially from gay boys — I want that kind of gender-fuckery power. I've had queer femmes call me "lesbian Gatsby," which I'm also into. I know your thing is more about masculinity, but perhaps you'll have some ideas for how to embody a Femme Daddy style since it's been tricky to find examples.

Doing some research, I found that a lot of what I'm trying to evoke can be represented in the hosts of The Weakest Link around the world. Powerful take-no-shit femmes in suits, oh my. Cate Blanchett in Ocean's 8 comes close, though I think we could afford to be a smidgen more masc? Joan Jett's swagger is inspirational, and so are a lot of Dommes, but I'm not a huge fan of leather or latex. I've found that satin shirts with one-size-too-small cropped vests/jackets actually work super well though other ideas for tops are handy. I'm a 12-14 Australian, which I think makes me 10-12 US and I'm rather busty, which can make shirts difficult, but I'm not averse to showing them off necessarily.

Thank you!!!

Tiara

Femme daddy is totally doable, and I think I understand your references enough to try to offer you some looks to what you're trying to accomplish. Let's find some powerful take-no-shit femme fits for you to work with.
Glam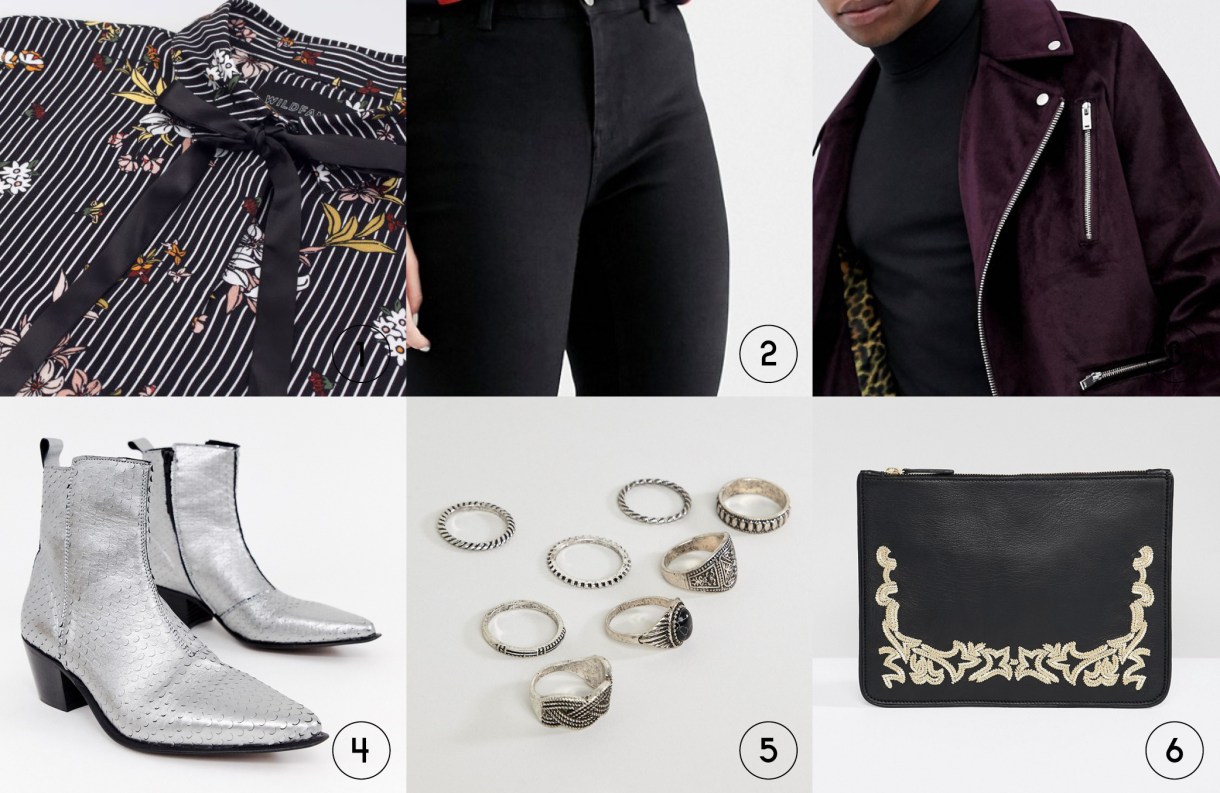 1 / Shirt
2 / Jeans
3 / Jacket
4 / Boots
5 / Rings
6 / Clutch
Inspo:
To be honest, trying to tackle Joan without going for leather proved to be tricky. However, in the midst of this I came to realize another key to her style beyond leather is glam. She juxtaposes a lot of black and leather with one or two pieces per outfit that have some sort of glamorous David Bowie-esque situation going for them. This ranges from velvet to glitter but always accomplishes the same thing, which is to highlight the fit.
Styling:
I picked this blouse from Wildfang because it reminded of something Gomez Addams would wear and somehow that clicks with the energy I think you're trying to go for. The satin necktie is removable so you should be able to wear it in many different ways; play with the tuck of the shirt. I picked these black skinny jeans from ASOS for you but if you already own a pair, just wear those. The next part is super important which brings me back to the glam situation, pairing satin and this velour jacket from ASOS should really give you that rock n' roll Joan Jett feeling without having to do leather or spandex.
Because the outfit is still a little conservative in color, I picked these silver stacked-heel Chelseas for you because a monochromatic fit like this is perfect for these bad boys. Western style elements are really in this season, so if you do decide to wear the necktie you're really gonna be on brand here. Finally, gay sprinkles! I picked this ring pack because the rugged look of them will add a nice touch to your fit and contrast with this embroidered clutch from ASOS also.
Casual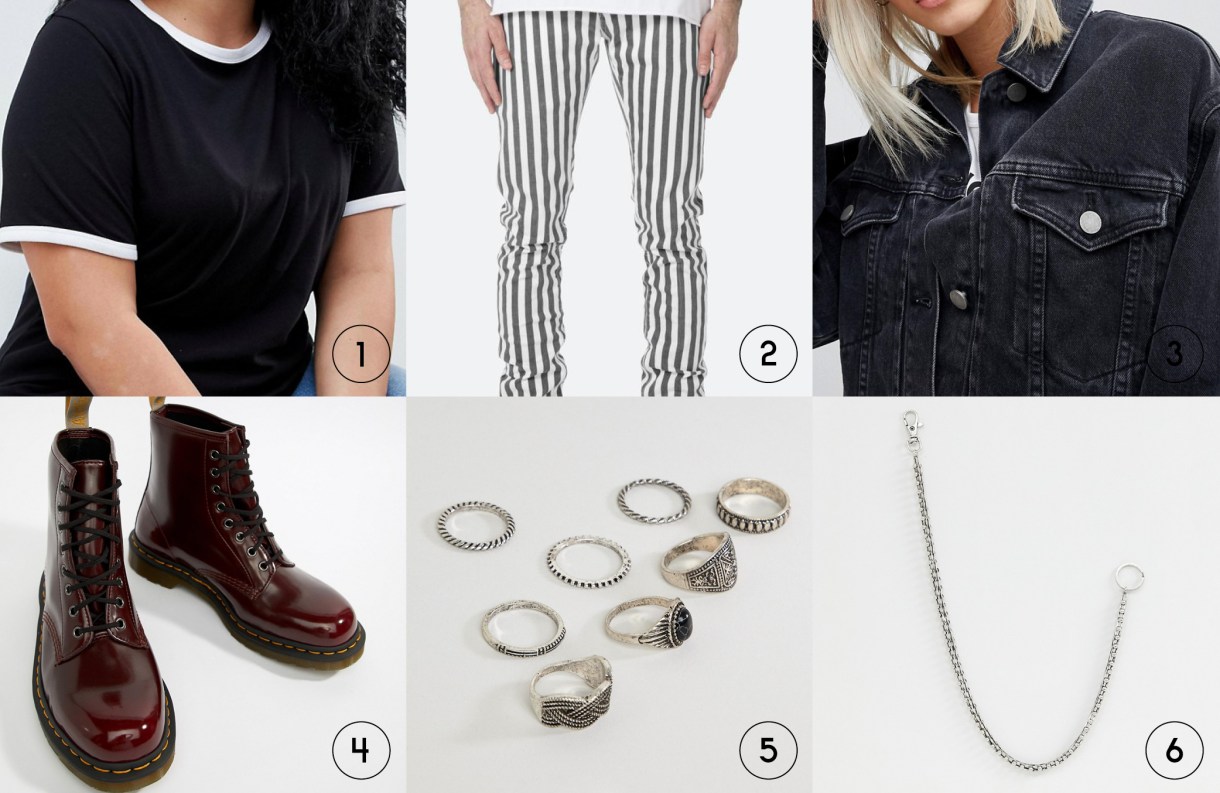 1 / Shirt
2 / Pants
3 / Jacket
4 / Boots
5 / Rings
6 / Chain
Inspo:
For this second Joan fit I wanted to go a little more casual — think Kristen Stewart dressing up as Joan Jett. A little more washed out, more millennial; something you'd wear for a daytime activity. Think Joan on her way to get coffee, or going to class. In this case we swap the highlight or sparkly element for a regular statement piece; same concept, but a little less glamorous. Still cool though!
Styling:
I started this fit with the pants. These striped stretch denim pants from MNML might give you some Beetlejuice vibes which is also, energetically, what I'm going for here. I'm pretty sure they come in pink if that's more your vibe, but I went with the grey ones because to me they seem a little more flexible with your current wardrobe. You could recreate this entire fit also with any sort of patterned pant and you would also accomplish the same — think plaid, checker, etc. Pair these pants with this simple tee from ASOS to ground the outfit. Next, since we're still doing Joan, we have to think boots! I picked these red Docs for you because the gloss finish really is going to make the outfit pop. And finally, if you like to overlay, an oversized washed-out denim jacket is a good alternative to leather. For accessories you can do rings, and/or add a chain to bring your inner bad queer out.
Move I'm Gay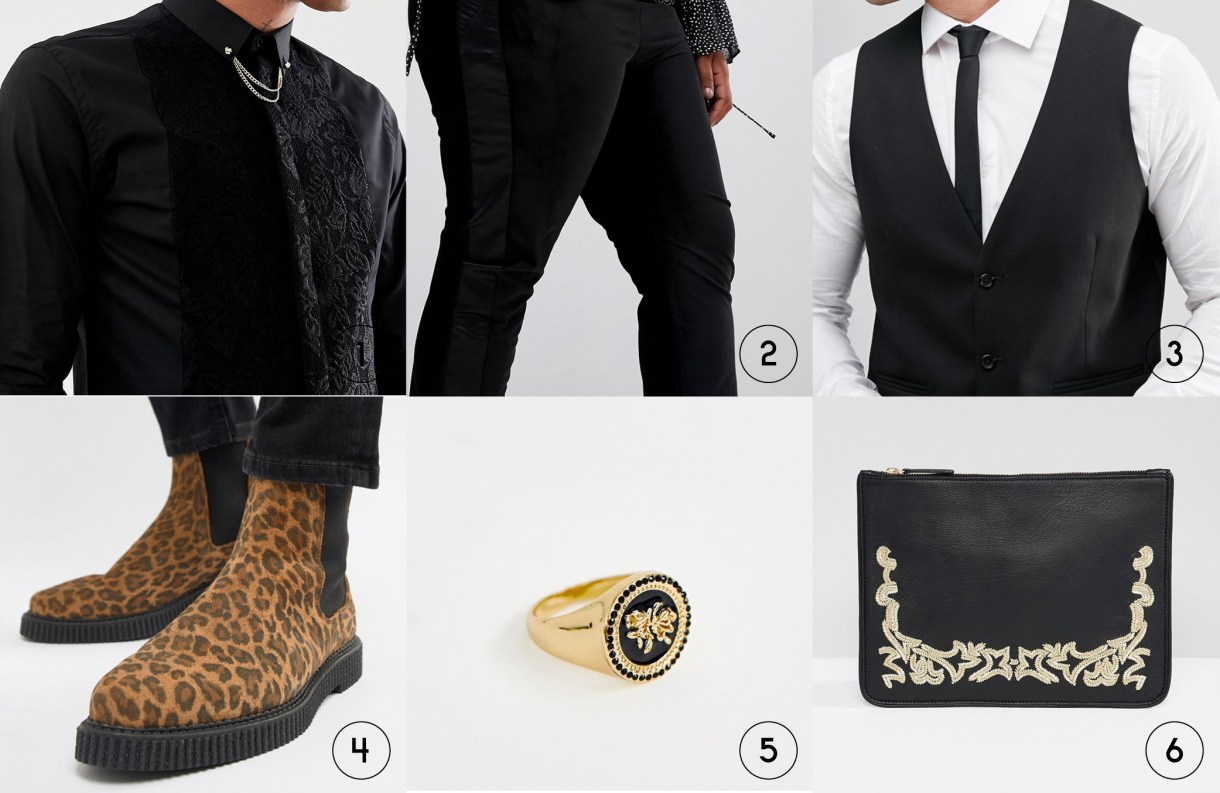 1 / Shirt
2 / Pants
3 / Vest
4 / Boots
5 / Ring
6 / Clutch
Inspo:
There's a Cate wave rising and honestly I'm riding it, because it's Carol season. Lou definitely has the whole femme daddy aesthetic down. For this fit I was thinking of more casual Lou; formal pieces but no suit. She might have some errands to run and then wants to grab a drink with a friend. To make it a little more masc we just have to watch for the cuts of the pieces and we should land inside that sweet spot you're looking for.
Styling:
The key to this whole look is textures, coming back to a monochromatic look, but thinking of ways to make it pop. This shirt from ASOS has a balance of things I think you should look for in your pieces: the black straight cut of the shirt brings sharpness into the fit, the lace adds a delicate and alluring touch and the collar chain brings that edge to tie everything together. Wear the shirt with these with these velvet black pants and play with how you tuck it in. I would recommend actually leaving it untucked and wearing the vest open.
Finally, add some color and Lou flare to the look with these leopard Chelseas; these boots contrast with the silver ones from the first fit, having a more creeper-looking sole should give you a more masculine silhouette.
---
For help finding your fit, write to mika [at] autostraddle [dot] com with a little about yourself, your personal style icons, your size(s), and three or four selfies in your current favorite outfit(s)!