Find Your Fit is a style advice column helping real queer people find the masculine, butch, and tomboy styles that make them look and feel hot.
From reader Lindsey:
I'm a Gemini with moon in Leo, so I want to both fit in and stand out. I have been questioning my gender (both identity and presentation) for years and I've been really uncomfortable with it in the last couple of months. The best I can describe myself right now is that I'm most likely not a man, but the degree to which I feel like a woman kind of fluctuates. I want my chest to be flat, and I like a mix of hard and soft in my looks, if that makes any sense! For example, I'll pair kind of masc/androgynous shirts with a soft floral infinity scarf.
At work: I'm a financial planner specifically serving queer, trans, and polyamorous individuals and families, so I need to dress business-y, but I also want to look queer. I've attached pictures of a couple outfits I've liked lately. I wear the same pair of black oxfords to work every day. Also, my office is always cold and my space heater recently got banned, so the bare-ankle looks that I love on other people are not warm enough for me!
Outside of work: I spent the first 20-something years of my life just wearing band t-shirts and chucks, and I would really love to feel more put-together and intentional with my fashion than that. I have black Docs with colorful floral embroidery, and I wear them kind of constantly. I've also been wearing a lot of muscle tanks and high-waisted pants. I'm into floral-on-black, layers, flannel tied around my waist, and stud earrings. My hair is shoulder-length now, with some blue-green hidden under the dark blonde.
Style icons: Dan Owens-Reid, AC Dumlao, Elliott Alexzander
Thank you for this series <33
Lindsey
she/they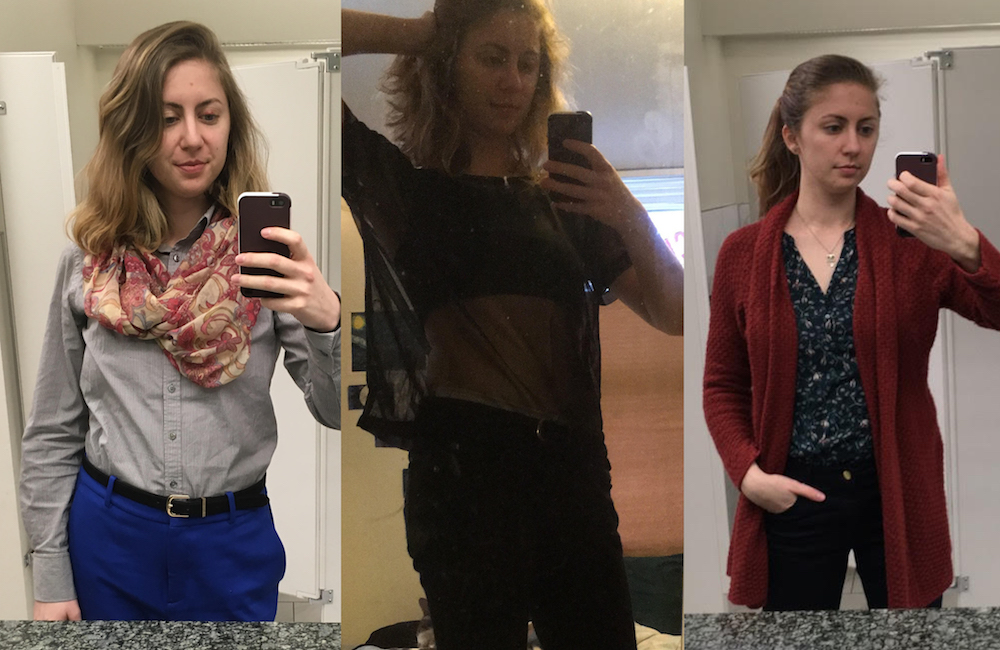 The desire to look business-y and also queer is so real. Your style icons offer some great ideas for looks that add some interest to the basics and black pieces that you already have, and can be dressed up or down for in or out of the office. Since you mentioned you love layering, we'll give you lots of options for looking put-together while keeping that mix of hard and soft you like.
Monday at Work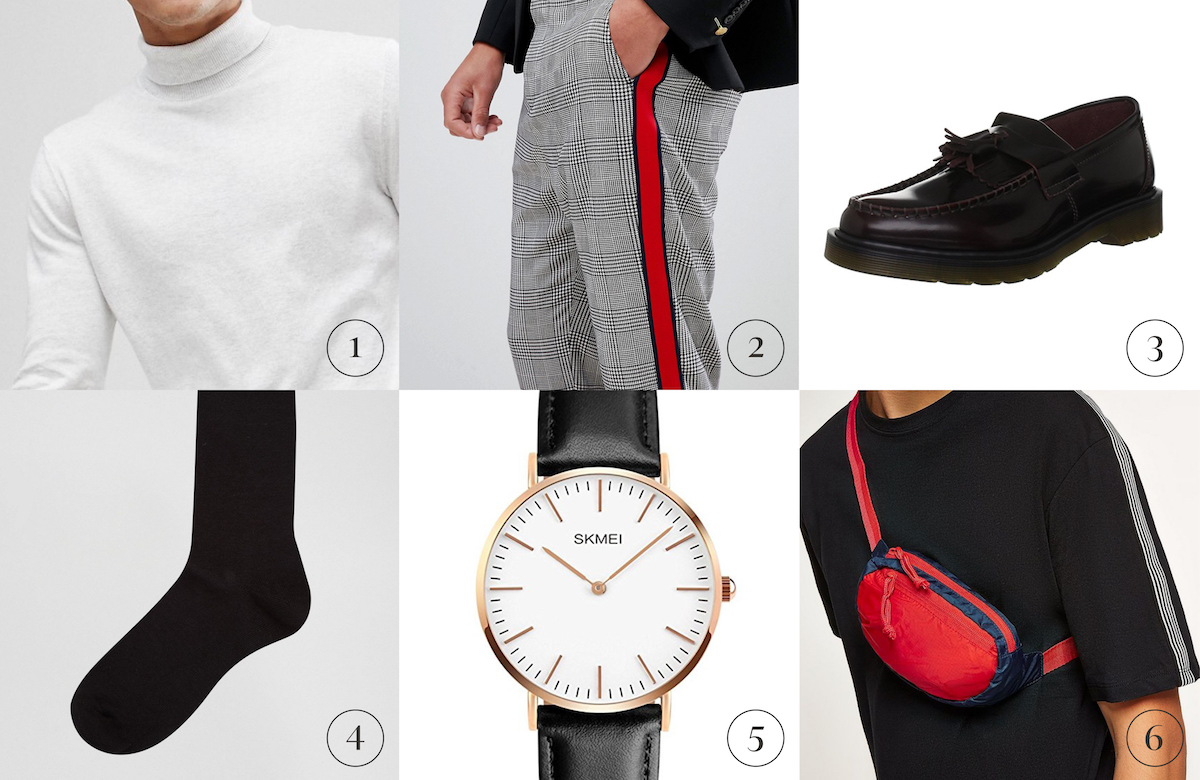 1.Turtle Neck // 2. Pants // 3. Shoes // 4. Socks // 5. Watch // 6. Bag
Inspo:
AC made the most sense as a starting point for putting together the perfect business queer look. They do a fantastic job of matching their pieces to look put-together but effortless — the key is their attention to color and styling their pieces right.
Styling:
For you specifically, I want to take into account your office setting and shift away a bit from traditional 'business looks' — for example, you already know how to rock the trouser/belt/shirt/blazer (as seen in your awesome selfies) so I want to give you fresh ideas and bring in more styles that are current to build on the work looks you already have.
For this fit I chose trousers with a side stripe; this adds fresh color to the more traditional palettes found in typical menswear and graphic detail that can elevate the pant itself. I also picked a light turtleneck that you should be able to wear comfortably in your office since it's always cold. I would tuck it in the trousers and not wear a belt with it; this will make the fit look more stylized and crisp.
Knowing you love Docs, I stayed in that lane and picked some Doc loafers for you; Docs have that loud but classy feel to them, and that to me seems very queer. Because you wear a lot of black I would recommend getting a cherry tone, just something to break from the black a little. You can absolutely wear these shoes and any shoe with socks (so you aren't cold), just make sure the socks are light smooth fabric so you don't lose the sophistication.
I know you didn't ask for hair advice, but I would also suggest maybe playing with ways to wear your hair — some sort of messy bun situation would really take this fit (especially with the turtle-neck) to another level.
I picked a cross-body bag for you; those are very on trend and this red sporty one actually connects with the sport element of the side stripe of the trousers.
Casual Friday

1. Neckerchief // 2. Pants // 3. Boots // 4. Tee // 5. Bracelets // 6. Shirt
Inspo:
Dan's style is all about repurposing clothing and layering, with strong California chill vibes and a touch of americana. The key is in learning how to layer pieces together.
Styling:
For this fit I wanted to put together something you could rock at work on a casual Friday, a cute date, or any sort of daytime activity.
Layering a graphic tee with an over-shirt is always the way to go on these looks. I would recommend tucking your t-shirt in to add that extra touch and wear the over-shirt tucked out. I picked some green chinos that would go well with any sort of boot or sneaker, making it as formal or as casual as you want. Since you already have those dope Docs I picked some for you, but honestly you could just rock the ones you already have. I would definitely think about cuffing the pants a bit, just to add another little styling element.
Since you said you enjoy scarfs, I picked a little bandana neckerchief. I would make it as thin looking as possible and in terms of how tight, I would say play around; when I used to rock these 85 years ago I wore them very loose around the neck, so it's all about you and your comfort levels.
You can continue to add accessories or layers for more options; I don't know where you live so I'm not sure if adding another layer would be a good idea, but if you do live somewhere cold, think about adding a jacket that cuts slightly higher than where the overshirt does. For now I picked some leather bracelets that you can add in; if you do wear some sort of bracelet roll up the over-shirt sleeves!
Evening Out

1. Shirt // 2. Jeans // 3. Boots // 4. Earrings // 5. Jacket // 6. Watch
Inspo:
For this final fit I took inspiration from Elliot and her fantastic take on simple pieces. She works with tons of tops and jeans and adds that extra touch that take her looks to the next level. The key is in how she contrasts pastel or lighter tones like whites, pinks, and blues with black, and finishes up with the right accessories.
Styling:
I put together a look that would work very well with things you already have. Any sort of dark denim will work well. Since I see you already have some sort of black jeans/pants I decided to play with a high-waisted washed black jean.
You can style these with your Docs or any shoe however you want, play around with cuffs, maybe a wide cuff if you decide to tuck in the shirt and leave a couple buttons open. The shirt itself you can buy fitted to you or you can go a size up; if you do this, think about tucking it in and wearing it as if it was oversized.
Have fun with your accessories; I picked some really rad snake stud earrings for you! Again think about how you wear your hair with these, maybe you wear it down and tuck one side behind the ear? There's many ways you can wear your current length hair, I encourage you to experiment with it in conversation with your outfits. The same watch from the first fit could go well with this fit too.
I picked a biker faux leather jacket in case you live somewhere where it gets cold at night. If you do decide to rock a jacket it can be any style you want, just make sure it's some sort of dark tone so it doesn't take away from the focus, which is the shirt!
---
For help finding your fit, write to mika [at] autostraddle [dot] com with a little about yourself, your personal style icons, and three or four selfies in your current favorite outfit(s)!