When I was younger, I, like many baby queer women, had a real strong love of all things witchy. I stayed up late to watch Bewitched and The Addams Family reruns on Nick at Night, played The Craft with my friends and modeled my middle school style after Rochelle, inhaled every Harry Potter book the day they were released, and watched Practical Magic so many times I could probably recite the script by heart. Even my root (The Little Mermaid don't you dare judge me) has one of the most iconic witches with arguably the best song in it. What can I say, I just really love a witch.
This love took many shapes over the course of my life, but somewhere along the way during my teen years it fused with my love of fire. I got really into candles and learning lighter tricks and started hiding matches and candlesticks under my bed cause witches simply did not fly in my mothers house. Of course there's only so long you can keep something like that secret, so I got in trouble and my step parent at the time was sent to warn me that if they found one more fire related thing in my room I'd be grounded for eternity.
I had no interest in eternal grounding and with no outlet for that fire sign energy of mine, it should surprise no one that this coincides perfectly with the time I started to get really into cooking. Fire is fine if it's happening in the kitchen! Plus if you don't think cooking is magic, well, you've been mislead! I can't think of anything more stereotypically magical and witchy than stirring together a bunch of ingredients, adding heat, walking away, and coming back to find a completely new structurally and texturally transformed delight that you can eat while daring to see if you've got it in you to finish watching Marianne on Netflix. This time of year while everyone is gearing up to get dressed up for Halloween and there's so much focus on the magical and occult energies in the world I can't help but feel like I'm an adorable kitchen witch whipping up edible spells and potions and bringing happiness into the world.
I think this week's recipe is really big on happiness. Especially since it's made special for my-pumpkin loving vegan friends! It's also my absolute favorite coffee cake recipe i've ever written. I decided I wanted every aspect of fall coffee cake and quickbreads that I love to be incorporated into this bread and as a result we've got a sweet & salty (vegan) butter crumb topping, a lightly spiced and not too sweet pumpkin cake with a wickedly moist crumb, a ribbon of cinnamon sugar running through it, and it's finished off with a maple syrup glaze.
It's basically a one-stop shop in pumpkin cake form and I can't get enough. The way the saltiness of the crumb and the sweet maple glaze compliment each other really sends me over the edge. So does the moment my tongue finds that sweet cinnamon spiced ripple inside the cake. All the textures, all the flavors, all the fall happiness, none of the environment destroying dairy. Incredible. Of course you can very easily make this with non vegan eggs and butter, but whatever your dietary life involves I hope you'll give this iteration of the recipe a try first. It's so good my picky best friend who doesn't like dessert ate it and asked for more, and the other wrapped some up and took it to go and only informed me of such on the way out cause she knew I might fight her on it. This has made waking up to less and less light every morning a breeze cause I know there's a perfect slice of cake and hot cup of coffee waiting for me on the other side of the blankets.
So throw on a spooky playlist, maybe a witch hat if you look cute in them which I bet you do, and make some magic in your oven this weekend.
---

Ingredients:
For the crumble:
2/3 (40g) cup all purpose flour
1/3 cup (65g) brown sugar
1/4 teaspoon ground cinnamon
1/2 teaspoon vanilla extract
1/2 teaspoon salt
4 tablespoons (57g) unsalted vegan butter, melted
For the cake:
1 1/2 cups (180g) all purpose flour
1 teaspoon salt
1 teaspoon baking powder
1 teaspoon baking soda
1/4 teaspoon ground ginger
1/4 teaspoon ground nutmeg
1 cup (225g) pumpkin puree (NOT pumpkin pie filling)
3/4 cup (150g) granulated sugar
2 flax eggs*
1 tablespoon apple cider vinegar
For the cinnamon swirl filling:
1/3 cup (65g) brown sugar (preferably dark brown)
1 1/2 teaspoons ground cinnamon
For the maple glaze:
1 cup (125g) powdered sugar
1/2 teaspoon vanilla extract
1/4 cup plus 2 tablespoons (3oz) maple syrup
1/2 tablespoon warm water
*note: One Flax egg = 1 tablespoon ground flax seed stirred into 3 tablespoons hot water. This recipe uses two!
---
Preheat oven to 350° F. Butter a 9 inch round cake pan or 8×8 square baking pan and line with parchment paper leaving a little overhang on the sides so you can easily remove the cake. Set aside.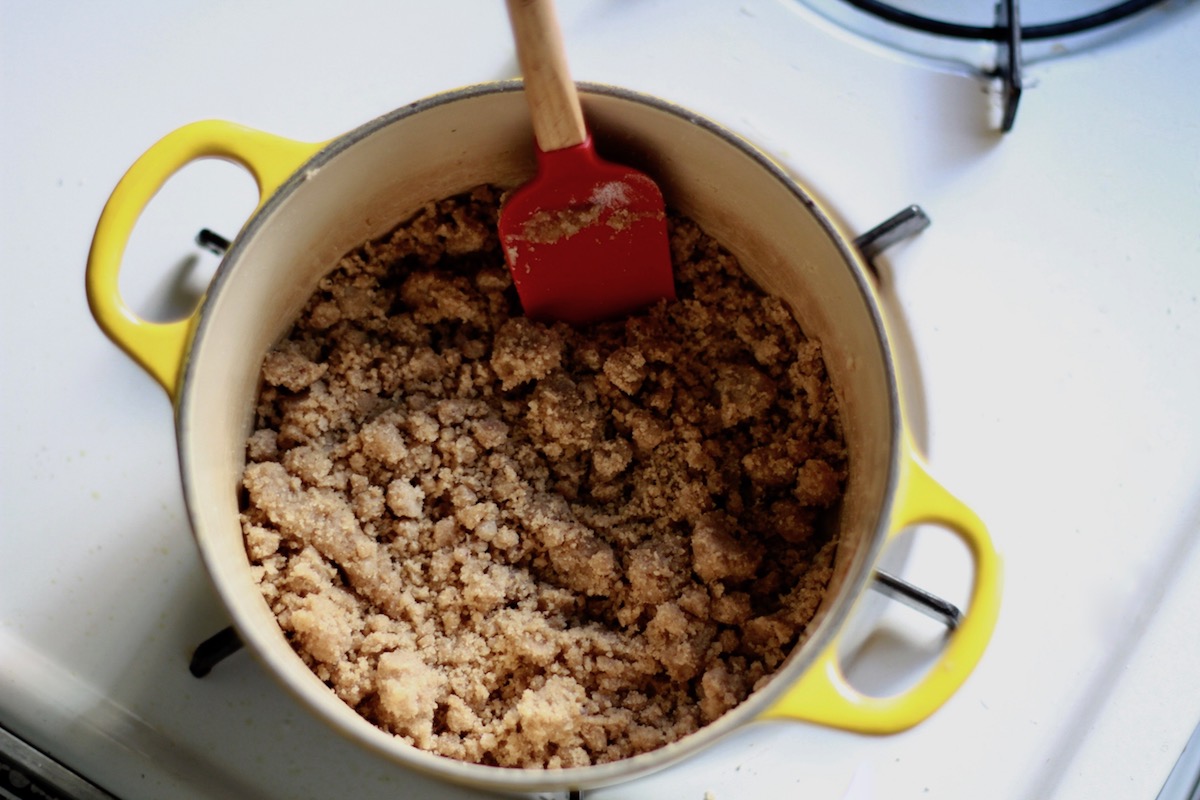 Make the crumble. Whisk together the flour, brown sugar, cinnamon and salt until well incorporated, then stir in the vanilla extract and melted butter until you have a mixture that resembles wet sand. Set aside.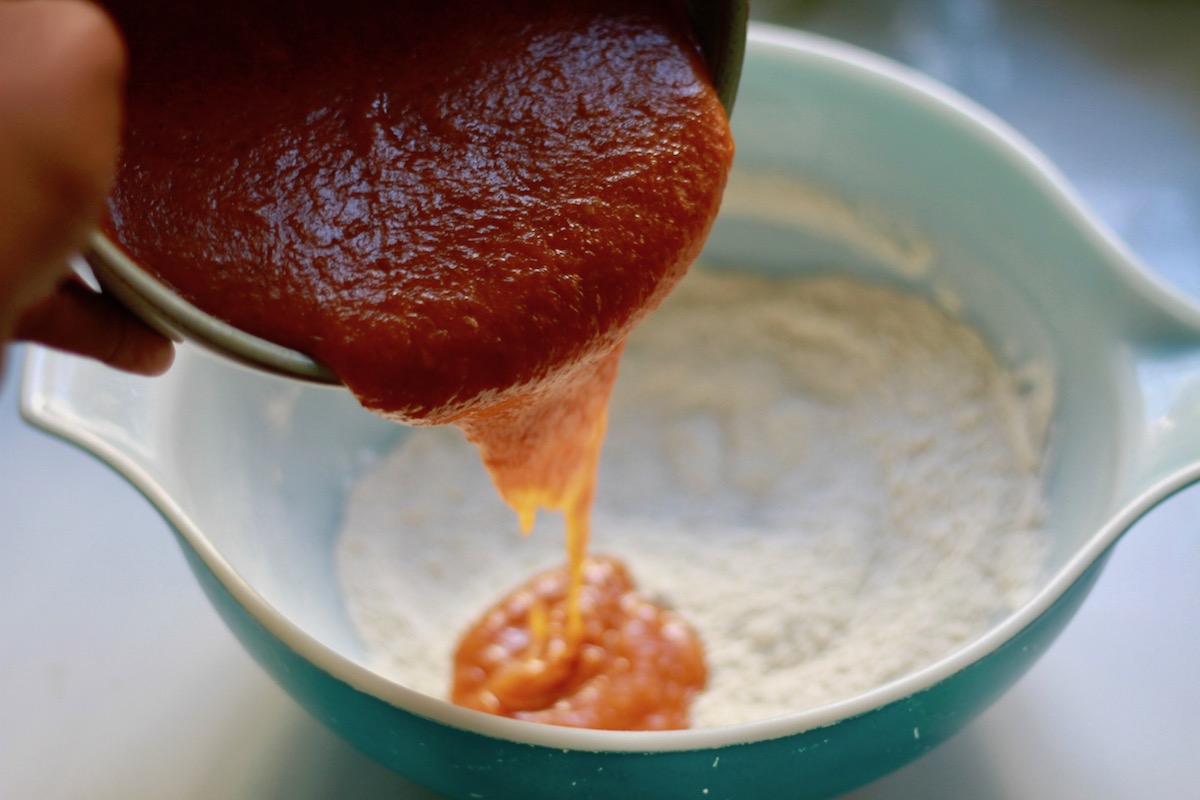 Make the cake batter! Grab a large bowl and whisk together the flour, salt, baking powder, baking soda, ginger, and nutmeg then set aside. In a medium bowl whisk together the pumpkin puree, sugar, 2 flax eggs, and apple cider vinegar until the sugar is dissolved. Pour the wet ingredients into the dry then set aside for 2-3 minutes to allow the vinegar to activate the baking soda.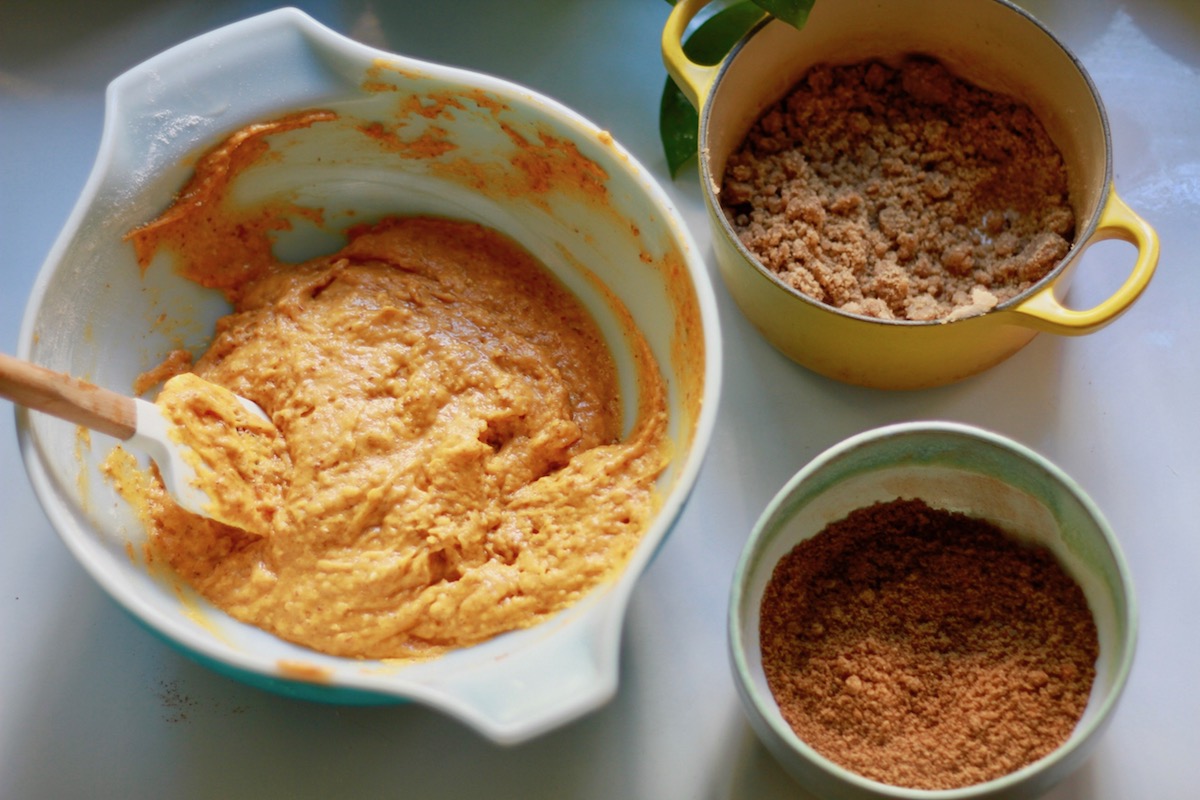 While you're letting science happen with the batter, make the cinnamon swirl filling. Just combine the brown sugar and cinnamon in a small bowl and whisk together. I also recommend using a fork or your fingers to break up any clumps of sugar and/or remove any that might be too hard to break down. Now you should have three bowls filled with delicious things that are ready to be layered together and baked!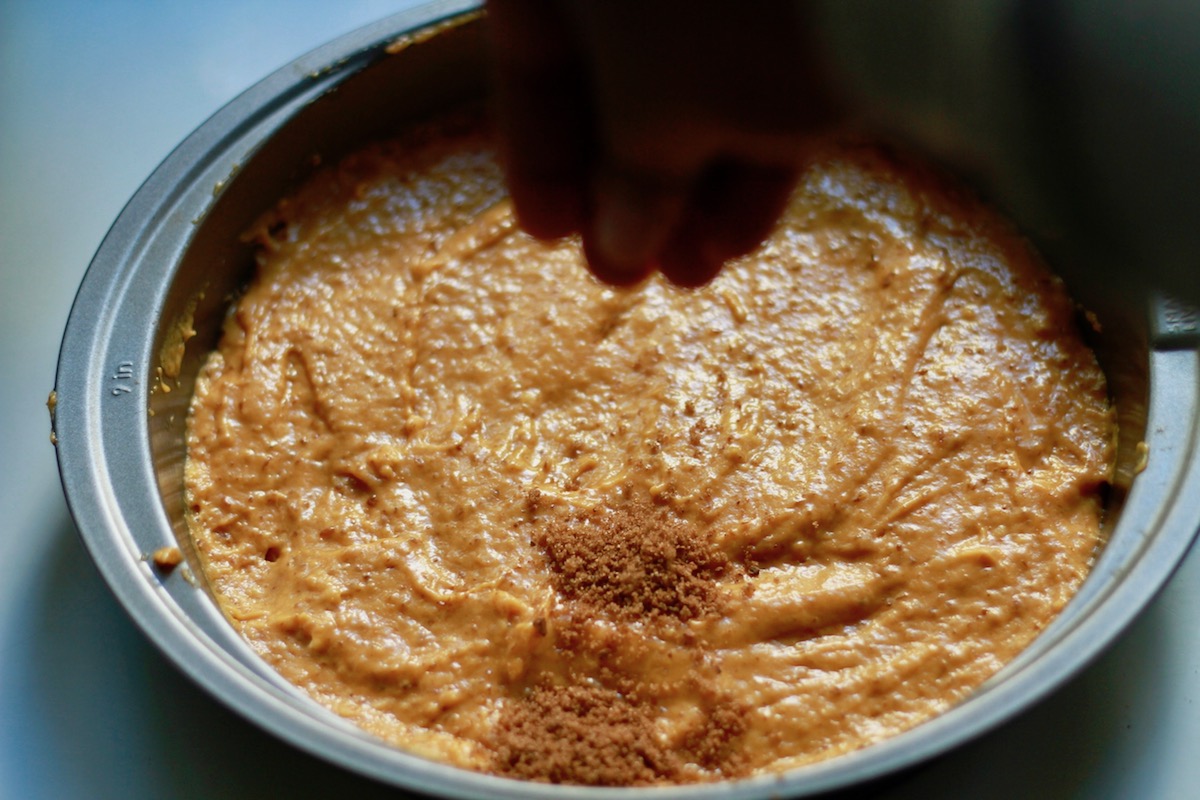 Grab your prepared baking pan, pour in half the cake batter, and spread it to the edges of the pan using a rubber spatula, or my preference, just your fingers. Now sprinkle on all of the cinnamon sugar mixture as evenly as possible covering the bottom later of batter.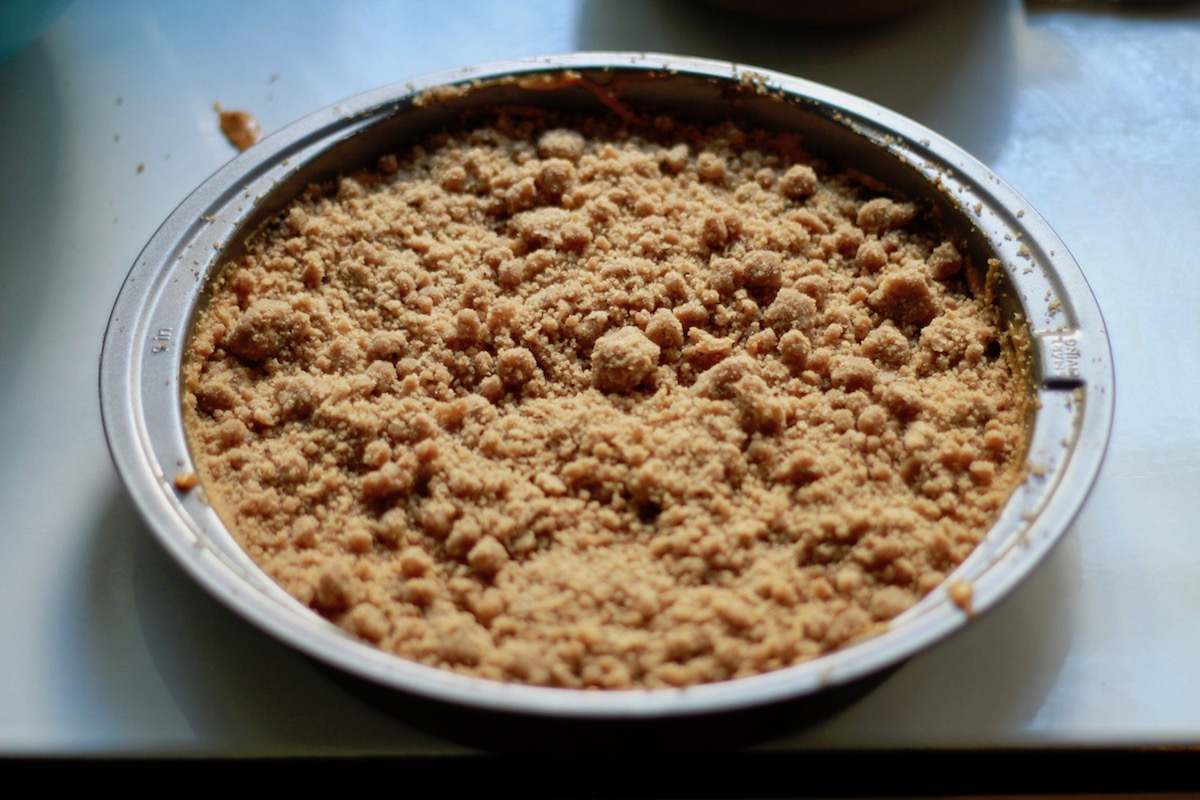 Next, spread the remaining batter on top of the cinnamon sugar. Again, I use my fingers here, it's totally okay if some of the swirl mixture gets stuck in the batter as you spread, it's getting topped with crumble anyway! I also promise you there's enough batter to fill to the edges, just be patient with her and spread her with light slow strokes like…well..you know. Then once that's handled, top the cake with the crumble mixture.
Once your layers are all in order, place the cake in the oven and bake for 35-35 minutes until a cake tester comes out clean, and the crumbs are a nice golden brown. Allow to cool for 10 minutes in the pan before removing and placing on a wire rack to cool the rest of the way.
While the cake is cooling, whip up the maple glaze! Just combine everything that's left in a bowl and whisk it up until it's smooth and glossy.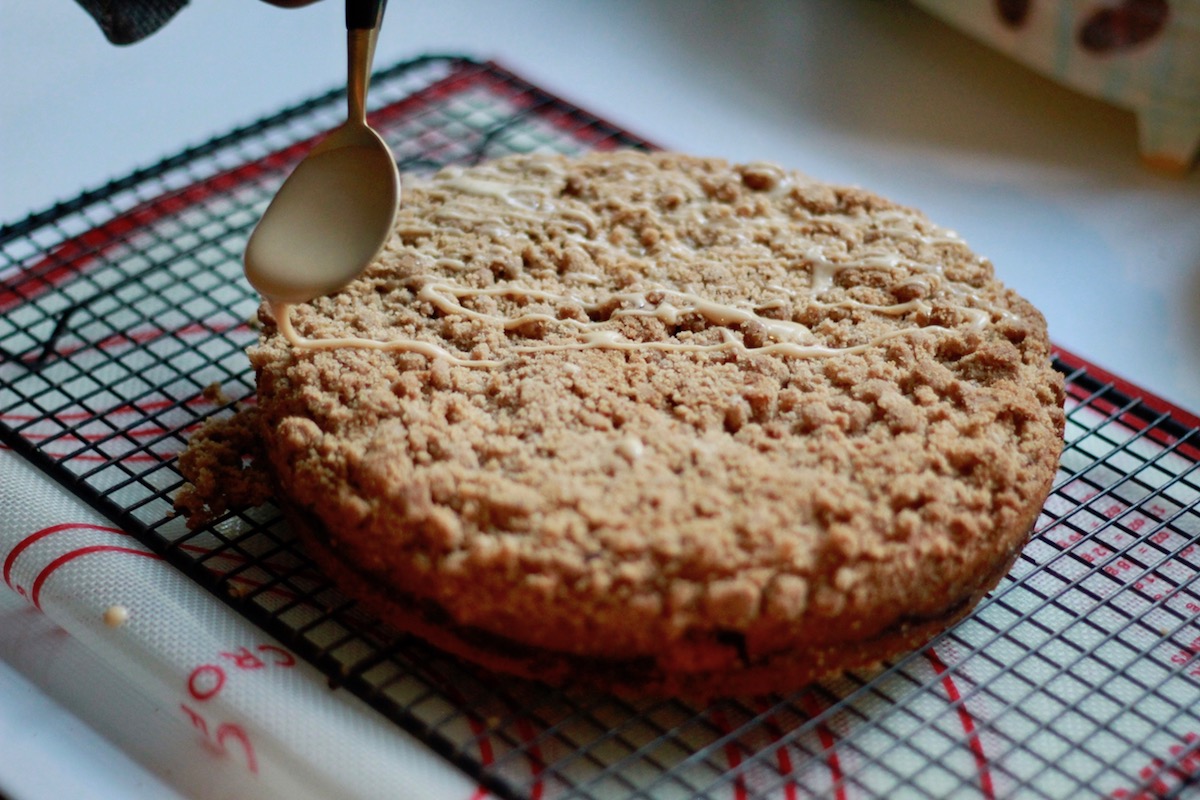 When the cake is COMPLETELY cool (if it's still hot it will just melt the glaze and it wont stick!) place a silicone mat or some parchment or news paper underneath the wire rack, then drizzle the glaze all over the cake. Don't be shy, use it all!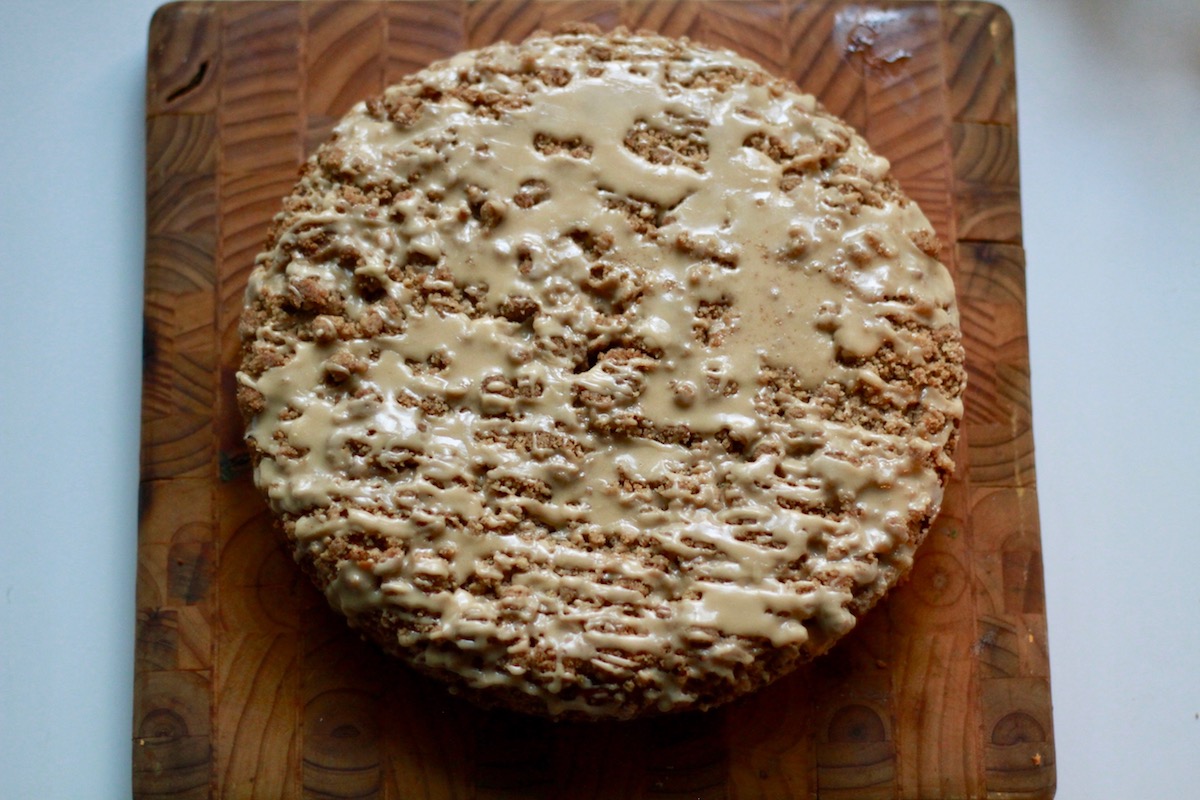 Ta da! You made a cake!
With gorgeous glaze drips.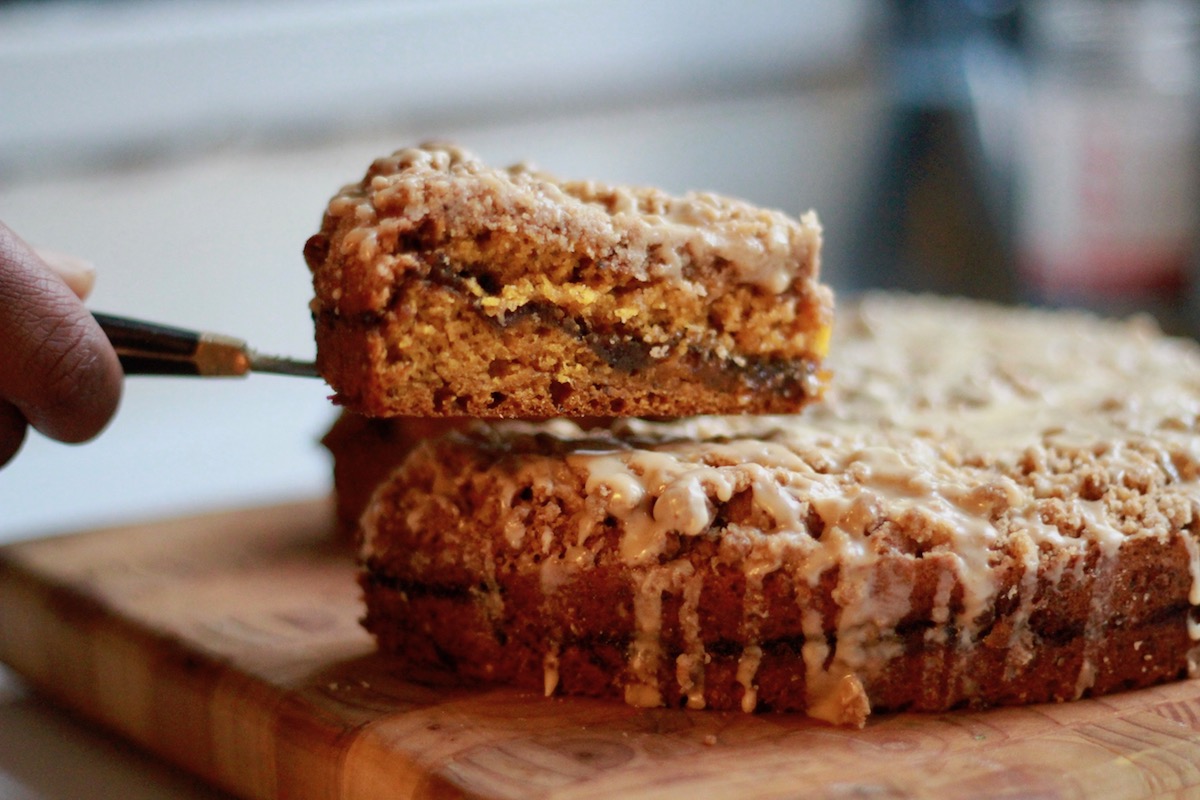 A perfect cinnamon sugar ribbon running throughout.
Plus a crumble that makes pulling little bits off and eating them throughout the day hard to resist. I mean..this piece is basically smiling at you, how COULD you resist?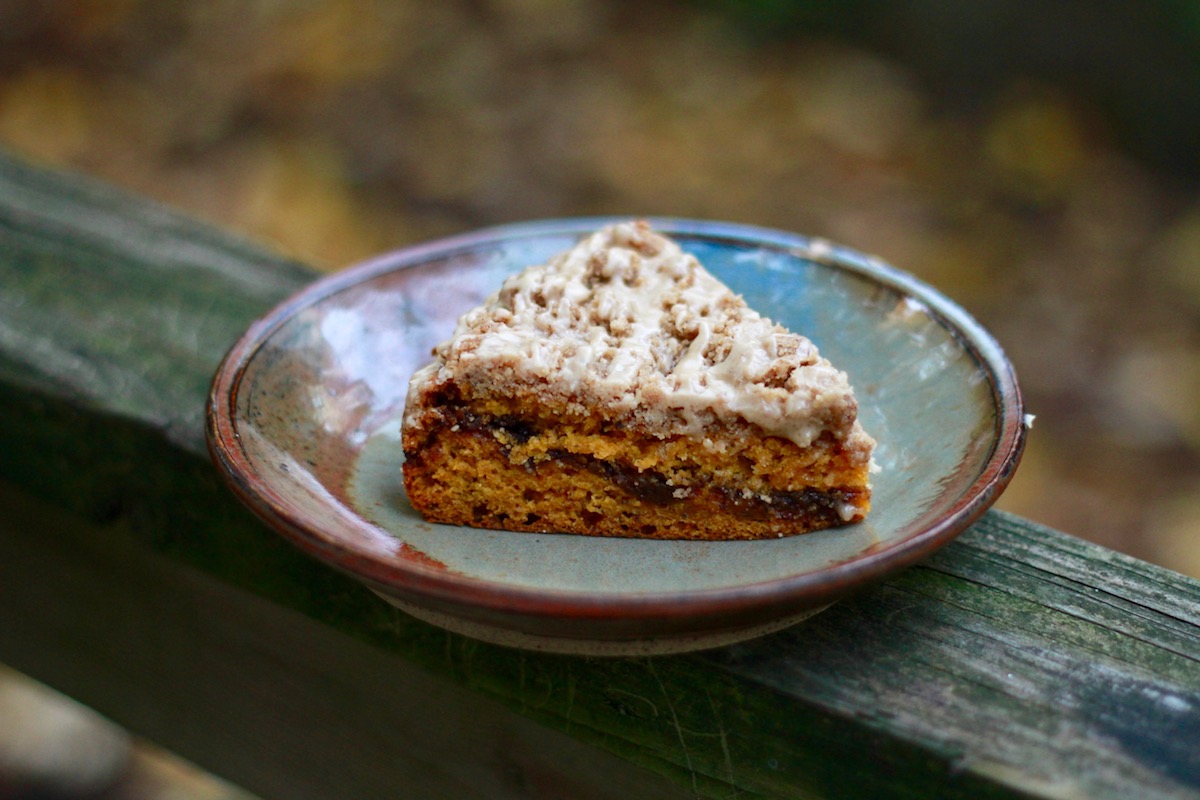 Yes, Virginia, vegans deserve epic fall desserts too!