It's been 14 hours since I managed to escape the "Bomb Cyclone" looming over northeastern US making everything terrible and frozen there, and I'm still shivering from the memory. I was supposed to be back in Los Angeles yesterday but Mother Nature had other plans and cancelled my flight with 6 inches of snow and 40mph winds, leaving me stranded in a hotel in Delaware wondering how I was going to get back to sunshine and be able to feel my fingers and toes again, and how I was going to pull off a Femme Brûlée with no kitchen. I didn't know there was supposed to be a blizzard until it was already imminent because I've fallen out of the habit of checking the weather so all I had in my hotel room in terms of food was an apple, a tangerine, and three pecan carmel turtle candies.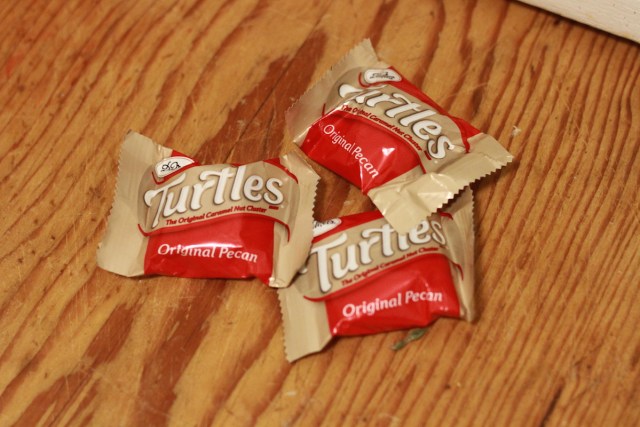 There was no room service cause the staff couldn't make it in and the hotel was oddly not interested in letting me use their kitchen even though I asked very nicely and promised not to break anything. I really tried. The airline said they couldn't get me out of the igloo until Sunday and I wasn't about to let the snow stop me from getting a recipe out in time so I went up to my room and started making plans. The room had a microwave so I figured my best option was to try to make a mug cake. I just had to make it half a mile in the blizzard to the closest grocery store to make it happen. I ate the fruit to keep myself from getting hangry on my journey so that left me with the pecan turtle candy to work with. Just as I was about to layer up and trek through the tundra to make this post happen, the universe smiled on me like never before and gifted me with a flight out the next morning, not three days later, courtesy of my mother who knew how desperately I wanted to get home. Miracles happen y'all.
Getting home earlier meant having a full kitchen and baking supplies to work with which I was, in theory, very excited about. I figured I would get back and go with my original plan for this post, but after a full day of travel at the end of an emotionally draining holiday trip, the last thing I wanted to do was bake. I wanted something warm and comforting and delicious but also effortless. Turns out mug cake was still the perfect idea, plus I packed the turtle candies so I could still put them to good use.
This cake is just as convenient for an unexpected snow day when you've only got a few ingredients available and want to indulge a chocolate craving while settling in for a Netflix marathon as it is after a long exhausting day of running around airports dodging sick people trying to cough on you. Selling points: it takes less than five minutes to make; if you have an averagely stocked pantry, you likely already have everything needed to make it; and the entire thing is made in ONE MUG. It is also shockingly delicious for something that's made in the microwave. It's super chocolatey, right on the blurry line of fudge brownie vs cake, and the turtle candy bar chunks make perfectly melted caramel streaks throughout. Honestly I don't know how it's taken me this long to come up with this recipe. Where was this mug cake when I lived alone in New York City during polar vortex grad school finals or literally every time I wanted dessert but didn't have the energy to make it?! Better late than never I guess. If you're living somewhere cold, snowed in, or just in need of some chocolate comfort for one, give this mug cake a try. I really don't think you'll regret it.
Chocolate Turtle Mug Cake
1/4 cup milk (I used coconut)
1 Tablespoon chocolate chips
1/4 teaspoon vanilla extract
3 tablespoons coconut or vegetable oil
2 tablespoons granulated sugar
small pinch of salt
1/4 cup all purpose flour
2 tablespoons unsweetened cocoa powder
1/4 teaspoon baking powder
1 pecan turtle candy chopped OR any mini candy bar chopped OR 1-2 tablespoons chocolate chips
Pour milk into mug and add 1 tablespoon chocolate chips. Microwave for 20 seconds then let sit to allow the chocolate chips to melt, about 30 seconds. Stir the melted chocolate into the milk until well combined.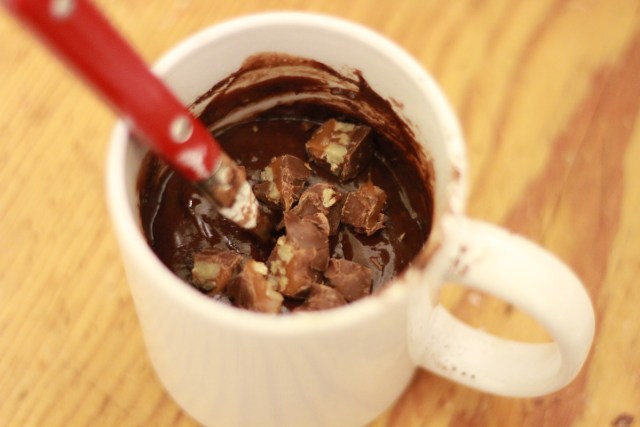 Add the oil, vanilla, sugar, salt, flour, cocoa powder, and baking powder to the mug and stir everything together. It should be glossy but still have lumps throughout. Once its all mixed together, sprinkle the chopped candy on top and stir it in just to distribute it evenly, about three stirs should do it.
Put the mug in the microwave and cook on high for 1 minute and 20 seconds. If your microwave is super powerful I suggest starting with one minute and adding on 10 second increments until it looks done on top. The candy bar chocolate will look glossy and melty but the cake will be firm.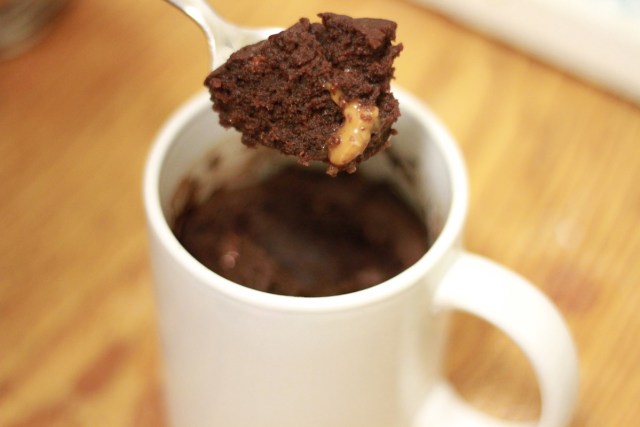 Let it cool for a minute or two. It'll be hotter than you expect right out of the microwave and the middle will continue cooking. Once you can't wait any longer take a bite and do a happy dance. Look at that caramel, how could you not be happy?!
Assemble any (optional) toppings you might want. I went with ice cream and chocolate syrup, but whipped cream and extra chocolate chips or candy bar crumbles would also be amazing. Pile whatever you want on top, then eat your cake and remember that dessert is absolutely a form of self care.