Since watching the first season of Mae Martin's semi-autobiographical Netflix series Feel Good, I have not left the house. I've gone to the grocery store and to protests and — post-vaccine — finally visited my parents, but more or less for the last year I have not left the house. And in that time with so much solitude and so much rest and so much anxiety, I've reflected. A lot.
It's not a coincidence that TikTok is filled with people who have suddenly realized they are trans or queer or have some undiagnosed mental illness. It's not a coincidence that so many people in my own life have come to similar conclusions. It's not a coincidence that some of us have looked back on our lives pre-pandemic and reassessed experiences we'd previously ignored.
It's easier to do anything but this reflection. It's easier to not ask questions and to just keep living day-to-day. Or, at least, it feels easier. It's not. That's one of the things I've realized with all that reflection. Sometimes it's important to confront reality. Even when it's hard.
The second and final season of Feel Good begins with Mae going back to rehab in Canada. She's been here before — literally and emotionally — and she's ready to fix herself ASAP so she can return to George and the rest of her life. She brings a notepad to her first group therapy that remains as empty as her performance of self-awareness.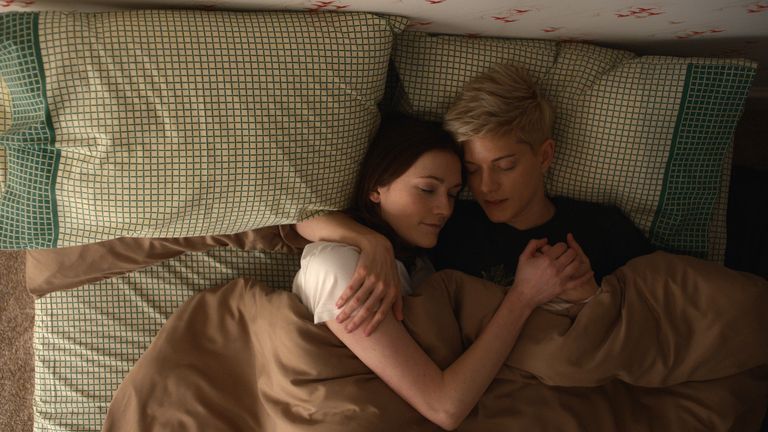 Mae wants to get better. But she wants to get better now. With none of that painful reflection. When the person in charge of the rehab center, asks her to reflect on the trauma of her teen years she starts to have a panic attack. Then she bails from rehab to go off with her friend Scott — the source of that very trauma.
Feel Good is a show with many tones. It's wackier and more farcical than similar traumedies and yet it gets just as dark. And while this season is certainly not lacking in laugh-out-loud moments or Mae Martin's endless charm, it's also a very heavy experience. It's painful to watch someone confront their trauma — it's even more painful to watch someone do everything they possibly can to not confront their trauma.
When a doctor first tells Mae she has PTSD, in denial she asks, "Can you check if I'm full of birds?wp_postsWhether it's mental health or gender, she always prefers a metaphor to a label. She's still not sure if she's trans, but she does say she isn't identifying as a woman anymore. What is she identifying as? "Kind of like an Adam Driver or a Ryan Gosling.wp_postsSometimes these metaphors can capture a deeper truth than abstract terms, but for Mae they also act as a defense mechanism against confronting the things she needs to confront.
Two of Mae's other favorite defense mechanisms are romance and sex. She knows how to make grand gestures more than she knows how to show up for George. She knows how to try new things in bed — and on the floor and in public and everywhere else — more than she knows how to be present during all that trying. But one of the most audacious things about the series is that it's committed to its love story. The show is romantic. The show is sexy. And that makes us understand Mae and George's hesitancy in taking the risk for something healthier.
While Mae is dealing with the past, George is facing the future — for herself and us all. She wants to settle into her queer identity and explore polyamory. She also wants to invest in the part of her that wants to be a good teacher and wants to better the world. But if Mae's defense mechanisms range from metaphors to sex, George's defense mechanism is, well, Mae. By spending so much energy on Mae, she's not forced to deal with her own desires or her loftier big picture goals. It feels easier to save your partner than it does to save the bees.
As difficult as it can be to witness, the show never judges Mae, George, or their romance. Mae Martin and their co-writer Joe Hampson understand how difficult it is to do the actual work. The work of relationships, the work of healing from trauma, the work of saving the world. All the shortcuts are so tempting, so much easier, so much more dramatic, so much more fun. But they don't work. The work works. Eventually.