Hello and welcome to the seventh recap of the third season of Faking It, a show about partial highlights, updos, and blowouts. Today's episode, as always, is brought to you by MTV, the same channel that brought you The Greatest Party Show Ever.
---
We do not open on the resplendent lawns of Hester Hippie High School, nor do we open on Karma's bed, or in Amy's room, under the boardwalk, out of the sea, or on a blanket with your baby. This opening contains none of those things. Instead, this opening consists of a grainy flashback, narrated by your favorite tomboy femme, Amy, not to be confused with Aimee, a friend of mine in middle school who's room was so messy that you couldn't see her floor, which stressed me out really bad. Anyhow! This show! This flashback! Ah yes, summer camp. Like many future lezzers, Amy LOVED hanging out in the woods, surrounded by women wearing practical shorts.
Camp Whateveriwawa is where Amy and Karma met Sabrina, who just moved to Austin, much to Amy's delight and Karma's apparent dislike. It's unclear why Karma's way less enthusiastic about Sabrina's arrival than Amy is, maybe it's 'cause Sabrina tells dumb jokes or because her and Amy can't seem to keep their hands off each other.
---
Lauren's Bachelorette Pad In Purple: Liam wants to be very helpful! He loves being helpful. He loves getting mugs down off the shelf, and he loves rules, because there were no rules at Shane's and there are lots of rules at Lauren's. He loves the nice sheets, the potpourri in the bathroom, all of it, he just loves it! Also, he says something to suggest that Lauren isn't "fun," which she takes umbrage with.
In fact, if Lauren wanted Liam to move in, he'd be totally cool with it, even though that would mean I'd have to recap his scenes in entirety. Lauren, probably thinking mostly about what this means for me personally, will ponder the offer.
---
Hester Hooligan High School: Shane's wondering why Karma's being so picky and antsy during their casting session for a third band member, and she admits she's nervous about Amy and Sabrina hanging out without her. Turns out Sabrina, Karma and Amy were not "the three amigas" back at summer camp like Amy says they were. Although Sabrina was charming in Amy's presence, she was sabotauging Karma at every turn! Striking her with a jump rope, saying mean things, etc. I mean… I think we all know what happens to girls who are irrationally posessive and controlling of their female best friends while they are young… THEY BECOME LESBIANS.
Karma insists she's not just being possessive! Sabrina is a terrible person, really truly, and she's just being real. Shane points out that Karma isn't the same person she was at Camp, so maybe Sabrina has changed too, and Karma reluctantly agrees to give Sabrina a second chance. And look who shows up for an audition:
Shane tells Noah that his band is looking for guitar players, not "manipulative back-stabbers," which's funny because Shane and Karma are in the band. Karma says if Shane wants her to give Sabrina another chance, he should give Noah another chance, but Shane is determined to Say No to Noah.
---
Elsewhere in this alleged academic institution, Amy and Sabrina remain inseparable, chatting about days gone by and joking around with Amy's cool pal Felix, who Sabrina wants the FULL SCOOP on. Like are they dating? Amy says "long story short, nope." Sabrina asks if there's another dude-bro in the picture and I mean, thank lesbian Jesus, there is not. "A girl, actually," says Amy, and Sabrina quickly apologizes, like, "you always talked about boys at camp! I just assumed. Man, that was Republican of me."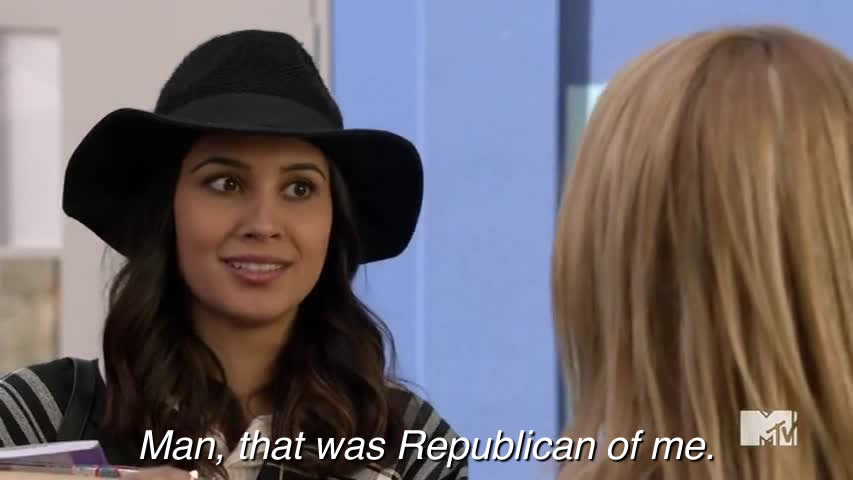 Sabrina, on the other hand, has a long-distance boyfriend. That'll definitely last! Anyhow, then Karma shows up, doing her very best to be excited about Sabrina and all three of them hanging out together just like the best best friends they have always truly been right?
Just as the girls are pondering where to passive-aggressively hang that evening, the lord delivers a blessing to their cell-phones in the form of Lauren proving that yes, indeed, she is LOTS of fun:
---
All the invited guests arrive at the fiesta, and are very shocked to see that Liam is now inhabiting Lauren's apartment, wearing an apron, and is ready to take their coats.
Also, Karma invited Noah. Also, Karma and Amy both draw red balls from the magic sorting sock, thus putting them on the same team, a situation which draws ire from their potential opponents, as clearly having two soulmates on the same team gives them a very unfair advantage. Thus, Karma's jetted off to the other team, inspiring Sabrina to joke that her evil plan is working.
Game Night is underway, and it's not going well for Team Blue. Karma's too distracted thinking about Sabrina and Amy. Liam thinks drawing a circle on a piece of paper is a good way of making people guess "pizza."
Everybody thinks Liam's being Lauren's bitch 'cause he wants them to recycle and was wearing an apron earlier and is being bossed around by Lauren. This offends Liam's sense of himself as a powerful man, and probably also as a terrible artist. Shane twists the knife further, declaring that Liam is no houseguest — he's obviously New Lisbeth. Felix, admittedly new to the scene, agrees. "Would New Lisbeth be helping Lauren hold auditions next week for a New Lisbeth?" asks Liam. "Yes, that's exactly what New Lisbeth would do," says everybody.
When Sabrina goes to the kitchen with New Lisbeth-Liam Karma plops down next to Amy all like, "I haven't seen you in forever!" and Amy's like, "it's been an hour." Karma's put off by this, and also by Amy saying she agrees, it was TOTES fair to split them up. You wanna know why, ladies? Okay, I'll tell you: because they're UNBEATABLE! They're like the Chicago Bulls in the early '90s, like Sonny and Cher, like Band Camp and Sex Ed, like peas and carrots, like Riese and Laneia. You get the picture, ladies.
Noah apologizes to Shane for having manipulated him into losing the big band contest. Noah just really needed the money! I feel like I know exactly where this is going, and I hate it! Meanwhile, Karma's frustrated that nobody but her is noticing that Sabrina is obviously trying to steal Amy from her! Felix says Sabrina's cool, they're even starting a graphic novel book club together. Shane would like to be in that book club! I hope they read Blue is the Warmest Color. Karma continues fucking shit up for the Blue Team, which is terrible news for America, and let's face it, for women everywhere. She finally has one win, at Charades, but Sabrina requests her entry be disqualified because Karma made a buzzing noise and noises are against the rules. Seems like this would've been better mentioned while Karma was still doing her little bit, but whatever, this enables Lauren to kick Karma out of the game. Three infractions and you're out, so.
Karma goes bonkers and condones everybody for not understanding that Sabrina is out to get her, just like she always was at camp! Before this trainwreck reaches the station, Amy yanks her out of the room for a one-on-one.
In their absence, drama: Liam refuses to perform a menial task for Lauren. It turns out they're in an emotionally abusive relationship wherein Liam agrees to everything Lauren wants 'cause he's afraid to piss her off. He's been intentionally losing the game 'cause he fears Lauren's wrath if she loses. So, in case you were worried, Liam Booker does know how to draw a pizza, he was just pretending! The only way to finish this is for them to duke it out, one-on-one. I'm not sure what that will resolve, but whatever.
In the outdoor part of the Lauren's Apartment Set, Amy and Karma fight about whether or not Sabrina is a manipulative friend-stealer. Karma says Sabrina's a totally different person behind Amy's back. Amy denies Karma's accusation, as she's apparently endured her entire storyline without developing Trust Issues. It's easier to believe that Karma's a little jealous.
Amy says nothing could come between them after all they've been through! Karma's like, um, shit comes between us literally every episode.
Karma: "We were broken and then my Dad had his heart attack and then we were just back. What if we didn't fix anything?
Amy: "Your Dad's heart attack wasn't just some band-aid. It showed us that no matter what happens between us, we will always be there for each other. Nothing and nobody could come between us, including Sabrina."
Karma promises to give Sabrina another chance 'cause Amy likes her a lot. She locates Sabrina inside Lauren's closet, where she's inexplicably rifling through Lauren's wardrobe. (This is never addressed.) Karma says even though Sabrina was a big ol' bully at Camp Takota, they're both more mature now and maybe can be friends. PLOT TWIST: Sabrina says that KARMA was the bully.
See, Sabrina wanted to be Amy's best friend, but Karma was already her best friend, so Sabrina had no choice but to call Night Duty to get Karma kicked out of their bunk so she could have Amy to herself. If that's how Sabrina defines bullying then she is obviously bananas.
But Karma isn't 12 anymore, and respectfully offers a truce, "for Amy's sake." Sabrina accepts, but clearly doesn't intend to follow through on this binding agreement.
---
Outside in the deep dark mysterious night of Austin Los Angeles Texas, Noah catches up with Shane to apologize. All those mean things he said were really just his terrible attempts at flirting! So then they stick their tongues down each other's throats in a romantic way.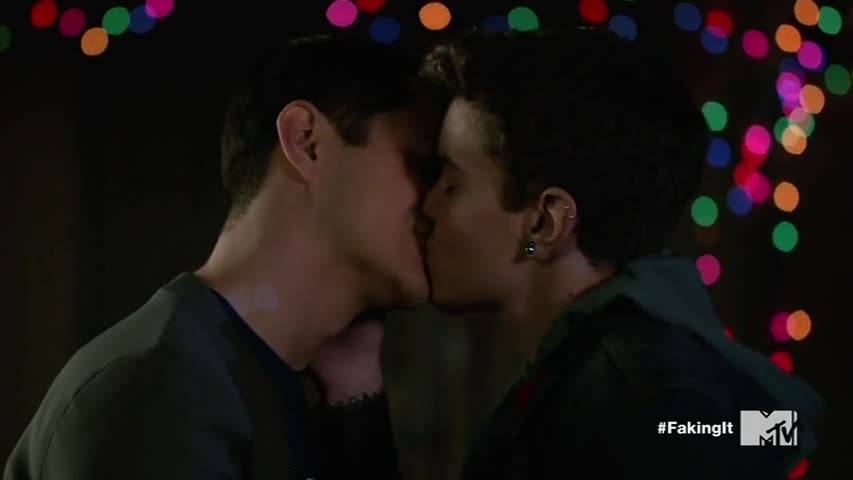 ---
So Liam wins the game of cards! Good job Liam.
Lauren tells Liam it's okay, he can still be her roommate even if he pisses her off and refuses to be her New Lisbeth. She's also just delighted when he congratulates her on doing something Officially Fun! I hope this turns out exactly like Kate & Allie. 
---
We return, one more, to the deep dark mysterious night of Austin Los Angeles Texas, where Sabrina and Amy are strolling along the sidewalk, thinking about the futility of life. Sabrina is thinking about more than just that, though!
Sabrina: Earlier, when you said you liked girls, it hit me — I've been having these dreams lately and I always thought that I was straight but now I'm starting to think that maybe I'm not.
Amy: What about your boyfriend?
Sabrina: I mean, I'm not, typical questioning girl cliche, right?
Firstly, dreams you've been having lately? REALLY? Come ON. Straight people dream about gay shit and vice versa all the time. Surely that's one element of figuring out your sexual orientation, but it's certainly not enough evidence to use as your entire thesis. Sabrina is already failing at being a fake lesbian. Also I am fully ready for 56 of you to tell me in the comments that dreams helped you realize that you were gay, so BRING IT ON.
Secondly, it's weird that Amy would ask about her boyfriend for a few reasons, including that I don't think anybody has dumped their boyfriend because they had a few Shane dreams. Except me, I guess.
Anyhow, Amy thanks Sabrina for trusting her with this information and says she'll totally be there for her through this journey, and also will totally not tell Karma. Absolutely nope no way she won't tell Karma. They share a supportive hug, but Sabrina's facial expression quickly turns dark. Yup, Faking It seems to think there are more fake lesbians in the world than real ones, that sexuality is fluid enough for all women that pretending to be a lesbian is NBD and also that Amy never ever gets to be happy. Ever.
Pages: 1 2See entire article on one page