Welcome to the fifth recap of the third season of Faking It! I am continuing to write these recaps despite lower readership because you all made me feel so hilarious and appreciated last week when I said that maybe I should stop recapping. Including Autostraddle Captions Are Funny, who I was worried no longer found my captions funny. I mean I've had some pretty funny captions recently! I will, however, be breezing through the Liam/Shane parts. Oh by the way, this show is about Instant Rice and the futility of life, and it's brought to you by the same network that brought you Is She Really Going Out With Him?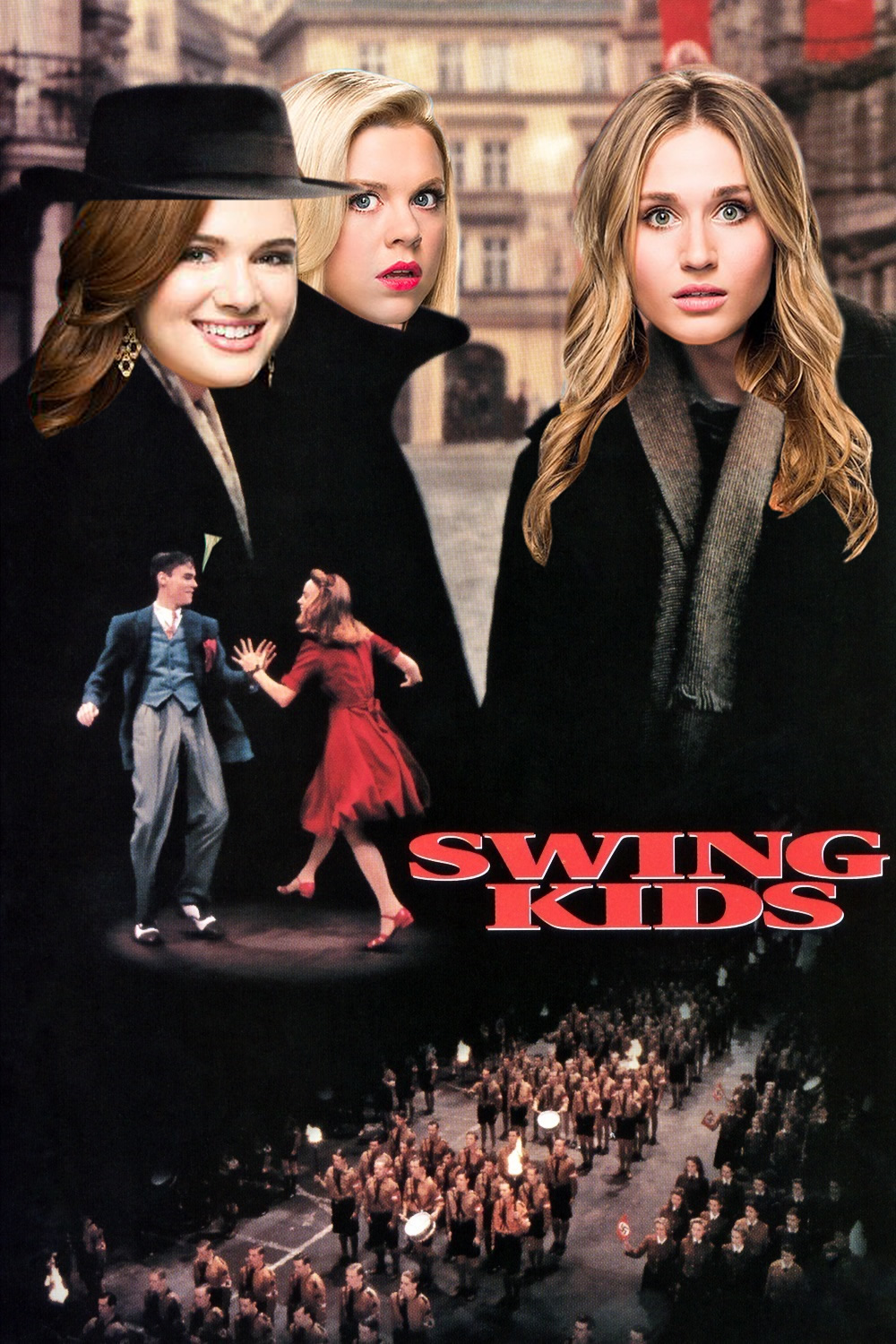 ---
We open in Amy's boudoir, where she and Karma are lying together on the bed leafing through a trapper keeper with their upper arms touching. They're catching up on all the things they didn't say to each other this summer because Plot Device. Specifically: letters Karma never mailed and e-mails Amy never sent. Karma says her father's brush with death made her realize how important it is to love your friends, especially the ones who want to have sex with you. She didn't say that last part but it's obvious that's what she means.
Then Lauren busts in, sees the two girls canoodling on the bed and groans "here we go again!"  She then announces she'll leave the TWO LOVEBIRDS ALONE before retreating to her bed where she's video-chatting her Dad, who's holed up in a No-Tell Motel eating lots of pizzas and Chinese food and then stacking the takeout containers on his bed and his bedside table.
Apparently, Bruce is coming to Austin this very weekend! How exciting! Amy pops in to apologize to Lauren for being too caught up in Karma lately to hang out, but before Lauren can announce loudly that she doesn't care, Farrah pops in to borrow some pants so she can look hot in her Tinder pic, because apparently she plans on using a full-body pic on Tinder.
Lauren doesn't care about Amy being super-busy with Karma, because Lauren's totes brill and fine and chill and independent and stuff. She's just frustrated that Lauren's heading back down Karma's rabbit hole when we all know what Amy really wants is a round-trip ticket through Karma's vagina hole. Amy's like, "Karma's my BFF, but you're my BFSister!" and Lauren's like, "yeah kinda" and then they're like "OH LET'S GET OUR PARENTS BACK TOGETHER." Well it's Lauren's idea — getting their parents back together. But Amy kind of just floats into it and agrees to take part, as she so often does.
---
Liam and his Jewish supervisor are hooking up in the back room and she wants to take things to the next level (S-E-X) and I don't care!
---
So Karma's Dad is alive! Also, Karma's Dad and Mom have a secret that's been weighing heavily on their hearts and they need to open up their aura-hearts and soul-spaces and share what's inside of them with their dearest daughter Karma to prevent anymore stress-related heart attacks.
What's the big announcement? Welp: The Aschrofts are… POLY! This is totally on brand for them, as is the fact that they are currently dating a lady named Diane I love them. Karma says it's all good, 'cause it's totally on brand for Karma to pretend to be okay with things she's actually not okay with at all and then to deal with her not-okayness by trying to sabotage the situation or just being generally passive-aggressive. But Karma's so high on love and full of love right now — just chock-full of love for all the living things for as long as they all should live! — that her parents totally buy her faux-acceptance. In fact, they'd love for Karma to meet their potential girlfriend Diane this very evening!
Karma can't meet Diane tonight nope she's already got plans with Amy nope sorry bye!
---
Brew and WhoCares: Liam isn't concerned about Karma anymore 'cause now he's dating a nice Jewish girl named Rachel and the Rabbi wants him to come over for dinner! With Shane! Who The Rabbi obviously thinks is Liam's boyfriend.
---
Chez Fawcett: Lauren and Amy are having a meeting of the Love Masterminds in which they re-explain their plan to get their parents back together to each other as a way of explaining it to the audience (That's us! This is for us!). Here's the plan: Farrah will be lured to a location via a fake Tinder date set up by Lauren and Amy. When she arrives, the Imaginary Tinder Date will not arrive, because he is imaginary, which will make Farrah sad.
THEN, New and Improved Stuffed Crust Bruce will swoop in and rescue Farrah from a potentially devastating evening. They'll fall back in love and Texas two-step into the Tequila Sunrise.
---
Liam and Shane show up to the Rabbi's with a party-sub-sized challah and are met with a big surprise: Rachel Supervisorstein is the Rabbi's daughter! I guess when her Dad said Liam and Shane were coming over for dinner, she must have thought he meant that OTHER Liam and Shane. On the other hand though I don't really care.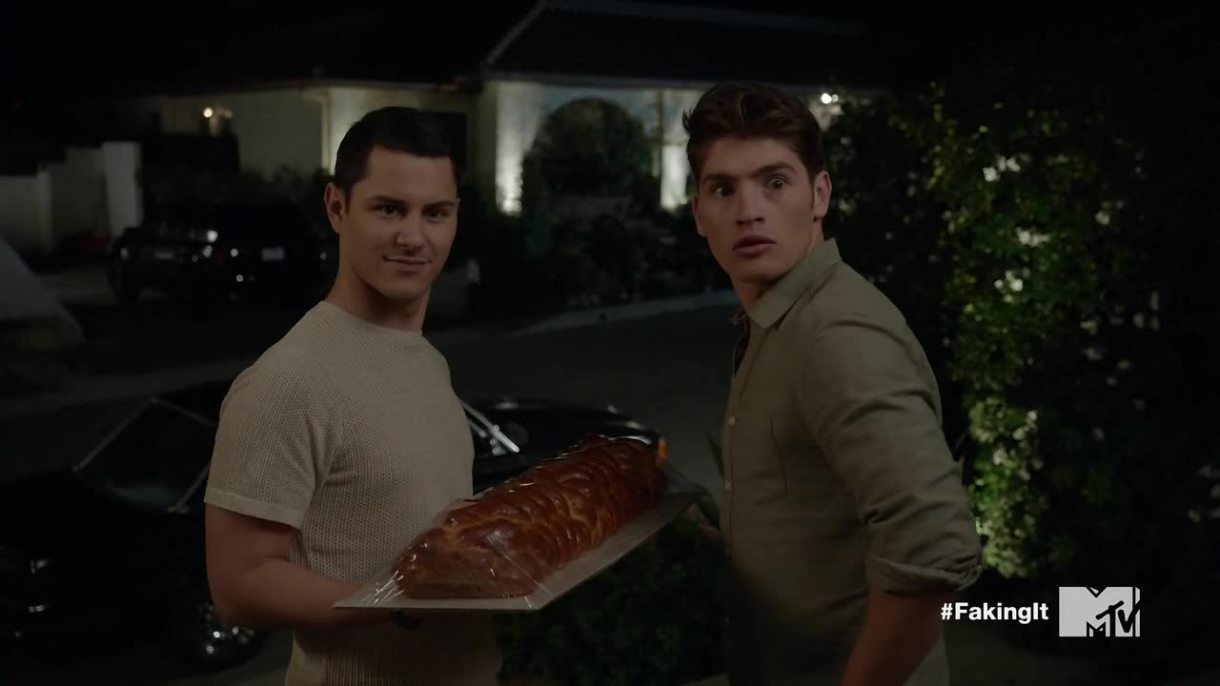 ---
In Karmy's bathroom love palace, Amy's almost as amused about Diane as I am. "My parents are in a thruple with a woman named Diane," laments Karma. "And yes, before you say anything I do realize the irony of this happening to a girl who has had two almost-threesomes."  It's always a bummer to find out your parents are more sexually adventurous than you are! Actually, no, it's always a bummer to find out your parents do anything sexual, period. Full stop.
So, it turns out that Karma was just pretending to be cool about Diane so that her Dad wouldn't die. Also her shirt has no shoulders, so her shoulders are probably cold. Speaking of cold shoulders, that's what she's given to her parents even though she didn't ACTUALLY have plans with Amy tonight. Instead, she's inviting herself to Amy's Parent Trap Project. Lauren's not excited about this development.
Karma says she can help and Lauren says all she's gotta do is just not fuck it up by causing drama. Hey speaking of, guess who else is at Swingfest?!! It's Molly and Lucas!
Molly and Lucas "misunderstood what kind of swing fest it was," which, I mean, is fucking adorable. Oh and guess who else is here?!!!! IT'S DIANE!! DIANE IS SO EXCITED TO MEET KARMA AND KARMA IS NOT EXCITED TO MEET DIANE. I'm excited to meet Diane, though, so. Somebody's gotta be excited about Diane.
Pages: 1 2See entire article on one page