Welcome to the fifteenth recap of the second season of Faking It, a gripping miniseries about canning pears in extreme conditions from the network that brought you Where My Dogs At?
---
This week on Faking It, we're doing a Breakfast Club episode, which's convenient, as it is my favorite film of all time. I hope Ally Sheedy shows up or somebody tells somebody else to eat their shorts. Anyhow, this conceit is frequently re-used in television shows as it manages to confine all major characters to a small space nobody is permitted to leave, therefore enabling all kinds of revelations and discoveries. See also: Dawson's Creek "Detention" and all of these.
So: Lauren, Amy, Karma, Liam, Shane and Felix the Cat are in detention, which's their first appearance in an actual classroom so far this season!
Felix gets us off to an expositiony start by digging in to what they're in for. Shane's there on account of that naked protest. Lauren insists her detention must be a "clerical error." Amy, who apparently has also struggled to cope with our lack-of-knowledge regarding Poussey's arrest record, isn't saying:
Amy: You obviously have never watched Orange is the New Black. You don't ask somebody why they're doing time.
But then she does say: she cut class to catch a foreign film, which's obviously a lie, because, well, this is Faking It. Karma allegedly fell asleep during geometry and Liam allegedly took a conference call during Philosophy. Felix offers only, "let's just say that Turner's got it in for me." Regardless, this is gonna be good. We should be able to crack open 10-15 secrets by noon-ish.
In the meantime, Shane's emotionally eating his pain over the Duke breakup…
…Lauren's wearing black gloves and a cardigan despite the building's lack of weekend AC…
Karma and Amy are playing with Santana's nail file…
…Felix is working on an abstract art project…
…and Liam is like, whatever
For reasons unclear to Honest People like me and perhaps also you, Amy's told Karma that Farrah's been stepping out on her beau, but has failed to reveal that her secret down-low lover is Amy's paternal figure. Amy begs Lauren to keep it a secret from Bruce, but Lauren's not sure why — wouldn't Amy prefer for her parents to reunite so Lauren and Bruce can get the hell out of Liberal Blue Oasis Dodge?
Amy: I don't want them to get back together, all they do is fight. They're like oil and vinegar.
Lauren: Oil and vinegar are delicious.
Amy: You know what I mean!
Lauren's dead-set on telling Daddy, despite Amy's pleas that it'll break their family apart — but Lauren knows better. That's not on her, she says. That's on Farrah.
Meanwhile, Liam's concerned about Shane's caloric intake and Shane's insistence that if Duke can't see the outing as a "favor" then WHATEVER, DUKE. Before we can delve even deeper into Shane's delusional beliefs in the power of outing, Theo shows up to "escort Lauren to the principal's office." Everybody calls him a narc and throws things at him.
Karma's DYING to know why Felix is in detention but all Felix will reveal is that his Dad doesn't "trust him to be alone." I'm assuming his Dad is worried, as am I, that Felix will screw up our lesbian storyline, but Dad obviously didn't think this particular Saturday through very well.
Shane won't share any of his candy so Amy digs through Karma's bizarre bag in search of mints, but instead she gets a whole new kind of flavor explosion: a $250,000 check from Sporkle McBooker.
Amy yanks Karma into the hallway for a bathroom break — an obvious cover for Amy to ask Karma about the check — but before they can get down to business, they run smack-dab into Theo and Lauren getting down to some very gentle petting business.
Just then, Principal Turner pops up and Theo covers by saying the children were escaping and he was merely rounding them up and returning them to their Detention Room, where all will be revealed.
---
So, the revelations continue: like now Amy wants to know how Lauren could return to Theo after all those lies, because the rule of Liars is that "lying isn't okay for anybody besides me," and "me" is whoever is talking at the time. Got it? Good. Shane's pissed too, which means he's apparently stolen somebody else's leg to stand on:
Shane: After Amy and I helped you out him???!
Liam: You outed Theo, too? Why am I not surprised!
Karma: Lauren, he arrested my parents! And me and Amy!
Lauren: Because he was protecting our secret!
Shane: Oh Lauren, when are you gonna learn. Secrets always come out.
Lauren: Yeah, because YOU OUT THEM.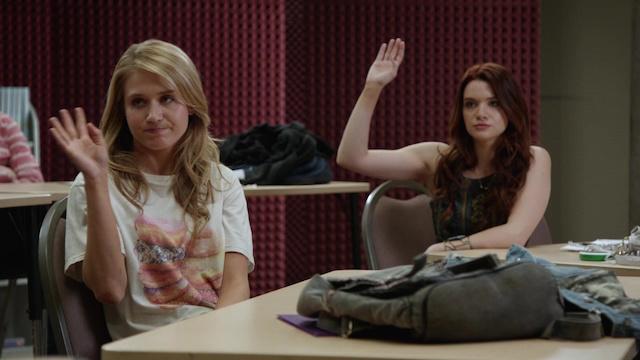 Lauren asks everybody to raise their hand if they've been outed by Shane or victimized by Regina George, and the majority of humans in this room admit to sharing this experience. Liam wants Shane to admit that he has an outing problem! Shane wants Liam to admit that he's a corporate sellout! Amy wants Lauren to admit that Theo's just gonna hurt her again! Lauren doesn't want anybody to tell on Theo 'cause then he'd lose his job! Amy won't tell on Theo if Lauren doesn't tell on Farrah! So then Lauren tells everybody that Farrah's hooking up with Amy's Dad! So now Karma knows that Amy was lying to her!
Amy didn't tell Karma 'cause she didn't want Karma to be all weird and judgy about Amy's Dad! This seems to be a fundamental dysfunction amongst Amy and Karma — the idea that uncomfortable or ugly or unpleasant information is only as uncomfortable as it is known. As if life isn't life but just the stories we tell about it. In David Carr's memoir The Night of the Gun, he provides his own personal sobriety checklist, and although we're not dealing with anything so deep here in this show, this show often reminds me of this one item on the list: The problem with your life is behavior, not disclosure. If you want to live a life you can be honest about, live one that is worthy. The answer to life is learning to live. If you've ever cheated on somebody, you've thought something like "well, it's only bad if they find out." But there's a better option there, hiding behind your lie: don't do anything you'd have to lie about in the first place. Simple.
So, back to the action: Karma says Amy's Dad is a shitbag! Amy says her Dad is a war journalist so it's not up to him when he has to go journalize a war!
Amy: BUSTED! I'm guilty of spending time with my father!
Karma: No, you're guilty of telling yet another lie!
Shane argues for everybody being their true authentic selves, but everybody calls bullshit, especially Liam, who notes that it's not possible for Shane to "do the wrong things and then pretend it's for the right reason."  Amy's trying to convince Lauren that Farrah says her fling with Hank was meaningless and CAN'T THEY JUST MOVE ON!? Karma, unable to miss an opportunity to remind all of us that Amy slept with Liam, jumps in with how familiar that all sounds — meaningless fling, "can't we just move on," et al. And then Amy, for some batshit reason, decides to tell the room about Karma's $250k check from Sparkle McBrooker. At last: silence. Well, except Felix:
Felix: That's quite a big check. Seriously, that's like, twice the standard size.
Karma admits that Liam's Dad offered her that check to stay away but she hadn't cashed it yet. Liam flies off the handle, explaining what a valiant effort he made by allegedly eventually removing his tongue from Zita's mouth. Amy stands up for Karma at least thinking about taking the payoff, and Karma weakly explains, fully crying now, how the check could get her parents' house back. Liam can hate his parents and their company and want to give it all up for Art all he wants, but he'll never ever understand what it's like to be Karma. He's not shocked that his Dad wrote the check — he's shocked that Karma took it but has not cashed it, is merely considering it — shocked that she might prioritize her family's health and happiness over a 'relationship' that wasn't working anyhow to take money from a corporate cornhole who's got plenty to go around.
Karma: I'm not rich, Liam. I didn't fall asleep in class because I've been studying. I've been working every catering gig I could get and I live in a freaking JUICE TRUCK.
So, Liam's just learned that his not-girlfriend's been sleeping in a juice truck and working all night and instead of summoning empathy, he declares it "so besides the point" and shouts that if she'd been offered that much to stay away from Amy, she wouldn't have "considered it for one second." But Amy's Karma's life-long best friend, not an ex-boyfriend who spells words with staple guns, shines a reading lamp on it and calls it "art."
Nobody points this out, of course, because now Shane is crying. Wailing, actually, into his pit of miniature candy bars and despair:
Shane: You're right, I am a terrible person. I outed you two as lesbians because I didn't want Lauren to win homecoming queen, and I outed your pills because I wanted to take you down. And I outed Duke because I wanted to ruin his life, instead he told me he loved me. And now he hates me. And he should. I hate me.
Everybody goes soft on Shane — just 'cause you did a bad thing, it doesn't make you a bad person — and within a matter of minutes, the entire group has decided to leave their worries and conflicts behind them in pursuit of a singular goal: getting Shane to Duke's gym before Duke walks off this soundstage forever, forcing Shane to shack up with somebody in his own age bracket.
---
Pages: 1 2See entire article on one page