In honor of GLSEN's Ally Week (9/28 – 10/2), we thought it important to shine a light on what makes a good ally within LGBTQIA communities. So much awesome, important focus is often placed on allyship from those who do not identify as LGBTQIA, but (spoiler alert!) young LGBTQIA young people also really, really need older LGBTQIA humans as allies.
To answer the question of how we adults could be good allies to younger humans in our communities, I took to Tumblr (as a good detective often does) and shouted into the vast expanse of the internet, "What do you think makes a good queer adult ally?!?!"
The first thing that the internet shouted back with extreme clarity was, "Why are you calling us all queeeer, Kriiiistinnnn?!" Point. Taken. You don't all identify as queer, and as the good queer adult ally I aim to be, I have reminded myself to be more careful in using words as generalizations for a complex and intricate community of humans, ad to continue to learn from those around me. This list is already working and I haven't even started it yet. Badow.
Without further adieu, I present to you a list of ways that you, a grown-up LGBTQIA human, can be the ally you always wish you'd had when you were a young person!
---
1. Exist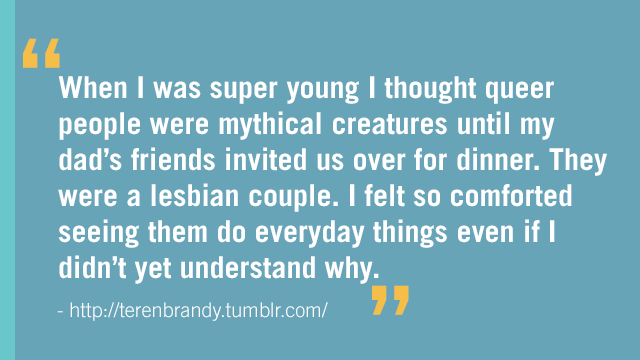 Existing on any level as LGBTQIA is a big effing deal, everyone. Whether you are an educator, a shop-owner, a neighbor, or the city's best tap-dancer, the fact that you exist and live in the world as yourself, sexuality and gender identity included, lets young people know that they can exist…and that they can be an educator, a shop-owner, a neighbor, or the city's (second) best tap dancer. What's really important to remember is that this is applicable regardless of how "out" you may be in your community—even if you are only open about your sexuality or gender identity with those closest to you, you are still having an impact.
…I found older adults who gave me a picture of what life could look like, reassuring me that it was just possible to still be alive at 30, or 50, or 80, and be a lesbian, to not have to marry men (or marry at all if I wanted). As someone who grew up in a place where I knew few people who didn't grow up, get het married, and have kids, just the idea that it was possible for me to grow up as I was and be happy/not dead was important.
When I was a baby queer I knew exactly one adult queer human…and only through the internet. She was super awesome just in that she talked to me like any other person would. I learned about her super normal boring adult life and she listened to my baby queer angsty problems and offered advice based on her life experiences. So just that, I think. Being a normal human being who exists and shows baby queers that being queer can just be normal and boring like any other grown up.
---
2. Be Visible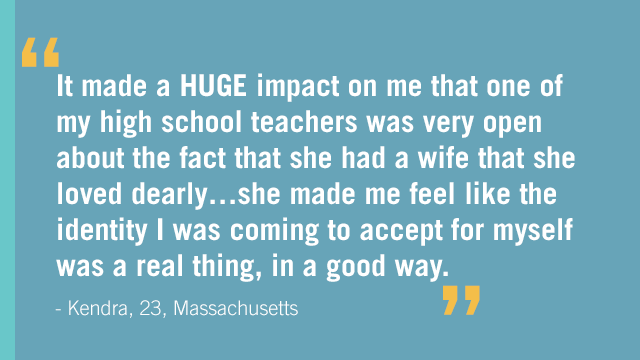 As we all know, our dance with LGBTQIA media representation is a complicated one. While we are seeing an increase in LGBTQIA characters on television, in books, and in movies, those portrayals are often suuuuper monotonous (and, surprise!, stereotypical). Luckily, many of us do feel safe enough to make our lives visible in a day-to-day way, whether that means being out at our workplaces, writing about our experiences on the internet, or being active in demanding that the multiplicity and complexity of LGBTQIA identity be shown more often, and more consistently. This visibility of nuanced and complex queer identity is what shows young people that they don't have to be anything apart from themselves as an LGBTQIA person…and it also lets them know that they, too, can exist in nuanced and complex ways.
…honestly just seeing adult LGBTQ doing all the things you sometimes think are closed to you when you realise you're not straight, proudly and without shame. I found Krista at Effing Dykes super helpful because I didn't know about other people, but in realising my bisexuality I was like "I'm never gonna have a romantic partner." It removes some of the fear, I think, when there are visible adults who are LGBTQ & still living their best lives.

– Anonymous
Being visible and being proud. Just seeing real adult queers out in public helped me know that I would be okay, if they could make it that far and look happy, then so could I.
---
3. Talk About Sex. Also Talk About MORE Than Just Sex.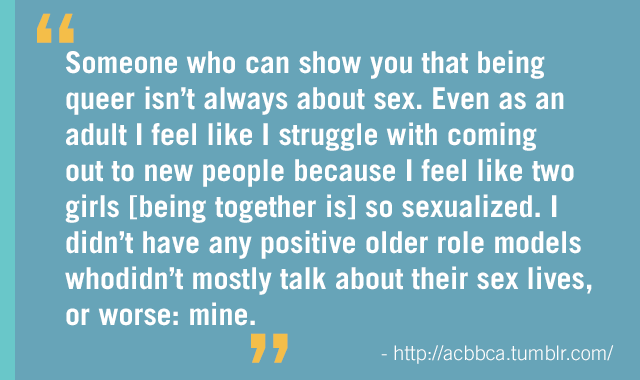 Hey, listen…if it's what you're into, sex can be pretty damn awesome. Not to mention how powerful and affirming it is to learn that the kinds of sex you want to have and who you want to have it with is totally cool and great and wonderful, after possibly being told the opposite for a long, long time. To those of us LGBTQIA adults who are comfortable being open about sex—yes, yes and more yes. Young people need to have information, and they need to know that sex is more than what they learned in health class (*facepalm*). THAT SAID, sex alone does not an LGBTQIA person make, so it is incredibly important that we remember to talk about the many facets of what it is to exist and operate in our lives.
Sex advice. Very important! I'd had LOADS of great hetero sex education at school but was clueless re: queer sex and it was very hard to find answers about STI risk and safe sex as well tips!

– Sophie, 27, Scotland
---
4. Respect Fluidity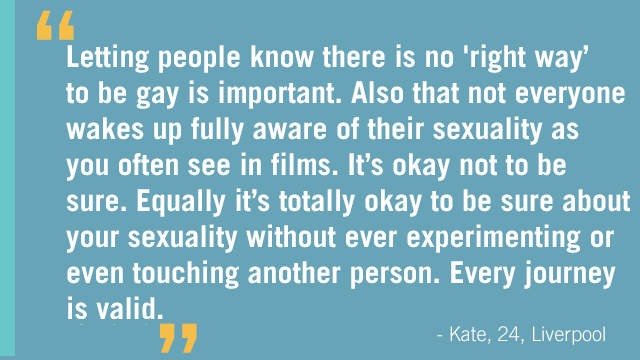 Okay grown-up adult humans, let me tell you something: I was totally right there with you in the 90s, jamming out to Salt N' Pepa and coming to understand my sexuality as one thing that would remain constant for the rest of my entire life. Turns out that my respect for Salt N Pepa had much more staying power than my one, singular, never-changing identity. I have come out many times in my life, and I am certain that I will learn new things about my ever-shifting identity as the years go on. Young people (all people!) need to know, and be reminded at every turn, that who they are today doesn't have to be who they are tomorrow, next week, or next year. Allowing for fluidity means that we all get to have fun in the exploration parts of our lives. As. We. Should. *cranks Shoop*
…people who were older than me (or had simply come to terms with their queerness earlier than I had) were most helpful when they were very affirming of my constant shifts in labels and identity. It was so nice to hear that it was confusing, and I could change my mind as much as I wanted, and whatever label I used was okay.

– http://pieces-ofsunlight.tumblr.com dean, 18, NY
---
5. Respect Bisexuality
One of the things most frequently repeated in the land of Tumblr-comments was telling adult queer allies how important it was to please, please (please!) RESPECT BISEXUALITY AS A REAL IDENTITY. Bisexuality is not a bridge to another, realer identity. Bisexuality isn't something that threatens your queer identity. Stigmatizing the identities of others, especially when you have been stigmatized yourself, is about as un-cool as we adult allies can get. So, like Aretha says, R-E-S-P-E-C-T. Eh?
As a bisexual person, I felt it wasn't enough to just have a queer adult role model. I needed to know that the queer adult role model wasn't biphobic, and would welcome me to groups, events, etc. Even if I wasn't a lesbian. Those people validated my identity, and made me feel safe in all spaces, especially queer ones.
The queer adults that were challenging biphobia and being bi-positive etc (including Autostraddle!) were really important for me, as when doing the googling I'd landed on biphobic forums and was really struggling with my identity.

– Anonymous
…no one said 'well, maybe it's just a phase,' or just that one girl, and only a couple very annoyingly said 'well, you don't necessarily know that you're bi because you haven't been with a girl yet.' What felt really great is that almost no one made me feel like I had to basically 'prove' that I'm actually bi. Because I always appreciated conversation about sexuality, I was figuring out my own feelings and I wanted to talk to my friends about family about them, but it would have been really hard if I had felt that they didn't take me seriously.
---
6. Educate & Advise, Don't Patronize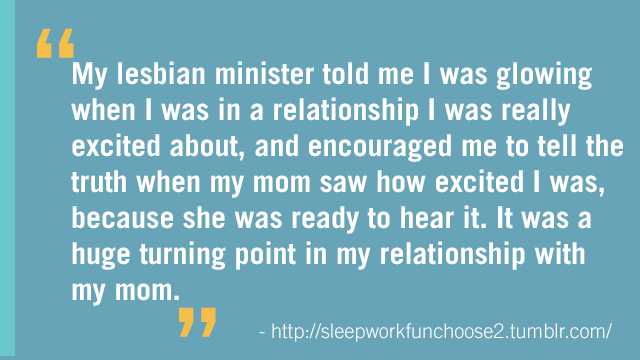 Knowing your history, both personally and historically, is endlessly important—for yourself, obviously, but also for young people who may be seeking to better understand their own experiences. That said – just because you may have a few more years of experience doesn't mean that you get the award for 'knowing all the things' (a coveted, and never-awarded honor)… so don't talk down, and remember that the learning can, and usually does, go both ways.
LGBT adults should share history with younger LGBT youth, because a lot of the time it's a part of our history we have a hard time finding or accessing. This is especially important now, when so many people (including LGBT teens) are intent on manipulating LGBT history for their own gain. In my opinion, this is especially important for lesbians and anyone who isn't American (because so much LGBT history we hear is from America, but every community has its own local events that shaped its history).
Mutual respect. Everyone has something to learn from everyone, regardless of age. And it's silly for adults, especially in activism roles, to talk down to people our age or treat us with any less respect than anyone else. That's probably the thing I like the most about GLSEN: the fact that all of the adults are extremely respectful to us as youth activists.

– Katie, 15
Answering my questions without talking down to me. Sharing their coming out stories. Introducing me to their girlfriends. Letting me talk and cry and ask. Hugging me. Telling me I was going to be OK. I was a very lucky babydyke to be adopted by some awesome queers 10 years my senior, and I love them to this day.
They made me feel like I was accepted and that my feelings were valid, I was always afraid I was being irrational and it meant something to know that someone had been where [I was].
One big piece of advice I would give to LGBTQ adults in terms of allyship would be never to patronize. I notice a lot of cross-generational interactions between LGBTQ folks has this condescending tone, especially when the elder sees the youth's views as "too radical" or "too angry."

– Ben, 18
---
7. Also: LISTEN
If you're an adult, then you are likely already in on the big secret: you never feel like an adult, and the feelings you had when you were younger are just as valid as the feelings you are having right now. Sure, maybe you navigate them a bit differently now, maybe you've learned some awesome self-care skills and have come to better understand certain nooks and crannies of your being more…but the feelings and the questions and the ever-evolving nature of existing are ever-present. I say all of this because I think it is that awareness that should always remind us that, while advising and supporting and sharing knowledge is important, we cannot forget TO LISTEN. Young people need to be heard more than anything else, and what's more, in a conversation where both/all parties are listening to each other, everyone benefits. Capeesh?
Definitely just making it known that they are an open ear (though not pressuring people to talk). There were one or two teachers in high school who, if I was getting down, I would tell myself I could go ask for help. I never did but it was huge a comfort knowing I could've.
I think one of the most important things an adult queer ever did to make me feel safe was listening and understanding and not trying to diminish what I was experiencing by trying to talk over me and share their experience until I asked about it.
Someone told me that they would always be there. Even if its just listening to me or letting me cry. Having someone at the other end of the phone who won't judge you for feeling whatever it is that you feel, just them being there was really helpful.
---
8. Know Your Resources & Your Queer Media…and Share, Share, Share
Past being visible ourselves, bringing the existence of others to light is a critical piece of being a good adult queer ally, as is highlighting organizations, websites, and humans who are working to help LGBTQIA communities in myriad ways! So when you see something, share it. The more that other people—and young people especially—can see those books, those groups, those events, and those other humans, the more they get to devour and experience as they come to better understand themselves.
Signposting – to resources, to community groups, to tv shows, to websites and to other queer people – is so important and really helpful and one of the things I love being able to do now.

– Sophie, 27, Scotland
My queer adult allies gave me resources. They answered my questions honestly and connected me with other people within the community. Most importantly they could recommend books, TV shows, and music with queer characters so I could see myself in them.
---
9. Respect Youth Spaces
Perhaps nothing is as important as giving LGBQIA young people the space to talk amongst themselves and to learn from each other. Some of our experiences will overlap, for sure, but there are some experiences that are specific to the context of being a young person right now… and having a safe space to navigate that without the voices of older LGBTQIA folks overshadowing (or even intermingling!) with that journey is critical.