A lot has happened in the year since the lesbian YouTube duo Bria Kam and Chrissy Chambers released their first music video, "Take Me to Heaven." In that time, the couple have put out two more music videos, gained a huge following after releasing some YouTube videos that went viral and, most recently, started to pursue a Revenge Porn Civil Lawsuit.
In 2013, Chambers found out that her ex-boyfriend had filmed himself sexually assaulting her in 2009 while she was unconscious and he posted the videos online. She tried to file criminal charges in the UK, where the videos were uploaded, but was unable to.
Because her ex-boyfriend filmed the videos, he has the legal copyright to them and the only way for Chambers to get them taken down is to file a civil lawsuit, which costs money. Chambers and Kam released the song and music video, "Can't Break Me," to gain awareness and try and raise the $30,000 it will take to move the case forward.
"For me, the lyrics are to my ex," Chambers said of the song. "Even though you tried to hurt me, nothing will break my determination or courage."
The song was released on Sunday and the couple has already raised over $20,000. In the UK, a law was recently passed requiring a 5 percent fee of the total sum claimed in damages for civil cases. Chambers and Kam are hoping to raise $30,000 by March 21.
"I am the first public figure to come forward as a victim of revenge porn and speak out about it," Chambers said. "The UK has never had a civil lawsuit against revenge porn and we'll be the first if we can raise money."
Chambers was 18 when she was filmed, however she didn't find out about it until a few years later.
"My initial reaction was terror and denial mixed with just shock and despair," Chamber said when she found out about the videos in 2013. "It was like my life that I knew was shattered. I felt so hurt and lonely and helpless. When I found out I literally flopped on the ground."
Kam said she felt Chambers' pain.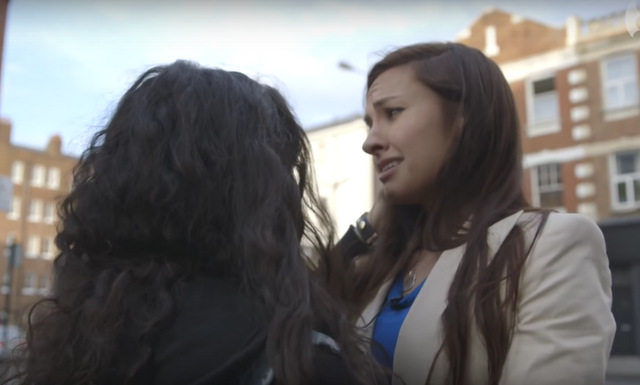 "It was just a physical sensation that took over my entire body that I can't really explain," Kam said. "I try and be strong for her because I want to be the best support system I can be."
Chambers said that Kam was a big part of what kept her going.
"She is amazing, supportive and loving," Chambers said of her girlfriend. "I would say for the first few months I didn't get through my initial emotions successfully. I started drinking to not feel the pain. I was very depressed and had night terrors. It was a really terrible time. I don't know how I would have gotten through without her support."
Originally, Chambers tried to contact the websites that posted the videos and asked that they be taken down.
"They had no care about us trying to reach out," Chambers said, who was 18 at the time the videos were filmed. "They said, 'the videos don't belong to you, you're over 18 and it's not our problem.'"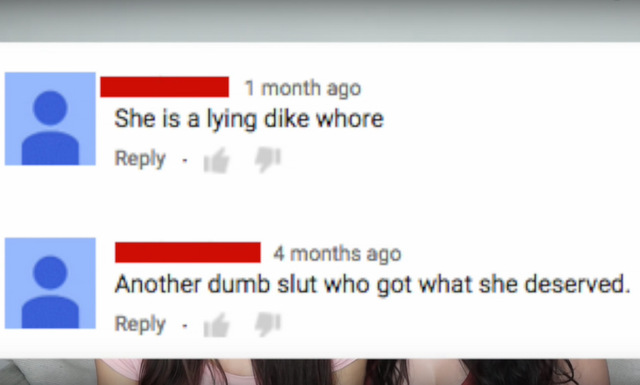 Though the couple tried pursuing criminal charges in England against her ex-boyfriend, they were unsuccessful and became discouraged. They talked to their producer Danny Olson about it and decided to put their emotions into a song and music video.
In the video, Kam is seen walking at night in fear and being followed.
"She represents the struggles all women go through and the dangers that we face daily," Chambers said.
Chambers, shown as a boxer, represents the inner fight and strength.
"The video was an ultimate expression of how much we care about each other," Chambers said. "It's personal to us and a source of healing for us as well. We wrote it to personally listen to it. This has been such an emotional journey and we care so much about bringing it to life. This video shows love and survival."
If the couple can't raise the civil lawsuit fee they won't be able to continue the fight.
"It's all or nothing," Chambers said. "We've already spent so much money fighting this that if we don't make this $30,000 we can't move forward."
However, they are hopeful they will reach their goal.
"I'm so taken aback and so grateful and thankful from the bottom of my heart to everyone," Chambers said. "Even if it's not financial support but a hug or kind letter or a share of the link, it means so much to us."
Right now the campaign in the main focus for the couple. They have continued to upload weekly videos to their channel, though will be taking a break for a month to raise awareness about the campaign. After that, they plan on taking time for themselves.
"We want to take a week off and take care of ourselves and go somewhere quiet," Chambers said. "It takes such a toll on us but we don't really have a choice. Until then, we will continue to put out content, raise awareness and make people laugh."
The couple are grateful for their fans who have been quick to support them.
"We know people are trying to help us in a time of greatest need and with out them we wouldn't continue to move forward to justice," Chamber said. "I'm eternally thankful."