The trend these days is to "defy categorization," to blur borders and write poetry in such a way that it becomes "more than" poetry, something so new as to be ground-breaking, unheard of, creating an apparent rift in the use of language. Mary Meriam takes a different tack. She writes poetry that so fully embraces its categories, so passionately fulfills their definitions, that the reader finds no choice but to embrace them too, and to hell with the naysayers. Is formal poetry singsong? Is lesbian poetry defiantly erotic? Does women's poetry exude femininity? Hell, yeah! Mary Meriam's new book of poetry, a trilogy combining her three previous collections—Word Hot, Conjuring My Leafy Muse, and Girlie Calendar—thrives in its own categories, transcending stereotypes by making her poems work in all the honesty and vulnerability of what they are: ways of expressing the truth of the human condition and of the heart so irresistibly that what we may have thought was wrong with categories has become so right.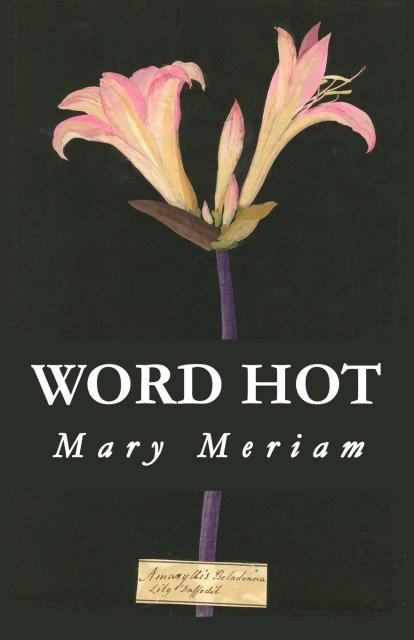 She doesn't flinch at female eroticism, at emotional turmoil, at social upheaval, at the truth of human cruelty. She also doesn't flinch at rhyme, rhythm, formal constraint, or ancient forms of poetry and language. Even the singsong breathes fire. Mother Goose taunts the guilty mothers. But no gratuitous haranguing here: these are gut poems, deeply felt, yet adeptly and sensitively composed.
Take eroticism for example. In her sonnet "Melon Balls," the conversational tone within its metrical, rhyming context uses formality in a disarmingly simple way, a sort of casual elegance, the perfect foil for the sensually erotic subject matter which often finds its way into her work.
What do I know of sex in my seclusion,
the big black bull outside the hot barbed wire,
the female rancher's sweat in the confusion,
for all I know, the bad bull's balls on fire?
I'm most familiar with my quiet table,
with casseroles, with roasted nuts and seeds,
with stewing beans, with salads cool and stable,
with satisfying simple daily needs.
Her subject matter cannot be confined, although love in all its aspects predominates. In section two, entitled "Sweatshop," of three in a series entitled "Three Crowns of Misfortune," her skillful sapphics raise social issues on a theme of love:
Wait for nothing, wait for the Loves, what matter
night that gallops, tramples her roses, horses,
wildmares, slung here fruitless and starved, Misfortune
​slips on the cliff's edge,
The three sections of the larger poem show a compassion for these women—the stripper, the sweatshop worker, and the taxi driver—expressed with the same inherent elegance of language, in a sense elevating their memory as icons of women's suffering. And of course, there are many poems about pain. Some focus on the suffering of those whose sexual orientation doesn't "fit" their surrounding social world, as in these first lines of "I'll Call Him Art":
Art is undone. His chair's askew. His eyes,
his eyes are locked with mine. His look is raw,
mascara running, caught by small-town law,
the bible belt, bewildered parents' sighs.
Art is a man-child boy-girl compromise,
sitting between his farmer maw and paw,
here in the sheriff's office, Satan's claw.
Art holds the Word of God, holds back his cries.
Other more personal poems explore bad relationships, as in "The Stone Insanity," addressed to the narrator's mother and reflecting the nightmare when emotions get cruel:
Night watchmen drag us screaming from our beds,
while you knit sweaters in the living room
in pretty patterns, yellows, blues, and reds,
and in your garden, pretty flowers bloom.
Your ladies circle will be lunching soon,
your table is adorned with lovely plates,
a hum escapes, a merry little tune,
you sniff the hearty chowder that awaits.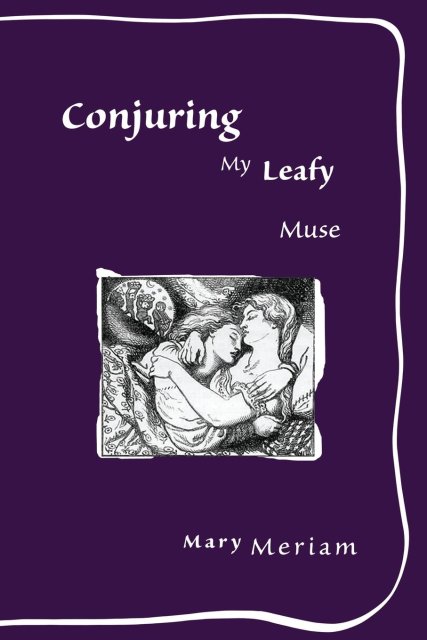 Clearly, in "Conjuring My Leafy Muse," the second book of the trilogy (which was nominated for the Poets' Prize), Meriam has conjured the whole forest. There is a strong element of the fairy tale, of Mother Goose in her work. Sometimes it can be grim, as in this excerpt from "Night of Snow" with echoes from Snow White and maybe a touch of Gretel:
She is the Queen, and her regime's
A bloody plot of swift extremes.
Her daughter's heart would taste just right.
She opens wide and takes a bite.
Which isn't to say there isn't a plethora of love poems in this book, as this excerpt from the title poem from "Conjuring My Leafy Muse":
Dear treasure chest of trouble,
crows fly around my house.
The mob is after me, they mock and sneer.
Deep inside my quiet room, I hear
your heart beat slow.
Your hair is loose and shines like gems.
I sail away and live on waves of you,
my pale disheveled body
finding harbor here,
my love, my dear.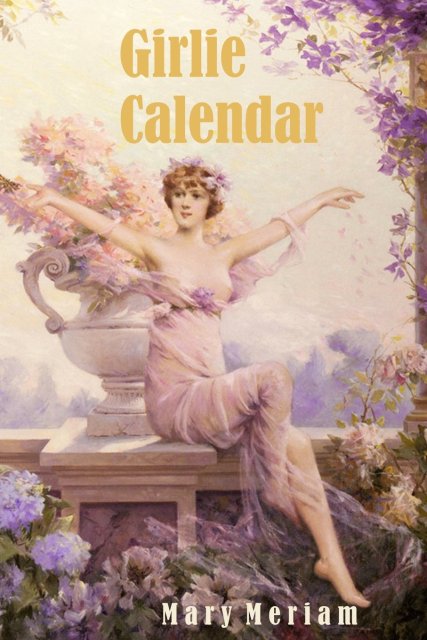 Book 3, "Girlie Calendar," is divided into months, each personalized month having her own quatrain introduction—a brilliant lesbian twist on the traditional "girlie calendars" for men. Here's October:
I do adore October's blue sarong,
the sliding slits along her whistling hips,
and I would die to kiss her ruby lips
for all the wet and rotting leaf night long.
That last line adds a pungent touch of truth to the quatrain. And in the end, it is what rings true that endures. Because deeper truths are the most satisfying venue of poetry, the poet who incorporates beauty with horror, pain with transformation, calm with the unsettling, love with human destruction, is the poet whom we will finally remember when the curtain falls and the kudos and snipes have been doled out. This trilogy, a comprehensive selection of her work, displays that more deeply satisfying yin-yang of poetry. Mary Meriam's poetry will not go away, and in this world of excess talent and uncountable literary stars, that is saying a lot.