Welcome to Weekenders, a new travel column where we talk about fun queer-friendly weekend trips for gal pals and girlfriends and everything in between! Weekenders isn't about visiting big cities, it's about that small town two hours from a big city or that city you didn't know was a cool city.
---
20 minutes from Lake Geneva, Wisconsin
Driving Distance: One hour from Madison or Milwaukee, two hours from Chicago, three hours from Champaign, 4.5 hours from Indianapolis or Des Moines, 5.5 hours from Ann Arbor/Ypsilanti.
Travelers/Status: Riese and Abby, a couple from Michigan who wouldn't mind living in a mansion. In an effort to draw attention to the newly reopened B&B, our stay was comped with the understanding that we'd write an article about it, but we were given free reign to write whatever we want.
---
The Allyn Mansion
In 1984, Ron Markwell and his partner, Joe Johnson, bought an unoccupied furniture store. Well, really they bought a house — a very large, very impressive house — that had recently been a furniture store but now was just an empty house. Before being an empty house or a furniture store, it'd been a nursing home, but that phase ended in 1966 when stricter regulations for assisted care facilities kicked in. Before that, the 9,500-square-foot, 12-bedroom home belonged to the very rich Allyn family, who'd made their fortune in dairy farming. This was, after all, Wisconsin.
In 1884, Alexander Allyn had commissioned famous Milwaukee architect Edward Townsend Mix to design a mansion for him, his kids and his second wife, Mary Elizabeth, who no longer wanted to live in his first wife's home.
After Mary Elizabeth's death in 1913, the house was passed on to a step-daughter, who lived there 'til 1948, and then to a grand-daughter who sold it to the city, who sold it to a nursing home.
In the ensuing years, Mix's vision was slowly destroyed, and much of the furniture was sold off. The tower — a staple of many Queen Anne era mansions — was removed. The elaborate and embellished Victorian celebrations of excessive wealth were swiftly replaced by dowdy practicality. Layers of ornate wallpaper were slathered over stenciled patterns imported from Europe, hand-painted fresco ceilings were obscured by cream paint, and wall-to-wall shag carpeting invaded wood plank flooring. Not a national tragedy in the grand scheme of things, but if you are a historian or passionate about restoration work then this situation was about as bad as it gets.
Then it was 1984, and schoolteachers Ron Markwell and Joe Johnson decided to buy the house they'd been admiring on shopping trips to Delavan for several years. The town considered it an eyesore at this point but it had potential: specifically, Ron and Joe wanted to restore it to its original form, inside and out. It was a hobby that became their life's work and the centerpiece of Delavan's appeal, even snagging the restoration house's highest honor in 1992, The Grand Prize from the National Trust's Great American Home Awards.
In order to do so, the pair was meticulous about authenticity — everything, everything, was to be as it was, or at least as it could have been. They wanted to bring back the spoon-backed chairs, the silver, the china, the buttoned velvet upholstery, the ottomans, the special-ordered wallpaper with its gold and silver stripes and its fruit and its birds. They wanted to chip off the new paint and re-paint every frescoed ceiling to look exactly as it had back then. Ron and Joe funded the restoration by selling antiques and, starting in 1986, by using the place as a bed & breakfast. In the book A Passion to Preserve: Gay Men as Keepers of Culture, Joe tells the author:
When I look back at the "before" pictures, I don't know how we did it. I don't know how we had the guts. But once we worked with it a while, we realized that we're more owned by the house than we own the house. We got possessed with the whole thing.
We didn't know about any of this until we were about halfway from home (Ypsilanti, Michigan) to Delavan, when I looked up the bed & breakfast website on my phone to read about the history to my fiancé, Abby. We like to know the history of everything we ever do and everything we ever see. I think you've gotta know what's behind a thing before you can really look it in the face. I wonder what it was like to be a gay couple in a small town in Wisconsin in 1984, was our first thought.
You never hear these stories, you know, you just hear the ones from cities. But those aren't the only stories, or even the only places where a person could be out, or happy, or operate a busy Bed & Breakfast in Wisconsin. These guys went to the bank and got a license to open their Bed & Breakfast and they did it. They did that in 1986, when the AIDS crisis was driving anti-gay sentiment to high hysterics.
Although I imagine most of our Weekender posts will be about West Coast / Pacific Northwest and East Coast trips, I'm also hoping through this series we can point out that those are not the only places where gay life and culture has survived and thrived, and definitely not the only places where you and your gal pal can have a nice weekend. This particular trip was set up by Crystal, our HR Director, who visited Allyn Mansion recently with her wife, Katie, on the recommendation of her Mom, who stayed at Allyn after Crystal's wedding this past October. It was a really cool trip. So, let's begin!
---
Friday
Somehow, knowing a gay couple owned the place made us more excited. Like it was a piece of history in lots of ways, not just the obvious way. Even though this trip had been set up by Crystal, it's hard not to be even a little bit nervous about being a gay couple traveling anywhere besides a major city. These days, it's not always the fear that something awful will happen, but more that something awkward will happen. We're introverts. We don't like attracting too much attention to ourselves.
But somehow, within an hour of arriving at the mansion, we weren't thinking about the gay stuff at all and already felt totally comfortable walking around the house in our pajamas and socks and leaving our door unlocked. I don't know why, it just felt okay, like it wasn't our house but it was our house, even though technically we just had our room.
We'd taken about seven hours to make the five-hour drive, as we so often do, and arrived feeling fantastic 'cause we had Wendy's for lunch and Gas Station for dinner and hadn't moved any of our limbs since the Ice Age. So you walk in and it smells like cookies and whoever is there will show you your room, basically. There are three floors, twelve bedrooms, a tower, a dining room and kitchen, and several common rooms. Our bed was so high off the ground that it came with its own little staircase.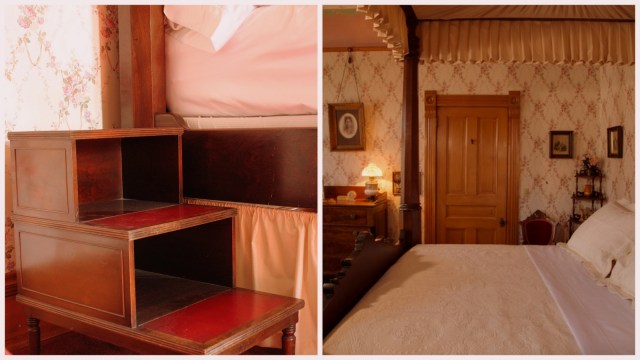 We slept like rich dairy farmers.
---
Saturday
The dining room was set for breakfast but the guests were all cuddled into the library drinking coffee. So after poking around a little bit we crossed the social threshold and engaged in surprisingly smooth small-talk with four other couples staying that weekend. All were straight, all in their late 30s/40s, all from Indiana or Illinois. I surveyed the tall, stuffed bookshelves, noting signs of homosexuality, including a Gay Erotica book tucked so close to the edge of the shelf that the framing of the doors obscured it entirely, unless you are a lunatic like me and always try to see which books have been slid into the "nobody can see this part" part of the shelf.
Then we shifted to the dining room for the much-lauded three-course breakfast. There was more than one kind of fork. It started with a sweet grapefruit situation I mentally noted to remember the contents of in order to re-create it at a later date. I have since forgotten. This particular morning featured more carbs/sugar than we'd expected but still, everything was delicious. Tammy is the cook, she's wonderful and her daughter is a lesbian. Even in the dining room you can see how everything is very careful there, everything is very period. Sort of like living history, which we love.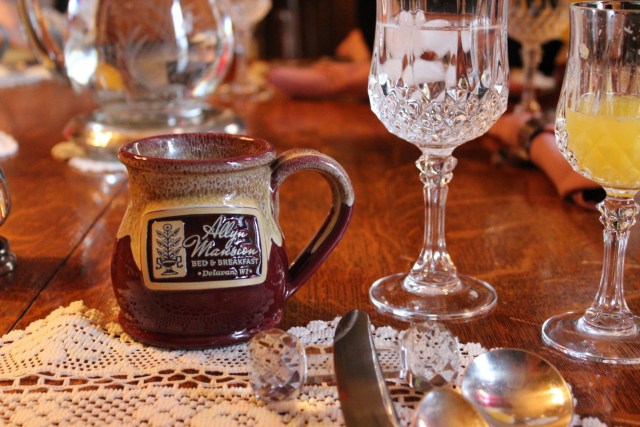 So the couple from Indiana told us about an antique shop in Lake Geneva with a clearance sale that included vintage cameras for $6 and another with lots of old records. Abby collects vintage cameras and records, so our plan to hit the history museum escaped into the sweet cold February breeze, replaced with "antiquing," a word we spoke for the first time on this very day. It felt normal.
After breakfast was the tour: the story of all the owners, the restoration, the pictures on the wall, the wallpaper, the furniture, the ghosts, how painstakingly Joe and Ron had attempted to re-create the original down to every last detail. We heard how, tragically, in 2009, Joe was working on a house in Guadalajara where the two planned to retire when he was brutally murdered. Obviously I looked it up later. The case was never solved.
They'd closed the B&B in 2007 and put the house on the market, but after Joe died, Ron didn't want to sell anymore. In 2014, experienced B&B owners Randy and Sara took over and re-opened the Bed & Breakfast. The one-hour tour took us through the whole mansion and provided a cool history lesson. Ron is sick, Randy told us, and that's why he's not giving the tours these days.
Now they're in this very intense phase of publicity and refurbishment, including things Victorians didn't have, like private bathrooms. You have to have that now. Randy said the other big thing now is "spa showers" so they're gonna get some of those. You'll step in and get attacked immediately on all sides by jets, which's romantic and luxurious. Our shower was small, that's true. But I liked the clawfoot bath-tubs and the chamber pots, though they're really just there for decoration. One guest said he wished the TV was positioned better, but Randy explained that Ron didn't want TVs at all, so they had to find places to fit them in that wouldn't totally mess up the vibe. I liked that ours was tucked away, we didn't want to watch TV, anyhow. There's wi-fi, and a tablet you can use to play music in your room, and also a pillow menu. So that's good, I think.
They've added a mini-day-spa already, and a free massage is included with your stay. Then there's the third floor: they're gonna connect three rooms to make a large guest suite for families or "girlfriends weekends." It all sounds very cool but it's already cool because it's so weird and so crowded with sumptuous stuff.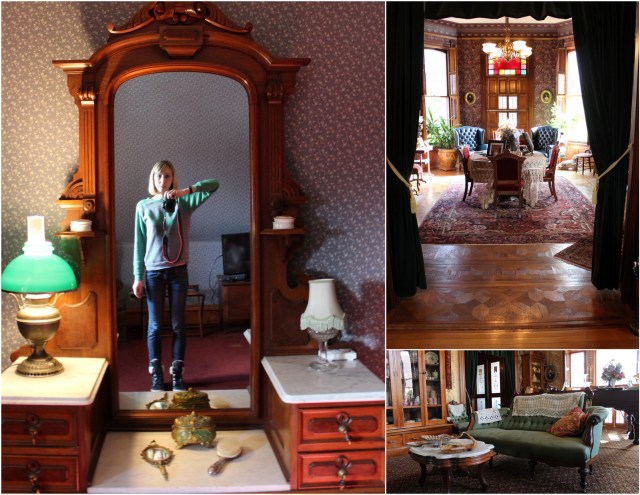 It's actually kind of cool that you're forced to interact socially with a bunch of strangers in the morning, because people, it turns out, are interesting, and interesting to talk about afterwards. After the tour we drove to Lake Geneva, the Main Attraction. It was Winterfest that weekend, so the whole town was crazy-crowded. People had taken chunks of snow and carved them up to look like other things, like mermaids or dolphins, and everybody was really excited about it. Fifteen cars apparently were so sick of looking for parking that they chose to park on Lake Geneva itself, which was frozen over but not deep enough, so all their cars sank right through into the water.
We found the antique cameras, as promised, visited the town's only bookstore for grown-ups which we found sadly lackluster and oddly focused on Christian literature, and, hungry, dipped into Good Vibes Cafe because it didn't have a wait. It was going for some kind of Zen Buddhist vibe, but with roast beef sandwiches? Service was slow and the food was mediocre, but our waitress was cheerful, kind of like the violinist who kept playing while the Titanic sank.
After visiting a few more antique stores and a place that sold hot sauce where I ate a bunch of free pretzels, we went back into Delavan to hit up some thrift stores there. When the guy at Pack Ratz told us there was Karaoke at the pirate-themed bar that night and that we should check it out if we wanted to and that it was "family-friendly," I wondered for a second if he thought we had kids before realizing oh, he means THAT kind of family. GAY FAMILY. See! We're everywhere! Abby says maybe we should go to the Pirate bar, but then I remind her that we're about to eat a truckload of food and will probably just want to lie down after that.
Then it was back to Allyn Mansion for our massages, which were both brief and lovely, and then to Sweet Aroma for our dinner reservation. We usually don't go out for Italian but Crystal said it was some of the best Italian food she'd had in America and our new B&B friends raved about it. Plus it was like a three minute drive from the mansion and there was a dish involving a lot of meat that sounded good to Abby.
As advertised, the bustling, casual-fancy bistro served lots of food and lots of good food, at that. We didn't go to the pirate bar but we did lie down.
---
Sunday
The Sunday morning crowd at The Mansion was considerably more introverted than the Saturday crowd. It included a pregnant vegan with a hipster boyfriend who'd been poisoned the night before at a crappy sushi restaurant and still felt overall unpleasant and a young couple who spent most of the meal typing on their cell phones. Randy said we were the quietest breakfast crowd he'd ever had, which felt true, because the morning before everybody had been talking a mile a minute. The quiche was really fantastic though, and we talked about cars parking on the lake and stuff like that.
Then we set off for our long drive home, feeling well-rested and Victorian. We stopped in a little town called Chesterton, Indiana to check out Yesterday's Treasures Antique Mall, and ended up spending like two hours there. I even found some old photos that looked like they might be of lesbian couples! (Okay, they're probably of sisters, but still.)
---
Things to do in Lake Geneva:
Lake Geneva was the go-to vacation spot for the rich people of Chicago dating back to the Civil War. FUN FACT: the resort currently known as The Grand Geneva Resort & Spa was Hugh Hefner's original Playboy Resort. I just used the word "resort" three times in one sentence! Palatial estates abound, as does shoreline, quaint shops, good restaurants, day spas and boat tours.
Attractions
Geneva Lake: I hope you're sitting down for this one: the main attraction of Lake Geneva, Wisconsin, is… Geneva Lake! In the summer it's a beach offering boat and jet ski rentals, water skiing and boat tours.
Geneva Lake Museum of History: We were gonna go here but decided to check out the town instead and afterwards wished we had gone here because everything was so crowded because of Winterfest! But the TripAdvisor reviews of this museum are glowing, you should check it out and let me know how awesome it was, the website looks cool.
Geneva Lake Shore Path: A diverse hiking trail along the perimeter of Lake Geneva. It's a 24-mile path if you're feeling really ambitious with your FitBit.
Black Point Estate: Tours are offered of this prominent and fascinating mansion. Includes a BOAT tour.
Studio Winery: Art/music/wine studio owned by a charming couple (the husband makes the wine and the wife makes the labels) who offer tastings and tours. Recommended by our fellow B&B-mates.
Lake Geneva Cruise Line – Options include sunset cruises, champagne brunch, jazz dinner, Ice Cream Social Tour, Cocktail Cruise or the U.S. Mailboat Tour, which "showcases the talents of the mail carriers who leap between docks and moving boats to deliver the mail to its shoreline recipient."
The Mountain Top at Grand Geneva Resort: In the winter, this is where you can try skiing and snowboarding on 18 downhill trails, also includes 10 kilometers of cross-country skiing trails. My parents apparently went here on their honeymoon which is when my Mom learned that she doesn't like skiing! So uh, let that be a lesson to you, honeymooners.
Yerkes Observatory – A few evenings a month visitors are able to check out the sky through a 40-inch refracting telescope (the world's largest), or you can sign up for a daytime tour.
Food
Simple / 525 Broad Street – Hands down the most highly-recommended eatery in Lake Geneva and a breakfast-lover's paradise, with an inventive menu and an adjacent bakery. Locally-sourced ingredients from Wisconsin farms.
Egg Harbor Cafe / 827 w Main Street  — Another popular spot for breakfast or lunch.
Oakfire / 831 Wrigley Drive – Lake Geneva's first Neapolitan Pizzeria, overlooking the lake.
Sprecher's Restaurant & Pub – This family-owned Wisconsin chain is known for great beer, sweet potato fries, fried cheese curds and the famous friday fish fry.
Popeye's / 811 Wrigley Drive – Natuical-themed lakeside dining, famous for slow-roasted rotisserie chicken, pork, lamb and fish fries.
---
Check out The Allyn Mansion at their website!
---
If you run an LGBT-friendly establishment and want us to check it out for a Weekenders column, hit up Alex [at] Autostraddle [dot] com, and we'll find some humans to pursue. If you'd like to submit a Weekender, try our submissions page.