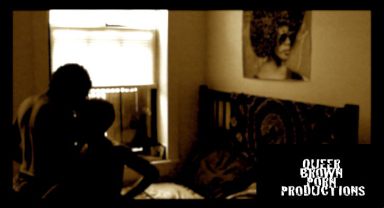 It doesn't take getting through more than a few seconds of most porn to become convinced of two things. It wasn't made for us. It wasn't made by us. And it truly requires "getting throughwp_postsas opposed to getting off for many queer brown folks.
With "lesbian porn,wp_postsfor instance, (if you can even call it that) you'll likely encounter two straight women looking into the camera directly, performing what they think lesbian or bisexual sex should look like. In most cases it's based on cues from a male director or prompts from a patriarchal society. But their "come hitherwp_postsstares and long acrylic nails aren't fooling anyone. A few quick licks, some short-lived grinding and flimsy finger action leaves much (so much) to be desired.
Compound that with the porn industry's fixation on racial fantasies that reduce brown female bodies to ample asses and booty clapping, and we're left with a market that generally overlooks or exploits brown queer people.
A look at trans porn verifies just that. Although trans porn emerged in the 1970s, it exclusively featured transwomen and catered to an audience of primarily straight men (noticing a trend here?). Some scholars suggest that transmen didn't begin to star in hardcore porn until at least twenty years after transwomen did. And trans porn stars of color? Virtually nonexistent.
Fortunately, the tides are turning. While black and brown feminist porn directors are far and few, Sebastian Flowers, a trans-identified dog walker/DJ turned filmmaker found his calling.
"I got tired of not helping my community,wp_postsexplains Sebastian. "As I was finding my purpose, I picked up my camera."
As the Oakland resident was developing an eye for the camera, he was gaining knowledge and sexual resources through LGBTQ organizations like the Audre Lorde Project, FIERCE and the Anti-Violence Project. He was also acquiring an impressive following from DJing across the country.
"I thought to myself, 'How do I put all these things together?'wp_postsSebastian continues.
Noticing a shortage of folks catering to the queer community of color in the porn industry, he set out to create Queer Brown Porn (QBP), a production company that features brown people of all spectrums and caters specifically to our viewing pleasure.
"Every time we think about porn, it's always something that's deviant. I wanted us to see our bodies exposed in a way that's revolutionary,wp_postshe tells ELIXHER.
What's so groundbreaking about gay and trans folks of color pleasing each other on camera? Well…gay and trans folks of color pleasing each other on camera. With most porn being made only for the male gaze and pleasure, these films will be "equally sex positive while giving access to both passion and fucking and hardcore sex fantasies.wp_postsQBP aims to also challenge the limited gender representations we tend to see in pornography, and to also make both the actors and sets as relatable as possible. You'll find beautiful brown bodies with kinky hair and cozy sets like a Brooklyn studio with brick walls.
To top it off, Queer Brown Porn is not just going to be a porn site but also a resource for natural health and organic remedies so that we can get in tune with our queer brown bodies. Pretty revolutionary, I'd say.
"When I talk to the applicants, it's not just about you wanting to be part of the porn industry. It's how comfortable do you feel being a part of the movement."
Sebastian believes his trans identity makes him just the person for the job.
"My physical transition hasn't washed away the things that I've gone through,wp_postshe explains. "I definitely try to put that into scope while I'm filming.wp_postsQBP takes under-explored angles into consideration. It also depicts people actually interested in getting to know each other's bodies, and willing to take their time doing so.
Working along side Tara Huynh, an Asian-identified female boi and cameraman, their two unique perspectives fuse to create what Sebastian describes as "raw and very real" porn that the queer community can actually connect with.
When asked what would he like to see as the future of porn, Sebastian's answer is pretty simple.
"Ourselves,wp_postshe responds. "This isn't just lesbian porn. It isn't just gay porn. This is porn for the people — brown people. Made by us."
Check out the first-ever public preview of Queer Brown Porn! Only on Elixher.com. For mature audiences only. (NSFW.)
QBP Preview from ELIXHER on Vimeo.
Originally published on ELIXHER. Republished WITH PERMISSION MOTHERF*CKERS.
Ed. Note: To find out more information about QBP e-mail Sebastian at contact [at] queerbrownporn [dot] com.