The people of Manchester really like Manchester. Like — they really, really, really, really REALLY like Manchester. In our mid-morning walking tour on Thursday our tour guide paused, between narrations about this or that cotton mill becoming a mall or a cute shopping center somewhere, to apologetically enthuse: "I'm just obsessed with Manchester!", which inspired Emma, Our Fearless Leader, to declare that she also is obsessed with Manchester. I could write this off as enthusiastic humans in the travel/tourism profession doing their job convincingly, and maybe I should, but I don't want to.
Besides, it's not just them, it's everybody. It's not like in New York where we all love New York but would prefer it if nobody from anywhere besides New York (New Jersey especially) ever visited New York.
In Manchester, they love the city and want you to love the city too. They want you to come to their city and when you get there you are going to fucking love Manchester, dammit, you are gonna fucking love the hell out of Manchester.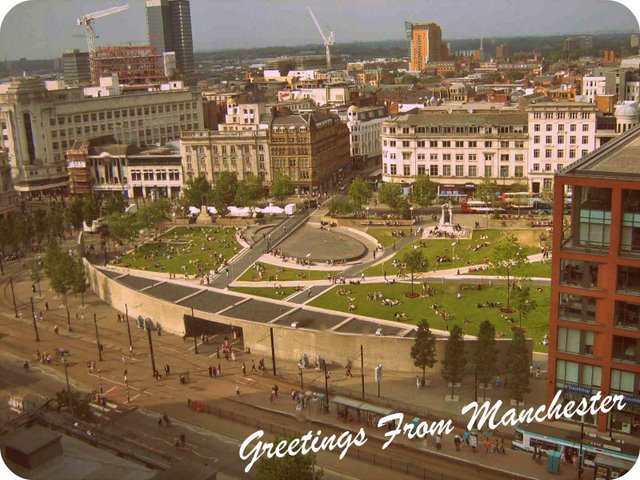 Because of the riots, this was especially true the first week of August, which is when I visited Manchester for Pride, courtesy of Marketing Manchester, who covered all the trip's expenses (with the exception of this really bad egg salad sandwich I bought at a deli at 3am, a new straightening iron to replace the one I destroyed, and several other food items mentioned within) and took great care of us.
When first invited, I was hesitant — to leave the website, to leave the country, to go somewhere with strangers. After being reassured 567 times that the website could survive without me and that I deserved a vacation and that it was real, I signed on. I'm really glad I did — not just because it was fun, but because I'm a lesbian and its not often that marketers reach out to us. In general, travel journalists are often invited on press trips like this one (although corporations with budgets, like The New York Times, prefer to fund trips themselves to prevent bias from the journalist), and many tourism agencies are presently angling for the LGBT tourism market, as LGBTs have been shown to take more vacations and spend more while on vacation. But since the recession it often feels like by "LGBT" they actually just mean "G," as gay men (or perhaps men in general) are perceived to be a far more lucrative market than lesbians and their publications are generally more visible. As a member of the lesbian media, it does matter to me that we're seen as a market, too. Marketing Manchester sought us out and I appreciate that. So there. LEZ GO.
Wednesday:
On Wednesday the 24th I fly from San Francisco to New York at God Knows When O'Clock, where I meet up with Emma White, our straight ambassador from Visit Manchester, and George, who I believe works for American Airlines in some capacity and is gay, in the Admiral's Club at JFK. I eat pretzels from a tiny ramekin and drink a free whiskey while we wait for Carlos Melia, a luxury travel blogger who I'm told is "very attractive," and Matt Mills, Associate Publisher & Editorial Director of Xtra.ca. The other journalist, Ricardo, who lives in New York and writes for MIX Brasil, will join us the next day in Manchester.
Do you like to drink? Emma asks me.
I laugh. I do.
Then you'll have a good time, George confirms.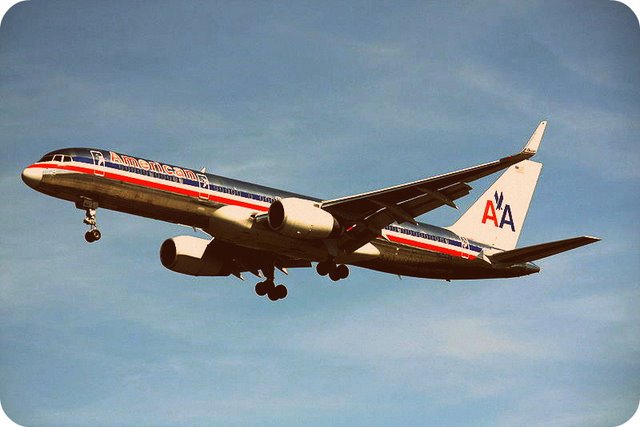 An hour later I'm already having a good time because George upgraded us to first class. I'm sitting in a giant throne which transforms into a bed, a recliner, and a spaceship. A flight attendent with hair like a shellacked wave of meringue brings us food with real utensils and drinks.
As we shoot off into the night, I slip in and out of plane-sleep —  the kind where you're never really certain if you fell asleep at all, and your dreams might be really happening, and everyone's voices sound underwater.
+
Thursday
We arrive in Manchester at 8:45 AM Manchester time, which's roughly 1 AM My Time. My head feels like a carved-out pumpkin and my eyeballs are grapes and my blood is rusty which means that I need a nap. It also means there's no way my brain is gonna let me nap.
In my room at The Ramada-Picadilly, I spend some time setting up my internet connection, unpack, and then lie on the bed with my eyes closed.
Three hours later we're dressed in the lobby and ready for our walking tour. I've never been on a walking tour ever in my life. It's brilliantly sunny. In between history lessons, I notice bundles of the Disillusioned Youth I've read so much about, smoking cigarettes, holding hands, aggressively toeing the edges of their skateboards like they could flee at any minute.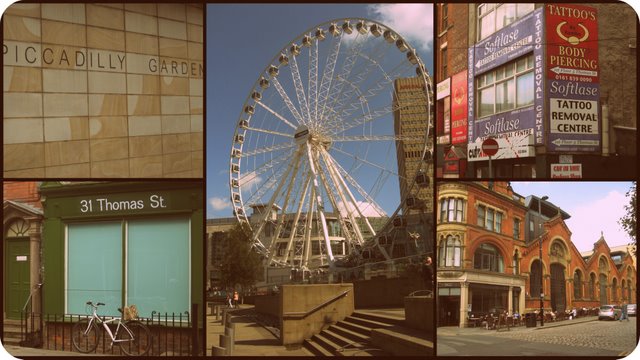 The idea, I gather during the tour, is that Manchester's been built by the proletariat, and weathered its share of economic and political storms but has nevertheless triumphed, because of The Mancunian Spirit.
The History of Manchester and How It Got So Gay
by me
Manchester, like so many modern cities, was once the center of flourishing industry and now is the center of other things, including apartments and hotels that used to be cotton mills and warehouses. Manchester's prominent textile industry goes back over 600 years and really took off in the late 18th century in tandem with the Industrial Revolution. They called it Cottonopolis.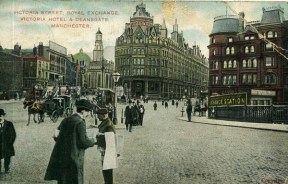 Manchester had a rep for being radical early on — a center of development for education and culture as well as being a leader in promoting free trade, laissez-faire, new religious sects, labour organizations and the Suffragette movement.
The 1950s saw the introduction of The Manchester United football team. Maybe you've heard of it.
In 1960, film production companies moved to Manchester and the still-running Manchester-filmed Coronation Street soap opera aired its first episode.
Throughout the early 20th century, Rochdale Canal, the mainline of Manchester's cotton industry, was in decline. As the cotton industry crumbled, the Canal area was increasingly known as "cotton factories by day and red-light district by night." But as urban decay hit hard and those factories turned into abandoned warehouses, it developed a new reputation: a place for gay men to meet and have sex. It was perfect because the area was both dark/unvisited and convenient to public transportation.
Homosexuality was decriminalized in 1967, and in 1968 The Gay Village began forming. Not that society had changed that much, exactly — homosexual activity was only legal in private, for people over 21. Police used the canal to creep around and find people acting gay to arrest and/or beat up. The Union Pub's owner was arrested in the 1960s for the amount of homosexual activity that happened in his venue. It later re-opened as The New Union.
Bar raids were common throughout the '80s, and the community was also pushing back against new anti-gay legislation and political hostility. Things began changing in the '90s, heralded by the opening of Manto in 1990, owned by a lesbian property developer and her business partner. The building was clad with large plate glass windows, which initially resulted in lost business due to fear of being seen but eventually became a tangible representation of the gays' increasing ability to be out and proud. The owner says, "I didn't feel comfortable in the places I was drinking in, and they weren't particularly women-friendly. I felt sick of having to knock on doors and hide."
And now, here we are, in the Queer as Folk city, gay as the day is long and precisely as rambunctious as promised.
Our tour leader leaves us somewhere between Chinatown and an Art Museum and Emma leads us on to The Gay Village, where we visit the yet-unopened Richmond Tea Rooms, which will be an English-style tea room by day (a well-needed respite from the alcohol-centric nature of gay culture) and at night will get really sexy with cocktails, music and "Tim Burton-inspired design."
We make a stop to meet the DJs at Gaydio before heading back to the hotel for a rest before dinner. Again I lie down with my eyes closed, have 3-4 thoughts about being the only lesbian on the tour, and re-dress myself for dinner at Brazillian pampas restaurant Nossa Cassa. Carlos and Matt take enthusiastic sips of my devil-water (75% whiskey/25% coke bottle in-bag) and consequently make horrific faces.
At the restaurant, we easily kill four bottles of wine, and we're joined by Marketing Manchester's director Drew Stokes, who's really excited about the I Heart Manchester Campaign he's been spearheading for the past two weeks or so. Nobody wants to say the word "riots" (except me, of course, as I find tragedy somehow hilarious within maybe two days of it going down) so instead it's called "disturbances."
"The response has just been incredible," Drew enthuses, passing around his iPhone so we can read comments on the I Heart Manchester facebook page. He explains that most "mancunians" didn't anticipate the "disturbances" would come to Manchester and they were shocked when they did. At the end of the day he says they barely got hit due to quick police response and, apparently, civic pride.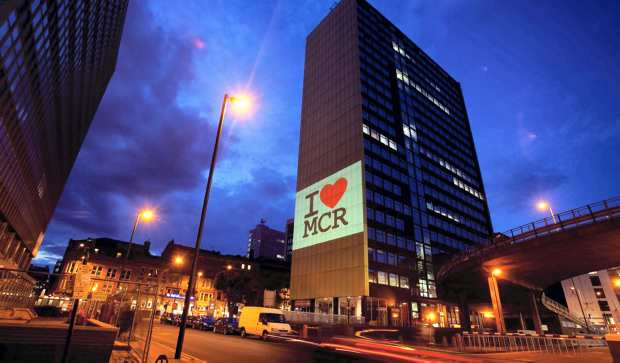 At this point I'm not only on my 26th hour without sleep and still ravenously hungry, but also wasted (in retrospect), so our drunkity-drunk-drunk crew bumbles down to Taurus Bar on Canal Street for "It's a Gay Knock Out." It's some kind of contest involving racing in stilettos — arguably, an event neither gay men nor gay women excel at — throwing sausages into hoops and hurling handbags at each other. The master of ceremonies is wearing tight booty shorts, a tube top and a blonde wig best described as "bed head." At one point the host accidentally misidentifies Matt as Mr. Gay Universe, and must be corrected. (It's Carlos, Carlos was Mr.Gay Universe.)
Like most pride events everywhere, the tightly-packed crowd is about 75/25 with gay men to gay women, so when I see a woman with linebacker shoulders and an ill-fitting blazer speaking to one of the people from our group, I consider making gay eye contact with her and instead just saddle up next to her and say "SO…" and she laughs like she knows what I'm talking about but clearly she doesn't 'cause about three minutes into the conversation she mentions her husband.
I announce that I'm gonna head home to sleep but Carlos interrupts Emma giving me directions with, "No you're not. You're staying out!" and so I do.
More drinks, more bars, and in a display of aggressive comradery, one of the slim-hipped frehs-faced young gay boys who has joined our group insists we hit up girl-bar Vanilla, which on this night is pretty empty but will easily fill up throughout the rest of pride. It's the only dedicated lesbian bar in the city (although the guy-bars I went to were pretty mixed). We play pool, except we're all so terrible at pool that we essentially take turns cheating and around something ridiculous o'clock, Carlos and I pick up some strange sandwiches only drunk people buy and go back to the hotel. I'm exhausted and so so so very drunk and also, resolutely, happy.
+
Friday
Obviously, due to Hangover of Death, I sleep through our morning activity and wake up 13 minutes before our afternoon activity, but manage to shower/dress in literally record time and run downstairs still tired, a lot hungover, hungry, and needing coffee. Our fourth "travel blogger" Ricardo has now joined us.
We look out the tram windows to a rainy afternoon on our way  to The Quays, location of The Lowry. On our way there Emma points out the big industrial buildings converted to lofts or TV studios.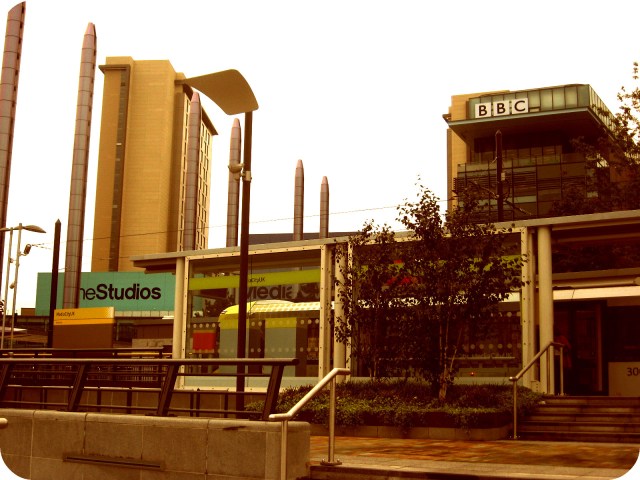 Salford Quays in Greater Manchester was redeveloped a bit over ten years ago, and The Lowry is its flagship structure. It's like this massive brightly-colored thing hosting two main theatres and studio spaces for theater, opera, dance, comedy and musical performances — and they've got a formidable schedule of events. The buildings remind me of Downtown Disney.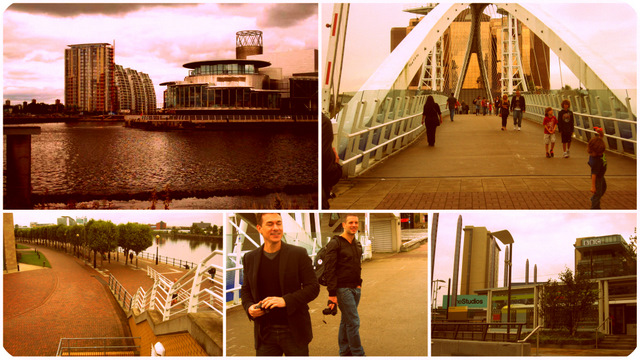 Most importantly, there's a little coffee shop there where I trade paper for a latte and some coins I still have right this minute. There's a "Queer to Stay: 21 Years of Manchester Pride" exhibit and also a Warhol exhibit which are all grand accompaniments to my mouth making love to my latte.
Feeling slightly awake, we tram back to ALTO at the Radisson Edwardian Manchester for lunch. We never really get into anything personal but I already feel like I've known these people for much longer than I have, which I guess is verging on 24 hours. We're almost at the point where they learned that my dry sarcasm is dry sarcasm, not maudlin depression.
Back at the hotel, I try to sleep again and I think maybe pull off 10-15 minutes worth and then we assemble for the Media Launch Party at Sky Lounge at the Mint Hotel Manchester. It's beautiful.
Barefoot Wines is providing the free alcohol and girls walk around with trays of tiny spring rolls and fresh mozzarella on toothpicks. Outside, Drew tells us about the ride they do in Malawi to support AIDS research and as he talks, it starts to sprinkle and we see, across the city, a fire of some kind gathering in the air, a thick dark smoke I identify as the apocalypse and someone else suggests is Hurricane Irene. You never know. We still don't.
Then we walk to the Gaydar Main Stage Arena's VIP tent for Pam-Ann's show. Below us are swells of people, a giant arena literally teeming with happy humans who, if they were screaming words instead of just screaming, I feel would be yelling something like FUCK IT WE'RE GAY, and it would be awesome.
Pam Ann's set is short, which is good as I'm the only person in the world who doesn't find her entertaining.
Then the boys go out to the boy bars and I go home, preparing mentally for perhaps my first sufficient night of sleep. But then I start watching Coronation Street and that all goes to hell.
Saturday
Saturday I am awake like a motherfucker. It's parade day and it's still raining because it rains a lot in Manchester. First up is an 11 am "Cocktail Master Class" at The Alchemist. When I first read this on the schedule, it seemed like a bizarrely premature time for alcohol consumption, but by this point in the trip it seems totally normal. "Thank you for the oatmeal I am ready for my cocktail now."
He leads us through making two drinks —
1. Mojito – Bacardi Superior Rum, lime juice, mint, sugar and L&G Blackstram Rum Liqueur
2. White Cosmo – a frozen white orchid bathed in vodka, St. Germain Elderflower liqueur, white grape juice and lemon bitters.
I win the Best Mojito but the worst White Cosmo. Much to nobody's surprise, I used like three times too much vodka.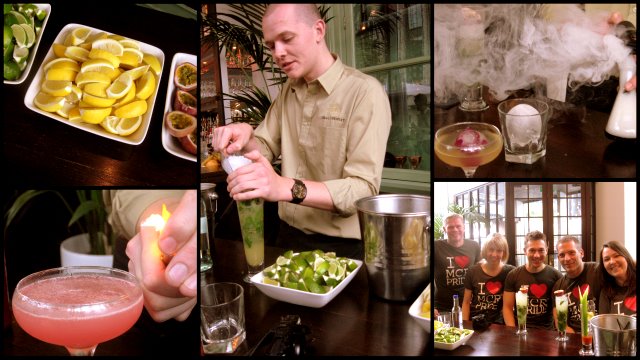 This is fun, like really fun, like really the best thing, and it's something I can't imagine doing in any other context. The bartender is jokey and kind (everyone in Manchester is really kind) and says he's surprised when Emma tells him that whiskey is my drink. He says women aren't usually big whiskey drinkers, and before I say I got into whiskey because my ex-girlfriend, best friend/co-editor and present girlfriend drink whiskey, I just say "well, I'm a lesbian" and it turns out it's got something to do with the female tongue palate. I dunno.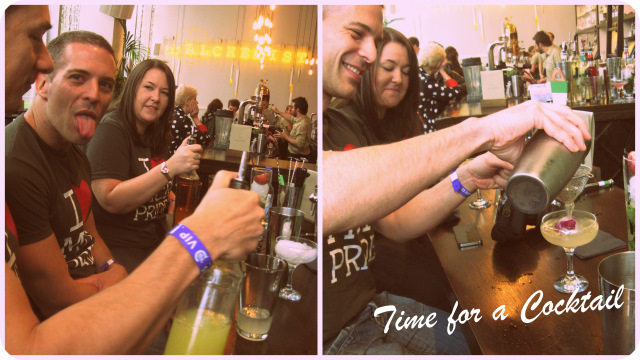 He fills a test tube with smoke, drops a tennis-ball sized ice cube into a glass, gets that shit mixed up with whiskey and produces a cocktail — one he invented himself — that's like whiskey making out with maple syrup.
3. Smokey Old Fashioned – Woodford Reserve, maple syrup, Jerry Thomas' Bitters, oak smoke and an ice ball
I sorta want to stay at The Alchemist for lunch and dinner and make more mojitos, but it's time for the PRIDE PARADE!



We're in the front of the parade behind Pam Ann, waving our flags and yelling. Later there's speculation that Pam wasn't given a mike, unlike Ian McKellen last year, 'cause they thought she might say something really raunchy.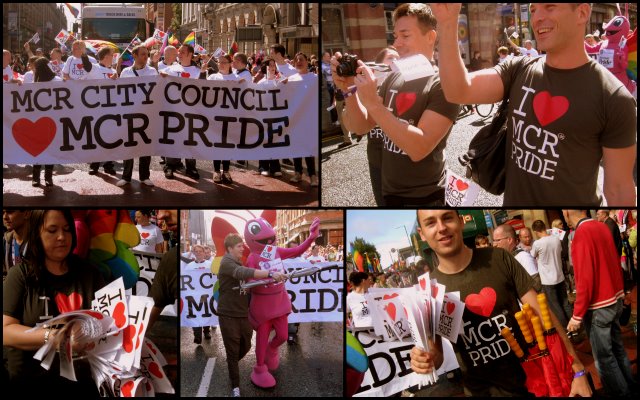 We dip out about 25% of the way through the parade route to watch it from a perch upon a hill, where I eat hot greasy thick "chips" from a food stand and take crap photos I imagine I'll discard in favor of stealing somebody else's good photos from the internet.
This is when it clicks for me, looking out at a surprisingly diverse assemblage of queers and trans people having fun — the fact that rioters didn't destroy Manchester and weren't going to was evidence, to the Mancunians, of Manchester's pride (not the gay kind, the more general kind) for a city that often feels itself radically misinterpreted by everyone who talks about it. It's natural to try to keep a lid on any potential criminal speculation. Not here. Not in Manchester. My girlfriend says she feels that way about Canada.
Dinner this night's at Australasia, which boasts "Pacific Rim flavours underpinned by European cooking tradition, an exotic blend of Indonesian and Southeast Asian influences." You go to The Avenue and a glass structure juts out of the ground like someone stabbed the street with a glacier, but then you descend down a glass staircase into a warm, orangey, busy room filled with long tables. The edamame is crispy and salty, the tempura is perfect, the drinks are plentiful. It's everybody's favorite meal of the trip.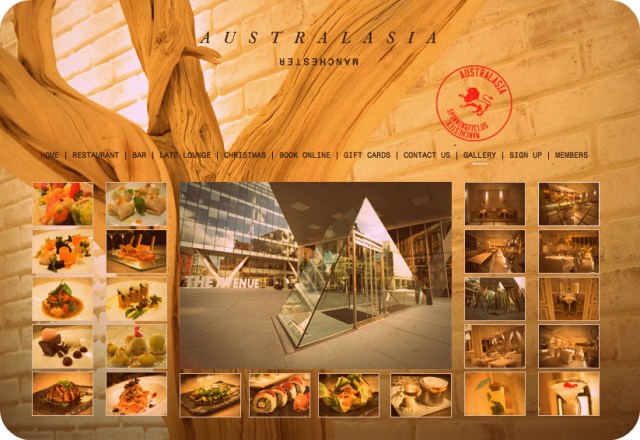 I run back to the Ramada to change, where I plug in my hair iron and blow out the room's electricity, which puts an end to the Coronation Street a-thon and also email.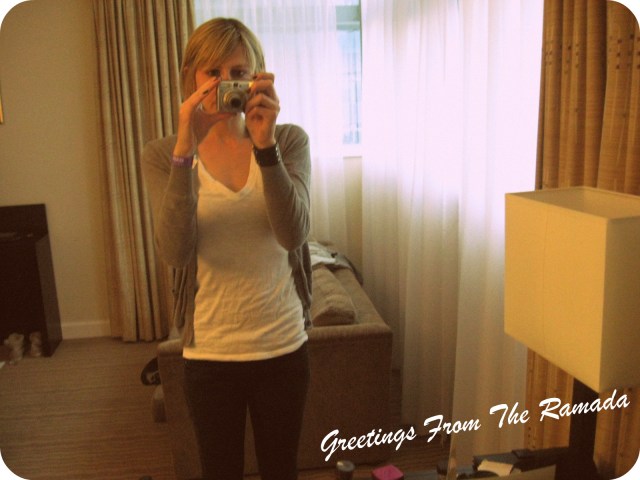 I feel incredibly disconnected from my universe, and while I'm there to write about the trip for Autostraddle, I don't feel like I've been called upon to represent Autostraddle in any way; there isn't the same pressure we put on ourselves at lesbian events to Take Advantage of the Situation and sell our website to the world and be good sponsors, even when the world is drunk, oil wrestling, and can't read. But for this trip it's the other way around, and everything feels good.
The girls in Manchester are cute. Also, a lot of the girls in Manchester look like they could beat me up, even the littlest ones, with spiky mohawks and piercings, low-slung pants with industrial belts and brightly-colored sneakers, one hand in their girlfriend's and the other holding a beer.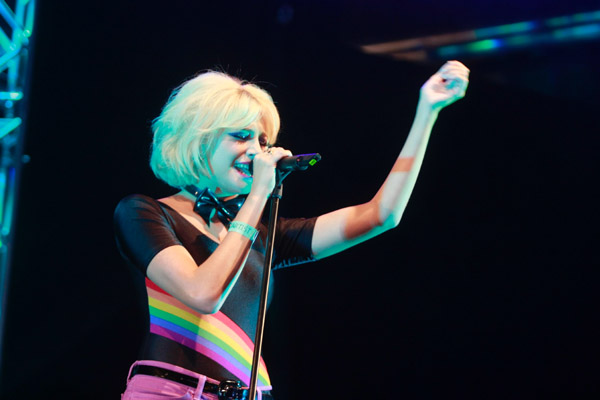 Back in the VIP tent, a group of gay men talk to me about how good-looking Carlos is. After Pixie Lott's performance — I miss almost all of it — a DJ sets up as the massive crowd filters from the arena to the streets to hit up the bars. Emma introduces me to Heather Peace and she kisses my cheek. She's really friendly, but so is everyone.
Then these two guys dressed like Brett Easton Ellis characters — brown loafers, oxford shirts, khakis — and clearly tripping on something more fantastic than you and I have ever known — start dancing like idiots. One of them is doing push-ups on the floor, and I look to Carlos who I can count on to reflect my facial expression of disbelief/amazement at any time.
And so obviously we all just started dancing. We jump up and down a lot, like crazy people, nearly alone on the platform. It feels genuinely good, and nobody looks at us funny, and if they look at us at all, they start jumping too. I feel really happy.
Emma wants me to go to Vanilla, which I think is half because she assumes I'm a normal human being who enjoys socializing and would like to get a taste of the lesbian scene and half because she doesn't want me coming home and telling you that there's no lesbian scene. Speaking of lesbian scenes, I'd been thinking a lot about Coronation Street.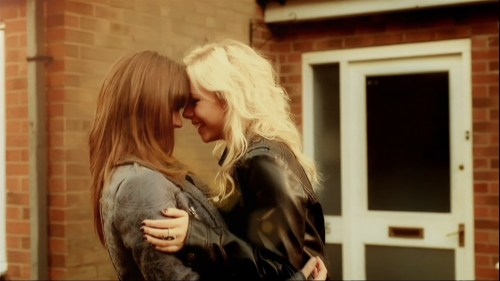 In any event, the whole street outside Vanilla is packed and as soon as we get there, the only appropriate action was to immediately escape, which required, of course, elbowing through the pack of sloshy-happy lesbians excited for the kind of party I used to go to when I was single.
Once we at last extract ourselves from the mob, we split up for the boys to hit up a circuit party event and for Trevor and I to run home in the now-pouring rain.
Sunday
On Sunday we all sleep 'til noon or later and then drive with Geoff Collins to the Bolton Food and Drink Festival, where it's also raining.
We're joined by Rachel Combie, another Manchester Marketing person. We meet up with three other important people at the Harvey Nichols Pop-Up Restaurant in Bolton. It's good because everything's good.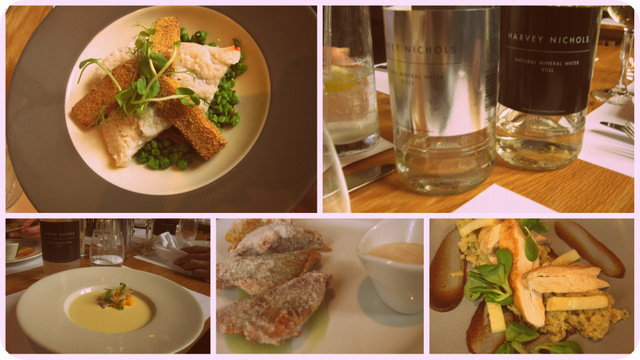 Our next stop, the "Gino D'Acampo Cookery Demonstration" is by far the most random thing on our itinerary, and it takes place in this giant tent-like structure at the Bolton Festival. Gino's not gay, the festival's not gay, and nobody besides us in that room is gay. They're all housewives with big fat crushes on Gino. Yet we are here. I'm excited to find out why.
Gino somehow pulls off meshing a skeezy womanizing act with a genuine passion for cooking (did i just say "passion for cooking") and humor. The dishes are simple, he's funny, and I actually learn things too. Also, the entire audience is invited to have a bite of the pasta he prepares.
Carlos and I walk around the festival taking photos of food we're still too stuffed to eat. The festival is winding down and it's raining but it looks neat, like an ambitious Farmers Market.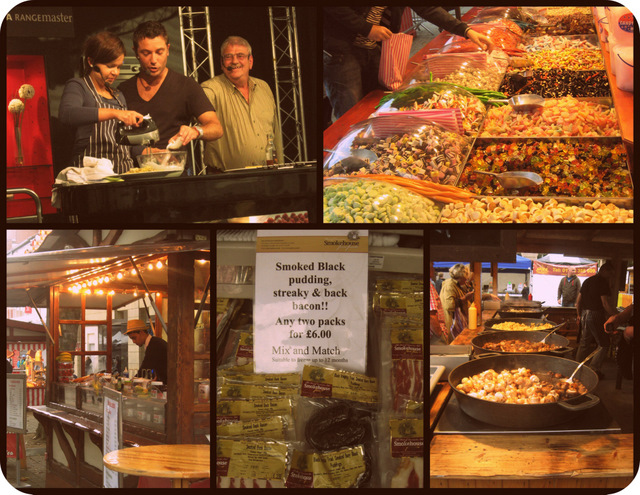 Later that night I meet up with Ricardo at the VIP Tent because Patrick Wolf is playing and nobody cares besides us. It's lovely, really. He's got this Morrissey/Rufus Wainwright thing going on and everything he sings feels almost painfully honest and the entire venue — the entire g-ddamn arena — feels different while he's on that stage.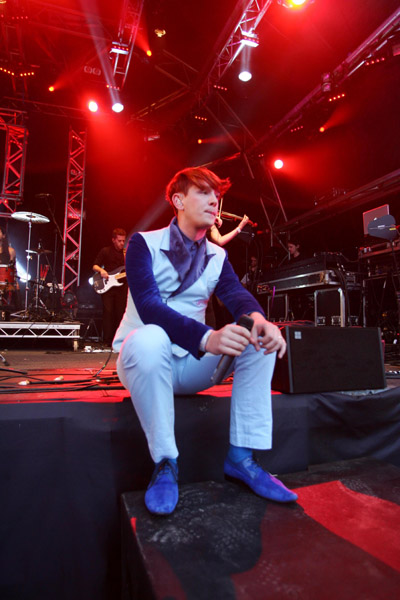 We have dinner at Ning, described as "influenced in concept by the trendy noodle bars of Asian cities, wth the relaxed and sociable ambiance of continental European cafes." We talk about the business — Carlos is a luxury travel agent and his blog is a companion to his business, Matt says Xtra's journalism is funded by the gay hook-up site they run on the side. There's a brief lively conversation regarding whether or not gay male media still benefits from male privilege.
We miss Sugababes, which is fine because I still have no idea who they are, and catch the tail end of Alexandra Burke (again — no idea). After a quick stop at a bar with good music, Carlos and I walk home and I'm not gonna lie, I'm mostly thinking about Coronation Street.
MONDAY
We have the day off to "explore" and I do, a little bit, hitting up the booths and stuff they have out for Pride. Dinner is at Smoak. I have a delicious Cesar Salad and lots of everyone else's fries.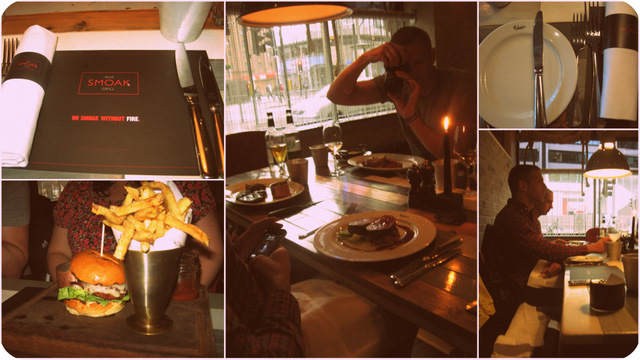 At the VIP Tent Emma gets smudged with rainbow flags on her cheeks and gets super excited about Blue. I like them too because they have coordinated dance routines as well as easy poppy music. Only one of them is gay, allegedly.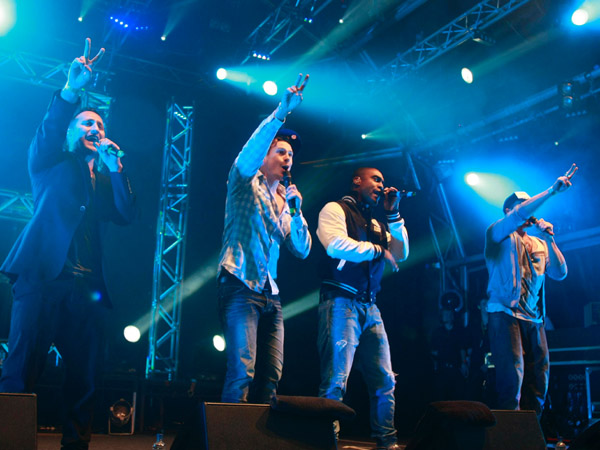 Manchester Pride always ends its festival with the Candlelight Vigil, which is where we're going next but first I wanna go back to where I started with how Manchester became Gay Manchester.
In 1990, the first LGBT August Bank Holiday fundraiser for HIV/AIDS causes was held outside The Rembrandt Hotel in Manchester. It wasn't a pride event, but the following year the fundraiser became "The Carnival of Fun Weekend" and eventually, with the support of the Village Business Association, grew into Gay "Mardi Gras." The event reverted to community control and re-christened itself Gayfest in 2000, during which time they won the right to host 2003's Europride in Manchester. Fundraising for HIV/AIDS remained the event's primary focus, which is why the pride festivities are partitioned behind gates and visitors are charged entry fees.
At the 2003 Europride it was announced that the event would now be called "Manchester Pride" and it became a charity in its own right in 2007. Manchester Pride still says its main cause is fundraising for HIV/AIDS charities (specifically The George House Trust) and is run now by Marketing Manchester in conjunction with the Lesbian and Gay Foundation.
Everyone is given a candle and a piece of paper and files into the park and I think, "This would never happen in America because it's a fire hazard" but I think everyone gamely proves that gay people are capable of gathering in a muddy field to get heavy and sad and not light anything on fire.
There's a musical performance of Seasons of Love from RENT, and a lot of speakers, and a moment of silence. Emma says she cries every year and this year is no exception.
Afterwards the guys are gonna go party but I go back to the hotel to watch Sophie & Sian and to pack.
Tuesday morning, Matt and I are taken to the airport by the same guy who picked us up. It looks rainy again, but maybe you just get used to it. "I've gotta say, I'm kinda sad to be leaving," Matt says, and I say, "Yeah, me too," because it was like I didn't have to be Me for a week, which was more liberating than I could've anticipated. I was just a girl in Manchester with my cheap camera and pockets of coins, eating and drinking and looking at things and it was nice. It was really nice, is what I'm telling you. I hearted the fuck out of Manchester.
[here's a video from the Manchester Pride People:]
Pages: 1 2See entire article on one page