Dear Autostraddlers, I wanted this review to be a gushing love letter to the wonder that is Pedro Almodovar. As a Latina writer director film nerd, I was excited to watch his latest work The Skin I Live In (La Piel Que Habito). He's my favorite director, Latino, and a homo too! He directed Penelope Cruz to brilliance in Volver and I expected him to do the same with Antonio Banderas. Which he did, but… it's complicated.
First and foremost: this movie was full of sexual violence, with an extended rape scene plus one more scene that's clearly nonconsensual. So, two rape scenes. It just made me think of  Carmen's article about consent. Consent never happens in this movie, and honestly it's just dripping with violence against women. But — and yes, there's a but — in typical Almodovar fashion, he redeems himself with a twist. A twist so bizarre that it fucked up my whole world, which is what amazing movies do.
The Skin I Live In stars Antonio Banderas as Dr. Robert Ledgard, a super skilled and super unscrupulous plastic surgeon. Dr. Ledgard is obsessed with creating the perfect skin, skin that won't be affected by scrapes, bumps and more specifically, burns. Because, duh, Dr. Ledgard is a broken man who lost his wife and his daughter to (among other things) a devastating fire. Antonio Banderas is frightening in his portrayal of a damaged man trying to recreate what he has lost the only way he knows how: plastic surgery. Banderas slices into his victims with such a stoic moral authority that the foundation of morality itself is thrown into question. Although there's also, you know, the woman and unwilling patient — played by Elena Anaya, who is so gut-wrenchingly beautiful and talented everyone else should just quit trying —  imprisoned in his home, which is pretty clearly wrong. This is where the movie turns into Hostel for culture and film buffs. The Skin I Live In is the perfect grown up horror movie. What it lacks in fake blood and zombies, it more than makes up for in human monsters. You know, the type that kidnap people and perform experiments on their bodies to further their own insane research.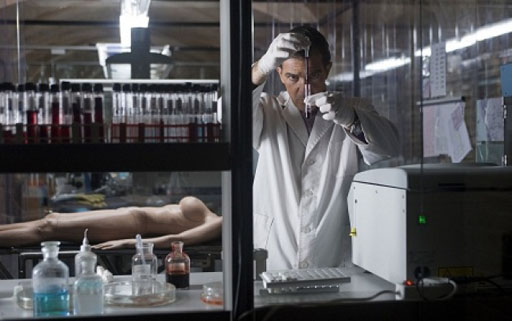 For instance, there's the male victim Dr. Ledgard tortures with a non-consensual vaginoplasty. Almodovar is known for his love of women in films like Volver and Talk to Her (although it's not like he shies away from sexual violence in those either!), and is pretty comfortable fucking with gender and identity in Bad Education. But in The Skin I Live In it's kind of a return to more mainstream Hollywood values — really, the worst thing that can happen to a man is being "turned into a woman?" Under normal circumstances, I'd be annoyed that any director was even going there. But the Almodovar twist is that the man being surgically feminized doesn't know what's happening or why it's being done to him — he's an accidental rapist, and while to Ledgard it's a symbolic act, to him it's meaningless violence. Somehow, it works — at least for me. (Although, warning, the filming of this surgical procedure is on some straight up Saw/Hostel shit.)
Banderas settles into the dark character of Dr. Ledgard with a stillness and apparent ease that gave me the chills; Ledgard is horrifyingly comfortable with his work. The whole scene raised a lot of questions for me regarding trans individuals… if I had undergone SRS and/or was an MTF trans person, and saw the surgery often associated with my identity depicted as an act of violence, how would I feel? Would I feel violated that someone took so personal part of my community's experience and turned it into a chop 'em up sequence for intellectuals and film buffs? Almodovar leaves the audience without an easy place to rest.
But I don't want to forget that there is one moment of pure bliss in The Skin I Live In. Concha Buika, a Spanish Flamenco singer, takes center stage as the entertainment at a wedding attended by Dr. Robert Ledgard and his daughter. Buika's raspy bolero voice burns with the kind of dramatic flair (in my opinion) only Spanish singers can convey. Her voice carries the despair of the women in the film who are unable to speak for themselves.  It's as if she is the only woman in the film allowed to sing the story of her agony — of everyone's, really.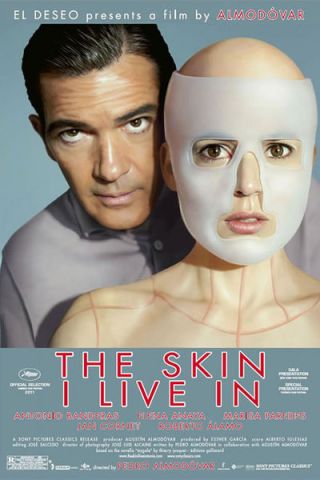 Almodovar's characters have always used punishment as a means to right the universe's wrongs; The Skin I Live In is no exception. The rapists get fucked. Dr. Ledgard gets fucked. We're left with a sick feeling, and the knowledge that no bad deed is left unpunished.  I left the movie theater wondering if it was worth it. Were the manhandling of women's bodies, grossly aggressive sex scenes and ass-in-the-air pistoning rape scenes worth the twists and skill of Almodovar's storytelling? I still can't answer that.
Rating System for Homopiece Theater
1-5 Unicorns for positive elements
1-5 Glitterbombs for negative elements
I give it 3 Unicorns for score, cinematography and acting, and 2 Glitterbombs for rape scenes and "fucked up evil man stuff" (a technical term) which culminates in a basically in a mixed bag. If you love film, especially films with Spanish subtitles by Latin American genius directors, then hell yeah watch The Skin I Live In. But if you're just a chick looking for a good chill movie… this isn't it.