Hi and welcome back to Dykes on Dates, where I go on dates with my fiancé and tell you about them so you can try them out, too! My favorite dates I went on recently with Kristen were to the annual arts festival in our neighborhood, which is not exactly actionable advice unless you also live somewhere with a massive annual arts festival on the horizon. Instead, on the heels of my homemade pizza date tips, I'm here to offer recommendations for another at-home date. Recreating a wine tasting/brewery experience at home!
---
The Date: Drink Tasting and Snacks
Cost
Varies, depending on the style of drinks and snacks you pick. We got all of our supplies at Trader Joe's, which really does have the best snacks in the game. We spent under $30 for this date.
Additional Planning Notes
Part of the reason we went to Trader Joe's was because of their Build Your Own Six-Pack option, which is ideal for a tasting and keeps costs down vs. having to buy multiple six-packs of things to try. Other grocery stores often offer DIY six-packs, too, but the selection at Trader Joe's is usually impressive and includes local offerings.
Keep the snacking simple! Maybe get two styles of chips and three styles of dips and then throw in a tinned fish or a pre-sliced charcuterie meat. We also picked up a bagged salad — the new elote one at Trader Joe's is great. It has a smokey flavor and a crunch factor!
This date is easy to modify for sober folks. You can do a tasting of artisanal sodas (check out this Bubble Trouble missive for inspo) or even make homemade sodas from flavored syrups and club soda.
---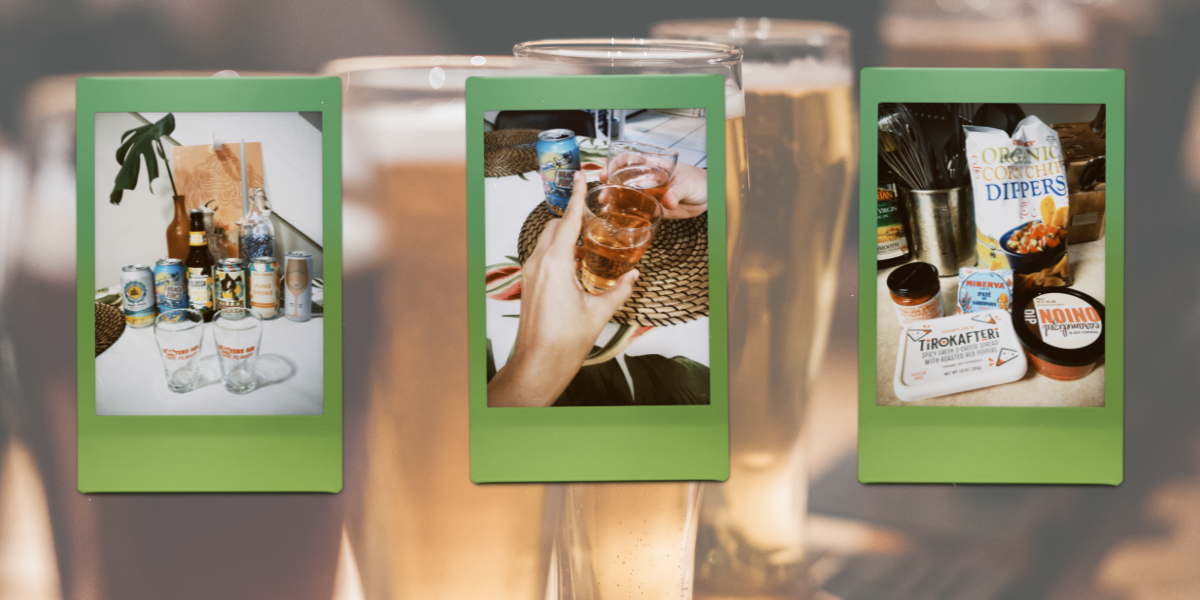 I've been wanting to do an at-home tasting paired with snacks ever since I edited Ashni's brilliant canned sparkling wines x chips taste test piece and, because I'm a Gemini who loves to multitask, I thought why not make this the next installment of Dykes on Dates!
Kristen and I often like to go to wine tastings or breweries where we can get flights together. We both like trying new things and especially like to do so together so we can compare tasting notes and preferences. We don't take ourselves too seriously when we do this! Sometimes, she will taste a wine and say "tastes like wine," and you know what? She's right. Secretly though, she does have the superior palette to mine. I use a wine app called Vivino where you can upload whatever wine you're drinking, write a review, and read reviews from others. If you and your person are into wine, I HIGHLY RECOMMEND making an entire activity out of reading Vivino reviews together. People will be out here saying "this wine tastes like wet gravel and broken toothpicks" and it's just incredible use of the English language imo.
Instead of going out somewhere to taste things, we decided to do a chill date night at home after a long weekend of a lot of walking around in the Florida sun. I also wasn't in the mood to cook, which is rare for me, but happens from time to time. So we planned a spontaneous day-of date mostly built around an impromptu walk to Trader Joe's. Hashtag not an ad, but Trader Joe's is theeeee place for date supplies. Cheap wine! Build your own six-packs! Candy! Snacks! Chips! Dips! I don't do my regular grocery shopping at Trader Joe's, but it's my go-to place for picnics, party supplies, and hors d'oeuvres.
Food-wise, we picked up the aforementioned elote bagged salad mix, which was easily a 9/10 salad. We also got my latest TJs obsession, which is a jar of hot pepper Italian bomba. This shit is spicy and good on EVERYTHING. Specifically, the flavor combo I ended up inventing during date night was a salt and vinegar chip, plus a scoop of seafood patê, topped with a dollop of the bomba. Spicy, fishy, salty, vinegary paradise! I used the Minerva spicy sardine patê specifically, but you could also use the José Gourmet patê. We also got the TJs corn chips — which are somehow superior to Fritos — and caramelized onion dip as well as the new tirokafteri.
But what we really came for was the DIY six-packs. Initially thinking we were going to do an at-home brewery moment, we ended up pivoting because our Trader Joe's has a wider selection of canned cocktails, spritzers, wines, etc. Kristen picked three, and I picked three. We went with two sparkling rosés, two hard kombuchas, a hard seltzer, and a cream ale, focusing on flavors we both like (coconut, lemon, ginger, etc.) but picking things new to both of us.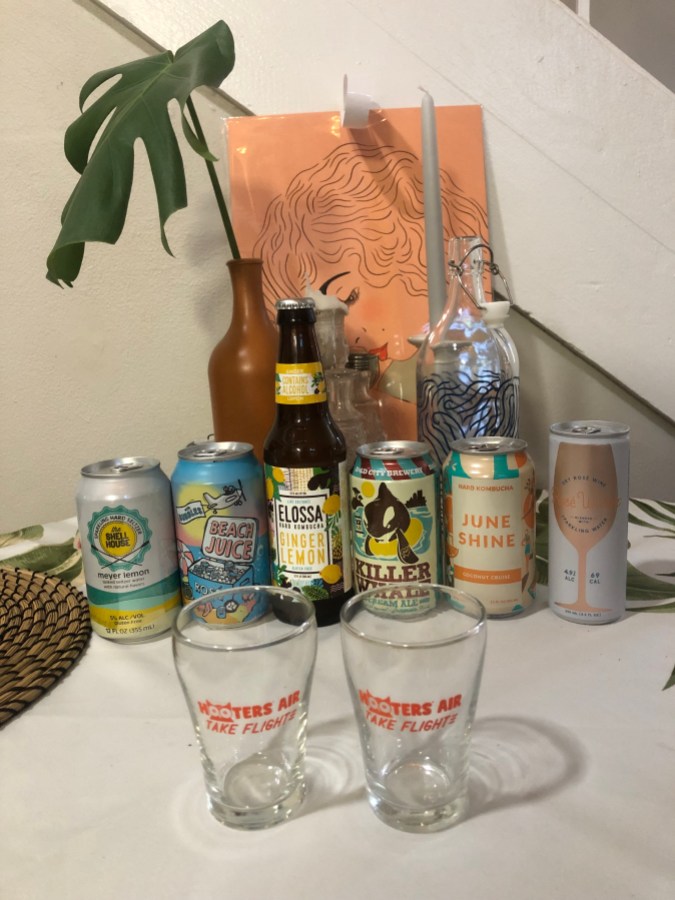 Yes, those are Hooters flight glasses. While living in Miami, one of the first places we found near our place that offered outdoor dining and an outdoor bar experience we felt comfortable going to was…Hooters. Now I will forever associate that particular period of the pandemic with the sights, sounds, and smells of Hooters. One time, I ordered a special flight that came with these take-home glasses, and let me tell ya — they do lend a certain legitimacy to at-home tastings! Stay tuned for a Dykes on Dates set at Hooters!!!! (jk………unless)
Now, I have a tendency to go all out with snack plates, charcuterie and cheese boards, etc. But the vibe for this date was intentionally very chill, relaxed, no-fuss. The point was to try the drinks with Kristen and focus on those. It's oddly soothing and even kinda hot to describe what you taste to another person. Like not to sound like the movie The Menu, but describing the mouthfeel of a rosé, even when that rosé is $2.50 and in a can? Sexy! So in order to focus on the drink tasting aspect and also be more present, I forewent cooking anything or even chopping anything. Everything we bought from Trader Joe's was ready to serve. The bag salad just had to be dumped in a bowl and mixed, which Kristen did, because she is the designated bagged salad mixer in this household.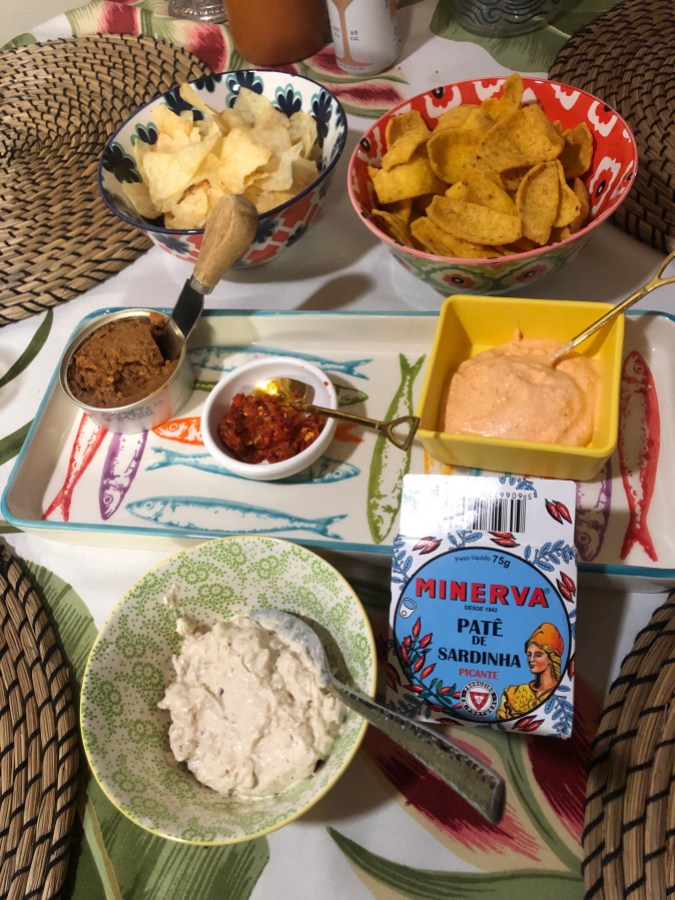 This was truly the least amount of food prep I've ever done for an at-home date night. I've been feeling a little overwhelmed with work as well as my writing and just like general life things lately, so I could have very easily just skipped on date nights at all this week, but I'm glad that I instead found a way for us to do something special and nice together that was also incredibly low effort and low cost. Tasting the new drinks felt like a real activity, and though the food was simple, it represented all the flavors we both like.
I promise next Dykes on Dates will be something sexier where I get dressed up, made up, and we actually, you know, go out. But if there's anything the past couple years have taught us about long-term relationships, it's that these at-home date nights can be just as special — and necessary!
And after our easy, breezy date? We made our way to the couch to continue our rewatch of Yellowjackets season one, a show that means a lot to us and I easily associate with our relationship — NOT BECAUSE I WANT TO CANNIBALIZE HER, EVEN THOUGH KRISTEN SOMETIMES FEARS THAT but because it was the first piece of pop culture we really became obsessed with, together. We'll both be in attendance at the Yellowjackets season two premiere virtual watch party for A+ members tomorrow. Hope to see you there!
---
Dykes on Dates is a new series by Kayla Kumari Upadhyaya chronicling dates with her fiancé Kristen and offering ideas, tips, and tricks for stoking the flames of romance.