With autumn approaching and summer coming to an end, many new comics are getting ready to start up. For this week's Drawn to Comics, I'm going to highlight six titles that I'm excited to take a look at in the next few months. Some of these are completely new titles with brand new characters, some are new titles with existing characters and universes and others are changes in direction for current titles, but all of them look exciting and new. We've still got 65 days until Halloween, so hopefully these comics can hold you over until then.
---
1. Batgirl
I love Gail Simone, and I especially love the way she's introduced so many queer women into the DC universe. She even introduced the highest profile reality-based trans character in comics during her run on Batgirl. So of course, I'm really sad to see her leave the title. Simone writes Barbra Gordon the way few people can. However, the new direction Batgirl is going does look really fun. Starting with Issue #35, writers Cameron Stewart and Brenden Fletcher and artist Babs Tarr will be moving across the river into Gotham's "cool, trendy borough" Burnside. There she'll be getting a new costume designed by Tarr and Stewart, going to grad school and going on adventures described by Stewart as a mixture of "the best elements of Veronica Mars and Girls, with a dash of Sherlock thrown in for good measure." Now come on, how awesome does that sound?
---
2. Gotham Academy
Another DC title! And another title with a woman on the creative team, this time writer Becky Cloonan, who is teaming up with artist Karl Kerschl of the amazing webcomic The Abominable Charles Christopher. DC has been altogether too grimdark for me since the New52 relaunch, but with this and the new direction for Batgirl, things are starting to look a little more fun. Gotham Academy takes place at Gotham City's most prestigious private school and (at least for the first six issues) follows the adventures of student Olive Silverlock as she deals with school, ghosts and friendship. This is great, a woman writer, supernatural stuff, all-ages title, and young women of color as the stars!
---
3. Fight Like a Girl
I honestly only just heard about this comic the other day, but gosh, it seems awesome. Released by Action Lab, Fight Like a Girl is about an African-American girl named Amarosa who has to go on a series of adventures, including some that apparently involve fighting dinosaurs, in order to save her terminally ill little brother. She has to face a pantheon of gods who give her nine tasks in order to get one wish, and she is up for the challenge. Fight Like a Girl is being written by David Pinckney and has art by Soo Lee.
---
4. ODY-C
I mean, of course I'm excited about anything by Matt Fraction. And this one gets me even more excited, as it's a futuristic retelling of The Odyssey, but starring a lady! Fraction himself has said that he wanted to write this to give his daughter a power fantasy, to be able to write a mythological adventure hero like Wonder Woman and "to stand in stark antithesis to that macho he-man (stuff)" like 300. ODY-C is about the journey home of Odyssia, a captain, warrior and mother and her crew after a ten year space war. Christian Ward is handling the art on this one, and it looks absolutely stunning. Exactly as weird and epic as a space story should be. Plus, Fraction is writing it in six syllable dactylic hexameter, just like Homer wrote the original Odyssey, because of course he is.
---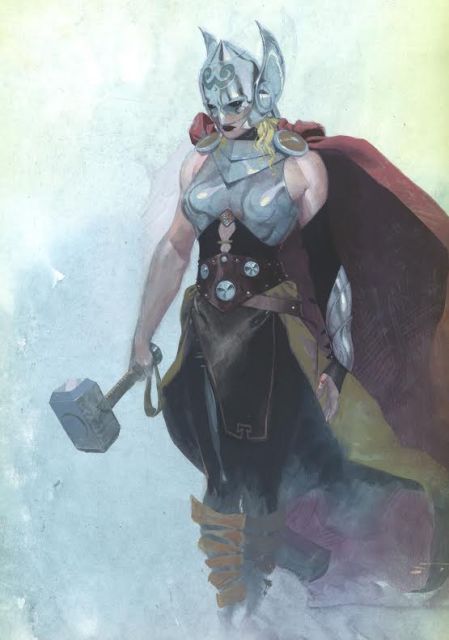 5. Thor
Thor is a lady! With this new relaunch of the title, along with the new Captain America and revamped Iron Man, Marvel is going in a dramatic new direction. Unlike DC, which has had Wonder Woman representing women in its trinity, Marvel's Big Three has typically been all-male. They announced that someone from the old Thor's life would be taking up the title and the legendary hammer and would, from now on, be the only person in the Marvel Universe who had the official title of Thor, the God of Thunder.
---
6. Sabrina
We all remember and loved the Melissa Joan Hart TV show, now it's time to check out this really cool looking book from Archie Comics. In the past there have been Sabrina the Teenage Witch comics, but this is a brand new relaunch where they're really focusing on the dark and supernatural elements of the story. It starts as she's turning 16 and just becoming the witch we're all used to. If you like horror comics, this is a great pick for you.
---
Some other interesting titles include Wonder Woman, which is getting a new creative team starting with issue #36, including a woman regularly writing the title for the first time since Gail Simone back 2010; Spider-Woman, even though you should definitely stay away from this variant cover; All New Captain America, with Sam Wilson, formerly known as Falcon taking on the legendary mantle; and Edge of Spider-Verse, where Spider-Men from across the multiverse come together, most interestingly in Issue #2 where it was Gwen Stacy, not Peter Parker who got bit by the radioactive spider and became a superhero.
New Releases (August 27)
Adventure Time Marceline and the Scream Queens Mathematical Edition HC (Boom!)
Bee and Puppycat #3 (Boom!)
Bravest Warriors #23 (Boom!)
Tomb Raider #7 (Dark Horse)
Catwoman #34 (DC)
Harley Quinn #10 (DC)
Bob's Burgers #1 (Dynamite)
Saga #22 (Image)
---
Welcome to Drawn to Comics! From diary comics to superheroes, from webcomics to graphic novels – this is where we'll be taking a look at comics by, featuring and for queer ladies. So whether you love to look at detailed personal accounts of other people's lives, explore new and creative worlds, or you just love to see hot ladies in spandex, we've got something for you.If you have a comic that you'd like to see me review, you can email me at mey [at] autostraddle [dot] com.