A lot of us have been looking forward to the Legend of Korra comics we were told about shortly after the show ended. We were told that they'd be written by one of the creators of the show and that excitingly, these comics would explore Korra and Asami's relationship and show more explicitly that they are gay for each other. That's exactly what Legend of Korra: Turf Wars Part One does. Not only that, but it picks up literally right where the series ended and in the exact voice of the show. This makes sense as it's written by Michael Dante DiMartino, one of the co-creators and writers of Legend of Korra. The art — by Asian-American artist Irene Koh, with colors by Vivian Ng — is perfectly dynamic for a comic based on a cartoon, and while it's definitely in Koh's style, it retains all the stunning visual style of the show. If you liked the show, you're going to like this comic.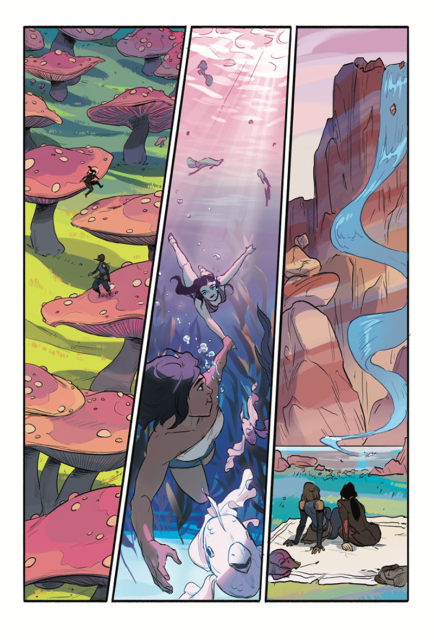 This book is just straighforwardly gay. Like, capital G Gay. If you were looking for nuance or subtext, this comic is not for you. Literally the first 21 pages are just Korra and Asami being gay and talking about their relationship. Nothing else happens. There's a bit more plot for the rest of the book, but even mixed in with that are more pages and panels where they're just doing nothing but talking about being gay or actually being gay. It's called Legend of Korra: Turf Wars but it might as well be called Legend of Korra: Talking About Gay Stuff.
We pick up as Korra and Asami are enjoying a gaycation in the Spirit World. They kiss, they tell each other when they first realized they were gay for each other, they encounter some spirits. It's actually really nice to see some drama-free and mostly uneventful interactions between a gay couple, something we so rarely get. When they decide to leave they Spirit World, they also decide to start telling people that they're a couple. Sometimes this goes better than other times, but we don't see any straight up homophobia in this book, whichI really like.
Also, don't worry, there's plenty of action and bending and intrigue. Apart from the whole gay thing, there's trouble brewing when a developer wants to build an amusement park around one of the portals to the Spirit World that will actually take tourists on trips there. The Mayor of Republic City has been completely ineffectual and claims that the city's coffers are empty. As if these political problems weren't enough, there's a new gang leader, Tokuga, who starts causing problems not just for Korra, but for the entire city.
It's really interesting to see how queerness is seen in the world of Avatar. We learn that the Air Benders have always been openly welcome to same-sex relationships, that the Earth Kingdom is perhaps the slowest to adapt to modern sensibilities and other interesting information about the world that we previously didn't know. Plus, Turf Wars confirms the long-held fan theory that Avatar Kyoshi was bisexual, as well as having another character from the show talk about their queerness. Yeah, this book makes pretty much everyone gay. But joking aside, it is really cool that we learn about other queer people in this universe, as we get to see that it's a common thing. Korra and Asami aren't alone, they have a history and a community and that's both great for representation and accurate to real life.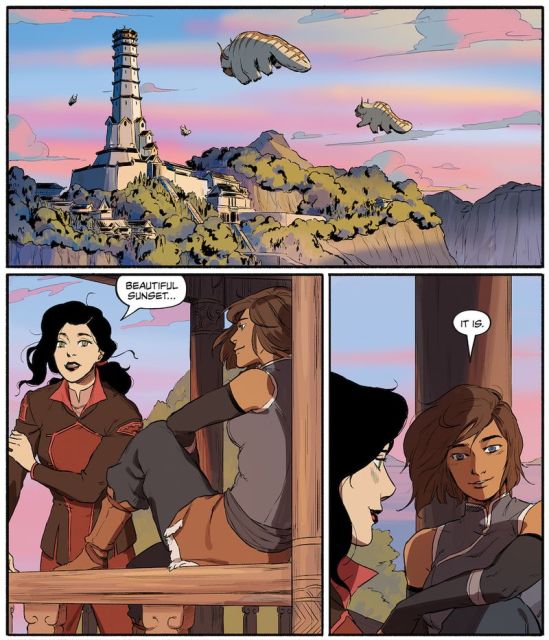 In part, this seems like the clearest possible answer Michael Dante DiMartino could give to those of us who questioned whether the closing scenes in the animated series Legend of Korra was enough to count as textual queer representation that would help both queer youth see themselves and would be seen by non-queer people who aren't looking for queer content and possibly putting it in places where it doesn't actually exist. Here we spend pages, entire scenes, being clear and explicit that they are a couple, that they are in love, that they are gay. It's really terrific. I'd like to send a huge, huge, huge thank you to DiMartino for this. This is exactly what queer fans have been begging for and wanting from so many different shows for so many years. And now we finally get it.
New Releases (August 2)
BTVS Season 11 Vol 1 Spread of Evil TP
X-Files Origins II Dog Days of Summer #2
All-New All-Different Avengers Vol 1 HC
Barbie Vol 2 Big Dreams Best Friends GN
---
Welcome to Drawn to Comics! From diary comics to superheroes, from webcomics to graphic novels – this is where we'll be taking a look at comics by, featuring and for queer ladies. So whether you love to look at detailed personal accounts of other people's lives, explore new and creative worlds, or you just love to see hot ladies in spandex, we've got something for you.
If you have a comic that you'd like to see me review, you can email me at mey [at] autostraddle [dot] com.