Fairly often I bring you kickstarter and indiegogo campaigns to support, but it's rare that I bring you two that are this freaking cool. You wanted queer comics by queer people? You wanted comics about people of color by people of color? Well, today I've got both those things, and they're not just that: they're awesome, they're beautiful and well-written and amazing in every way. I know that I'm excited for these Kickstarters and I really hope that you will be too.
The first campaign I'm epically excited for is the Elements Anthology: Fire. Actually, epically excited might be a bit of an understatement. Like, ugh, this is the kind of thing I live for. Elements: Fire is a black and white and spot color anthology of speculative fiction comics by creators of color all centered around the loose theme of fire. It's being put out by Beyond Press, the people behind the tremendous Beyond Anthology.
As a queer woman of color, I'm always looking for more comics about people like me, but more importantly, I'm always looking for more comics by people like me. That's exactly where Elements comes in. They recognize the need for both diverse books and diverse creators, and they're delivering on both of those things. This anthology is over 200 pages, with 23 all-ages stories by 32 creators, all of them people of color. This is exactly the kind of thing I dream about and the reason why I write this column.
Like, look at this lineup: Aatmaja Pandya, Steenz Stewart, Genué Revuelta, Maddi Gonzalez, Mildred Louis, Taneka Stotts, Veronica Agarwal and so, so, so many more amazing creators. I can't wait to get my filthy hands all over this. The preview images are amazing, and it's being edited by Taneka Stotts, one of the most trusted names in creating diverse comics by diverse creators, and assistant edited by Shing Yin Khor. I've only read one comic from this anthology, "Cactus Flower" by Sarah DuVall, and it's AMAZING. It's such a freaking amazing and beautiful witchy comic that fits right inside my heart and lights a fire there. I can feel the truth of the magic in it. As a witch of color, as a bruja, this comic speaks directly to me and if it's any indication of what else is in the anthology, I'm desperate to read the rest. I seriously can't freaking wait to read more. Seriously, y'all, check out this gorgeous preview of DuVall's comic and then go out and support this campaign.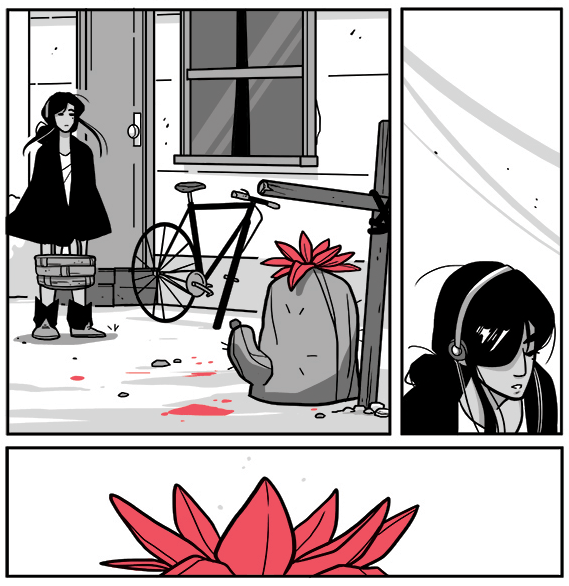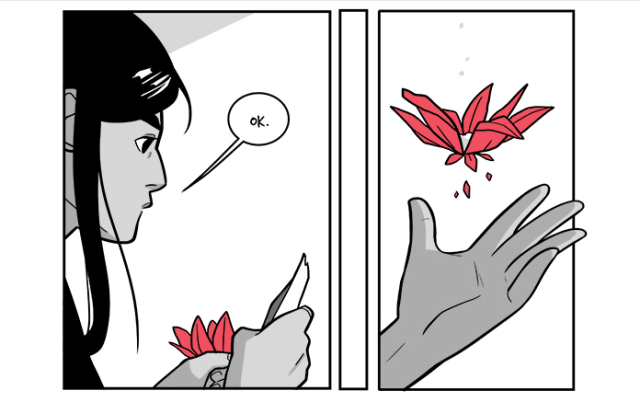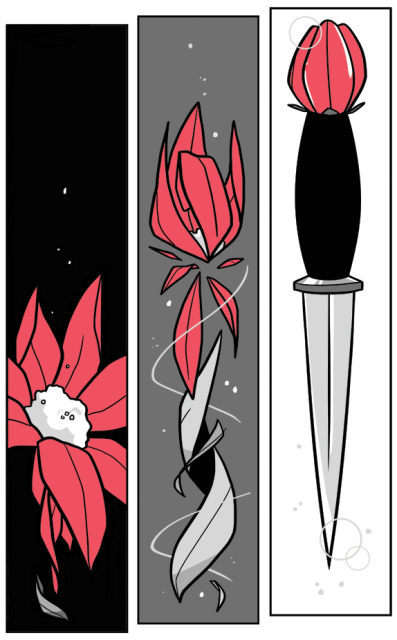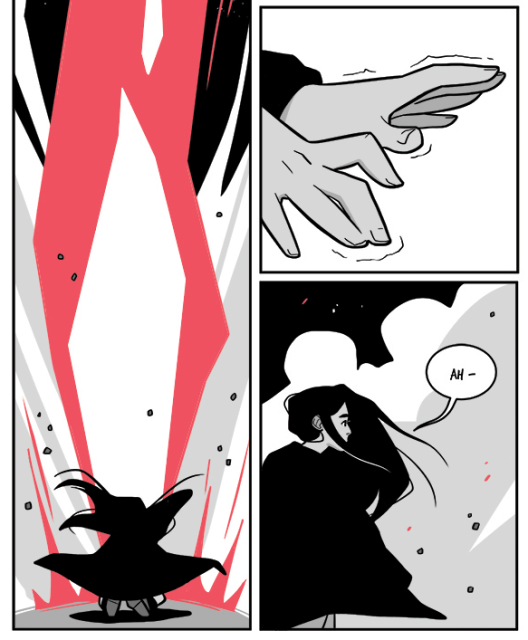 Have you ever watched that Vikings show on the History Channel and wish the whole thing was about Lagertha? And also that Lagertha was gay? That's what Heathen is. Written and with art by Natasha Alterici, this comic tells the story of a Viking warrior named Aydis who is caught kissing a girl and must leave her village. She then decides that she's going to use her newfound freedom to free the Valkyrie Brynhild from the curse that's been put upon her by the godking Odin. Along the way we meet wights, immortal talking wolves, and love goddesses. It's a great adventure comic and a great queer lady comic.
Heathen has sharp and brutal art that adds immensely to the story, as it really emphasizes and adds to the world that Aydis lives in. Alterici's brush strokes, stark lines and shading remind you that she is in an unfriendly world, going up against nature, other vikings and the gods themselves. When you combine her art with her writing, you get something truly epic. She writes in a way that's somewhat reminiscent of Gaiman's Sandman, easily weaving magic and myth into the world that she's creating.
Awesome stories about awesome queer warrior ladies are pretty much the best, and this is exactly that. It's all about a queer woman finding strength in her queerness and in herself in a world that wants her to be anything but that. Her entire culture is telling her that it's wrong to be who she is, but it's exactly that that gives her courage and makes it so that she can go on this epic quest and challenge the very gods.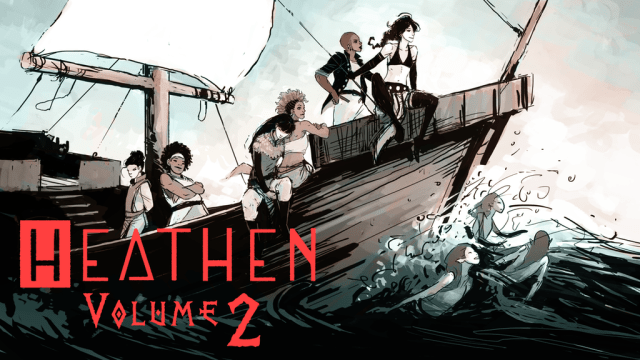 Alterici is currently running a Kickstarter for the second volume, and while it's already successful, there are stretch goals and also the opportunity for readers to get copies of both volumes. The second arc continues Aydis' story and her quest. "In the second volume we follow Aydis as she continues her mission to challenge the god king Odin. To reach the land of the gods she has to cross the Northern sea, she'll do so with the help of her old immortal friends, an all-woman pirate crew, and a trio of vicious mermaids," Alterici says, adding that "This volume digs deeper into the injustices Aydis is hoping to correct, but she will also learn the consequences of not recognizing her own privilege. Meanwhile, Brynhild starts to feel the full effects of Odin's curse, and is weakened by her separation from Aydis, but she soldiers on. And the goddess Freyja, sensing the heightened stakes, decides now is a good time to pay a visit to the god king himself." You can support the Kickstarter campaign today.
New Releases (July 20)
Buffy the Vampire Slayer Season 10 #29
Batgirl and the Birds of Prey Rebirth #1
Ultimates #9
Miss Peregrine's Home for Peculiar Children Volume 2: Hollow City GN
---
Welcome to Drawn to Comics! From diary comics to superheroes, from webcomics to graphic novels – this is where we'll be taking a look at comics by, featuring and for queer ladies. So whether you love to look at detailed personal accounts of other people's lives, explore new and creative worlds, or you just love to see hot ladies in spandex, we've got something for you.
If you have a comic that you'd like to see me review, you can email me at mey [at] autostraddle [dot] com.