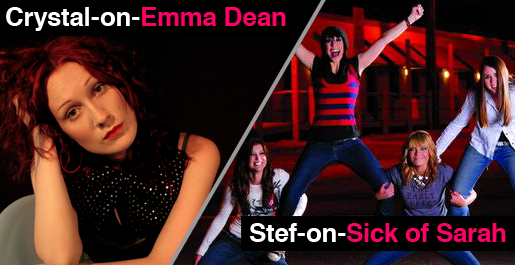 I. Crystal on Emma Dean
Crystal interviews Australian Musician Emma Dean about "Real Life Computer Game," elastic pop theatre, cocaine rumors and Amanda Palmer:
Emma Dean is an Australian artist trained in singing, violin and piano, with a number of releases under her belt — the latest of which has been described as "like pop music, but also musical theatre." Emma can cite amazing artists such as Amanda Palmer as people she's been invited to tour with and music critics promise that her debut album, 'Real Life Computer Game', 'will leave you gasping for breath.' Unfortunately I couldn't catch up with Emma in person, lest I also be gasping for breath, and so I got to know her via email instead –
What's the most exciting thing happening in your life right now?
I have so many exciting things happening at the moment – too many for my brain to handle! Right now I'm collaborating with a wonderful Brisbane based theatre group called Zen Zen Zo Physical Theatre on an adaptation of Shakespeare's The Tempest. I play Ariel, the slave of a magician called Prospero. She weaves the story through her music (which I have written specifically for the production) and acts as the narrator. Ariel is usually played as an innocent nymph-like creature however in our version she will be a saucy, seductive, cabaret diva! This will be one of my first major acting roles.
Your debut album, Real Life Computer Game, is out now. What can you tell us about it?
It is the musical theatre soundtrack for two years of my life (2006-2008)! It is epic, dynamic, complex, simple, stirring, beastly, aggressive, gentle, calming, up lifting, confronting, annoying, pretty AND incredibly ugly. Kind of like me. I had a wonderful band in the studio (Anthony Dean, John Turnbull and Dane Pollock) and they took my direction very well! Poor things.
I love that you have called your genre 'Elastic Pop Theatre' in your bio – it makes me want to listen even though I have no idea what it really means. So what does that mean, exactly?
To be honest, I now simply call my music 'Theatrical Pop'. This is mainly to cause less confusion. Originally the "elastic" came from the idea that my musical sound is interchangeable, stretchy and tends to dynamically expand and contract at the drop of a hat – like elastic. I often play in solo, duo or trio mode and sometimes with a full five piece band plus choir or string ensemble. Like elastic it can be expanded, but the underlying message and purpose remains.
Tell us something interesting about yourself that we won't find in your biography.
When I was two years old I chopped my thumb off in the chain of my Nanna's exercise bike.
Your song 'cocaine' is about reading a rumour on the internet that you're a cocaine addict. Do you believe that all publicity is good publicity?
I got a good song out of that one so it can only be a good thing!
Amanda is lovely and so talented! She came up to me from across the street and said "Emma… is that you!?" and planted a huge kiss on my cheek.
Did you ever find out where it came from?
I have a funny feeling it all started with… me. My friend told me that her brother told her that I was a cocaine addict. I found it hilarious so I made a comment to another friend via my personal MySpace account. Someone must have found it and ran with it. Not sure who THAT person was though. If I find them, I'll thank them.
You've supported Amanda Palmer on tour – how was that? A lot of us are huuuuge AP fans…
Amanda is lovely and so talented! She came up to me from across the street and said "Emma… is that you!?" and planted a huge kiss on my cheek. She was even eyebrow-less at this stage. I found her to be very down to earth and real. I like that. Interesting Fact: The Danger Ensemble, who toured with AP on the 'Who Killed Amanda Palmer Tour', are friends from Brisbane – they have all been members of Zen Zen Zo Physical Theatre, apart from volinist Lyndon Chester who used to have his violin lessons with the same teacher when we were little. So many connections!
Let's play Desert Island Discs. Which three albums are you taking to the island?
I would take the "Wicked The Musical" Soundtrack and listen to it first. This is not only because it is absolutely outstanding but because I will start believing I can defy gravity and fly home (assuming I am stuck and want to get home, that is). Then I would move on to "The Best Of Queen" to pull me out of the slump when I realise I can't fly like Elphaba. Finally, when I've gone mad I would put on "Angry Birds" by Ben Stewart (the kooky man behind the production of my CDs!) and I would surrender to utter insanity.

I think that is the most well thought out answer I've ever had to that question. Lastly – what's next for you?
After I finish The Tempest I will be taking a two month holiday in Europe and the UK. My aim is to reflect and get some clarity on what I've done and achieved in the past year and what I want to achieve in 2010. When you run your own business you sometimes forget to take holidays! When I return I will be getting stuck in to a tour called "The Wheel Of Frank Confession", which involves artists from different states of Australia. It is a cabaret style show about confessing the deep dark stories and secrets behind our songs! 2010 will also see more collaboration with Zen Zen Zo and the creative development of a musical I co-wrote with Jacob Diefenbach called "Downside Up", which is being directed by an amazing Brisbane actor called Dirk Hoult.
So there we have it! If you want to check out Emma's music or The Tempest,  head on over to her website for all the info. Or if you live outside of Australia, you can search for Emma on CD Baby. You can check out her film clip for Real Life Computer Game below –
Next page: Stef sits down with Sick of Sarah …
2. Stef-on-Sick of Sarah
Stef interviews Sick of Sarah about the Minneapolis scene, blogging, the Spice Girls, listening to the same CD over and over again and … um … vagina!
I meet up with the Minneapolis-based, all-female, openly-gay quintet Sick of Sarah in the lobby area of an insanely fancy hotel. The waitstaff eye us warily because we bleary-eyed, hair-dyed, tattooed and pierced weirdos are loud, boisterous and having inappropriate amounts of fun.  Sick of Sarah were friendly, and ultimately we don't order anything that didn't have a price listed.
Originally called Sparkle Motion (??!!??!), SOS writes hook-y, emotion-driven pop-rock songs to listen to alone in your room and their newest EP, The Best Thing, came out last week. Here's our conversation:
Waiter:  I'm sorry, um,  just because of the health code, you can't have your feet on the table. Would you like to order something?
Stef: (loud whisper) THIS PLACE IS AWESOME. So!  How are you?
Katie: Good!
Jessie: Awesome.
Stef: Fantastic.  So I've done a little research on you guys, so if I ask you questions you've been asked already, I'm really sorry..
Jessie: It's alright.
Katie: We'll get over it.
Stef:  My first question is the band name … (band groans audibly) … I'm sure you get it all the time.
Abisha:  No, it's cool. Um, it was my old roommate, she said she was sick of her name one day – she was sick of Sarah, and we were in the process of looking for a new name so… y'know. It sounded good at a time.  It was Brooke's ex girlfriend at the time –
Brooke: Incidentally.
Katie: …Who we still like!  Nothin' to do with the breakup!
Stef: How does she feel about you?  Is she sick of you?
Katie: Is Sarah sick of us?  She texted me yesterday.  Everything's fine.  Our relationship is totally good.  I'm not concerned.
Stef: I saw your new video for "Bittersweet," which is obviously you guys walking around Minneapolis, where you're from. What's the music scene like there?
Jessie: It's kinda big, we've got a pretty rockin' scene.  There's a lot of indie, and there's a pretty big hip hop scene too.
Stef: You guys hang out with Prince all the time?
Brooke: Yeah, every day.  He comes to our pool parties.
Stef: When Prince shows up somewhere, is it like, some kind of mythic proportion…
Jessie: He doesn't really show up anywhere actually.. He lives in the suburbs.  He just kinda stays..
Brooke: I heard he moved actually.
Jessie: I don't know, I lost his phone number.
Katie: It's ok, I'll just Twitter him later on.
Stef: Was there a specific inspiration behind the video?
Abisha: Basically we wanted to capture the vibe of the song, the emotion… and it's cold in Minneapolis – we definitely wanna represent our hometown!  I guess I didn't grow up there but… Um, we captured a bunch of monumental spots in Minneapolis, like  there's a part in the video where I'm walking past a wall with stars on it?  That's First Ave, a legendary venue… And also the Walker Arts Center, there's a bridge that goes over the highway.  That's kind of a big deal also.  I don't know, we just tried to capture Minneapolis and the vibe of the song, which is bittersweet – sad and.. cold and.. grr.
Abisha: We have very uh, eclectic musical taste… Guilty pleasures, but they shall remain nameless.
Kate: FLO RIDA.
Katie: Like, it's fun to rock out, but it sucks to be in the snow.
Stef: Y-… You were in actual snow?!
Katie: Oh yeah, it was like 25 degrees.. It got pretty insane.
Jessie: I was sober.
Katie: I am SORRY.
Jessie: Well, somebody had to drive!
Stef: You guys have done a couple of blogs – I know you (Jessie) in particular have blogged about discrimination, sexism you've encountered on the road, but now you're on an all-female tour.
Jessie: It's way different.  We've toured with bands that we like, but it's different touring with an all-girl band because you can kinda like… gang up on whoever is being a dick, you know?  It's cool – it's a totally different vibe!  It's like, "GIRL POWER, WOOO!"
Stef: So you guys have Spice Girls parties…
Brooke:  Yeah, we sing Spice Girls a little bit…
Abisha: The only thing that kind of sucks is when we got Jamie, we couldn't be the real Spice Girls 'cause there's five of us and they only have four.. She's the bonus Spice, she's Bonus Jonas Spice.
Stef: Oh, for the reunion tour they got everybody back together!  There was five of them!  So um, what do you guys do on the road to stay sane?
All: We don't.
Jessie: We just laugh a lot and say stupid stuff.
Katie:  We repeat the same joke over and over, which in turn surprisingly makes it more funny.. the 400th time.. You just go.  You ride, you go, you drive, you get to the venue –
Jessie:  – You listen to the same CD over and over.  You have a dance party.
Stef: Do you guys fight?
Abisha: If we ever feel like, a little bit tense, we just hug it out.
Jessie: We don't fight a lot, but we have differences of opinions, and usually when that happens we just part ways, have a smoke, and fall back in love!
Katie: This tour's been pretty good though, knock on wood.  This has been one of our longer runs as of yet, but we have yet to have a full-out brawl, which is good.  We're havin' an awesome time.
Stef: Is there anything people would be surprised that you guys listen to?
Katie: Probably everything we listen to would be a surprise.
Abisha: We have very uh, eclectic musical taste.. Guilty pleasures, but they shall remain nameless.
Kate: FLO RIDA.
Abisha: Jessie has a very soft, delicate side of her and it comes out in some of her CDs that she listens to.
Jessie: I make road mixes and I name them things like 'Hmm' and 'Snap City!'  But y'know, there might be a ballad or two on there.
Kate: There might be a little Olivia Newton-John… OK, me and Jessie really like Cher.  Just puttin' it out there.
Abisha: I'm into this Rihanna song right now.  "DISTURBIA!"
Stef: Are you familiar with "Breakin' Dishes"?
All: No.
Stef:  Well I bought the record… "Umbrella" is such a good song!  And there's this song called "Breakin' Dishes," where she's setting all her boyfriend's shit on fire cos he's out cheating on her!  It's amazing.
Katie: Note to self.
Stef:  My last question for you guys is kinda totally ridiculous. I would like to know your favourite euphemism for vagina, and then we're done.
All: Wait, what?
Katie: Oh, I shouldn't have this down on paper.
Jessie: Um, my little sister?
Abisha: Dude, that's fucked up.
Katie: Um, so you want completely inappropriate?
Jessie: Judy!
Jamie: That's mighty clean of you.
Jessie: Well I said my little sister and you guys were all OH MY GOD…
Katie: Well also um, who calls it that?
Abisha: I think "vajayjay" is pretty sweet, but then there was a girl at McDonald's whose name was Vajayjay and she didn't get my order right.
Brooke: It's a toss-up – there's like 20 of them that i really enjoy so..
Katie: PICK ONE.  (someone yells "CLAM!")  When we went to LA we made a list of like 200 of 'em.
Stef: I'm lucky i stumbled upon this question!
(The girls continue to talk excitedly while Jamie shifts silently on the couch.  I point this out.)
Katie: Well, I call mine Jamie.
++
After the interview, one of the girls (who shall remain nameless) told me that she prefers "DNA Dumpster," but didn't want it on the record.  Just sayin'.
Sick of Sarah are currently on tour with Von Iva, and their self-titled album is out now on Adamant Records.
[ad#postads]
Pages: 1 2See entire article on one page