Hey, remember that pen pal thing? The part where we all write other Autostraddlers so we don't only get bills in the mailbox? If you've gotten your pen pal assignment (and don't worry if you haven't, Laura's still sending out emails because there are a bajillion of you!) then you'll know if your new friend would like  to receive a letter full of love wrapped up in a plain envelope or a super gay one. For those with option numero dos, let's gay up some envelopes!
For every project listed here, you'll need an envelope!  If you don't have one, you can totally make one.
You will also need:
– stickers
– an ultra fine point Sharpie
– a very gay book
– a piece of paper
– scissors
– rubber cement
– water color paints
– a small paintbrush
– a mug you don't drink out of, filled with water
– scrap newspaper
Effort Level One:  Stickers!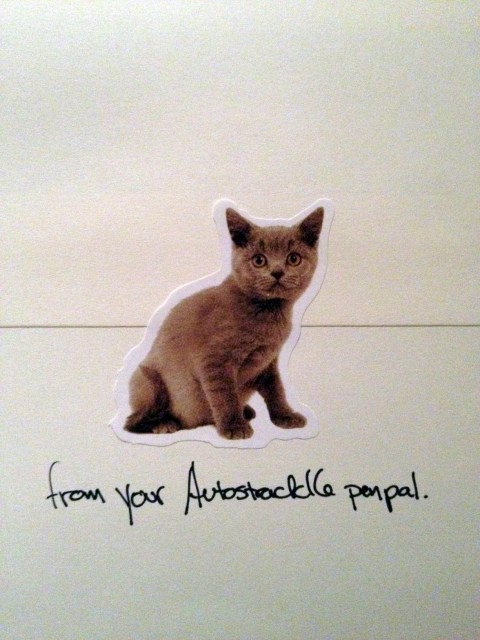 The nice part about stickers is that they require almost no effort.  They are also fairly inexpensive.  And they can be used to decorate or seal an envelope.  The above sticker is from The DK Baby Animals sticker book, but other suggestions include donating to Autostraddle to get a Whiskey Kitten sticker, or even buying a lovely You Do You sticker from our shop.
Effort Level Two:  Words, Words, Words!
Choose a page or two from your Very Gay Book (I chose Tipping the Velvet.)  Start from the top left corner and write your copy fairly small along the top edge.  Leave a small gap when you get to the corner to avoid future word crashes, turn the envelope and continue to write along the edge.  Wash, rinse and repeat until you wind up with a border of gay words surrounding a clear square in which to write an address.
Cut a small square of of paper big enough to write your return address on and rubber cement it to top left corner of your envelope.  Voilà!  Address, stuff and send!
Effort Level Three:  Address the Rainbow!
Variation one: Lay the scrap newspaper down first because you do not want water colors all over your new crafty table.  Dip your brush in the water to activate the water colors.  Start with the cool colors and begin to layer on several different shades of purple at the right edge of the envelope.  Repeat with each color of the rainbow until you reach the left edge, ending with red on the left edge.  Remember, rainbows are ROYGBIV.  Or not.  You do you.
Variation two:  Lay down quite a bit of scrap newspaper to catch the paint that's going to fly.  Go heavy on the water this time.  Dip your brush in a lot of water and activate a pigment of your choice.  Hold the paintbrush securely and flick your wrist in the general direction of the envelope.  The more water you use, the splotchier your Jackson Pollock masterpiece will be.  Let the envelope dry, then pick your favorite color and outline the edges on the face of the envelope.  Once the front is dry, flip to the back outline the back edges.  If you paint over the enclosure, separate it immediately so that you don't inadvertently seal your envelope before you get the chance to use it.
Effort Level Four:  Gay Thumbprints!
Use a lot of water on a color until you can comfortably coat your thumb in a pigment.  For the butch/femme thumbprints, coat your thumb in blue and forefinger in pink (or whatever colors you pick, these two just happen to be my choices.)  Put one of each fingerprint on the face of the envelope, pressing firmly enough to leave your mark. Let the finger prints dry.  Draw your desired facial features on the thumbs with your Sharpie.  To make the bouquet, draw the stems on with sharpie first.  Then using a very light touch, dab your paintbrush on top of the stems to create your flowers.  For more defined flowers, let each color you use dry before moving on to the next color.  Last, add some color to the stems (and to your butch thumbprint's cheeks, if you so choose.)
Also try a genderqueer thumbprint!  The order is the same: thumbprint first, let it dry.  Then draw on features (and in this case, confetti) with an ultra fine point Sharpie, and add the color to the rainbow hair and confetti last.  Of course, try every option/expression/person/thumbprint/ color.  There are as many kinds of queer envelopes as there are queer people.  Have at it, y'all!  Let's transgress the postal system!