By Laura, Kaitlyn, Lynne, Megan and Kara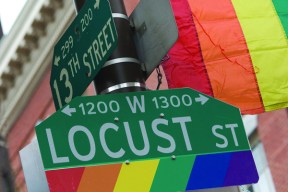 Oh Philadelphia, you strange, wonderful city. You toy with our hearts. For every reason we adore you, there are four more things we despise. We love you even when we don't love you and always try to see the good in you.
Kaitlyn and Lynne grew up with you and learned how to handle your whims early on. They see you differently than the rest of us do; you're part of them. When we've talked about you, it's hard not to see you as that two-faced family member; familiar but distant, loved but not always loving, able to light up a room but man, when the lows hit, they're low.
I grew up in Northeast Philly. It's a predominately white, working class/middle class area. Northeast Philly actually attempted to secede in the 80s, due to racial and income differences. I grew up in Mayfair and went to Catholic grade school and my family participated in the white flight to the suburbs, where my parents still live. I love Philly. It's hard to explain. I know it's shitty in parts and messed up a lot, but I truly think that overall it still tries to be good. (Kaitlyn)
Megan and Laura came later, and then left. Kara learned how to handle you and stayed on.
I came to Philadelphia on the wings of my righteous indignation at having been forced to be born and grow up in small-town Virginia. Philly is a tough, tough city, but when I visited for my college auditions, all I saw were the lights. I still remember looking out onto Broad Street from my hotel room — it was probably midnight, but there were people! And cars! And people in cars, and coming from the subways, and leaving the jazz club, and it all just seemed too great to a kid who used to hang out with her girlfriend in the parking lot of her high school theatre, 'cause there was nowhere else to go. When I walked through what I would later learn was the Gayborhood, there were murals with women holding hands. There were gay dance clubs. Hell, there were rainbows on the street signs. I heard angels singing.
I left Philly last summer, after I graduated from college, and by the time I bounced, I fucking hated it. I had seen through the lights into the problems that are both universal to cities and uniquely Philadelphian — shitty public transportation, absurdly high crime rates, and crumbling infrastructure in the parts of the city where white people don't live and tourists don't go (yeah, North Philly, I'm looking at you). I'm in DC now, about to start grad school, and while I miss Philly now that I'm gone, I'm glad to be starting a new chapter. At the end of the day, though, I'll never forget how I felt when I saw a gay newspaper for the first time; I was walking down the street on my first ever visit to Philly, and there it was, sitting in a newspaper box on the sidewalk, like it was any old thing — like it was normal for gays to have a paper just for them. For all the shit Philly gave me over the years, I'll never forget that the paper was astonishing, a revelation; that the murals on the buildings were revolutionary, and that the rainbows on the street signs felt like home. (Megan)
+
Hoods Galore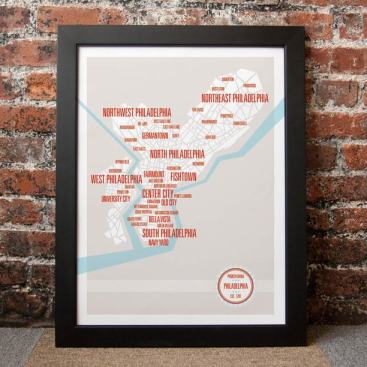 The Official Gayborhood (Chestnut to Pine, Broad to 11th) Philadelphia's got a serious Gayborhood. We're talking rainbow street signs, bathhouses, and a florist named PHAG (that's Philadelphia Home and Garden in case you were wondering). As is the case with plenty of gay places, the Gayborhood is pretty boy-centric, but that's never stopped me from having fun there. It's got bars galore, gay pizza, and is home to most of the gay organizations around the city. The Washington West Project offers free walk-in HIV/AIDS testing which isn't a bad way to spend a Saturday morning if you ask me. After talking with a friendly/ understanding/ knowledgable counselor for a few minutes and getting your instant results, you can head next store to More Than Just Ice Cream to celebrate your responsible decision-making.
Center City (Market to South) Center City is home to the inarguably-beautiful city hall, Sesame Street-esque brownstones in quiet neighborhoods and some categorically nasty rich people in the swankier parts. It's definitely one of the more expensive parts of the city, but with easy access to public transportation and a million and one options for things to do, it's a good place to meet up with friends from across the city.
Northern Liberties/Fishtown (North of Spring Garden, East of 5th) Fishtown is hipster paradise in Philadelphia. Directly northeast of Center City, it's definitely not to be confused with Northeast Philadelphia. The area's undergone relatively recent gentrification, which means it's a mix of brand-new 20-something-occupied apartments and obviously abandoned decrepit buildings. Overall, Fishtown occupies two conflicting polls in its residents.  Long-time residents tend to be conservative and at times closed-minded while newer, younger residents tend toward the opposite. Like most gentrified areas, Northern Liberties and Fishtown are home to plenty of bustling bars and restaurants.
South Philadelphia (South of South) While Center City and Northern Liberties/Fishtown tend to be overwhelmingly white, South Philadelphia is home to a little more ethnic diversity. It's always been a neighborhood of immigrants, which means that Polish and Italian enclaves have given way to Mexican and Chinese neighborhoods as patterns in immigration have changed. That's not to say everything's a rainbow of happiness; Joey Vento of Geno's Steaks, a Passyunk institution, is well-known for his English-only policies and has been seen (and heard) driving around the streets in a truck covered in signs that announce his xenophobia. But don't let that scare you away; South Philly's got neighborhoods full of families, schools that are doing all the right things and — most importantly — the Italian Market.
West Philadelphia (Across the river) West Philadelphia is a world unto its own. It's got a vibe that's totally different from the rest of the city, UPenn and its surrounding institutions/mythology and a crazy system of trolleys to make up for the total lack of subways. I've heard great things about it, but unfortunately never spent much time west of the Schuylkill.
+
Snack Attack
Bonte (multiple locations along Walnut) Once upon a time, I was 20 and needed something to take girls out to since "drinks" was off the table and "coffee" is boring. As it turns out, asking girls on dates to waffles does the trick. Bonte makes gooey Belgian waffles that you can top with fruit, syrups or ice cream and is as good of a place to study as it is to flirt.
Chapterhouse Café and Gallery (620 South 9th Street) This place could easily become a home away from home. Half art gallery/half coffee shop, Chapterhouse is where I go to daydream, to study, work on freelance gigs, or share a few laughs with friends. Pets are just as welcome as people, and the drinks and snacks are the perfect pick-me-ups. From healthy wraps and sandwiches to fruit smoothies and magical combinations of assorted caffeinated beverages, Chapterhouse will leave you wanting more. One down side: make sure you have cash; there's a ten dollar minimum for cards. Also, if you like noisy coffee shops filled with chatter and organized chaos, this place is probably not for you. While I have seen my fair-share of knitting circles and small group meetings, more often than not Chapterhouse will feel like a study hall (you know, if study hall had large beautiful windows, wood floors, brick walls and cool background music).
Little Baby's Ice Cream 
Little Baby's Ice Cream was born in May 2011 when three Philadelphians with no background in food decided they wanted to make ice cream. In the summer months, the guys of Little Baby's ride their custom tricycle around the city offering fun and delicious hand-made flavors to excite your taste buds like Earl Grey Sriracha, Balsamic Banana, Strawberry Pink Peppercorn, Peanut Butter Maple Tarragon, Birch Beer Vanilla Bean, Bourbon Bourbon Vanilla and Yerba Mate. This summer they'll be replacing the coat check at Union Transfer and setting up a pop-up ice cream shop to scoop up delicious treats for sweaty show-goers.
We also like The 
Franklin Fountain (116 Market Street) for old-fashioned fancy desserts, Leotah's Place Coffeehouse (2033 East York Street), Red Hook (
765 South 4th Street), Good Karma Cafe (331 South 22nd Street)
 for a mood-lifter, Cups and Chairs
 (703 South 5th Street) for a cup of tea tea and The Milkcrate Cafe (400 East Girard Avenue) for a coffee shop with a personality and a blog.
+
Too Much On My Plate
Audrey Claire (276 South 20th Street) Want 5 good reasons to go to Audrey Claire? I've got them. 1: It's owned by a woman. Do you know how rare that is in the world of Serious Food? 2: It's BYOB and right across the street from one of the only places in Philadelphia where you can buy a 6 pack of beer at a decent price. 3: It's in one of the prettiest little neighborhoods in the city. 4: The food is really, really good.
Lorenzo's (900 Christian Street) Sober, Lorenzo's has one of the best slices of pizza you'll ever eat. Drunk, Lorenzo's is an oasis of cheap and delicious food that is totally worth the entry into what I can only describe as the establishment's antagonistic house-of-mirrors decor.
Sabrina's (910 Christian Street) On weekend mornings, the line for Sabrina's wraps around the block. But that's only because it's worth getting up for. Their french toast (which is made out of two HUMUNGOUS slices of challah bread stuffed with bananas and cream cheese and covered in vanilla syrup) is hands down totes praise god almighty the best thing I've ever put in my mouth.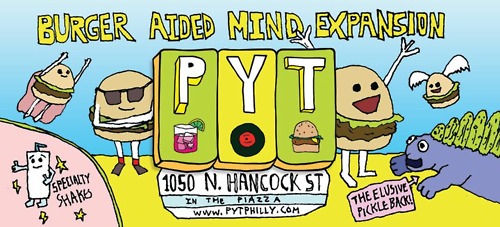 PYT (1050 North Hancock Street) PTY specializes in burgers of any and all persuasions. I've eaten all of the vegetarian burgers offered on the menu and can honestly say that they're all delicious. Adult milkshakes are $10-$12 each, but they are so worth the cash. At night, the fun, loud atmosphere explodes and it turns into a bar with a dance floor
Cantina: Dos Segundos (931 North 2nd Street) and Cantina Los Caballitos (1651 East Passyunk Avenue) ( If you like Mexican food and margaritas, this is the place for you. Dos Segundos devotes an entire page to various brands and types of tequila and margaritas and mojitos are available by the glass or pitcher.  Kaitlyn recommend the nachos with vegan beef for dinner and mango mojito for your cocktail. Laura recommends the prickly pear frozen margarita and lots and lots of chips and salsa verde. On Fridays and Saturdays, the restaurant is packed, but if you don't mind waiting they're usuallybe able to seat you quickly. Laura's special hipster alert: If you're friends with the servers, you're golden; otherwise, watch out. My roommate used to get free margaritas by the pitcher while I was once served tequila and water when I ordered a whiskey sour because, according to the bartender they're "a mexican bar."
Other options for sustenance include Morning Glory Diner (734 South 10th Street) Royal Tavern (937 East Passyunk Avenue) which I hear has a bangin' grilled cheese, the Memphis Taproom (2331 East Cumberland Street) and  Honey's Sit'N'Eat (800 North 4th Street) for bubbe-style eating.
+
Dance, Drink, Play
Sisters (1320 Chancellor Street) The lone lesbian bar in the city isn't necessarily our fist recommendation. The first floor is the mainly just a bar and some tables while the second floor has the dance floor. Being the only lesbian bar, it's where lesbians tend to go to meet a hookup/girlfriend/anything between. For that reason, it's a bit of a meat market.  When I've gone, I have always felt as if I was being watched.  If you decide to brave it, aim for Thursdays and Saturdays as they're busiest nights.
Tavern on Camac (243 South Camac Street) My best friends during my last two years of college were 3 gay boys which means we spent a lot of time at Tavern. The bottom floor is a piano bar filled with wonderful queeny older guys while the upstairs is home to a very tiny and very packed dance floor. It's tricky to find, but as long as you follow the little groups of people you can't go wrong.
Woody's (1309 Sansom Street) Home to the only 18+ night in the city, Woody's tend to draw a sizeable crowd. You'll have to pay a $5 cover ($10 if you're underage) if you want to dance, but I've always had a good time.
Stimulus (every 3rd Friday at different bars) Stimulus bills itself as the largest and most diverse women's party in the Northeast. They're not just talk; the couple of times I've been it's been bursting at the seems with every type of women (and a few men) you could imagine. And not just women, fine women. Fine women who wanted to talk and dance and do more than play the age-old game of lesbian stare-down.
Vixens and Vagabonds: Queer & Kinky Cabaret by Liberty City Kings (Tabu, 200 South 12th Street) Vixens and Vagabonds is a bimonthly drag and burlesque show. It's sexy, funny, raunchy, and a million other things. It's hard to explain in words how much fun I've had there. Just go if you're in town.
Kraftwork (541 East Girard Avenue) This is the place to go if you like beer.  The beers on tap and in bottle change all the time so I suggest ordering a flight to try new beers. The atmosphere is awesome and Kraftwork definitely merges the young and the old well. Customers are of every age and long-time residents are mixed in with newer ones. It definitely does a good job of catering to everyone in the neighborhood.
Barcade (1114 Frankford Avenue) What started as the result of a group of nostalgic 20-somethings in New York looking to start their own business, Barcade combines the friend's favorites: craft beer and classic arcade games. In 2004, Barcade opened in Williamsburg, Brooklyn and in 2011 opened it's doors inPhiladelphia. Barcade has a solid beer menu of reasonably priced drinks and offers a trip back to your childhood for 25-cents per game. What more could you ask for?
Frankford Hall (1210 Frankford Avenue) USA Today called Stephen Starr the "it-guy" of the Philadelphia food scene. It's pretty accurate; his quirky tightly-branded atmospheric restaurants can be found in almost every pocket of the city. Starr's newest venture, Frankford Hall, branches into the Fishtown, an area of the city previously untouched by the Starr enterprise. The indoor/outdoor beer garden is the perfect way to pass away the afternoon. Play an intense game of jenga, drink an oversized German beer, and roast $1 smores with your friend's around a fire-pit.
We've also been known to hit up iCandy (254 South 12th Street), the Gayborhood's newest bar, Tattooed Mom (520 South Street), Lickety Split (401 South Street), Bob and Barbara's (1509 South Street) for drag shows and National Mechanics (22 South 3rd Street) for dancing and karaoke.
+
Sha-Sha-Shake It
World Cafe Live (3025 Walnut Street) Overlooking the Schuykill River and sitting comfortably close to University of Pennsylvania's campus, World Café Live is home to WXPN Radio studios as well as a restaurant and music venue that is unique to the city. Upon entering World Café Live, the upstairs portion of the space is home to a ritzy café with a small stage for an intimate dining and entertainment experience while the downstairs stage houses larger acts and accommodates more people. Events include music acts, story slams, neo-burlesque shows, dance parties and more! Most recently, World Café hosted an adult Easter-Egg Hunt and hid 12 plastic eggs around the city, each including tickets to upcoming shows.
Union Transfer (1026 Spring Garden Street) Philadelphia music venues hold a special place in many local's hearts. Newest to the scene is Union Transfer, located in the well-known "old Spaghetti Warehouse" at 10th and Spring Garden Streets. The venue, which maintains an enormous amount of  character and furnishing from the original building combined with a kick-ass sound system brings an amazing new concert space to Philadelphia, fully equipped with air-conditioning (that's a big deal!), multiple bars, cheap tickets (averaging 15 bucks)  and all-age access.
You can also check out shows that Johnny Brendas (1201 Frankford Avenue) in Fishtown and the North Star Bar (2639 Poplar Street) in Fairmount.
+
Shopping for Your Insides
The Italian Market (9th Street from South to Passyunk) Ahhh, the Italian Market. It's got a little bit of everything. The east side of the street is filled with mostly fruit, vegetable, meat and seafood vendors while the west side has mostly shops. The food runs the gamut from Jamaican to Vietnamese to Mexican (not to mention Italian) which means that if you can find it in Philadelphia, you can find it here.
Reading Terminal Market (51 North 12th Street) If I can find a market half a good as this in the cities I move to, I'll be lucky. I come here to buy most of my produce (Iovine's near the back right corner has everything plus granola, dried fruit, and nuts and gives a student discount on Wednesdays and Sundays) but they've also got at least two cheese shops, a spice store, bakeries, honey, jewelry, ice cream, handmade soaps, bookstores, and dozen of little restaurants that serve every cuisine imaginable.
Food and Friends (1933 Spruce Street) This place has got a great name and it's probably one of the prettiest grocery store I've ever visited. Despite Pennsylvania's asinine liquor laws (which make it so that you can't sell beer and wine in the same store, beer is only available by the case or carry out from bars at bar prices, liquor stores are closed on Sundays, you can't sell beer or wine in grocery stores), Food and Friends somehow managed to squeeze in an entire aisle of beer by the bottle so that you can create your own six pack or just buy a single bottle on your way home at night.
Trader Joe's (2121 Market Street) I know it's a chain, but knowing where the closest Trader Joe's is is an important thing to know about any city. The food and the prices are the same all over the country, so if you're dying to get that three-layer hummus while you're on vacation, you know you can find it here.
Green Aisle Grocery (1618 E. Passyunk Avenue) It's easy to fall in love with Green Aisle Grocery, and not because the brothers behind the tiny boutique supermarket are sweeter than pie. It's my neighborhood go-to for cooking necessities. Why? I like shopping and eating conscientiously and that's what they're all about. While they manage to stock locally sourced staple items like seasonal produce and pastured eggs (laid just a few miles outside the city), Green Aisle also does a respectable job of supporting other local small businesses by carrying a selection of their favorite goods.
Sexploratorium (62o South Street) We mostly just think we're hiLARious. But yeah, check it out.
Essene Market (719 S. 4th Street) Essene Market is like a small mom-and-pop Whole Foods, but better. Definitely shop here if you're a health-nut searching for natural and wholesome foods, but if you're natural style of living extends far beyond your refrigerator, don't fret, Essene has got you covered.  From locally made, fair trade and organic soaps and beauty products to  stainless steel lunch containers and earth-friendly shoes, Essene is sure to delight. However, do be warned, you're likely to spend a pretty penny in here. My suggestion? Save money and buy your staple items a few blocks away at the ever-so-wonderful and cheap Italian Market, and buy the extra special and hard to find items at Essene.
+
Shopping For Your Outsides
Sazz Vintage Warehouse (60 North 3rd Street) Sazz sells mostly men's vintage clothes, although they've recently added more women's stuff to their collection. They have an "emphasis on disco and rockabilly shirts," which sounds to me like the right place to go if you're a flamboyant boi in the market for something fresh.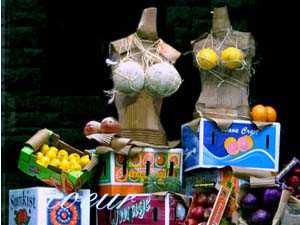 Coeur (132 South 17th Street) Coeur is a bit of a mystery to me, but in the best way possible. I've never made it there, but I've heard storied of women who walk into the shop, only to be accosted by a woman who demands that they strip from the waist up, looks them up and down for a minute or two, walks away and then returned with an armfull of perfectly-fitting bras. Sign me up!
+
Pressed In A Book
Mostly Books (529 Bainbridge Street) Mostly books it just what is sounds like. They've got stacks on stacks (on stacks) of books along side random family photographs, a couple of odds and ends and more cassette tapes than I've seen since the '90s. If you're looking for a new hobby but aren't sure where to start, Mostly Books probably has something for you; their non-fiction section is expansive and, to be honest, weird. I've found everything from Arabic language workbooks to books on how to tell if your cat is depressed.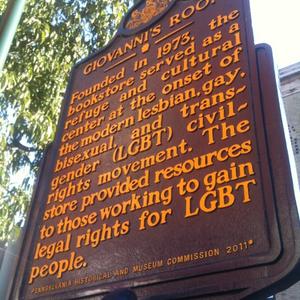 Giovanni's Room (345 South 12th Street) You've heard tell of such places—places where gay section isn't sandwiched between Cultural Studies and Sociology, but is, in fact, the entire store. Places where every gay movie you've ever heard of and all the ones you haven't are sold, where the trans literature is next to the gay, which is next to the lesbian, which is next to the queer history—we have a history!—that you never learned but have been dying for.
My friends, welcome to Giovanni's Room. Giovanni's Room is the oldest gay bookstore in the country. That's right—New York and San Francisco can step aside, because as far as queer literature goes, Philly has had you covered since 1973. Named for celebrated gay author James Baldwin's second novel, Giovanni's Room has more than 7,000 titles in the store, and a database of over 48,000. You didn't know there was that much gay stuff in the world, did you?
+
Maintaining Your Alternative Lifestyle Look
Infinite (626 South 4th Street) Infinite was one of the country's first shops devoted exclusively to piercing and man do they take their craft seriously. I've had my last 2 piercings done by the guys and gals here and I can tell you that they are approachable, professional and badass. Like any piercer should be.
+
Get Schooled
After Boston, Philadelphia's the city with the most universities in the country. In north Philadelphia, you've got Temple University, the city's largest. Down in center city, there's UArts, Ai, PAFA, and Moore for the artsy kids and the Community College of Philadelphia. West Philadelphia's got Drexel and UPenn (which share a campus) as well as USP, and Villanova and Philadelphia University are over in the suburbs.
Your People
GALAEI: Gay and Lesbian Latino AIDS Education Initiative GALAEI devotes its time raising awareness on the issues that affect the Latino LGBT communities. It provides HIV/STI testing and counseling, sexual education for LGBT youth, LGBT sensitivity training for Latino organizations as well as many other services.  All services are free, confidential and bilingual.
The Mazzoni Center Besides functioning as a health center, the center offer support groups, trans* care, educational services, and legal services.
+
Festivals and Celebrations
National Coming Out Day/Outfest (October) Philadelphia has more gay festivals than I can even count. While other cities get out all their gay joy in the summer, October brings the homos back into the spotlight in Philly. It's one giant block party that celebrates with parties, community groups and food.
Trans Health Conference (May) The Trans Health Conference is an annual conference put on by Mazzoni Center for transgender people, their families and allies. Its emphasis is primarily on the accessibility of quality healthcare for transgender people. The conference is held over three days and is workshop based. Attendees can pick and choose which workshops to attend and it's recommended to register for desired workshops. This year, the conference offered a 'Transgender Education Certificate Course' for healthcare providers interested in the primary care of adult and pediatric transgender patients, which is pretty cool.
Equality Forum (May) In addition to regular big-city Pride events, Philly sports an educational LGBT organization: Equality Forum. While no gay group would be complete without a festival of some kind, EQF fields a group of free panels every spring before they host their throwdown. Panel topics range from politics and family planning to law and religion. EQF also hosts a fancy dinner before the festival which attracts all the wealthy Philadelphia/New York gays and always features a big name speaker. If you like to hobnob with fancy people but don't have $200 to spend on a dinner at which you'll be the youngest attendee by 10+ years, EQF sponsors roughly 100 college students per year. Wine is included.
Finally, and best of all, the EQF LGBT History Month website features a different LGBT icon for every day of said month. They've been doing this since 2006, and haven't run out of people yet—that's 186 icons and counting, which is more gays than I knew existed when I was a kid.
Pride (June) Obviously. Philly Pride takes place on Penn's Landing following a parade that runs through the city. I've never actually been due to a combination of the $10 entrance fee and my work schedule, but Pride is Pride, right?
Philadelphia Science Festival (April) It's not gay per se, but it's super nerdy. This year was its the second year and it. Was. Wonderful.
+
The Bad and the Ugly
SEPTA = INEPTA Septa is terrible as far as mass transit in major cities goes.  The subway system is a cross with 'regional rail' trains going around it. It sucks. I hate it, but it's all there is in Philly.  What major city transit system provides paper transfers and operates on tokens? Seriously. What are we, an arcade? On the bright side, they finally did away with the gendered TransPasses which were the most nonsensical, heteronormative, gender-policing stupid thing ever.
Flashmobs were also a pretty serious thing in Philly for a few years. A bunch of high schoolers will call a twitter flashmob, but instead of doing a choreographed sing-a-long or doing some fancy magic trick, they would just tear shit up and block roads.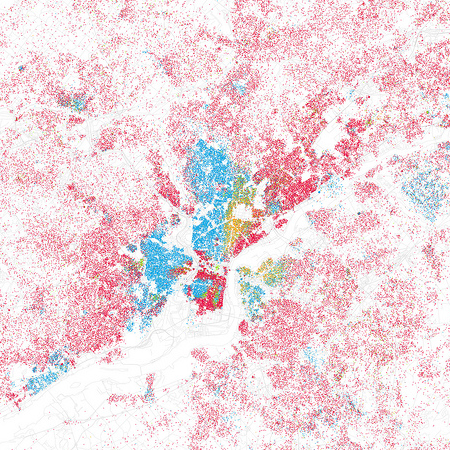 Philadelphia's pretty diverse, but it's also pretty racially divided. See all those little pink dots? Those are white people. And blue dots? Those are black people. You can basically pick out Broad Street on this map even though there're no actually roads drawn on it. Le sigh.
+
Museums and Other Joys
The Philadelphia Museum of Art (26th Street Benjamin Franklin Parkway) Everytime that I have gone, I have cried. I love going. It may not be the biggest art museum, but it is fantastic. The first Sunday of the month is free. Well you pay what you want, but still.
Art After Five (PMA) Every Friday, the Philadelphia Museum of Art hosts Art After Five, a live entertainment series. The first one I went to was Bhangra night, which involved a rad DJ, shows from local dance studios and lots and lots of dancing. Coming soon are an all-women's chamber ensemble and a Brazilian dance night. It's fun in the name of culture.
The Franklin Institute (222 North 20th Street) It's science, you guys! The Franklin Institute has a giant heart that you can walk through, an exhibit on electricity and travelling exhibits on everything from the Dead Sea Scrolls to Star Wars. &PICTURE
The Mutter Museum (19 South 22nd Street) If morbid curiosity's your thing, Philly's got the museum for you. The Mutter's full of medical oddities from the 18th and 19th century which mostly means lost of bones and plasticized bodies. It's weird and wonderful and makes you glad that you live in 2012.
Penn Anthropology Museum (3260 South Street) The Anthropology Museum is, in a word, cool. It's a mix of science, art and history and hosts travelling exhibits from all over the world.
Story Slams (L'Etage and World Cafe Live) Have you ever listened to The Moth? It's amazing, right? Well, Philadelphia has it's very own story slams the 2nd Monday and 4th Tuesday of every month. Every slam has a theme and storytellers from the audience put their name in a bucket, drink a few beers and hope that they get called up to the stage. I did it once. It was terrifying. It was fun. I was in first place until I got edged out by the other storytelling homo.
The Magic Garden (1020 South Street) This is art you can get in to. Literally. This guy built a porch and house out of found objects that twinkles in the sun and keeps you cool even on hot days. The $5 entry fee is more than worth the couple of minutes of shade and art.
The Free Library (1901 Vine Street) The Free Library is the very first public library in the U.S. and you can get a tour of it. I hear they have the bird that inspired Poe's The Raven taxidermied in the basement. Speaking of Poe…
The Edgar Allen Poe House (532 North 7th Street) Remember how you felt reading Tell Tale Heart & The Raven for the first time? Go to the Edgar Allen Poe house!
Street Art (Everywhere) The city's got some great murals and street art. It's just one more little thing to keep your eye out for when you're walking around.
First Fridays (Old City and Northern Liberties) This would make a cute first date, just saying. The first Friday of every month a bunch of galleries open up to the street, so wander around & take it all in. Artsy girls, unite! http://www.visitphilly.com/events/philadelphia/first-friday/
Parks & Rec Leslie Knope would be proud; Philly has been getting greener. Have a picnic, nap under a tree, read a book, walk your dog!  My Favorites are Rittenhouse Square and the new Penn Park In University City. Also read up on the proposed Reading Viaduct, I think it's an awesome idea and would be such a cool green space.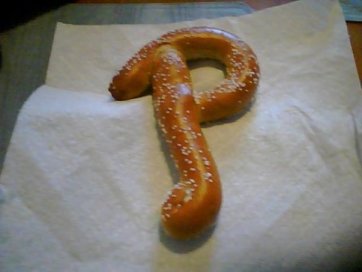 The Pretzel Ride All around the city, you can buy a Philly soft pretzel (which are different from normal soft pretzels because they're smashed into compact little rolls and because they taste good cold) for 50¢. It's a glorious thing, especially when you need a snack and are craving an apple and a pretzel. Anyway, on Tuesday nights you can ride your bike to the Center City Pretzel Soft Pretzel Co. at midnight and get fresh pretzels for the low low price of 30¢!
PHILLY SPORTS FANS ARE ACTUALLY NICE PEOPLE OKAY?! I, Lynne, will personally take you to a Phillies game to prove this to you. So our main pro sports teams are The Phillies (baseball) The Eagles (Football) The Flyers (Hockey) and The 76ers (Basketball).  ALSO! You know Tasha Kai? You probably do, she's an out athlete and you've probably seen this picture&. Or this one&. She plays for the Philadelphia Independence, Philly's pro women's soccer team. Unfortunately, due to some shady business, the league is suspending the 2012 season. But when it comes back, be sure to support your local female athletes; they deserve it.