Good morning, Starshine! Over the course of the last week many events transpired which we here at Autostraddle feel you should know about. So butter your toast and stir up that coffee, grrrl. It's time for your weekly roundup of news and articles of interest that we missed!
It turns out lots of women dislike Mitt Romney, which is great because I'm always trying to have something in common with lots of women at once. Another thing that women have in common is the socialization of their incredibly intelligent brains to believe they are less intelligent than they actually are, and if that's confusing there's an infographic for that. In Ann Arbor, the 100-day "Hungry 4 Equality" hunger strike is only getting bigger. You can sign a petition to stop hospital discrimination against the gays at New Jersey's Saint Barnabas hospital system. And outside of the United States, gays are protesting Russia's social networking site Vkontakte for refusing to have a same-sex relationship indicator on the interface.
Following the Sikh temple shooting Sunday, it is important to think about the intersections of racial-based violence and arms control, even though you are probably already thinking about that all of the time. (PS – if you'd like to think about religion and intersectionality more in general, maybe try participating in the Muslim Feminisms Forum being hosted online by the Feminist Wire in honor of Ramadan, which is this month.)
But good news still abounds. This week the Department of Health and Human Services clarified that The Affordable Care Act bans discrimination based on gender identity for federally-funded services, for one thing. Plus, The Trevor Project opened a storefront and AllOut, the movement for an LGBT-safe world, finally hit one million members . (Here's to the next million, baby.) And as if it wasn't looking beautiful out there in the world already, Leland Bobbe's collection of half-drag photographs hit the pages of Italian Vogue.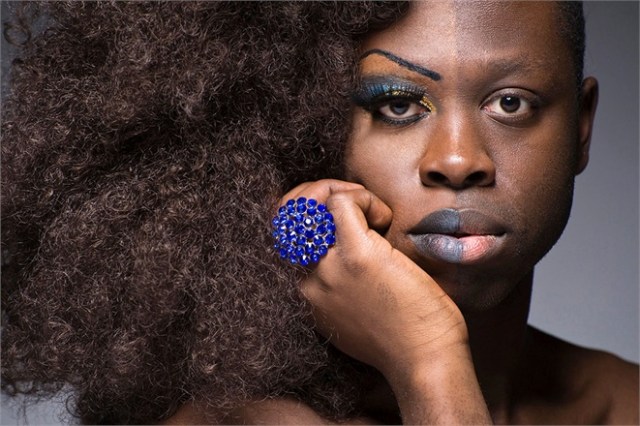 Members of feminist punk band Pussy Riot, facing up to 7 years in prison for charges of "hooliganism" in Russia (AKA protesting Putin via a "punk prayer" song), have a friend in Madonna:
"I am against censorship and my whole career I always promoted freedom of expression, freedom of speech, so obviously I think what's happening to them is unfair and I hope that they do not… I hope they do not have to serve seven years in jail," Madonna told Western journalists in comments picked up by Russian media.
"That would be a tragedy," the US superstar said.
(Prosecutors in the Pussy Riot case are asking for 3 years.) (Wanna look at a picture of Madonna? OK.)
Speaking of musicians, if you like Drake as much as I do, you probably watched Degrassi to see footage of him as a child – but maybe you were also into the 239 social issues tackled by the series throughout its existence. Or you might have a lot of feelings about how people talk about Azaelia Banks' sexuality, and I want to encourage you to have those. Actually, HelloGiggles talked about bisexuality this week, too. Over at Salon, Cary Tennis took on the emotions of a pansexual albino with a difficult boyfriend. And at Slate, there was a very serious and important piece published about same-sex same-name couples. Are your feelings better conveyed through video? Would you like to donate to a queer roller derby documentary "where vaginas collide?" Then get clicking.
But really you absolutely have to, no matter who you like or don't like, read this essay about being a teenage girl in love with a teenage girl, the plot of My So-Called Life, and Tori Amos – at once:
the first person to break my heart was a girl. we were in middle school, she a year younger than i. she had this gorgeous glossy jet-black hair down to her waist, and a beautiful pixie face, and an apartment that always smelled of cigarettes and cat litter and a mother whose fashion i would have thought of as bohemian if i had known the word. we talked about greek myths (her favorite was artemis, mine athena; funny in this context to think now of us two girls reaching towards the virgin goddesses) and sailor moon, school and elaborate story-games we would spend hours dreaming up. if we talked about boys — which i know i did with other girl friends — it hasn't stuck in my memory. we would sit in each other's bedrooms drawing and talking about the evolution of our technique, or bring out books we thought the other would like. at sleepovers i would lie next to her skinny body and wonder, not having yet developed anything in the way of a sexuality, if maybe i was a lesbian. i turned out not to be, as i figured out when my body started communicating its desires, but still i look back on that time and i think, i was in love.
i loved her and i wanted to be her. i delighted in her company and thrilled to her approval. for a time we were inseparable, sisters without the fights; then she stopped speaking to me. i didn't know why; i never found out. i wrote her a letter, apologizing for whatever i had done wrong, begging for another chance; she read it and ignored it. i cried in our school's library. she was friends with boys now, these perpetually angry boys in her own grade i'd hated even before she (as i saw it) left me for them. i tried not to show i cared. i missed her, desperately.
Really though, that's all the reading I'm gonna have you do today. Especially because all these super gay and way too close-to-home images of Disney characters instead, courtesy of Rodolfo Loaiza, are amazing.
(And PS – If you prefer video, there's also CinderFella.)