feature image via LEE SNIDER PHOTO IMAGES / Shutterstock.com
Democrats Filibuster for Votes on Gun Control
Starting around 11 A.M. on Wednesday, Democrats led by Connecticut senator Chris Murphy began staging a filibuster in an attempt to force the Senate to vote on a gun control bill. The vote set to occur that day was for a spending bill, one which the filibuster essentially held hostage to get a vote on two measures that would forbid people on the terror watch list from purchasing firearms and require universal background checks respectively, including background checks at gun shows and over the internet.
The filibuster ended a little bit after 2 am, almost a full 15 hours after it began, with legislators "hashing out the details of an agreement" to hold a vote on the measures. That doesn't mean, however, that there's necessarily meaningful Republican support for the measures being voted on; Mitch McConnell has already suggested that he will counter Dianne Feinstein's terror watch gun measure with one that will "give the attorney general the power to deny firearms to terrorists only if she could prove within a 72-hour window that there was probable cause to do so." This idea has been proposed before; Democrats say that timeframe is too short and "would make it functionally impossible to prevent anyone, even a terrorist, from getting a gun." It seems to be losing some support among Republicans, too, and at least one, Senator Toomey of PA, "was in talks Wednesday with a gun-control advocacy organization… to craft a measure that Republicans could live with to prevent terrorists from obtaining firearms."
It's entirely possible and maybe even likely that the vote, which should occur on Monday, will have the same results that all the previous votes on these same gun control measures have had so far — none. Even if the measures did pass in the Senate with the slightly greater Republican support they may be enjoying, they would still have to pass in the House, another long shot. But some think that the tone is shifting, and that change may be in the air. From the Washington Post:
"After Sandy Hook it took four months for the U.S. Senate to vote. After Orlando it took four days,wp_postssaid Everytown spokeswoman Erika Soto Lamb. "Make no mistake that this is another sign of the sea change in gun politics."
At the same time as Democrats were forcing a vote on gun control, Republicans were blocking a vote on LGBT legal protections in the House. Democrats have attempted to attach an amendment which would bar federal contractors from discriminating on the basis of sexual orientation or gender identity to two different bills so far, each without success; this was the third try, and the House failed to vote on it once again. Of course, trying to ensure equal treatment in employment wouldn't directly prevent horrific acts of violence against vulnerable and marginalized members of the LGBTQ community from happening, but for many it emphasizes the hypocrisy of the politicians who released vague statements of grief and support immediately after the shooting, but don't manifest that support in their legislative work.
Aftermath of the Orlando Pulse Shooting
+ NewNowNext has a short profile on Imran Yousuf, a bouncer at Pulse and former Marine who saved the lives of many clubgoers when he immediately recognized the sound of an assault rifle, stayed calm and was able to organize clubgoers to open a door through a back hallway and escape the building.
+ Barbara Poma, the owner of Pulse, has vowed to reopen the bar.
+ Federal investigators are looking into what the Orlando shooter's wife may have known about his plans to attack Pulse, and plan to prevent evidence before a federal grand jury.
+ Many have heard by now that some witnesses and Orlando locals report that Omar Mateen, the Pulse shooter, had visited the bar before as a patron and may have had profiles on gay male dating apps. Now those apps are calling for their users to share any information they have on him, utilizing the apps as intel-gathering sources for law enforcement.
+ A Brooklyn man allegedly threatened to "come back Orlando style" to a bar after getting into an altercation with the bouncer, in addition to using anti-gay slurs. He has been arrested for assault and aggravated harassment.
+ The NRA has made one single concession on one single thing it thinks could change about gun control in the US: now they say that it would be ok to prohibit people on the terrorist watchlist from buying guns. Previously, their position had been that "…law enforcement is notified every time a person on the list attempts to purchase a firearm. Law Enforcement then makes a case by case decision on the appropriate follow-up for each circumstance", and that that situation was sufficient.
+ Utah governor Spencer Cox gave a speech about how his "heart has changed" regarding LGBT people over the past few years after Orlando.
+ Unsurprisingly, at least a few Republicans are calling for increased warrantless surveillance after Orlando.
+ A reporter for Philly.com decided to see how difficult it would be to buy an AR-type military rifle like the one used in Orlando on a whim; it took her only seven minutes. She writes she's "filled out more paperwork at the doctor's office for a routine checkup than I did Monday afternoon."
+ Pete Sessions, one of the GOP legislators attempting to block LGBT anti-discrimination legislature in Congress, openly told a reporter he didn't think Pulse was a gay nightclub, and that he thought "there were some [LGBT ppl] there, but it was mostly Latinoswp_posts(because those are mutually exclusive groups, somehow?)
Police/Prison/Violence
+ This week 18-year-old Michael Moore was killed by a Mobile, AL police officer during a routine traffic stop after he was shot several times — Moore was shot four times, although witnesses say they heard seven shots. The Mobile PD say that Moore was armed and they recovered a pistol from the scene; witnesses say Moore had only a cell phone.
+ Earlier this month, Oakland police chief Sean Whent resigned amid a complicated series of revelations involving an underage sex worker who may have been patronized and/or assaulted by several Oakland police officers and other law enforcement officers. Now, the man who was chosen to replace Whent, Ben Fairow, has been removed only six days after he was hired because the mayor "received information that has caused me to lose confidence in Ben Fairow's ability to lead the Oakland Police Department at this particular moment in time.wp_postsThe mayor would not disclose what the information is, although another law enforcement officer noted that Fairow had previously disclosed he'd had an extramarital affair, and a former BART officer has "accused Fairow of denigrating his rank and file and even calling them "pussieswp_postswhen they asked for additional training."
Law & Order
+ On Wednesday night, 19 members of Congress took over an hour to read the Stanford rape survivor's anonymous letter out loud on the floor. California representative Jackie Speier organized the reading, saying: "We are doing something tonight that's never been done before on the House floor, we will read the entire gut-wrenching statement of a sexual-assault survivor who was attacked on the Stanford campus last year …Emily Doe is a survivor in every sense of the word and her words deserved to be amplified."
+ A California welfare law that attempted to coerce poor women's reproductive choices by refusing to grant increased welfare allowance to people who had more children after enrolling in the welfare program will be repealed.
+ Three more women will be filing a second lawsuit against Baylor University for mishandling their sexual assault cases, in addition to the lawsuit it's already facing for the same problem.
+ The Supreme Court has upheld the tribal court ruling regarding a Cheyenne man convicted of domestic violence, reaffirming the sovereignty of tribal courts in the US.
+ A federal appeals court issued a major ruling in support of net neutrality this week.
+ The trial of Caesar Goodson Jr, the only officer officially charged with murder in the death of Freddie Gray, began this week.
+ People detained on immigration charges in Northern California will soon be able to make free direct calls to their attorneys.
+ The Senate has approved a new defense budget that includes a requirement for women to register for the draft, applying to any woman who turns 18 on or after January 1, 2018. Aside from the more direct and obvious implications of this bill, its genesis also contains some interesting wrinkles:
…the conservative Republican Congressman who introduced the "draft womenwp_postsprovision doesn't actually support it; Rep. Duncan Hunter of California intended it as "gotcha amendment,wp_postsbecause he didn't think liberals would vote to draft women. He was trying to make some sort of curious point about how Democrats don't really support integrating women into the military, specifically into combat roles. Hunter then proceeded to vote against his own amendment. It was all very odd.
+ Aaron Perskey, the judge who gave Brock Turner only six months in the Stanford rape case, was removed from an upcoming sexual assault case in which a woman reports she was assaulted while under anesthetic. According to Buzzfeed, it seems that the district attorney has doubts about Persky's ability to fairly assess the case
Research and Data
+ 90% of French women say that they've experienced sexual harassment while on public transportation, and up to half say they make wardrobe choices aimed to avoid being harassed.
+ FBI data suggests that "LGBT people are more likely to be targets of hate crimes than any other minority group," a finding which is important if misleadingly reported. For instance, a data point being reported is that "L.G.B.T. people are twice as likely to be targeted as African-Americans," but many LGBT people targeted for hate crimes ARE African-American, which is a factor in why they're targeted — there's a reason the epidemic of transmisogynistic violence we're seeing is aimed specifically at Black trans women! Anyhow, worth looking into.
+ Even before the shooting at Pulse, a report from the National Coalition of Anti-Violence Programs found that hate violence against LGBT people increased in 2015, with people of color, gender nonconforming people, and transgender people (especially trans women) making up the majority of the victims.
Election News
+ A hacker has leaked a Democratic internal strategy document meant to outline how they could oppose and delegitimize Trump as of December, 2015. It's an interesting read, and also its table of contents functions as a pretty solid quick recap all by itself.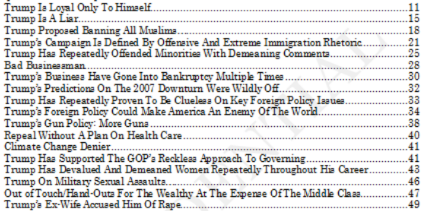 + Trump's poll numbers are dropping, as is attendance at his rallies.
Grab Bag
+ The NYT has a piece on the gay bar shooting in NYC in 1980 by a former police officer, not as well known as the (unfortunately) several other attacks on gay bars over the years, including the infamous UpStairs Lounge arson attack and Otherside Lounge bombing.
+ A woman who attacked a deaf same-sex couple has plead guilty to two counts of assault with a deadly weapon.
+ The Southern Baptist Convention voted to "discourage the display of the Confederate flag" and also "removed language that indicated that the flag can serve as a memorial rather than a symbol of racism." Their full statement reads "We call our brothers and sisters in Christ to discontinue the display of the Confederate battle flag as a sign of solidarity of the whole Body of Christ, including our African-American brothers and sisters."
+ In addition to apparently attempting to take guns and explosives to LA Pride, James Wesley Howell appears to have been trying to flee charges of sexually assaulting a 12-year-old in Indiana.
+ Amelia Gapin, a trans woman athlete, is featured on the cover of Women's Running magazine.
+ Mekorot, the main supplier of water to Palestinian communities, has been siphoning away the water supply, which has left many Palestinians in occupied territories without access to clean drinking water for as long as 40 days while daytime temperatures are reaching 95 degrees. Families are having to rely on buying water from trucks or trying to find springs or natural water sources.