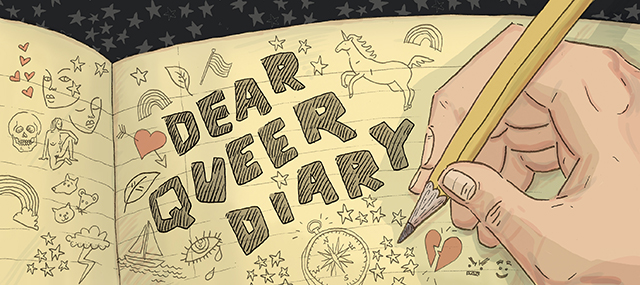 Virginia Woolf is my homegirl. Even though this particular turn of phrase would surely scandalize her aristocratic sensibilities, I stand by my statement. Virginia Woolf is, without a doubt, my number-one journaling role model.
"I know this Virginia Woolf character," some of you are probably thinking. "She has a weird nose and was played by Nicole Kidman in that depressing movie back in the early 2000s." Correct. But it would also be correct to say that Virginia Woolf was a bangin' feminist writer, a poppin' queer lady, and a fan-freakin'-tastic diarist.
I do not exaggerate when I state that there are few things nearer and dearer to my queer heart than the diaries of Virginia Woolf. Even if you think you would rather scroll through the archives of NSFW Sunday (we've all been there, friends) than sit down to the modernist (and admittedly glorious!) madness that is a novel like The Waves, you should at least page through Woolf's luminous, amazing, rad, neato, breath-taking journals.
By way of argument, allow me to present a few of my favorite selections from her diaries, which I painstakingly transcribed during the eight million hours I spent in the library reading Woolf during my last two years of college. In order to convince you of her brilliance, I propose a side-by-side taste-test comparison: what I might say in my journal in contrast to just a few of the sparkling, perfectly phrased jewels from Virginia Woolf's pen. Hold onto your notebooks!
1. Maggie writes: "Went for a walk after dinner."
Virginia Woolf writes: "Then I had tea and rambled down to Charing Cross in the dark, making up phrases & incidents to write about, which is, I expect, the way one gets killed."
2. Maggie writes: "Maybe when I read over this it will make sense."
Virginia Woolf writes: "I should like [my diary] to resemble some deep old desk, or capacious hold-all… I should like to come back… and find that the collection has sorted itself and refined itself and coalesced."
3. Maggie writes: "Not much to report."
Virginia Woolf writes: "Shall I say "nothing happened todaywp_postsas we used to in our diaries, when they were beginning to die? It wouldn't be true. The day is like a leafless tree: there are all sorts of colors in it, if you look closely. But the outline is bare enough."
The day is like a leafless tree, people! Your diary is a capacious hold-all! If these words do not fill your entire soul with journaling-related joy, my dear queer diarists, then I doubt that you are truly a human being. (Although, I had long said the same thing about any creature who fails to love coconut, pistachios, sushi, and/or avocados, and I have recently been proved wrong on that count.)
If this wasn't enough literary inspiration for you, you can read more about Virginia Woolf's diaries on the always classy Brain Pickings and check out a good chunk of her literary oeuvre online. Or, if you'd prefer writing to reading, pay homage to one of our journaling foremothers by trying Woolf's journaling tricks for yourself. Capture your day in a metaphor. Is it, indeed, like a leafless tree? Or more like the slice of Tex-Mex lasagna I just consumed? Is your day like a ferret? A blissful first kiss? An endless game of Monopoly? The figurative possibilities are endless, and I would love nothing more than for us to explore them together!
Do you, my dear queer diarists, consider Virginia Woolf to be your homegirl? Or do you worship before the altars of other famous journalers? How might you describe your day in a Woolf-inspired metaphor? Before you entrust your words to that "deep old deskwp_postsof a notebook, share them with the Straddleverse!
A final note: I do know that this is Bra Week. And no, I do not know Virginia Woolf's official stance on bras. However, let's put it this way: She wrote that a woman needed five hundred pounds and a room of her own to write fiction—not five hundred pounds, a room of her own, and an uncomfortable, expensive, and otherwise constraining undergarment. Enough said.
---
Dear Queer Diary is a column about the joys (and occasionally, the pains) of journaling. We crack open our tiny notebooks and break out the rainbow-colored pens on the regular, so get ready to limber up your writing hands and document all your beautiful feelings!
Header by Rory Midhani