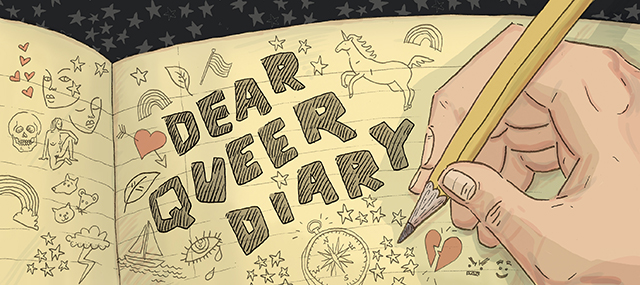 When I tell people that I write a (nearly) weekly column about journaling, I often get skeptical looks. How could someone possibly come up with something new to say about writing in a journal every seven days? I will admit that it does sometime seem a tiny bit ridiculous.
And yet you, my dearest queerest diarists, have borne testament to the fact that my quest is not, in fact, an impossible one. Although I will be the first to admit that occasionally I work in a topic that is a bit of stretch (see: 4 Things Your Journal Has In Common with Orange Is the New Black), I find that almost as frequently, the opposite is true: an idea pops into my head that seems so important — so integral to the spirit of journaling — that it suddenly seems ludicrous that I have failed to address it thus far.
This is one of those topics. We have discussed why we journal and what we journal and how we journal and who we allow to read our journals. How, how, how (how?) is it possible that we have not yet discussed the deeply important subject of where we journal? The time is now!
Of course, the beauty of journaling for many of us may be in its adaptability to a variety of places. On my recent travels, I was overjoyed to see several lovely ladies journaling on park benches (one clad in a particularly stylish maroon felt hat), and I myself took out my journal to dash off a few words at cafés and on trains. Over my years as a queer diarist, I have journaled in bed, on park benches, in dorm rooms, at library tables, and in coffee shops ranging from the deeply hip to the entirely suburban.
However, the geographic flexibility associated with the journal does not mean that we can't have our favorite places to journal — the big armchair that makes your pen pick up its pace or the corner table in the coffee shop that you wait patiently for the annoying boy with the laptop to vacate. As always, WikiHow has some brilliant suggestions on "Find[ing] a Good Place to Write," for those who are curious.
Anyone who has spent any significant period of time engrossed in the literary internet will no doubt already be aware that the subject of where writers write is one that comes up with some frequency. A few years ago, The Guardian ran a series on Writers' Rooms that includes some great photos with accompanying blurbs — and if you want more photos and fewer words, then of course there is a whole Tumblrverse full of pictures to inspire and entertain you.
For Virginia Woolf, my favorite journaling foremother, place was certainly important in the writing process — in her diaries, she occasionally comments on where she is sitting and more famously, she declared that a woman needed a room of her own in order to write (fiction, in particular). While the famous room was mostly a way of underlining the female writer's need for freedom from the narrow prescriptions of early 20th century femininity, there is something seductive about the physicality of the room itself. Woolf, of course, had one — at Monk's House, her country home, it was actually in its own separate building.
Of course, one might reasonably raise the question of whether you would even want the literal room of one's own — since I also know many a writer who prefers to write in a room with other people, where that means J.K. Rowling's famous Elephant House in Edinburgh; the reading room of the British Museum, where Woolf also worked; or the café five minutes from your apartment.
As much as I have been known to benefit from the experience of journaling in bed or at the kitchen table, I think that I may actually prefer journaling away from home, where I am less likely to be distracted by making myself a sandwich or taking out my outrageously stinky trash (a result of cooking with too much garlic). For me, being away from those things that ground me too fully in my everyday life makes it easier to find my way to that magical liminal state between the physical world and the world of the mind—the ethereal, unicorn-filled land of my queer diary.
It is for similar reasons, perhaps, that I find that I journal a great deal on various modes of transportation. I wrote epic diary entries recapping the climactic few weeks of each semester of my college career during the cross-country plane trips that took me home from school, and judging from the general hubbub surrounding Amtrak's now-(in)famous writer's residency, I am not the only one who enjoys writing whilst in transit.
Where do you journal, my dear queer diarists? Do you have any suggestions of other deeply important journal-related topics that this column has thus far failed to address? If you're feeling extra ambitious, send pictures of your journaling space to maggie[at]autostraddle.com or post them in the comments!
---
Dear Queer Diary is a column about the joys (and occasionally, the pains) of journaling. We crack open our tiny notebooks and break out the rainbow-colored pens on the regular, so get ready to limber up your writing hands and document all your beautiful feelings!
Header by Rory Midhani
Feature image via Workspaces