Welcome to Dear Queer Diary, a column about the joys (and occasionally, the pains) of journaling. We'll be cracking open our tiny notebooks and breaking out the rainbow-colored pens on the regular, so get ready to limber up your writing hands and document all your beautiful feelings!
Header by Rory Midhani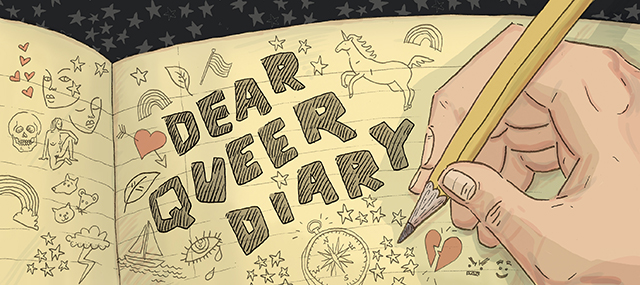 This will be my first Thanksgiving with my girlfriend's family. As you can imagine, my dear queer diarists, I am both nervous and excited. Will I be able to survive Thanksgiving without my mother's trademark cranberry-orange relish? Will I remember the names of the 8,000 cousins that my girlfriend has described to me over the course of the past several weeks?
Maybe some of you are sitting down to cranberry sauce and stuffing with your parents, your brother, and your great aunt Muriel, hoping that you can bolt down some pumpkin pie before she asks again if you've met any nice young men out there in New England.
Maybe some of you are enjoying turkey and kimchi with a haphazardly compiled group of friends in your dorm kitchen, eating out of frying pans and Gladware to compensate for the lack of available plates.
Maybe some of you are putting your children down for a nap as your lovely wife cleans up the remains of a tofurkey feast you shared with your sister's family and the kind elderly man who lives in the apartment upstairs.
Maybe some of you are, like me, making your major-holiday-debut at a significant other's house?
No matter your plans for the third Thursday of the month, I have absolutely no doubts that your Thanksgiving—like virtually all life events—can be improved with a spot of journaling. To that end, it is my unending pleasure to provide you with some handy dandy printable templates that I hope will inspire you to document this deliciously gravy-rich occasion.
Below, please find the links for not one, not two, but three handcrafted pages that you may feel free to admire reverently, print speedily, write upon brilliantly, and embellish colorfully. When you're done with all those verb/adverb combinations, you should also feel free to staple, tape, or paste your creations into your personal notebooks—and you should feel even more free to send photos of your creations to maggie [at] autostraddle [dot] com, allowing the world to glory in your depiction of the Thanksgayving experience.
In an attempt to embrace the diversity of the queer Thanksgiving experience, I have provided a few paths for the willing diarist to traverse.
First, for those who might care to journal with their mothers, fathers, sisters, and brothers (who may or may not be comfortable with the knowledge that you are an avid reader of a site called Autostraddle), I present the Family Friendly journaling experience, which invites you to document your meal in words and images.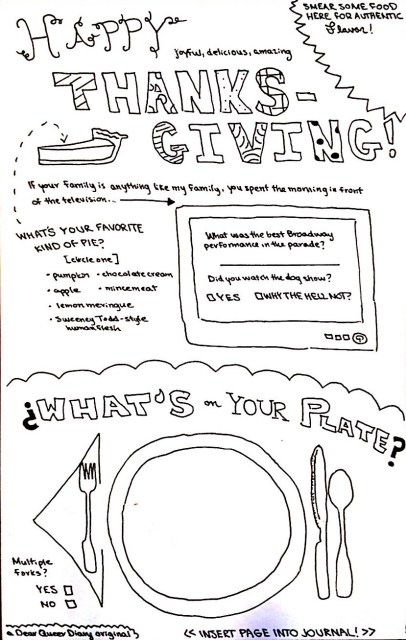 Second, for those who are steeped in a Thanksgiving defined by adversity and/or sadness, I present a template for the Disenchanted Stuffing Eater. Print this page if you need to nurse your grudges.
Third, it is my honor to introduce to you a Special Rainbow edition of the Thanksgiving diary-writing extravaganza, for all your queer pie-eating and parade-watching fun.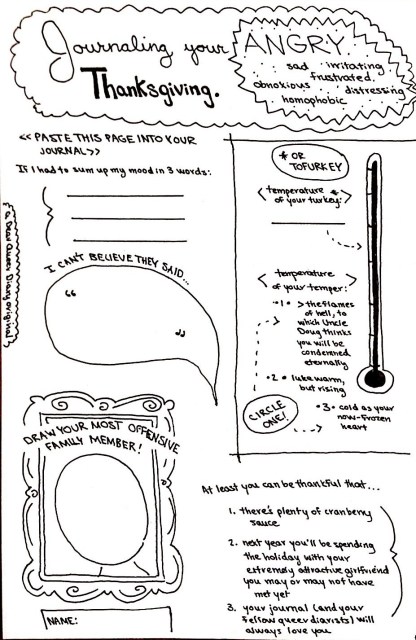 Feel free to choose one, use all, and don't forget to share the results via email.
Even if you're reading this after the grand event has come to a close, it's still not too late to journal! Glory in the memories of your tryptophan coma, feel the blood rise in your veins as you recall the offensive political commentary of your uncle Doug, and write it all down—preferably in colored pen, on one of these bizarre zine-like templates.
Happy Thanksgayving, my dearest queerest diarists!