by carolyn & riese
Books! They are really great. You just won't believe how great they are. You may think that the Internet's great, but that's just peanuts compared to books. Welcome to Lez Liberty Lit, our column about literary shit that's happening that you should probably care about.
The name "Liberty Lit" was inspired by the short-lived literary journal produced by Angela Chase at Liberty High School in 1994.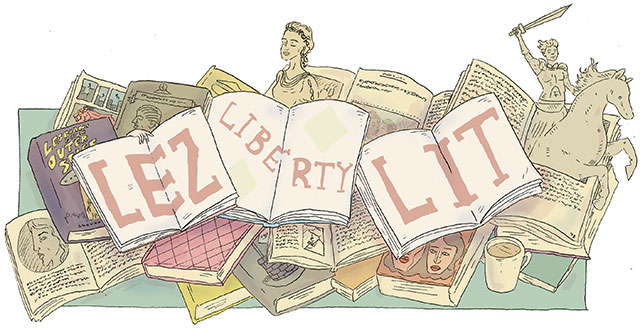 Lit Links
Stephen Burt discussed trans* poetry and bodies and poems, "poetry and voice, of visibility and self-consciousness, of textual faces and textual substitute bodies," at the Los Angeles Review of Books:
"My voice wants to be a body, to be bodies, too, but it also wants to be … not the body I have. By writing poetry, by working in disembodied language, I can get out of the physical body I happen to have, can depict and counter the insufficiencies of the merely physical world; I can create other bodies for myself in words, some called Stephanie (or Kitty Pryde, or Kermit the Frog, or a lightbulb, or a hermit crab), some just called "I." But I have to stay within, have to acknowledge the limits, of a real world from which words and sentences come, and to which — however fictionalized, however figural — they refer.

Not everyone does."
"Selfie" is Oxford's word of the year. Lorien Kite also explored the OED's evolving role in light of changing language use and the Internet.
We use the word "because" differently now, because the evolution of language.
Zadie Smith discusses what it's like to think about yourself being dead in the New York Review of Books, saying, "the future in which I am dead is not a future at all. It has no reality. If it did—if I truly believed that being a corpse was not only a possible future but my only guaranteed future—I'd do all kinds of things differently. I'd get rid of my iPhone, for starters. Lead a different sort of life."
The Whole Book of Psalmes, the first English-language book printed in America, is expected to become the most expensive book in the world when it's auctioned this week.
Nobel-Prize-winning feminist author Doris Lessing has died. At Lambda Literary, Victoria Brownworth remembers her.
The book review revolution will be live blogged with GIFs.
Why not quote some Jane Austen to cement your evil persona? Pair with thematic temporary tattoos.
Amber Dawn, author of How Poetry Saved My Life and recent winner of the City of Vancouver Book Award, discussed the role poetry plays in our lives.
Slate has a textual analysis of the Hunger Games, Twilight and the Harry Potter series. The most common sentences in each: "My name is Katniss Everdeen," "I signed" and "Nothing happened."
At Brain Pickings, Maria Popova lists the best biographies, memoirs and history books of 2013.
There are a lot of closeted characters in books, including Katniss, Ishmael, Ender and more.
Here is where Waldo is.
There used to be illustrations in adult books but now there aren't.
The 50 books that define the past five years in lit include Eileen Myles' Inferno, Pati Smith's Just Kids, Claire Vaye Watkins' Battleborn, Roxane Gay's Ayiti, Adrienne RIch's Tonight No Poetry Will Serve and, obviously, 45 more.
Ursula K. Le Guin discusses fictional worlds, myth, what she reads and more in an interview with Alexandra Manglis:
"I'm an extremely wilful writer. When I stumbled (happily) into writing science fiction and fantasy, I paid no mind to rules and expectations that didn't suit me. I followed those that made sense to me – such as Delany's Law, that science fiction must not deny what is known to be known — or the Great Law of Fantasy, that you get to make up the rules but then must follow them. Other strictures, conventions, and notions — that sf should be "told straight," should be journalistic and without "literary pretentions," must be "about ideas," must be based only the "hard" sciences, etc. — struck me as variously constricting, impossible, and silly.

I see, now, that being a woman in a powerfully and consciously masculist field, and writing a literature ignored and despised by academic/literary critics, I had a rare freedom. Life outside the pale, and under the radar, can be good. And my timing was good: I came into science fiction along with editors and writers who, like me, saw it as a literature barely explored, wide open to talent and invention. Masculism, criticism, who cares? Let's go!"
At Diversity in YA, Rose Yndigoyen discussed bisexuality in the Pretty Little Liars novels.
At the Lesbrary, Danika reviewed Dark Angels, an anthology of lesbian vampire erotica by Pam Keesey.
At Lambda Literary, Anna Furtado reviewed Simple Pleasures by Kenna White. Cathy Camper reviewed The Lengths by Howard Hardiman. Anna Furtado reviewed Web of Obsessions by Diane Wood. July Westhale reviewed What The Night Demands by Miles Walser. Max Steele talked about Fear of Flying by Erica Jong from a queer perspective. Victoria Brownsworth wrote about Nicola Griffith and how she is amazing.
Don't forget to check out all the awesome book-related things we published recently: Maggie wrote about journaling with friends. Ali reviewed Out of Hollow Water by Anna Bongiovanni.
This month, the Autostraddle Book Club is reading Blue is the Warmest Color.
Events To Watch Out For:
December 9, New York: The Rumpus and Guernica present a Holiday Spectacular (The Bell House), 7 p.m. Buy tickets in advance.
Know of a queer event with literary merit? Send it to me! Please.
What We've Been Reading:
Carolyn: This week I've been reading parts of Adventure Time, which has led me to conclude that I have no idea how to read things with pictures involved, which means that next I'm reading Marbles: Mania, Depression, Michelangelo, and Me: A Graphic Memoir by Ellen Forney for practice. I'm also reading Surpassing the Love of Men: Romantic Friendship and Love Between Women from the Renaissance to the Present, by Lillian Faderman.
Rachel: This week I had a lot of library adventures; I found the copy of Esther Stories by Peter Orner that I had thought was lost and owed the library like $100 for. I was excited that the hold on my account was cleared so that I could check out Passion and Affect by Laurie Colwin and Bisexual Spaces by Clare Hemmings, BUT THEY WERE BOTH CHECKED OUT. Do I have a doppelgänger taking out my books before I can? Stay tuned to find out.
Riese: Okay, I read The fucking Circle. You know, the new Dave Eggers book. Ages ago, I read Heartbreaking Work of Staggering Genius like six months before the rest of the world did (not because I'm cool and ahead-of-the-game, but because my friend Jake was cool and ahead-of-the-game and he gave it to me), and I loved the fuck out of it, but I've not read any Dave Eggers since then. A friend was reading The Circle, which is about this girl who works at "the world's most powerful internet company," which is obviously modeled after Google/Facebook, and said she couldn't put it down, so I picked it up and also couldn't put it down, but mostly because I was wondering why the fuck everybody in this book, and the protagonist especially, was such an idiot. It's supposed to be an expose on the dangers of social media and surveillance, but it ended up falling flat because nobody in the book besides like four characters were capable of critical thinking or deep thought or reflection. As so eloquently said in The Atlantic, "Everyone is so credulous and naive about The Circle… I've never encountered anyone who is so dumb and unthinking about social media as roughly all the characters in this book. Middle schoolers tend to have a more nuanced understanding of "openness" and "transparency" on the Internet than Eggers' characters." Don't read that review if you wanna read the book because it spoils the book's best surprise, in my opinion. But if you read this book and wanna bitch about it, I just wanted to let you know that I'm here for you.