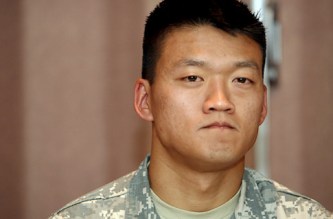 Lt. Dan Choi has officially been discharged from the U.S. military under the Don't Ask Don't Tell policy. He got the news of his fate this morning via phone call from his old commander. (Yeah, we thought that had already happened, too, apparently he was just on hold, being investigated, and could appeal his release.) (@newsweek)
Earlier this morning he got the call. It was from his commander at the 1/69 Infantry Regiment of the New York Army National Guard, and it was bad news. Choi had also just learned from another source that a letter had been received some time ago, with confirmed receipt by his father in Orange County, Calif., officially declaring him kicked out of the Army. "But my dad and I are not on speaking terms,wp_postssays Choi, who had not been informed of the letter by his family.
Here is the official reason for discharge, from a letter addressed to Choi from General Patrick Murphy:
"Based on the approved board findings that 1LT Choi did publicly admit, on more than one occasion, in person and through the media, that he is a homosexual, such conduct being in violation of [military and National Guard regulation], I direct 1LY Choi be discharged from the New York Army National Guard with an Honorable characterization of service."
Choi says he might spend more time in California now, reconciling with his parents. He and his father are currently not on speaking terms. "I haven't done a lot to hold my parents' hands through all of this. My inclination right now is to go home."
His activism won't stop any time soon. While the discharge is probably painful, Choi said "a piece of paper doesn't define my worth or honor." And he might even keep using his uniform in protests, even though it is illegal to do so after discharge. His response was: "I still own it."
Dan has become the leading activist in the U.S. fighting for the repeal of Don't Ask Don't Tell. This all started over a year ago, in March 2009 when he came out on Rachel Maddow's show. That sparked an investigation into his conduct, and he was relieved of active duty. We noticed some changes in Dan even last year as he became more entrenched in activism, which Riese mentioned in her essay about gay marriage in Maine from November:
When we interviewed Dan Choi again at the National Equality March in October, I said to Alex & Brooke afterwards that he seemed much angrier than when we'd first met him, right after he'd come out on the Rachel Maddow show and was at the anti-equality counter-rally in NYC.
A few weeks after the NEM, Brooke ran into Dan at a Gay & Lesbian Task Force event in Florida. He actually asked her, out of the blue, if he seemed angrier now, because this was something he was noticing about himself. He told her that he felt angrier.
And I get it now. This is what happens when you're out there being an activist every day or even just absorbing the news.
Dan was put back on Active Duty in February of 2009:
"Apparently, Lt. Choi's commander has always been in full support of him, and even after Lt. Choi came out on The Rachel Maddow Show, his commander did not press for his discharge. The military did eventually serve Lt. Choi a discharge notification – essentially firing him from his job, but he was allowed to fight this at trial, and as it currently stands, the discharge has not been finalized. Given the current state of how DADT is in such flux, and also, in my opinion, the prominence and celebrity of Lt. Choi, his discharge might never be fully enforced."
Since that time, Dan has become increasingly active in political demonstrations.
Dan now works with GetEqual to overturn DADT and has been arrested at protests around the country, including at the White House.
Here's a look at the evolution of Dan Choi, via YouTube Video:
+
May 2009
Dan Choi with Rachel Maddow on the day his DADT investigation began,
with clips of when he first came out on her show
+
May 2009
At a counter-protest in support of gay marriage in New York City:
+
October 2009
At the National Equality March:
+
March 2010
Dan Choi handcuffs himself to the White House fence:
+
May 2010
Dan Choi being awesome on the bullhorn at a rally:
+
July 20, 2010
Dan Choi was arrested at a GetEqual protest of Sen. Harry Reid's
lack of action on the Employment Non-Discrimination Act:
+
+