This AT&T commercial advertising 97% coverage of all Americans rings a bell for two reasons: first, Christo and Jeanne-Claude's "The Gates" 2005 installation at Central Park in New York City and second, Nick Drake.
+
The commercial shows the orange fabric draping over some of America's most recognizable landmarks: the Hollywood sign, the St Louis Arch, Hoover Dam, and the Las Vegas strip, and in the background is Nick Drake's unmistakable voice in "From The Morning." The English singer-songwriter's material isn't new to commercials or soundtracks. "Pink Moon" has appeared in a Volkswagen ad, "Fly" was in The Royal Tenenbaums, and "One Of These Things First" was included on the hugely popular Garden State soundtrack.
The first time I ever heard Nick Drake was in an episode of the WB's short-lived summer series Young Americans. The show first aired in 2000 and featured none other than Kate Moennig as Jake/Jacqueline, the girl posing as a boy at an all-boy's boarding school. So let's just say it was an important moment for several reasons.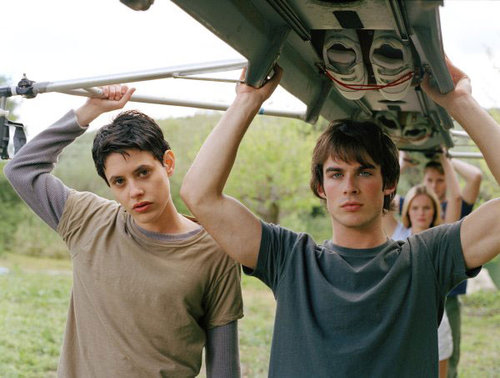 Back to Nick Drake.
Although his music is so visible in popular culture today, Drake never experienced great success during his lifetime. He recorded only three albums (Five Leaves Left, Bryter Layter, and Pink Moon, which was recorded in only 2 days) between 1968 and '72, and his reception in folk circles was only lukewarm. Though his depression and insomnia largely inspired his beautifully somber music, they ultimately contributed to his death — an overdose on anti-depressants — when he was only 26.
How did you first discover Nick Drake? And am I the only person that secretly wants to own Young Americans on DVD? Let us know in the comments!