Remember that one time I wrote about that Honda commercial and Miriam Makeba? Well, I'm picking back up where I left off, this time with Ford.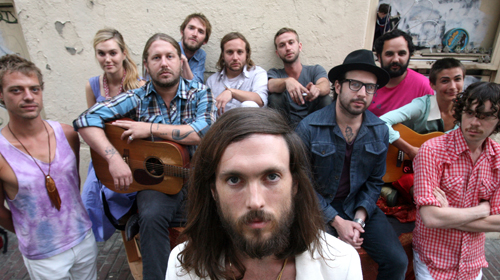 Ford's newest model for 2011 is called the Fiesta, so naturally, its commercial had to convey some fiesta-like vibes. Since taking up a 2-wheeled life, I'm more of an ex-car junkie but this car caught my eye thanks to parachutes, urban acrobats, umbrella-wielding unicyclists, and Edward Sharpe & The Magnetic Zeros' "Janglin' " as music. Take a look-see:
+
Edward Sharpe & The Magnetic Zeros is a 10-piece pop-folk band from Los Angeles formed in 2007 by Alex Ebert of Ima Robot following an existential crisis of sorts. "Edward Sharpe" is a fictional character Ebert created who came down to Earth to save mankind and heal. Sound familiar? That part doesn't really matter, at least to me. The music is just pure fun and if you haven't heard of the band before, now's the time.
Hear the full studio version of "Janglin' " at YouTube, see a full Tiny Desk Concert by Edward Sharpe & The Magnetic Zeros at NPR Music, see some photos Laneia took at Bonnaroo, or just watch my favorite, "Home," below. I don't think I've ever felt such affection for 10 hairy, potentially smelly hippies than when I watched this video for the first time.
More Edward Sharpe & The Magnetic Zeros on TV (thanks to Mike for the links):
"Home" on Microsoft Kin commercial
"Home" on Cyrus Trailer