THE KIDS ARE ALL RIGHT: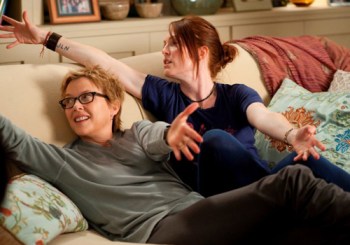 The Kids Are All Right has finally opened in limited release and it's A-list cast, stellar reviews and box office success are quickly solidifying the film as our very own Brokeback Mountain.  Guys, even Julie Goldman & Brandy Howard (our resident movie critics) loved it – and they hate everything! The consensus seems to be that while the lesbian-sleeps-with-a-man plot  has been exhausted ad nauseam, it's worth "overlooking" because the film itself isn't about sexuality or a woman leaving her partner for a man, but rather a story about marriage and family and what may happen when the foundation of those two entities is disrupted by an intruder. Yes, The Kids Are All Right operates on a higher plane than The L Word and Queer as Folk (even Chasing Amy), but deep down it still hurts, and lesbian bloggers seem to be content in letting it slide.
Out lesbian actress Jill Bennett has written an op-ed piece expressing her frustration and disappointment with Hollywood's encouragement of this storyline when we're already so under-represented in mainstream media. Bennett clearly states that she has not yet seen the film (though she expects to love it anyway), but is simply voicing a concern for the message the "lesbian sleeps with a man" stereotype sends to the hetero public who take these repeated images for what they're worth. You see, it's not about this one movie (which is extremely well done), but the sum of the parts.
"From all accounts, it's good…really good, Oscar buzz good. And according to IndieWire, has had the best specialty debut of 2010 in the box office. I will see it, and perhaps I'll love it – I expect to. Cholodenko is a skilled director, and I've always loved Julianne Moore. I can still like the movie but be disappointed that it went down that particular road, as almost all of them seem to do.
…I am just so sick and tired of this sub-plot popping up in every project that has a significant lesbian storyline in it that I just don't care to keep an open mind. Cholodenko has stated in interviews that she isn't here to please the lesbian audiences and doesn't care about the fallout. Granted, we are not an easy lot to satisfy…furthermore, no filmmaker is bound to do anything but tell a good story (which she apparently did).
I guess my problem is that we just seem to be reinforcing the idea that men and thus the mainstream, just cannot possibly identify or be interested in a lesbian story unless it involves them sexually in some way. When we present this idea in media over and over again, it sends a message.
… I for one would really appreciate a mainstream story line that didn't include one half of a long term lesbian partnership straying for a man. It happened first in Queer As Folk, then again on The L Word, and now this…the three projects with significant lesbian storylines that arguably have had the most mainstream appeal in the last decade.
I'm a 34 year woman who has been out for almost 15 years. Based on our mainstream media representation, the lesbian community experiences a mass exodus of dykes leaving their lovers for the almighty cock on a regular basis. I haven't seen or experienced it one time. To be clear, I'm not talking about bisexual women here, I'm talking dyed in the wool lesbians. Women who identify as lesbian. I know it happens, just not nearly as much as it is represented – that's all I'm sayin'.
The bigger issue is what it does to the minds of heterosexual men.  "Lesbian" has become code word for *waiting for the right man to show them what they're missing*. I'm sorry that I have to get political around this, but it's just annoying. And it seems that we are no closer to mainstream inclusion when every mainstream project comes with the asterisk *must show lesbian joyfully fucking a man.
And by the way, how many gay boy movies EVER show this storyline in reverse? Hmmm…can't seem to think of one. It really is a man's world, isn't it?"
Bennett (who co-produces and stars in the lesbian web-series We Have to Stop Now) goes on to challenge Hollywood to make the next "mythical lesbian Brokeback Mountain" without this stereotype OR death, rape, child abuse or a coming out story. That's the sound of Ilene Chaiken closing up shop. If you have seen The Kids Are All Right, please let us know how you felt about the overall message of the film! Kathy Wolfe, who is the expert in all such things, thinks it's a Lesbian Brokeback. Read Jill's complete article.
GLEE:
Looks like it's open season on the Britney Spears catalog with her music to be featured on Glee next season. The episode will feature Brittany of "did you know dolphins are just gay sharks" fame. Also a bunch of Glee people are interviewed by Outside the Box. (@tvguide)
LINDSAY LOHAN:
This is why we stay away from slandering Lindsay Lohan — because this is how bad it gets when that kind of discourse is accepted as commonplace. (foxnews via @gawker) Also Lindsay thinks that maybe her dad should hook up with Joan Rivers. (@jezebel)
MELISSA ETHERIDGE / TAMMY LYNN MICHAELS:
Why is Tammy OK with contributing to the public dissolution of her marriage? Tammy has updated her blog with a new post titled "ulcers to gallbladder to pancreas to liver and then…?".
gotta get a job
with barf bag in hand?
and leave my twins with who?
and with what babysitting money?
this too shall pass
cuz i believe in miracles
and
miracles look like rainbows.
oh. and we have to be out of our rental in 45 days.
man, i love a challenge.
(@hollywoodfarmgirl)
JEWEL:
Check out this funny vid featuring a heavily disguised Jewel crashing a karaoke bar and singing her own songs to a completely fooled audience. "Who Will Save Your Soul" was totally my jam in 1995!