Reader Leah, who recently parted ways with her gf, suggested we have an open thread about break ups. Our number one feeling was, and is: OH GIRL. LET'S. So I began drafting this article to publish on Friday (because Friday is Open Thread Day, you a-holes), but then you guys WOULD NOT DROP IT in the comments, so here we are! Having an open thread on a Thursday, which is just insane. I hope you're happy.
Breaking up is a rock-hard motherf*cker, and, unless you've wielded your big gay hammer and built a fence around your heart, you've probably gone through at least one. THEY ARE SAD. I'm sad just thinking about it. And even if you initiated the split, breaking up feels like failing and falling and sighing and screaming and sewing your mouth shut. Time becomes something you just can't trust anymore, even though time is the only thing that'll actually help. But you can't see that right away, because you feel! so! hopeless! IT IS INCREDIBLY SAD!
We think of ourselves as your friends, so in addition to this gorgeously formatted open thread, we have a variety of healing activities for you:
49 Anti-Love Songs to blast at top volume while you journal.
8 Nerdy Ways to Mend Your Broken Heart for when you need an escape.
Top Ten '90s Movies for sisterly bonding and remembering fonder times.
The L Word Top Ten (Okay 15) Best Sex Scenes because you've earned it.
Scrapbook of Memories because KITTENS.

We also have this email which our editor Riese got from her best friend after a break-up in 2003 which made her very upset. She found it very helpful and we agree that this should help you feel better too, so just read it.
To: Riese From: Krista
Subject: Re: depression party of one
Date: Tue, 01 Jul 2003
dearest ris,
even though sometimes the world seems about six sizes too small for our pain, the amazing shit is that no matter how deep purple the bruise is, no matter how dark and overwhelming and miserable and worthless it all seems, the world will get a fraction of an inch bigger every day. really, every fucking day. And you won't notice it for a long time until suddenly, one day, it's only five times too small for your pain and then four and then the world will just keep getting larger and larger in comparison to your shattered heart and eventually it will be able to hold it and then it will outgrow it. And your pain will be just a speck in your world.
It is supposed to be feel like the end of the world right now. That my dearest beautiful ris, is how you know that it was worth it. that is why it was one of the relationships that shook your core, and after which you will never be the same. The world is supposed to feel as though it is ending and you are supposed to know only in the most dormant recesses of the backmost corner of your soul that it will not be like this forever. You are supposed to feel acutely and lucidly that everything is over that your purpose in life is worthless and that not even cheesy pasta and molly ringwald movies are going to make you smile, and you are supposed to know opaquely and elusively and abstractly that everything is not over and that your purpose in life is so much huger than you could ever imagine and is still saturated with value and that you will eat pesto and read Stephen Dunn and live in Manhattan and have stacks of waffles at corner diners with girlfriends and you will will will will will will will will love again.
I did not think that I was going to be able to ever breathe without shaking again, let alone successfully love and fuck again. That is what you are supposed to think. I cried hysterically for months. I wept so much I had stewardesses on planes ask me if I needed oxygen, I had waitresses refuse to serve me, I had strangers approach me with offers of help. Then I stopped. Then i started again and stopped again and started again and then stopped for good.
Everybody feels heartbreak ris but people like you who are so completely in tune with the human condition and so acutely aware of the pulse of emotion are going to feel it much worse. It sucks. It's black and shitty and worse than LA traffic and infomercials and little yippy dogs and bad poetry all combined. It is just truly horrible.
You have to get out. You have to travel Ris as much as you possibly can. You have to not talk to [redacted] for a while. You have to spend time with people you know and love as much as [redacted] does. You have to do shit. Every day. Do something. Anything. Each From Different Heights ris. it will pale and it will heal but it takes time.
I love ris, and between my love and jesus's love and a world full of trashy magazines and chicken fingers, I promise you will survive, and with more grace than you can now imagine and that you will have more gift and vision because of it.
love,
k
Moral: sometimes someone can crack open something that feels very safe and make you unreasonably vulnerable: you will live to tell the tale of this shock.

We brought Mean Girls, Amelie and Goonies, quesadilla supplies, old magazines for collaging and this stuffed monkey from Ohio! Do you feel better yet? Well there's also wine. How do you feel now? It's time to share your break up stories!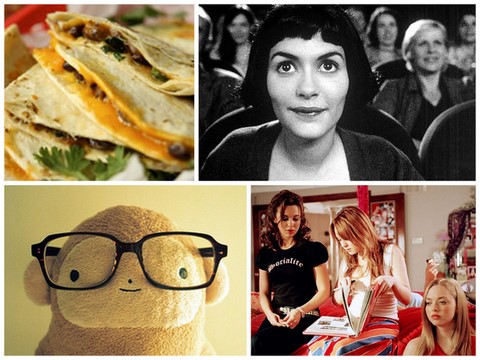 + How did you cope?
+ Have any advice for others?
+ What amazing and lovely things did your friends do for you?
+ We've just made quesadillas the new break up food, in place of 'ice cream eaten directly out of the carton.' How do you feel about that?
+Have you tried reclaiming songs that were ruined by past relationships? It's fun.
This open thread trumps last week's because this time, no one gets to bitch about scientific studies SO LIVE IT UP! Hey, have you never commented before? I just want you to know that it's cool if you do now. No pressure, obvs. You just never know when your story will help someone else. I MEAN I'M JUST SAYIN'. Love you.