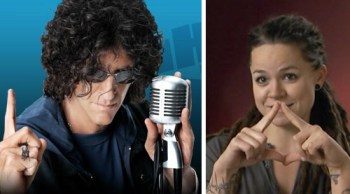 It was a big day to be gay and a Howard Stern fan.
While Howard gave up on The Real L Word after his initial review, his wife Beth Ostrosky continued watching and pretty much loves it. So, here we have Howard's second review of TRLW and it looks he may be a convert. He seems fascinated by Whitney's apparent standing as "the gay prize" since all the girls are after her and riffs about her "red wings" for a bit. He obviously missed our "Is It Sex?" flowchart cause he's still confused by "lesbian fucking" and says the show isn't answering any of his questions.
Comedian Sandra Bernhard was the guest today so they got down to business and compared notes on the finer points of the latest episode (Sandra would NOT have sex with a woman on her period, just FYI). Howard's wife Beth was a huge fan of The L Word (OG) and he used to make sporadic references to her leaving him for Shane. Beth swings by the studio later in the interview and reveals that Howard once invited Kate Moennig to come on the show so Beth could meet her but she turned it down (probs was nervous about being outed?). Of course, Sandra has no problem doing just that 5 seconds later.  There's also a super weird moment where Sandra is about to mention Nikki & Jill but Howard freaks out and prevents her from mentioning Nikki's name. INTERESTING. They also comment that Sandra's long time girlfriend, Sara, looks like Tracy (lucky ducky). Overall, Beth loves the show and Sandra was bored, though she found the wedding dress shopping to be sweet.
Later, a caller brings up Lindsay Lohan and Sandra weighs in on bad parenting and hopes Lindsay can have a "renaissance" after this is all over. Remember when we asked Sandra if she had any advice for Lindsay & Samantha? That was fun.
LISTEN to Howard Stern & Sandra Bernhard chat about lesbian sex & The Real L Word:
[this audio combines several different conversations from the same day, forgive the splicing!]