Hello, feminist monsters. Are you proud of yourself for making Joss Whedon quit Twitter? Just kidding, it's not your fault! (Or is it?) (It's not!) (…but maybe it is.) Joss Whedon quitting Twitter is all anyone wants to talk about, but that's TOO BAD. There are so many other things happening, as you will see below in this week's Pop Culture Fix!
---
Laverne Cox Always Deserves Her Own Subheading
Laverne Cox looks so good (SO GOOD!) on the cover of Variety this week.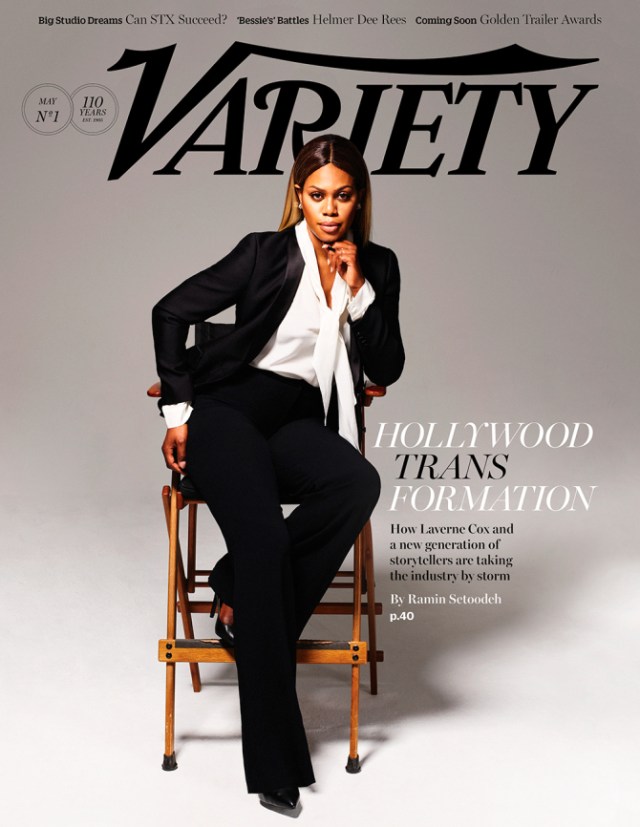 I'm going to buy this and frame it and meditate on it every morning and three times in the afternoon to center myself. WWLCD? Inside the magazine, the question is: Transgender Hollywood: Will Bruce Jenner Change the Industry? The article (quite rightly) focuses on Laverne a lot, but also talks about Bruce Jenner, Transparent, and the many TV shows that will feature transgender characters in the coming months. (Mey told you about them!) Also, more stunning pictures.
The Teevee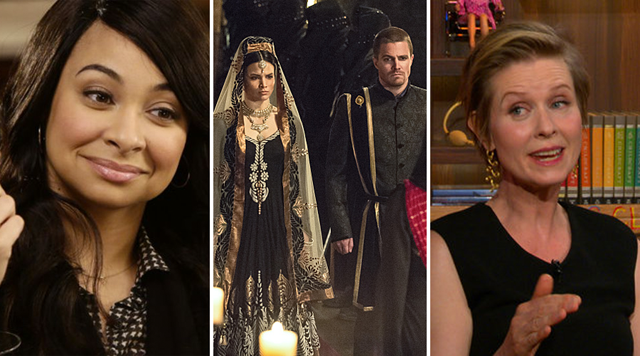 + In Boob(s On Your) Tube this week, I told you about how Arrow is set to marry off its lesbian character, Nyssa al Guhl, to the show's hero, Oliver Straight White Guy in the penultimate episode of this season. (This after they already killed off bisexual badass Sara Lance, who was Nyssa's beloved.) TV Line says "Nyssa's not going down the aisle without a fight. Atta girl!" But also, The CW has released about three hundred promo images of the wedding, so.
+ Portia de Rossi seems poised to return to Scandal next season. She thinks they're the best cast she's ever worked with, but that the Arrested Development people were funnier. (Winky emoji.)
+ Raven-Symoné will guest star on tonight's Black-ish as Dre's gay sister Rhonda. Apparently everyone in the family knows she's a lesbian, except her mom. She talked to Entertainment Tonight about that plus her guest role on Empire.
+ ABC Family dropped the first promo for Pretty Little Liars season six and it is creepy as f*ck.
+ E! has announced a two-hour Kardashian special called About Bruce, in which "Kris, Kourtney, Kim, Khloé, Kendall, Kylie and Scott speak candidly with Bruce, ask many questions and begin to understand the tough journey he's* been on his entire life. Through difficult and direct conversations, the family's unfiltered reactions are surprising, thoughtful and ultimately compassionate and supportive." About Bruce airs Sunday, May 17 and Monday, 18 at 9 p.m. on E!
(*According to E!'s press release: "Please note, at this time, Bruce Jenner is choosing to not live publicly in the media as a woman and will be referred to as Bruce Jenner and with male pronouns in this announcement.")
+ On this season of Game of Thrones, The Faith Militant are tracking down and executing the handful of gay characters in Westeros. IndieWire thinks it's really rad that the show took the subtle gayness of the books and made it overt, including this persecution storyline, because it's a scathing social commentary on the fact that these medieval attitudes are still thriving in the world today.
+ Cynthia Nixon was on Watch What Happens Live this week, and what happened was a lot of things, including talk about gender and sexuality and obviously Beyonce. (P.S. Did you know Nixon is doing an Emily Dickinson biopic? Jennifer Ehle just joined the cast.)
+ Shonda Rhimes is tag-teaming with Bessie director Dee Rees to adapt Isabel Wilkerson's The Warmth of Other Suns for FX. Wilkerson, who became the first black woman to win a Pulitzer Prize for journalism in the mid-90s, wrote Other Suns to explore the lives of black Americans who left the south in search of a better life in the north and midwest during the Great Migration. Wilkerson's book won all kinds of awards when it was released in 2010, and also topped the NYT best seller chart.
The Musics
+ Miley Cyrus teamed up with Joan Jett to announce a her charity called The Hippie Foundation, which will support homeless LGBT youth.
Happy Hippie Presents: "Different" featuring Joan JettOfficially launching The Happy Hippie Foundation today with #HappyHippiePresents: Backyard Sessions! Watch the full video of Joan Jett and i performing "Different" now and donate to help us raise funds to create digital support groups for LGBT youth and their families #HappyHippie All the videos will be released here first so check back soon for more special musical collaborations!The Happy Hippie Foundation is dedicated to fight the injustices faced by homeless youth, LGBT youth and other vulnerable populations. To learn more about the foundation, click here: http://miley.lk/happyhippie

Posted by Miley Cyrus on Tuesday, May 5, 2015
The Sports
Brittney Griner won't be one of the 30 players attending Team USA's team training camp this summer. According to a statement from her agent:
Brittney has been through a lot these last couple weeks and after her health began to suffer, she felt it best to take a step back and continue to focus on her counseling. She knows USA Basketball deserves her full mental and physical commitment and given the circumstances, she didn't feel like she could fulfill that responsibility. Brittney is incredibly grateful for USA Basketball's support through what has been a challenging time.
Also.Also.Also
Jessica Williams hung out with at the Supreme Court during the first day of oral arguments about same-sex marriage and it is as wonderful as you're imagining.