Welcome to Crystal's Track Stop, where every week I bring you a selection of the raddest tracks from my record collection and also from the internet. All killer no filler.
Header by Rory Midhani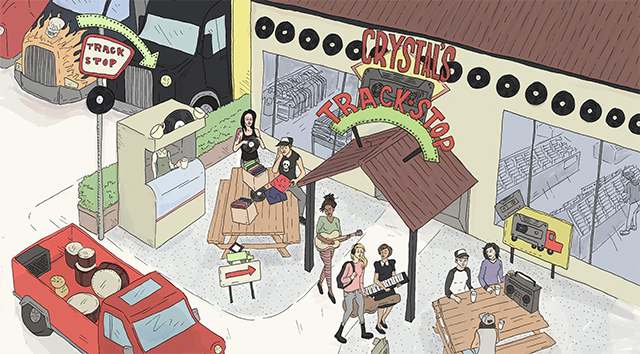 ---
Covers – Rachael Cantu
I really enjoy Rachael Cantu. This week I was stoked to discover that she's released a stellar collection of covers which includes high school hit "Trailer Trash" (!!) as well as Tegan & Sara's "Alligator". The nine songs, which were recorded in Cantu's home studio, are all stripped back and feel so real and honest, as many of Cantu's songs do. It's sort of her thing. Every cover is a winner but my pick is Cantu taking on J-Biebs' "As Long As You Love Me".
[soundcloud url="http://api.soundcloud.com/tracks/81780230″ params="" width=" 100%" height="166″ iframe="true" /]
Covers is available digitally via iTunes and Ameoba.
"T.R.O.U.B.L.E." – Abbe Mae

Abbe May is a somewhat enigmatic Aussie gloom pop artist whose music is my latest obsession. There's this one single that I'm hooked on in particular – it's called "Karmageddon" – and it's kinda intense and broody and it has these stunning vocal layers and I never want the sound to stop. May's more recent single, "T.R.O.U.B.L.E", came out last month and everything about it is S.M.O.K.I.N.G, from that dark 'n dreamy voice to the fierce women featured in the music video. Check it.
Those two tracks are from the forthcoming album, Kiss My Apocalypse (out May 10). May's 2011 album, Design Desire, is also killer- more rock than pop but just as dark. It led to the super intriguing music video for "Taurus Chorus" (below) which, according to May, speaks to "the legitimacy of love and lust, regardless of the gender" and (to paraphrase) the frustration that arises from not having your relationship recognised.
Speaking of dark dirty pop. Last year our pal Somer turned me onto a New York based duo called Zambri, formed by siblings Christi Jo and Jessica Zambri. Their 2011 EP, Glossolalia, is pure power and imagination; it's definitely one of those discs that keeps getting better with every listen and the first was pretty mind-blowing, so. You can stream the entire thing here. I'm especially digging the opener, "On Call".
Last year Zambri followed up with a full-length record, House Of Baasa, which I haven't spent much time with (yet!) but seems to be a consistent flow-on from the above. Listen here.
"Little Games" – The Colourist
Just so you know, you guys have been sending me some amazing track tips; I've been discovering about 2-3 new artists each week and my ears have never been happier, so thank you! Californian indie outfit, The Colourist, is one of them. The band features a female drummer/singer and British-English spelling. Both major pros, obviously. Lead single, "Little Games" is guaranteed to bounce around your head for the entire day. Heartbreak has never sounded so damn joyous.
[soundcloud url="http://api.soundcloud.com/tracks/81933195″ params="" width=" 100%" height="166″ iframe="true" /]
"Cheers (Drink To That)" – Walk Off The Earth
My secret to being partially competent at living life is to start each day listening to this Rihanna cover by Walk Off The Earth about 3-5 times. Beneath the questionable advocacy of wearing Ray Bans at nighttime is an uplifting, empowering message delivered by two rays of sunshine personified. Rihanna's original is good and all, but WOTE capture the celebratory feel-good vibes far better. I'm sorry if this controversial truth bomb has upset you. The absence of the Avril Lavigne sample is a clear loss, of course- but I think a hooded Sarah Blackwood playing the ukulele makes up for it. Sometimes that's all you need to start your day off right.
If you've never checked out Walk Off The Earth's youtube page, wait until you've got a few hours to kill- it's a rabbit hole.
---
Heard a great song? Shoot me the link via @trackstop or crystal at autostraddle dot com (please write "track stop" in the subject line).