VH1's show Couples Therapy is exactly the kind of trashy television that gives me life. It pumps the blood in my veins, it is the air that I breathe. If I was a raccoon or maybe a bear, I would flip over the garbage can that Couples Therapy is concocted in and I would roll around in it for hours. That's how I feel about this show. I want to rub this nasty piece of trash show all over my body and reek of it for days. Anyway.
If you were sleeping on this show, wakey-wakey, because alums of Ilene Chaiken Sucking The Last Sour Drops From The Diseased Teat of Her Dead Show – and by that, I mean The Real L Word – Whitney and Sara are here and they're ready to process their baloney "issues" on television. Insert supercut of Whitney and Sara fighting outside of clubs and having sex on camera set to George Michael's "Careless Whisper." But seriously, if you missed the season with Courtney Stodden, you missed something amazing.
As the recapper for this show, I want to be 100% upfront: I do not dislike these people. Like, at all. I probably should, because all the other homosexuals I know straight-up loathe The Real L Word and everything that is even slightly related to it, but I ate that shit up like a goddamned Kraft Dinner. If you think reality television at its pure cheesiest is "ruining" modern media, that's fine. Go watch Masterpiece Theatre and read your Dickens. I'll be here enjoying the literal goldmine of hilarity that is C-to-D-list celebrities being paid to pretend-cry and stir up sloppily edited drama!
Speaking of C-to-D-list celebrities, let's meet everyone who will be living together in this fake house. The cast of players is made up of Ghostface Killah and a "model/actress" who is not his main partner, a lady with gigantic lips I have never heard of because the ONLY Real Housewives that matter are in New Jersey, the lady with gigantic lips' personal assistant, her milk toast guy, Jon minus Kate and 8 and the woman he is hooking up with, Our Ladies Whitney and Sara, Farrah from Teen Mom, and Farrah's Chin Implant. Farrah's Chin Implant is probably the most active player in this show, as it moves around her face and then absorbs itself a number of times throughout the forty minutes. I don't know what it says that by the end of this episode Whitney and Sara were the most well-adjusted and "normal" and barely had any screentime. When I say they barely had any screentime, I mean their talking heads were about the other housemates' issues. They dragged Whitney out to comment on Ghostface Killah's resistance to therapy, since she is clearly the expert on a complete stranger who she had dinner with once's feelings about vulnerability and the therapeutic process.
Part of this therapeutic process is living together in a fake house, having group therapy sessions with other D-listers, and being recorded while you cry. You'd think people would question the professionalism of this whole system, but Dr. Jenn Berman is like, "Of course I'm a professional! That's why I'm treating my patients on a fucking reality show."
Highlights of the straight people introducing themselves include Ghost referring to Kelsey as "Kelly" and having to correct himself, Kelsey describing herself as a "model, actress, singer, songwriter," Big Lips getting excited about the size of her closet in the fake house, and Big Lips' Man saying that Ghost has "hip-hop flair" and he is "very anxious to get on the Internet and listen to some of his music." Big Lips' Man fucks with Tupac but he doesn't fuck with Wu Tang? Well, at least he skis.
Then Whitney and Sara show up! We get a supercut of them fighting outside of clubs and a shot of the bathroom where they first banged on New Years Eve.
Whitney: Happy New Years to this guy.
Yo, let me switch to Tenth Grade Sleepover Mode and whisper a confession in my cami and pajama bottoms: I am all about these two. I was Team Sara all through The Real L Word, since Day Numero Uno. I cried at that goshdarn wedding. I was Team Whitney Get Your Shit Together because Whitney is a people pleaser and I am a people pleaser and sometimes I was like, wow, I get her. I love these ridiculous fuckers because they are ridiculous. If I laugh hysterically when Sara says she knew she loved Whitney from the moment they fucked in a bathroom, it's because that's AMAZING and I find it super entertaining and if these two want to make their money from entertaining me, I am all about it.
Also, Sara's new bangs. DAMN, GIRL.
Whitney says they are both trying to be king of the jungle but they haven't figured out who the king of the jungle is. I'm not sure why that was the metaphor for their relationship that Whitney picked, but maybe they like to fuck to The Lion King soundtrack, I don't know.
Their other major issue is that their clothing company, which is apparently t-shirts with pictures of them on it, is not doing great. Since I've only heard of this brand through Sara and Whitney's Instagram accounts, this was not a shocking piece of information. Look, I'm a twenty-something in the creative field. We've ALL got friends who started their own "company" by writing their brand name in a black shape and printing it on some beanies.  The non-success of the Sara-Whitney endeavor is only slightly sadder because they technically have a bit more weight, having been on some reality programming and all.
They don't immediately hit it off with the other housemates, since Ghostface Killah thinks they're going to jump his girlfriend (??? Should we even call Kelsey his girlfriend? We are all in agreement that he is really not into her at all, right? Like, she is clearly blackmailing him, right?) because obviously all lesbians just want to fuck all women, always, as we are absolute FIENDS for it. Kelsey says that would never happen because a) Whitney doesn't want to have sex with a cockatoo and b) Kelsey does not believe in gay marriage, or gay people. Can't wait for the homophobic drama to be as forcibly stirred up as possible!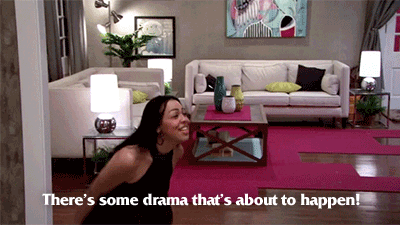 But hey, how could I forget Farrah and Farrah's Chin Implant? Farrah is introduced with clips from her sex tape, and then shows up without her boyfriend, whose name is bleeped out because he is trying to erase every single aspect of himself that could possibly be attached to Farrah in the future. Actually, rumor has it that Farrah hired a fake boyfriend to get on this show, and he'll probably show up at the last minute for an extra juicy finale. This would not surprise me in the least, and it would be AWESOME. Farrah cries about how Bleep is not there and everyone stares at her uncomfortably, except for Whitney who is a Grade A People Pleaser and seems really upset on her behalf. Sara looks at Farrah with all the enthusiasm of someone attending a sixth grade violin recital following a pap smear. Also, let's be honest, the real victim here is Farrah's Chin Implant, who had no choice but to take center stage in this sad downward spiral.
Well, until next time, kids, when Jon minus 8 and Kate will bring his bloated carcass into the spotlight, when Ghost trots out another member of his harem, and when Whitney and Sara will continue to somehow be the most normal people here.