When ABC announced it was adapting Greg Rucka's cult-favorite detective series Stumptown for TV, our main question was: Will Cobie Smulders' Dex Parios be bisexual, like she was the comic books? The first trailer was unclear, but at the Television Critics Association summer press tour, Smulders confirmed that her Dex is, in fact, queer. So I was a go on leaving the warm weighted blanket of binge-able streaming TV to, once again, and for the first time in a long time, attach myself to a network drama's freshman season.
The weirdest thing happened to me when I was watching the first episode: I stopped caring about the commercials, and whether or not Dex was going to hook up with another woman. The pilot is compelling and hilarious and smart and action-packed, and while it certainly gets mired in basic network TV pilot exposition at times, Smulders is so charismatic as my all-time favorite dirtbag private investigator, I just genuinely enjoyed watching her story unfold on-screen.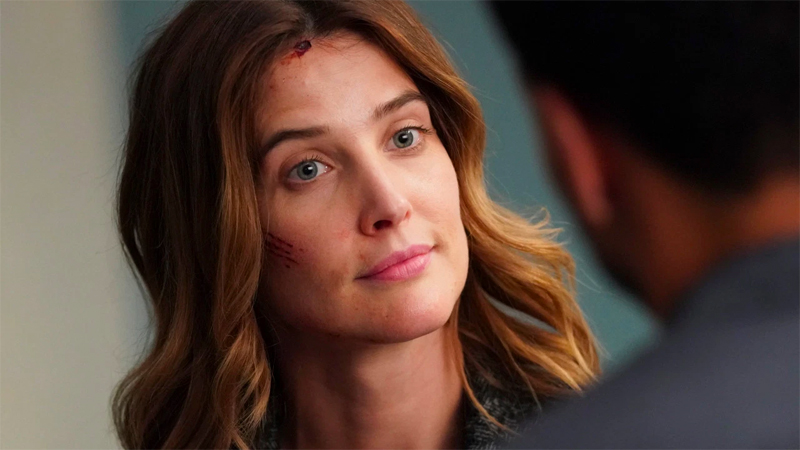 Let's get this out of the way: Dex Parios is not Jessica Jones, and anyone who suggests she is should treat themselves with a healthy dose of staying off Twitter immediately and forever. I know it's hard for some people (men) to believe, but two whole entire women can be private investigators with traumatizing pasts and still be completely different characters.
Dex Parios did five tours in Afghanistan and she's got major PTSD to show for it. She's also got a gambling issue, an alcohol issue, an inability-to-commit-to-anything issue, and a car that only starts one time out of every ten tries. (There's also a mixtape stuck in the cassette player that makes for a great gag and some Guardians of the Galaxy-worthy classic soundtrack moments.) Dex has enough baggage to crush a normal person and absolutely no self-preservation instinct. (Which: gay.) "Forget It Dex, It's Stumptown" unfurls her whole deal: Sue Lynn Blackbird, the owner of the casino where Dex has racked up a hefty debt blowing her military disability checks, agrees to wipe her slate clean if she'll track down Sue Lynn's missing granddaughter. Sue Lynn seeks out Dex because she knows Dex because one time her son was in love with Dex and she wrecked their relationship because she didn't think Dex was good enough for him.
While cracking open the case, and getting her head and ribs cracked in the process, Dex bumps up against the men in her life. There's her younger brother, Ansel (Cole Sibus), who she tries very hard to take care of; her best pal, Grey (Jake Johnson), who helps her take care of her brother when she can't and bails her out of jail; and her nemesis-turned-one-night-stand, Detective Miles Hoffman (Michael Ealy), who seems to understand she's going to destroy him, emotionally, but can't stay away. The people with the power, though, are women: The aforementioned casino owner Sue Lynn Blackbird (Tantoo Cardinal) and Lieutenant Cosgrove (Camryn Manheim) of the Portland PD. ABC only released one episode for review, but my guess is we're looking at a case of the week-style procedural with an overarching season-long mystery that'll keep Dex in Sue Lynn and Lieutenant Cosgrove's orbit.
Those are just the pieces of the puzzle. What really makes Stumptown shine is Smulders. Certainly the Golden Age of Television has offered up some #ComplicatedWomen, but in the land of network TV, there are still very few women who are both complete assholes and characters you're compelled to root for. Dex Parios is both of those things. She's a woman who's been beaten down — literally and a lot — by circumstances beyond her control, and a woman who's made — and keeps making — some really shitty choices that result in a lot of heartache for her and the people closest to her. She's kicking and clawing and smashing and bashing her way through the world and every man in her way.
"Yeah, fine," she says, in the pilot. "I'm kind of a mess" — and it's a joy to watch.
https://www.youtube.com/watch?v=HwynrxEPSQk