I first learned of Charlotte Bunch during a screening of Passionate Politics: The Life and Work of Charlotte Bunch in NYC earlier this year at the International Gay & Lesbian Human Rights Commission. The inspiring film highlights much of her life's work to promote gay rights and women's rights in the international human rights arena as an organizer, activist and out lesbian. Charlotte Bunch was inducted into the National Women's Hall of Fame in 1996 and is also a recipient of the Eleanor Roosevelt Award for Human Rights.
Last month Bunch was kind enough to take the time to sit down and speak with me in her gorgeous Noho apartment and answer some questions regarding her work, UN Women, and the current state of LGBT and women's rights.
During her interview we discussed her role in founding UN Women, the UN's entity for gender equality and the empowerment of women. UN Women was established after years of hard work by activists insisting the United Nations address women's rights as human rights and Charlotte was a leading voice in this advocacy. We also discussed how her work relates to the field of women, peace and security, a field primarily concerned with ensuring the involvement of more women in peacekeeping, peacebuilding, and post-conflict reconstruction efforts following the passing of United Nations Resolution 1325 in October of 2000 and Resolution 1820 in 2008. The landmark Resolution 1820 acknowledges the use of sexual violence and rape as a weapon of war and calls for the criminalization of perpetrators of this violence in conflict.
As someone who works as a consultant for the Global Network of Women Peacebuilders and advocates for gay rights, it was a pleasure to be given the opportunity to pick her brain with some of the questions I've been faced with in my work. While her work has spanned decades including exciting work with The Furies in the 1970's, our discussion focused on her more recent work with the United Nations as an advocate for international human rights for women.
 Jamie Hagen: UN Women is still in the early stages of determining how best to serve both the United Nations (UN) and grassroots organizations. It has taken many years of hard work and advocacy for "women's rights as human rights" by activists like you to get to where we are now with the umbrella organization UN Women. How do you hope to see UN Women evolve over the next five years?
Charlotte Bunch: Let me put a context over how I hope it will evolve over the next five to ten years. It might take a little longer than we thought when we first started this process but at the core really is the desire for there to be an agency in the UN that really makes certain that the voice of women and a gender perspective – those are not the same but they are both important- is present in all UN deliberations.
My vision for UN women over the next 5 to 10 years is that it really will be the kind of voice that UNICEF is for children's rights in the global scene.  This is not to say that it's a substitute for the women's movement but that it's impossible for any part of the UN work to be done without somebody asking, "What is the impact on women?"
Unfortunately, the moment of creation was probably the most difficult economically we could've picked so it's definitely happening slower than we all hoped but my vision is that over time as UN women gets more substantially engaged throughout the world and has more capacity on the ground that it will be the place where governments look to find out what the voice of international policy should be taking into account.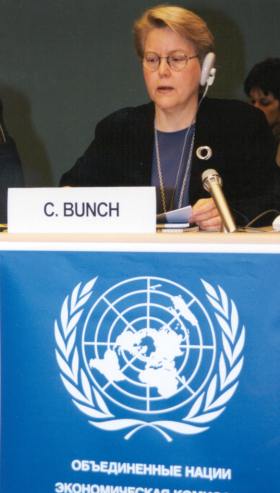 JH: You've worked to include gender integration in the work of the Human Rights Council. What do you consider the most important issue for those working for gay rights as human rights internationally?
CB: In some ways I have to say that I'm disappointed in the lack of attention to lesbian rights in the UN not only in the new organization of UN Women but in the UN structure because that's where a lot of the discussion actually started. What has been positive is the work on sexual orientation, or gay identity as it's more commonly called in the UN,  through the Human Rights Council. Human rights in Geneva has actually progressed a lot in the past 10 or 15 years and that has really been the place where the articulation of what lesbian and gay rights means in human rights terms has been developed.
I feel very excited that so many special rapporteurs and committee bodies in the UN human rights system have been able to integrate sexual orientation and gay rights. It's not always as feminist as I'd like it to be, but I think it's been very important with the integration into human rights. When we started doing women's rights as human rights we were still integrating it more through a feminist lens and I don't think that is the lens that has made the strong impact.
JH: Right, because I guess men – a lot of men — see feminism as just for women.
CB: I think there's a lot of reasons for that. One of them is that a lot of men don't see feminism as the powerful vehicle from which to bring lesbian and gay rights onto the agenda and secondly the governments have actually been in more backlash against women's rights in the last decade then they have against gay rights. And so gay rights in it's more narrow formulation as discrimination and as human rights in that sense has been able to progress while you have a backlash against sexual rights in the feminist sense of a broader definition.
It's kind of ironic that you have these things happening simultaneously but I think the work on sexual orientation and gender identity and the Yogyakarta Principles that the human rights system has developed has actually been very important. But there is still work to be done with furthering the linkage with the feminist part of the issue.
JH: How does work for LGBT rights fit into the field of women, peace and security for example in the context of the work being done to implement UN Resolution 1325? I was more active in gay rights before I came to this work so I think about gay rights when I think about women peace and security but I don't want to be presenting it as "tack this on too." I think gay rights needs to be considered as part of the field.
CB:Yes I think it should be happening, but I think we have to develop more work on how to make it happen, as you said ,in a way that isn't just tacking it on. Some things that seem natural to me that haven't yet happened? I think for example in talking about the sexual violence of war and conflict, I'm surprised that we haven't had more conversation about male rape of men.  I think in most war and conflict situations you also have a lot of rape of men and I think it's a homophobic reason that men won't talk about it.
JH: The reason rape in conflict has been taken up so much as an issue is because we've been talking about women being taken advantage of so if you change that paradigm, people don't really want to talk about it.

CB: We're talking about women being violated and violence against women. Women are use to fighting from our victimization to seek more empowerment so I don't have any problem starting from the victimization of women as long as you understand that that's in order to get more empowerment. I think men are not comfortable starting from victimization.  I think part of that is sort of obvious because when men are raped they are being treated like women and so they don't like to talk about that but they also have a kind of homophobic reaction to it because male rape is not homosexuality.
I think that the resistance to talking about it is part of the understructure of homophobia, of not actually talking about these kinds of issues.  I think if you break that open you begin to get at how homophobia is so present in all of the ways in which sexual violence takes place and it's not that I want equal time on men as victims, I just think it changes the way you see the issue. I also think that the way that we are starting to see more discussion of the South African curative rape – what do they call it?
JH: Corrective?
CB: Yeah, corrective rape. We are beginning to see people talk about the rape of lesbians specifically connected to being lesbian and rape being seen as a tool to explicitly control sexual orientation.

JH: Right. I feel like people are more comfortable discussing the rape of lesbians to control their sexual orientation and then maybe we can actually start talking about male rape too.
CB:Right, exactly. Because there is beginning to be more to the South African corrective rape story but of course it's going on all over the place, this notion that lesbians should be punished by being raped. Again, I think that should be a natural for women, peace and security because again it's the use of rape and violence to keep control over women's bodies and to keep control over how we express that. So that would be an area where I would hope there would be some connection.
It's partly for this reason that I'm really interested in getting at the violence against women not just as a part of war but as a part of the whole configuration of control over what women do.  I have worried sometimes that women, peace and security can sometimes fall into the trap of sort of trying to make war safe for women. Obviously we are not interested in making war safe for women, nor is it possible to make war safe for women.   This narrow focus on just sexual violence in war sometimes worries me that people aren't pinning together all the different ways that this comes together.
JH:Well, what is security? It's so much more than protecting against rape. 
CB: Right, exactly. And the reason that women can be raped in war is because they can be raped in peace. And because they are raped [in war] we are now starting to pay attention in increasing amounts [to rape] in post conflict. If you see the moment of the violence against women in war as the paradigm that shows you all the rest, I think that's fine but I think there is some work that tends to narrow in on that as if it were somehow more horrific than all the rest.
I don't actually think it's the women's movement that has narrowed it. I think it's the governments.  I think that the dilemma that we as feminists are always facing is when you can get the governments to define one piece [of human rights] that's a victory, you want to do that but how to make sure that doesn't start to narrow the whole picture? And I think as you said, even 1325 it's not primarily about the victimization, it's supposed to be about women having a voice in peacekeeping. Really we haven't gotten very far with that part of it. If you look at 1820 and the follow ups they are more on the violence issue. Which I think is an important issue, but how do we get the follow up on the empowerment piece? It's much tougher.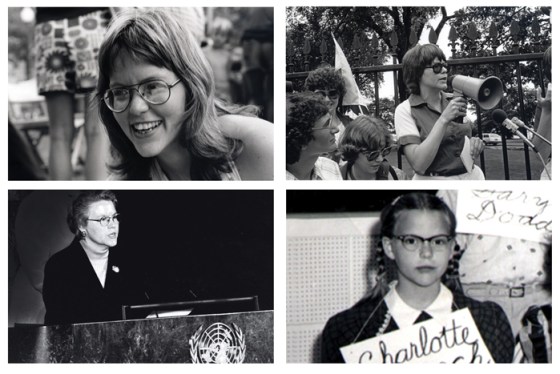 JH:When working for human rights one often is confronted with the false notion of the "hierarchy of oppressions" and the resistance to fight for gay rights as human rights. How do you respond to this mindset of some politicians, and fellow organizers and activists? For example, the recent instance of Nobel Peace Prize Winner Ellen Johnson Sirleaf defending anti-gay laws in Liberia.

CB:To me it was really very disturbing. I think she actually went so far as to say that the gay rights piece wasn't important and I think that was a terrible mistake on her part and it indicates the limitation that women are always being confronted with that is exactly as you said that we're hearing and being told that somehow raising lesbian rights or gay rights is going to detract from the other issues, the larger issues. I just don't accept that. That doesn't mean I have the power to change it, but I don't accept that argument because if we accepted that argument no new issues would ever emerge because there is always something else going on that's just as important.
I think there are a couple of responses. First of all, human rights are indivisible. I do not think that you can ever defend the violation of anybody's human rights around any issue by simply saying other issues are more important. …If you accept that it's OK to violate that for anybody you are undermining the human rights argument. So from a human rights point of view I think it's indefensible to say that it's not important. That's not to say that people can't argue over what's most important for them to work on which is a different matter.
From the practical kind of get in line attitude, I mean we would not have violence against women or any issues of women's rights on the agenda if we had waited for the human rights boys to say it was time. We simply decided at a certain point that these were human rights and we were going to fight for them as such. When we went with this issue to Vienna we didn't have the support of the mainstream human rights groups. We went to governments and we built political power bases with governments directly and the human rights groups had to come around to understanding that. And I think lesbian and gay groups are doing much the same thing and I think it's the right strategy. Lots of lesbian and gay rights activists are working with more progressive governments to advance these issues  building their own power base. The human rights groups, some of them, are now coming along.  Rights never change by waiting for somebody else to give you permission.
Groups in every country have to take the lead on the struggle in their country and I think that it's not up to us from the outside to decide how that gets defined.  I understand when somebody says that well it [laws outlawing homosexuality] may be safer for lesbians. I don't agree with them, but I understand what they are trying to say. The naming of the issue will bring backlash. And that is true.
JH:You are also the founder of the Center for Women's Global Leadership at Rutgers University. Can you tell us about some of the important research currently going on at the center?
CB:When I founded the center in 1990 the primary work in that period was to fully establish an understanding of women's rights as human rights and in particular to bring violence against women into a human rights paradigm. Much of our research and work was more leadership development and very focused on violence against women. The new director and the new work of the center is more focused on economic and social rights. Hopefully this is going to help us be able to look at a human rights paradigm for economic rights issues with gender as a key component.
And in some ways the women, peace and security work – and this is something that the global center is trying to promote also with it's 16 Days Campaign – is to really talk about, "What is security and what do we think security means?" To move forward we need a better economy but we also need a rethinking about what makes us secure in the world.  We should all know by now that military doesn't produce security it only produces more wars but people still think that having the biggest military is what makes you secure. I think that challenging the economic and security paradigms are two of the critical things that the global center today is trying to address.
For more about the life and work of Charlotte Bunch check out her statements, articles and interviews and her book Passionate Politics: Feminist Theory in Action.