If you told me just the premise of BOOM! Studios' newest comic, The Avant-Guards, I'd be able to tell you who wrote it. Here, you try: Charlene "Charlie" Bravo, a seemingly queer girl with a complicated relationship with her past, shows up at an art school, The Georgia O'Keefe College of Arts and Subtle Dramatics, and, despite her reluctance, finds herself drawn to a legitimately diverse ragtag basketball team called The Avant-Guards. Did you guess Carly Usdin wrote this thing? You did, didn't you? Well, you're right!
The truth is, Charlie doesn't want to be a transfer student at this new school and she doesn't want any friends. While her roommate's already got Audrey Hepburn framed above her unicorn throw pillows, Charlie refuses to unpack. She wanders around the orientation fair aimlessly and without any real interest in the clubs — Higher Art, Living Dramatically, Artpeggios — though she does pause at The Coven. That's when a basketball thumps down beside her and she meets Jay, a student who towers over her and points to three other pals hanging out at the Avant-Guards table, trying to recruit a fifth person so they have enough players to fill out a basketball team.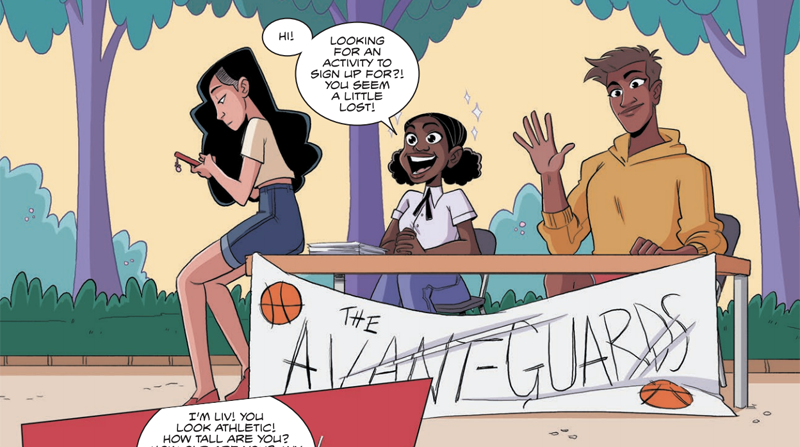 Liv is their leader; she makes Hermione Granger look like an underprepared underachiever. The lengths she's gone to to get the school to agree to allow sports teams in the first place is impressive, and her relentless enthusiasm for basketball and her optimism that Charlie's going to crack and join them is legitimately contagious. I was as excited as she was — well, almost! — when Charlie showed up at the gym at the end of the issue.
The Avant-Guards #1 landed this week, and while I no longer keep a pull list going at my local comic shop, I rushed out to get my hands on a physical copy of this book. Carly isn't just a friend; she's the writer of Heavy Vinyl, one of my favorite comic books from 2018, and the director of Suicide Kale, one of my favorite queer movies of all time. She's proven that she's committed to portraying all kinds of bodies and genders and sexualities and racial identities in her work, and everything she creates is just so very queer it's impossible not to love it. Filling out this comic book team is Noah Hayes (Goldie Vance) on illustration, Rebecca Nalty (who you'll immediately recognize from Heavy Vinyl) on coloring, and Ed Dukeshire (Buffy) on lettering.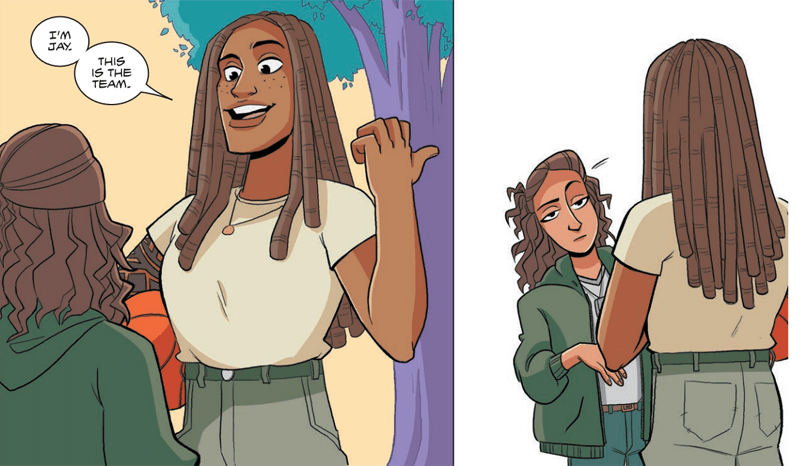 The book is warm and inviting, the characters pop, and there's so many hidden feminist and queer jokes — does Charlie's roommate have pink pussy hat (TM White Feminism) on her bedpost? — you'll read it more than once plucking them out to chuckle at them. My favorite detail of issue #1 is the way Liv plays basketball. She's a shorty and she shoots two-handed, even from the free-throw line, which means that even though she loves the game, she's not super-skilled at it. Also, she calls Charlie Diana Taurasi, which is especially excellent because Charlie has Diana Taurasi's exact form (but she's left-handed). (Because she's an athlete and an artist.)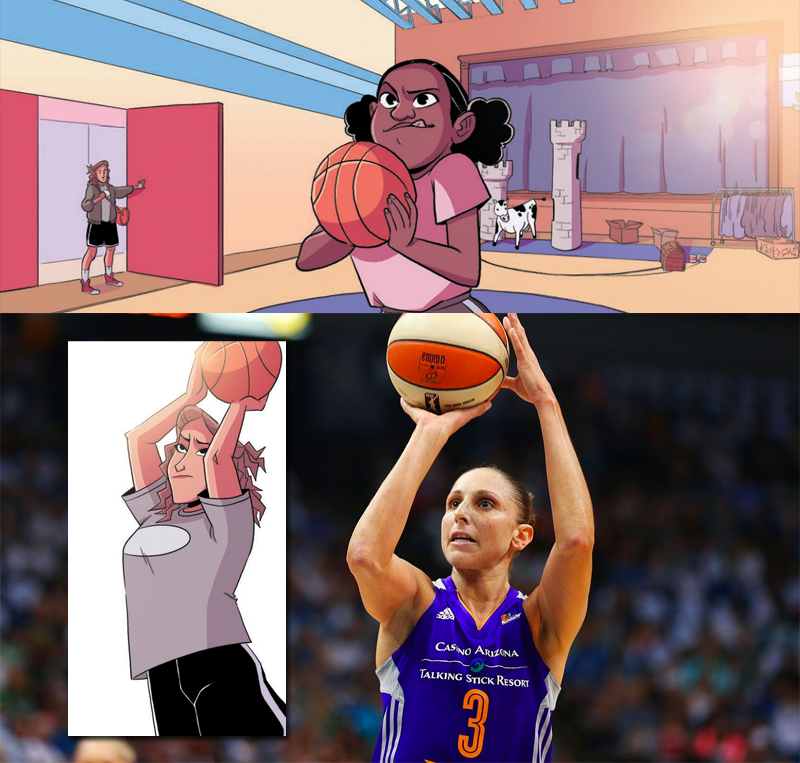 Sports comics and queer athletes are still far too rare in the wide world of representation. If you like either or both of those things, my guess is Avant-Guards is going to scratch an itch you didn't even know you had.