BUTCH PLEASE is all about a butch and her adventures in queer masculinity, with dabblings in such topics as gender roles, boy briefs, and aftershave.

Header by Rory Midhani
---
"There's always one," she says, and clinks my drink. "The baby butch that thinks she's Shane."
She's a friend of a friend, but we've been at this bar long enough tonight to talk in terms of shows we can always assume the other's seen – and what a strange culture this is, that we can always assume someone else has seen a show as problematic and ridiculous as The L Word. She's talking about the maybe-21-but-probably-not-yet butch who is making their way through the crowd, grabbing at waists. Skinny arms with leather bracelets, loose tank top. Dog tags, faux-hawk, lip ring. Every masculine-presenting queer who lived through the Shane era knows this look seems to only be celebrated on the pale, boy-hipped, and bony among us, and this kid's a part of that very small percentage. There's a lot of touching going on, a lot of whispering in ears and fingers closing around wrists, pulling the pretty girls closer. I can't tell if it's well-received or not. I am reluctant when it comes to physical contact with strangers or recent acquaintances. I can never tell what someone new wants from me when they try to rest their body against mine. I like grey areas, just not the ones pressing against my skin.
As a butch person, I battle my actual desires, and the desires I feel imposed on me as a result of social expectations. As a butch, I want this "game" that I keep hearing about; I want to understand the hype. I want to be able to look at a girl and give a nod, and know that's all I need. I want to be so damn good at whatever part of flirting we are supposed to be so good at, but I also want to nod at a girl not just so that I can have a sense of conquest, but so I can take her to a warm room where her whole life is spelled out in the way she pushes her hair behind her ear. I want to be good at this whole personality thing, so charismatic that girls fall over me, but I also want to fall for someone because she wrinkles her nose a certain way when she laughs. I want to be a "successful" butch, but the butches I've seen exalted are the same ones who tweet "fuck bitches, get money" and talk about the women they've fucked as if they come in collectible and limited editions, up for trade. I feel like I'm 13 again and trying to own my nerdy outcast status while vaguely wanting to be "popular," wanting it because it seemed like those people were so much happier and traveled the world in such a smoother, lighter way. We don't really want to be those people, but we want the ease that we read in their lives.
There is a specific demeanor that seems to go hand in hand with butchness. It's the cocky grin, the self-assured nod. It's the way a masculine person sometimes moves through a space of feminine people, the ease of their navigation and the reception of that movement. I can't tell if I'm comfortable with it or not. I know I do it sometimes. I like the feeling of being confident, being able to grin at someone and nod, to feel as if you are the king of your space. I didn't know that feeling before I was a butch. I was never comfortable in my skin before I was masculine-presenting. I never felt as if I owned a space, much less belonged in it. I never once in my life felt even remotely attractive or desirable before I started presenting as butch. Now there are times when I am still amazed that people want to be with me that way. There's a particular smile I crack that makes girls love my jawline, my broken nose. I can walk a certain way through the bar and know I'll get looks from women, little smiles and batted eyelashes. It's the kind of feeling you can get drunk on, heady and addictive. To be honest, I'm afraid to allow myself more than small doses of it.
Maybe you're familiar with that certain fever in the chest, the way everything feels like you're a teenage boy freshly released from the cage of adolescence. I am. Sometimes I walk down the street and every woman who passes is so beautiful that I can barely keep my ribcage from swinging open. It's that feeling of something deep inside your guts being knocked loose, rattling against the rest of you, and you find yourself grinning at all the swishing dresses, swinging around to stare at the retreating behind in red heels. It's a good feeling.
There are words for it, although none of them add up to the actual sensation of it when you know it's burning in your pulse. Swagger, although we've now reduced that to "swag." It's that tie-straightening and sunglass removal feeling. It feels distinctly masculine, because men can navigate whatever space they want and feel entitled to it. Entitlement breeds confidence, and confidence breeds swagger. I like the feeling of being attracted to all those beautiful girls on the street, but I know that the structure of our society assigns power to those who objectify the bodies of feminine beings, and then I'm not sure what feeling it is I enjoy.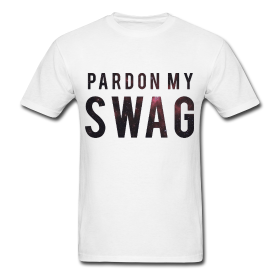 So I have to examine these sensations, undeniably good as they may feel upon first hit. I can't help but examine them, because if I've learned anything as a sexual being who is simultaneously a survivor, it's that the way we navigate our world as sexual beings should be self-conscious. We should always be aware of our behavior when it concerns the bodies of others. That should be a constant.
As conscious and caring butches, let's remember that the feeling we are greeted with when we enter a queer space, the feeling of being immediately accepted, dominant, allowed to do as we please with whoever we please, is a direct result of gender hegemony. And maybe let's realize that those of us who were raised as women, who spent a lot of time in a female-assigned body and have not ever felt their bodies prioritized or allowed agency before, find it easier than others to get drunk on that feeling. Let's remember that respect for other bodies and other spaces should always come first. Let's remember that one's sexual prowess can be a source of pride without being a bragging point. Let's remember that there are still girls out there who go for our awkward passive asses, and don't need us to pretend we are the self-appointed king of the room. Let's remember that while so much of butchness has evolved into a place where desirability is prioritized, there are ways to feel desirable that are not dependent on the commodification of feminine bodies. Butches, we are goddamned catches, whether we are in boots, leather, or three inches taller in rainbow heels. Fuck the game that ties us to the patriarchy. Let's play by our own queer rules. Let's make better rules.
---
Special Note: Autostraddle's "First Person" personal essays do not necessarily reflect the ideals of Autostraddle or its editors, nor do any First Person writers intend to speak on behalf of anyone other than themselves. First Person writers are simply speaking honestly from their own hearts..