This morning my email inbox greeted me with a press release from Burger King proudly declaring the release of the PROUD WHOPPER® Sandwich:
Burger King Worldwide, Inc. is broadcasting a widespread message in support of self-expression with a digital film launching today on Youtube.com/BurgerKing. The film was created at a BURGER KING® restaurant at the heart of the San Francisco Pride Parade route where a limited edition PROUD WHOPPER® Sandwich was added to the menu. Guests who ordered the PROUD WHOPPER® Sandwich were surprised because it is in fact, the same iconic fire-grilled WHOPPER® Sandwich beloved since 1957, but wrapped in rainbow colored paper inscribed with a message reading: "we are all the same inside."
The press release quoted Fernando Machado, Burger King Corporation Senior Vice President of Global Brand Management, who enthused that:
"BURGER KING® restaurants have always been places to eat great tasting food, let your guard down and just be yourself without any judgment. The film and PROUD WHOPPER® Sandwich are the first of many different opportunities to bring the "BE YOUR WAYSM" global attitude to life in unexpected ways."
As I wrote in Gays Fight To Enjoy Shitty Fast Food In Good Conscience, Which Is Impossible — a response piece to the call for queers to boycott Chick-Fil-A after its owner said some profoundly shitty things about gay people — eating fast food is inherently not progressive regardless of the company's positive or negative feelings about the LGBTQ community. Boycotting Chick-Fil-A because their CEO hates gay people is as pointless as supporting Burger King because their CEO packaged some burgers in rainbow-striped paper. It's still fast food. Which isn't to say that there's no excuse to eat fast food — most of us do, at least sometimes. For many people, fast food is the only affordable way to eat anything at all. But when we eat fast food, we do so because it is affordable and convenient and because it is delicious (especially the fries, Burger King has the best fries), not because it makes the world a better place or advances progressive political causes.
I'm not so pure that I can't appreciate and even commend corporations who embrace or target the LGBTQ community, especially because we often must rely on their advertising dollars to pay our bills. But there's a difference between a KY Jelly commercial featuring a lesbian couple and Burger King wrapping trash in a gay piece of paper and declaring it groundbreaking or even "supportive." Plus; unlike, say, Coca-Cola's bid for the LGBTQ dollar with their inclusive Super Bowl ad that reached a large mixed audience, this "limited edition" Whopper is basically preaching to the choir by only making itself available at San Francisco's Market Street location. (A location I'm familiar with because it's one of the only public bathrooms in the area.)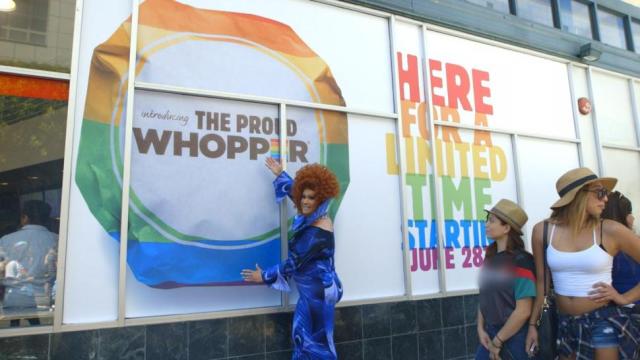 Machado told USA Today that the Proud Whopper "showcases who we are as a brand" and "shows how we, as a brand, believe in self-expression." Apparently Burger King was one of many corporate sponsors of this year's Pride Parade in San Francisco, marking the first time the chain has sponsored a Pride Event in the United States. Apparently Burger King has sponsored Pride Events overseas, however, making it plainly obvious that they're more interested in jumping in when a thing becomes popular and trendy rather than genuinely blazing any new trails.
This morning the commercial described by the press release as a "digital film" was released. The child near the end of the promotional video was placed there, I think, to make me cry and think about a big bright future for gay families eating inclusive Whoppers, but it made me want to cry for a totally different reason than Burger King wants me to cry. It made me want to cry because kids developing any kind of positive association with a Whopper is really f*cking sad. See for yourself:
http://youtu.be/qBkAAortU_g
The video made me think of Burger King's 2008 "Whopper Virgin" campaign, which also used "underprivileged" (by colonialist standards) people to push its product, albeit in a far more exploitative fashion than we're seeing with this. The commercial asked rural Romanian farmers, Thai villagers and residents of Greenland's icy tundra who'd never had a hamburger before to try a Big Mac and a Whopper and declare a favorite. At the time, Brian Morrissey of Adfreak declared the ads "embarrassing and emblematic of how ignorant Americans still seem to the rest of the world." "Whopper Virgins" is hardly the company's only advertising misstep — they've also repeatedly peddled in racism and misogyny to sell their products around the world.
Regardless, even the "we are all the same inside" concept itself feels poorly conceived. We shouldn't have to prove that we're "all the same inside" in order to obtain equal rights and respect. Instead we should all learn to value that even people who are different from us are worthy of humane treatment. Also, do you really wanna think about what's inside a Whopper? If one adds fries to that calorically-dense sandwich, one could exceed one's entire daily allotment of fat and saturated fat in a single sitting while consuming almost nothing of nutritional value!
As I wrote in the Chick-Fil-A piece, what can distinguish queer politics from mainstream politics is that our "outsider" status should enable us to more readily question dominant culture and advocate for disenfranchised and mistreated humans (and animals). The fast food industry is one of the most exploitative industries in the history of the world, and Burger King itself has been the subject of many lawsuits and campaigns for offenses including serving carcinogen-containing grilled chicken, selling beef that contained horse meat and patronizing a dairy farm that tortured its animals.
However, I was surprised to learn that unlike Chick-Fil-A, Burger King has, in response to such controversies and others, become a bit of an industry leader when it comes to seeking out ethical meat suppliers. (The fast food industry's support of factory farms is one of its most egregious sins.) Under pressure from organizations like PETA, Burger King in 2007 announced that it'd begin phasing in suppliers who did not cage their animals and by 2012 was using 100% cage-free eggs, as well as pledging to eliminate battery cages and gestation crates from its U.S. supply chain. (A move which still raised a lot of questions and doesn't address problematic environmental practices of its fruit and vegetable suppliers, such as monocropping.) McDonald's and Wendy's have since made similar pledges. In 2013, The Humane Society of the United States gave Burger King its "Henry Spira Humane Corporate Progress Award" for "the company's work to end the extreme confinement of farm animals in small crates and cages." The Food policy director for The Humane Society proudly declared that "for more than a decade, Burger King has been a leader in improving farm animal welfare by working to eliminate some of the worst factory farming practices from its supply chain."
That being said, we're still looking at a deeply troubling system of food distribution, even if Burger King is sourcing mainly from farms with ethical practices and encouraging their current suppliers to change their ways. Any time a corporation of Burger King's size gets involved with local economies, they gain the power to wield Wal-Mart-esque pressure on its suppliers to keep their prices low, which impacts the economic health of the farmers themselves. (In fact, Wal-Mart's new organics line already threatens to undermine organic farming's basic principles and operating practices.) And although Burger King's support of relatively ethical farming practices is definitely a huge step in the right direction that will inspire major change in the farming industry, it's still not fixing the underlying issue or the larger systemic problem of Americans' lack of access to affordable fresh and healthy food. Instead of working collectively to get fresh and healthy food into the hands of ordinary citizens, Burger King is buying it themselves at reduced rates, injecting it with preservatives and chemicals, frying it and selling it back to us in highly caloric nutritionally void Value Meals. Worse still, it's selling it to children.
There's one last case to be made for The Proud Whopper, which is that all Proud Whopper sandwich sales will be donated to The Burger King McLamore Foundation for "scholarships benefiting LGBT high school seniors graduating in spring 2015." (The Foundation website doesn't indicate that the scholarships benefit LGBT students directly, so it's unclear how that will play out.) This is undoubtedly a worthy cause. But it does remain unfortunate that Burger King is offering scholarships to underprivileged kids with one hand while aggressively encouraging them to consume unhealthy food produced by an industry that historically exploits poor communities with the other. As the fast food strikes of the past year have drawn attention to, low pay for fast food workers is crippling families and individuals all over the country, most of whom must rely on food stamps to survive even if they're employed full-time. Undoubtedly, many recipients of McLamore Foundation Scholarships need those scholarships because their parents work at fast food restaurants that don't pay them enough to start a college fund. Meanwhile, fast food lobbies overwhelmingly support Republican candidates who push favorable legislation forward that enables them to underpay their employees while overpaying CEOs and "gag" activists who attempt to expose mistreatment of animals.
Ultimately, though, the Proud Whopper's most egregious sin seems to be that it's really weird and tacky, like something your well-intentioned Mom might pick up at Odd Lots to show you that she supports your "lifestyle." Perhaps in the future, Burger King could better serve the LGBTQ community by paying its workers a living wage rather than providing a small portion of customers with a large onion-scented paper rainbow covered in ketchup. Just an idea.