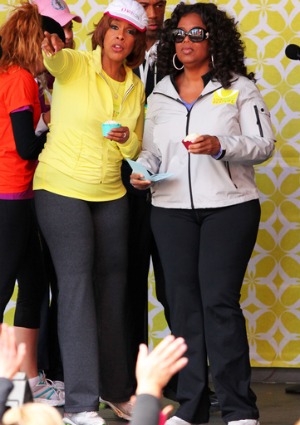 Remember when you were in 6th/7th grade and your best friend, who was a girl, hugged you really innocently and some stupid boy yelled, "HAHA EWW LESBIANNS! HAHAA!" That was pretty obnoxious and idiotic, right? Because everyone knows that it takes a hell of a lot more than a few hugs / hand-holding / kissing (yep!) to be an actual lesbian. Also, in this case the word lesbian was used as slur, which is always a pain in the ass.
For some reason, people seem to be unable to distinguish between very close friendships between women and lesbian relationships and it's really annoying. Even as someone who fully believes that everyone is at least a teeny little bit gay, I'm confused by this generalization.
HEY LOOK Oprah and Gayle are very good examples of this PHENOMENON of two women loving each other but not being lesbians. When did the lesbian rumors start? Probably sometime in the late nineties, when Oprah started including Gayle in more episodes and events. I'm just guessing here. As far as I can recall, Oprah has very tactfully denied the rumors while promising that, were she a lesbian, she would certainly tell us about it.
I don't know, I believe her. Like, if anyone seems 'ok' talking about their personal life as it relates to their public life, I think it's Oprah. Maybe also Howard Stern. I don't think Howard Stern would lie about those things. Some people just don't seem to be super concerned with whether or not their honesty is accepted by the world at large, you know?
So why do people people still ask Oprah if she's gay? It's dumb, right? If a lesbian is close friends with a straight man, would we ask her if she was straight? Do people ask gay men with lady bff's if they're straight? Is this just another way to marginalize women, their relationships and their sense of self?
(Sidenote: On a related note, have any of these straight-girl friendships turned out to be, in truth, the piece of evidence that leads us towards the holy grail of lesbianism? When Jillian Michaels came out, everyone was delighted to conclude that she'd been dating her straight BFF Vanessa Marcil all this time, just like they suspected! But no. Jillian's girlfriend was Heidi Rhoades, who you probably had never heard of.)
Here's a video from an upcoming Barbara Walters Special in which Oprah is feeling a lot of feelings about this whole thing. You should watch it.
+
See, the truth is that sometimes our relationships with our female friends are just as important — if not moreso — as our sexual/romantic relationships. The way Oprah describes feeling about Gayle is a way you might feel about your best friend, too:
"She is … the mother I never had. She is … the sister everybody would want. She is the friend that everybody deserves. I don't know a better person. I don't know a better person… it's making me cry 'cause I'm thinking about how much — I probably have never told her that."
Here's the thing: Oprah and Gayle are actually demonstrating to us, in a very public, very unabashed way, how to have a really good relationship… with your friend. I don't know much about Oprah and Gayle but it appears they've spent some time together in vehicles and in the wilderness for 20+ years. Although I imagine Oprah with all her moneys doesn't need Gayle's help to do the things we often hit up our best friends for — install her air conditioner, drive her to the shop to pick up her car, cut her hair — their friendship did begin with a favor (all these quotes are from a 2006 interview):
Oprah: The first time Gayle spent the night at my house was because there was a snowstorm and she couldn't get home. She was a production assistant and I was the 6 o'clock anchor in Baltimore.
Gayle: Anchors and PA's do not socialize—the newsroom hierarchy.
Oprah: But I said, "You can stay at my house." The next day, we went to the mall.
Gayle: Remember Casual Corner? They had those two for $19.99 sales.
Oprah: I ended up buying two sweaters.
Gayle: I had to call my mother and say, "You know my friend Oprah? Guess what? She bought two sweaters!" I was into layaway back then, for one sweater.
Oprah clearly does rely on Gayle for nearly all of her emotional well being. She hits the nail on the head here talking about why their relationship is otherwise interpreted:
Oprah: I understand why people think we're gay. There isn't a definition in our culture for this kind of bond between women. So I get why people have to label it—how can you be this close without it being sexual? How else can you explain a level of intimacy where someone always loves you, always respects you, admires you?
Gayle: Wants the best for you.
Oprah: Wants the best for you in every single situation of your life. Lifts you up. Supports you. Always! That's an incredibly rare thing between even the closest of friends.
Yup. They're just the bestest most specialest best friends of all time. Maybe you have one too? The girl you depend on for the little things (what shirt should i wear) and moderately sized things (can you help me move) and giant things (road trips!) and even bigger things (housing you after your breakup).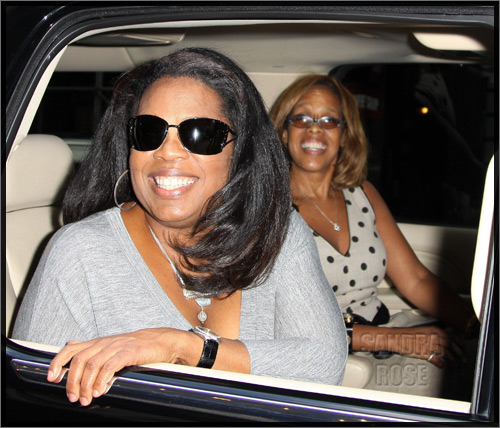 These days a lot of us are estranged from our families or, for one reason or another, don't rely on family for the bulk of our emotional needs. Instead we turn to each other. Sex and the City was supposed to be about this phenomenon, and it kinda was, most of the time. Anyhow, these bonds between women are often the very thing which enables you to extract yourself from a bad relationship or a shitty job or a dead-end life.
The secret nobody tells you is that the primary thing you can get from a relationship that you can't get from a best friend is sex and the secondary thing is exclusivity (if that's your style). But, where would the patriarchy be if women realized that we could get all the emotional support and daily entertainment we needed from each other and therefore started seeing husbands as bonuses rather than needs? What if we made choices based on what our best friend, and not our romantic partner, needs or wants?
What if two women don't need you, and it's not because they're sexually attracted to each other? What then?
Oprah: The truth is, no matter where I am, whether Stedman is there or not, Gayle's in the other room. I mean, she's always coming in and asking, "Whatcha doin'?"
Gayle: I really do marvel at this because if Stedman didn't accept me, it would be very difficult for us to be friends.
Oprah: See, that would never be a question for me. If you don't like my best friend, then you don't like me. That's not negotiable. Smoking is nonnegotiable. It's just a deal breaker. Not liking my best friend—forget it! Or my dogs—you gots to go!
Right on. And besides, nobody would hide from their sexuality in these outfits now, would they?