Queer teenage girls experience 50 percent more police stops and twice the risk of school expulsion, arrest, or conviction than their straight peers with similar misdemeanors, according to a study published Monday in Pediatrics, a medical journal.
The study, which was conducted by Yale University researchers Kathryn Himmelstein and Hannah Bruckner, also found that gay and lesbian teenagers receive harsher punishments at school and in court than straight teens do, despite less illegal behaviour, and that they are more vulnerable to health risks such as addiction, bullying, and familial abuse. That last piece of information is old news, but the rest of it is pretty new.
Himmelstein and Bruckner used data from over 15,000 elementary and high school students — 14% of the women and 6% of men self-identified as something other than 100% het. 17% of women said they were attracted to the same sex and 6 percent said they'd had a romantic same-sex relationship. 76% of the total participants had committed minor offenses such as shoplifting or underage drinking. 41% per cent said they'd engaged in violent behaviour.
However, those who did not identify as straight were 1.25 to 3 times more likely to be punished than straight participants with the same offenses. They were also less likely to have been violent.
Lesbian, gay, and bisexual students were "slightly more" likely than their heterosexual counterparts to report that they'd done small stuff like drinking and shoplifting but they were less likely to have engaged in serious crimes like burglary, drug dealing and weapon possession.
So what the hell is going on?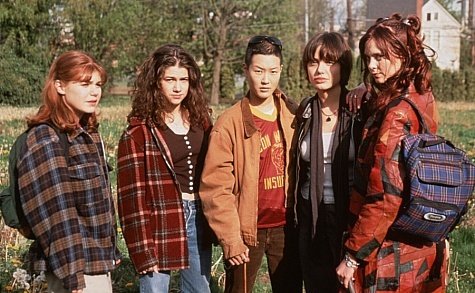 Is the discrimination conscious? In Business Week, Himmelstein said the reasons schools and courts are harsher on queer teens wasn't clear from the results of the study, but that sexual orientation may be intentionally or unintentionally related.
The authors suggest several possible explanations, including how likely it is that officials consider mitigating factors such as self-defense when queer teens are involved; homophobia in health care and child welfare systems resulting in punishment for risky behaviours that might have received help and support if committed by straight teens; and unknown missing data (which they dismiss as unlikely).
In the Washington Post, Himmelstein said:
"It may very well be not intentional. I think most people who work with youth want to do the best they can for young people and treat them fairly, but our findings show that's not happening."
The juvenile-justice system also has a history of policing female sexuality, and a history of being antagonistic towards girls with "aggressive" or "masculine" gender presentations. In the New York Times, Betsy Pursell, a vice president for the Human Rights Campaign, said that stepping outside "normal" gender roles can be perceived as being more difficult by authorities, depending on behaviour. She also said:
"I think adults who work with young people, for better or worse, tend to quickly categorize kids. They may not be categorizing them as LGBT but as mainstream or out of mainstream, a potential troublemaker or not a potential troublemaker."
Whether discrimination is intentional or not, what is certain is that gay rights and gender equality are still not things that can be expected or taken for granted. In May of last year, the Student Non-Discrimination Act, which was meant to prohibit discrimination and harassment due to gender or sexual orientation in public schools, was introduced to the Senate.  It's not looking like it's going to get any attention in the near future but you can urge it along by signing this from the ACLU. In November, Senator Al Franken, who introduced the Act, urged Congress to pass it at a joint press conference with Tammy Aaberg, the mother of Justin Aaberg, who committed suicide in July as a result of anti-gay bullying. .
Himmelstein and Bruckner wrap up their study with an urgent call for "all child-serving professionals to reflect on strategies to reduce the criminalization of nonheterosexual youth as they navigate adolescence in an often hostile society." This, like Franken's bill and New Jersey's bill and other similar legislation (which there really isn't a lot of), is not asking administrators and officials to become one with the power of the clam. It's just asking that they recognize that they might be accidentally (or purposefully) biased. And that they ought to do something about it.
Have you seen this happen in your own life, at your school or in the legal system? Why do you think this is happening? Tell us your feelings.