Happy Valentine's Day! Whatever love looks like for you today, we are definitely wishing you a bunch of it.
Here's what happened in Autostraddle television coverage this week: Riese and Carly recapped The L Word mothership episode where Tina goes to Canada for no good reason and Shane and Carmen get matching tattoos (sad, we all know how that ends). The entire TV Team got in on that "The 5 TV Shows To Get To Know Me" meme and believe it or not, Glee ends up on that list TWICE! Sara and Ava go back to the 1980s and 2004 on Legends of Tomorrow. Mishel Prada guest starred on Riverdale while Cheryl and Toni danced real sexy together under some bisexual lighting. And finally, Callie and Mariana Foster forgive each other and make up their sister bond just in times for the big love holigay.
Notes from the TV Team: 
+  Grace got to go on the superhero field trip as promised on Black Lightning! She got to shape shift and helped the team, though sadly there wasn't much time for romance between her and Anissa. However, we were treated to this exceptional tweet. — Carmen
😂😂😂 #blacklightning https://t.co/ZjQzJmwLJG

— Chantal Thuy (@Chantal_Thuy) February 11, 2020
+ There was some very light teen lesbianage on this week's Grey's Anatomy. A slow walk reveal about the daughter of one of the patients. It wasn't quite enough to warrant a full recap, but it was damn sweet. I also want to say that the last two episodes of Grey's have been my favorite of the season! Obviously a show that's been on air for 16 years is going to have its ups and downs, but I've had a hard time getting invested this year. Between the increased storyline for Glasses and Nico, and Debbie Allen buying Pac-North, I've been zapped right out of that fog! Welcome back Grey's, I missed you! — Carmen

+ There was a thruple featured on House Hunters this week! None of us watch the show regularly, unfortunately, but our friends can't stop talking about it! We figured you would want to know. — Carmen
---
All American 212: "Only Time Will Tell"
Since this week's episode title didn't provoke a panic attack about what might happen to Coop, we can just jump straight into this week's recap: Coop stops by the LA County Jail to visit Preach who remains locked up after his run in with Tyrone last week. Coop asks how he's keeping himself entertained but, as is Preach's wont, he cuts through the BS and asks Coop why she keeps visiting him in jail. She admits she's glad to have someone to talk to since she hasn't seen Patience in months and keeps dodging Spencer's calls. Preach reminds Coop that the shooting wasn't her fault and encourages her to focus on herself and her music. Preach urges Coop to focus on her future, lest she end up in jail just like him.
A few days later, Layla tracks Coop down at the Slauson Cafe to talk. Layla asks why Coop's been MIA from Spencer's life but Coop assures her she's just been busy. Busy with music, Layla hopes, as she attempts to recruit Coop into collaborating on another project. Coop hasn't really been working on her music lately but when she hears the beat, the creativity sparks in her eyes. Still, Coop doesn't say no right away but once Layla sells it as an opportunity for both of them to prove themselves, she's in. They head over to Layla's father's studio so that Coop can meet the production engineers but, as they're walking through the halls, Coop hears a familiar voice. She follows the voice into a nearby studio and discovers Patience in the booth, recording some cliched pop hit.
"Yeah, I'm lookin' fancy, the boys all wanna have me/ Yeah, yeah, I'm lookin' good, I'm so expensive," Patience sings. It's so wrong on so many levels, I'm dumbfounded Patience would agree to this. The couple catches each others eye through the studio glass and Coop immediately leaves.
Knowing that she needs her best friend, Coop finally reaches out to Spencer. He chastises her for ghosting him and she admits that she felt guilty for getting him shot. He assures her it wasn't her fault and says he just wants his best friend back. He tells her he heard what happened and the studio. Despite her insistence that she's busy with other things, Spencer encourages her to continue with her music: she's great at it and you never know when that greatness can be taken away.
Back in Crenshaw, Patience catches up with Coop at the Cafe. They make small talk to cut the tension between them but it doesn't work. Patience confesses that she wants to be friends again and Coop's open to the idea but not yet. She asks about Patience's work with Layla's father and Patience admits that it's been hard…things aren't flowing as easily as when she and Coop worked together.
Coop reminds her, "you're even better than whatever they think you are. Just gotta do you, Patience, and go get it."
---
grown-ish 305: "Gut Feeling"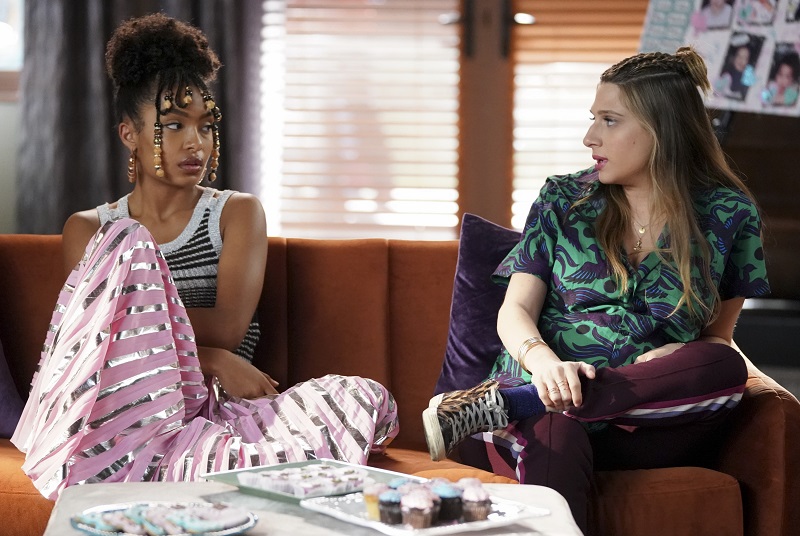 For the last five months or so, the baby Nomi Segal's been carrying has been theoretical. Yes, she was pregnant but the life inside her was more of an idea than an actual person…something to love her or, perhaps, her biggest mistake. But the theoretical becomes empirical this week as she gets a look at her baby from a 3-D ultrasound. There was a heartbeat, a nose, eyes and smile; this baby was real and it was hers.
Now that's it's real, Nomi has to address all the questions that she's been avoiding until now…namely whether or not she should give the baby up for adoption. The acknowledgement brings her "MILF To Be" shower to a screeching halt and the girls gather around and discuss it. Nomi's parents have been trying to push her towards adoption but Ana reminds her that there are a lot of student parents that make it work. Nomi clarifies that her parents aren't forcing her to give the child up for adoption, they're just recommending it strongly. When Zoey pushes Nomi for more answers, she admits that she feels obligated to raise her child.
"Why does Nomi have to give up her life to deal with it though? There's so many alternatives nowaday…her mistake — which are your words, not mine — could become a blessing for someone else," Zoey wonders. She encourages Nomi not to be too quick to discount adoption as an option.
Exasperated by the ongoing conversation, Nomi admits that she's torn but is especially worried about having to raise a child alone. Ana asks about the father's role and Nomi acknowledges that she hasn't told him about the pregnancy yet. The room's split: most are convinced that Nomi should tell the baby's father but Doug and Vivek agree that the optimal moment has past. As she's wont to do, Ana chimes with condemnation, chastising Nomi for denying the baby and their father a relationship. Later, Ana apologizes for overstepping but then oversteps one more time, handing Nomi the contact information for her baby's father.
Later, Zoey sits down with Nomi and gives her the unvarnished truth: no one else can make this decision for her. Nomi agrees but realizes that she can't make the decision at Cal U (WHAT?!) so she packs up and leaves (WHAT?!).
Everything about this storyline — from its inconceivable beginning to its unfulfilling end — has been a mess. While part of me is glad it's over, as I watched Nomi Segal drive away (maybe for forever), I was heartbroken that this is how it ends.
---
Deputy 107: "10-8 Search and Rescue"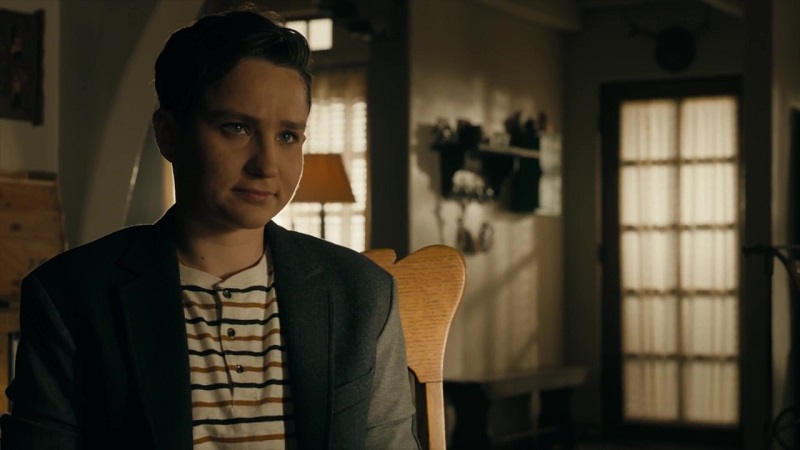 What Deputy scratched the surface of two weeks ago, the show digs into, in earnest, in this week's episode. It starts as episodes usually do: Bishop detailing the Sheriff's schedule, highlighting any potential political mindfields, and their boss dismissing every suggestion as though it's not worthy of his time. But today, their banter is interrupted by an on-coming truck that slams into the car's passenger side. The pair are rushed to the hospital: the Sheriff treated and released while Bishop is sidelined by a forehead laceration and possible concussion.
At first, it feels like Deputy is repeating one of its most frustrating habits — pushing Bishop aside while the men get to save LA — but it quickly morphs into something more revealing. The Sheriff's wife, Dr. Paula Reyes (played by Jane the Virgin's Yara Martinez), stops by to check on Bishop. Bishop panics and they abruptly shut down the conversation. Later, after their release, they stops by the Sheriff's home to apologize to Paula and explain their angry reaction. Bishop admits that they nearly told Paula the truth earlier but was afraid of being judged.

We ❤️ Bishop. #DeputyonFOX pic.twitter.com/N8jPAzhcO6

— DeputyonFOX (@DeputyonFOX) February 14, 2020
Bishop confesses that it's always been difficult for them to talk about biological things and that, until recently, they didn't have a vocabulary to explain how that felt. But even when they knew the words, they allowed others to continue with their assumptions, prioritizing everyone else's comfort over their own.
"This accident made it very clear that tomorrow is not a guarantee and I need to be me. I'm getting closer every day to exactly what that is but for now, I know I'm not all woman," Bishop explains. The admission brings immediate relief to Bishop's face — they've needed to say this aloud — but they worry about Genevieve's possible rejection. Paula assures Bishop that they're a remarkable person and if Genevieve rejects them, she never deserved Bishop in the first place.
---
Well this was certainly my favorite episode of The Bold Type yet! And not just because it's about one of my favorite subjects, fancy vibrators and masturbation (though, ok… yeah… it's at least 40% because of that).
Sage, who's that friend of the Core Three that we don't see that often? She hangs out with Alex sometimes, you know the one? Ok. Sage has friends who are launching a fancy schmancy women owned vibrator company called Broad, and it's all the rage at the office. Kat takes one, Sutton takes one that can be controlled via long distance for her and Richard, even Jacqueline takes one (called Her Majesty, natch). Nothing better than free vibrators, so we are off!
Kat's, ahem, getting off quite literally when Jane calls her later that night. I've been vocal for a while now about what The Bold Type gets right about sex and queer sex, especially for a YA drama, and Kat masturbating is no different! There is nothing that could have brought me more joy than getting to see a young black woman, lights on, fully just… going for it, you know? That's a message I want out there in a world! You don't need a partner to have great sex.
So of course Kat is pissed when Sage tells her that Broad has been banned from putting up a billboard in the city that promotes women's pleasure. Kat and Sage launch a twitter war, pointing out the sexist double standard that Broad's billboards are being taken down while the much more graphic promotions of this Viagra-lite drug called Rect are allowed to just exist with no question. The fury leads to some of their followers to call for a boycott of Rect and Scarlet almost gets sued as a result. Jacqueline isn't against promoting women's sexual independence, of course, but she isn't a fan of lawsuits. Kat hears her and promises to change the course of her messaging.
Which leads us to the SEX PARTY! Sage pitched a story about the rise of millennial sex parties (why is no one inviting me?) but she can't do it, which means Jane goes and takes Sutten and Kat along for the.. ugh… ride. While at the party Kat spies some women masturbating poolside. Even though they could be having sex with anyone there, they still choose to have sex with themselves first. It sparks a new angle for her campaign.
Kat interviews the women at the party about their self-pleasure and it goes pretty viral on Scarlet's Instagram. Jacqueline, forever Mommi boss, congratulates Kat on all her hard work lately – but encourages her not to forget her own personal life. Which leads to the two reveals I am MOST excited about: 1. Kat stares longingly at a picture of Tia (!!!) on her phone and 2. Kat re-launches her Tindr profile.
And according to the previews, guess who's definitely having hot sex with a woman next week? Kat effing Edison.
---
Happy Valentine's Day from the TV TEAM!!
It can really feel cliché to say out loud, but every member of this team got into the TV game because we believe, on some root level, that representation still matters. Lesbian, bisexual, and queer women in love still move us right down to the center of who we are. Nothing feels quite as good as being able to see yourself reflected back on the screen.
So, in that light, we collected some of our favorite quick scenes of TV ladies kissing. This isn't an exhaustive list. In fact, there is no rhyme or reason to it at all. This is random and sweet and just because we love you. Wherever you are and whatever you're doing – Happy Valentine's Day!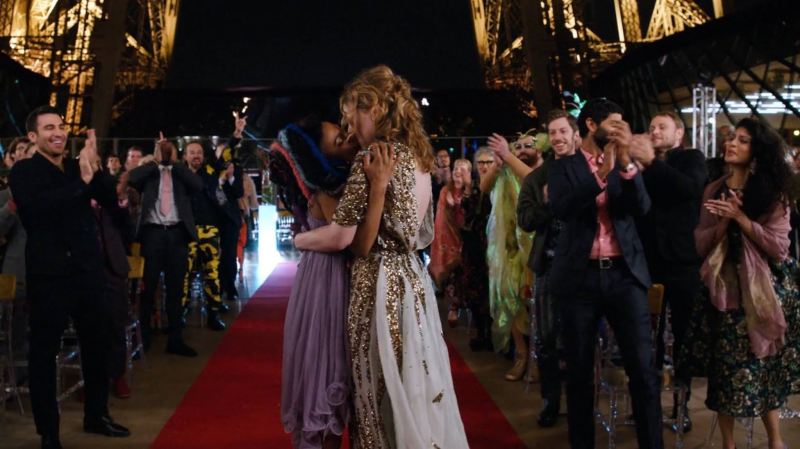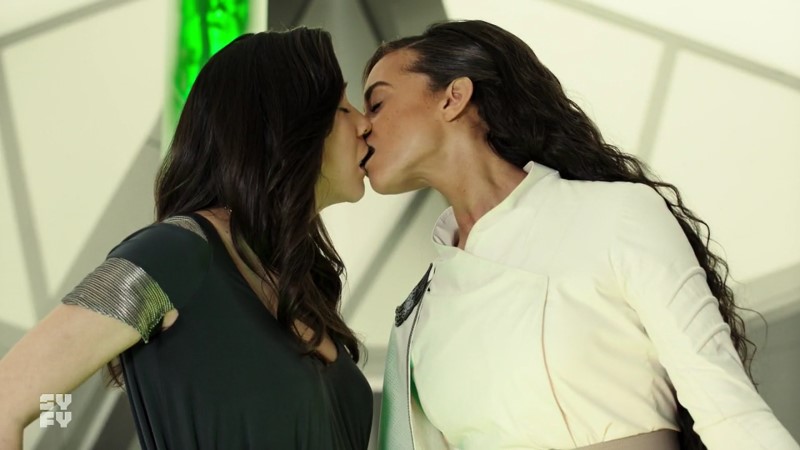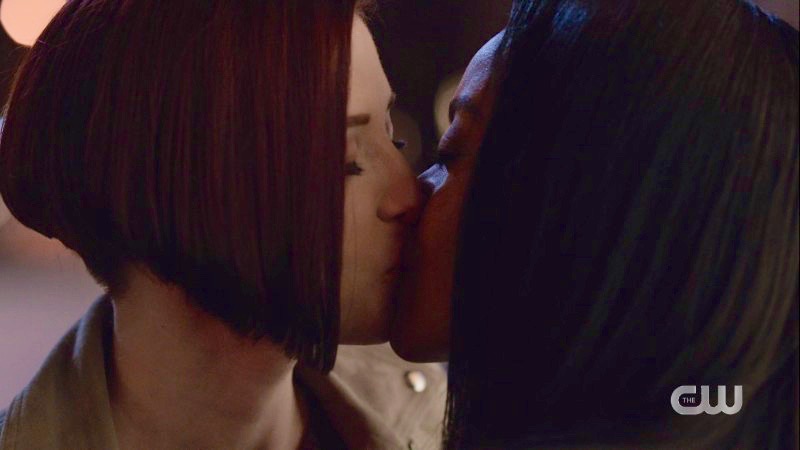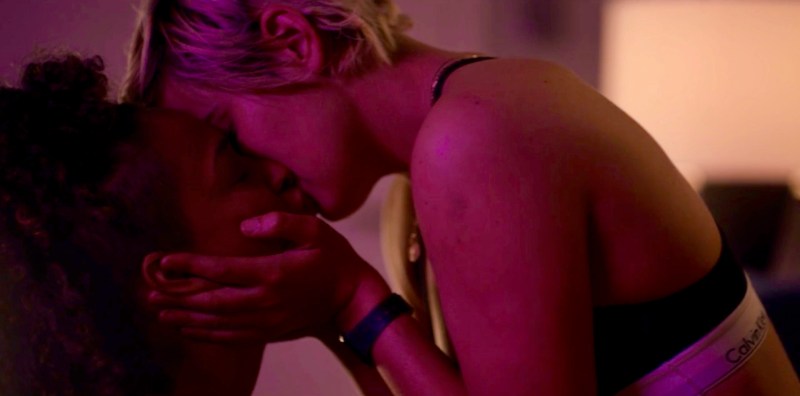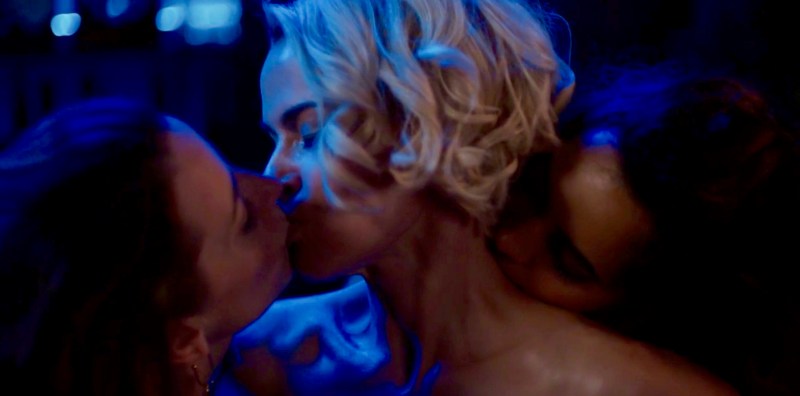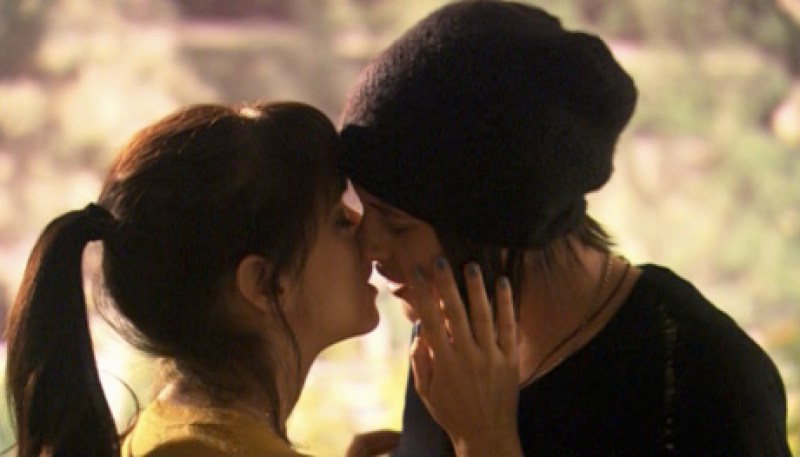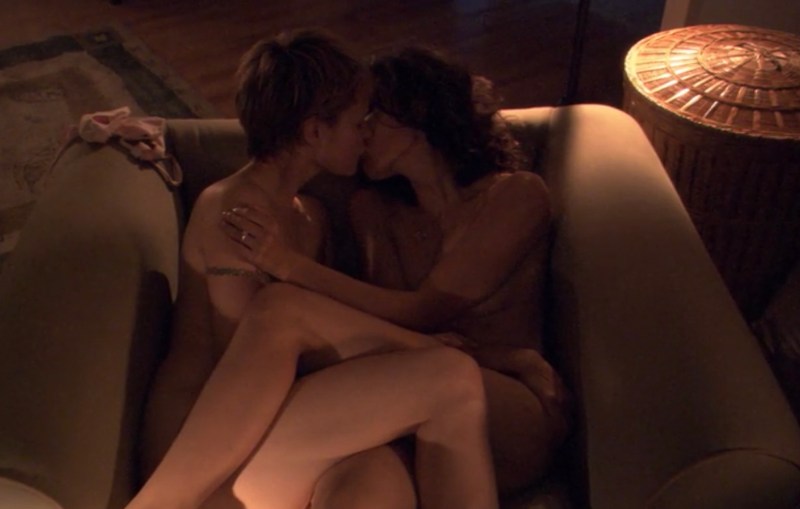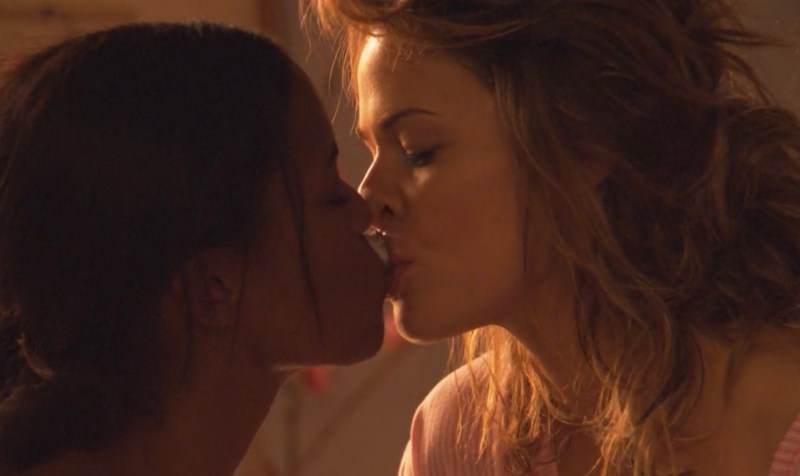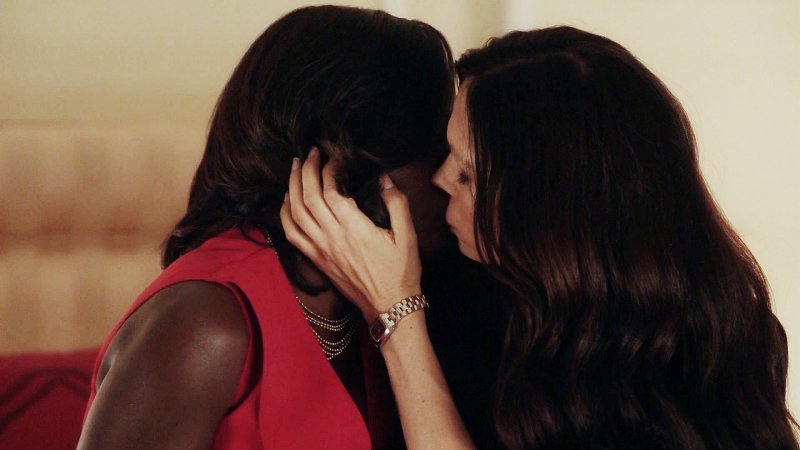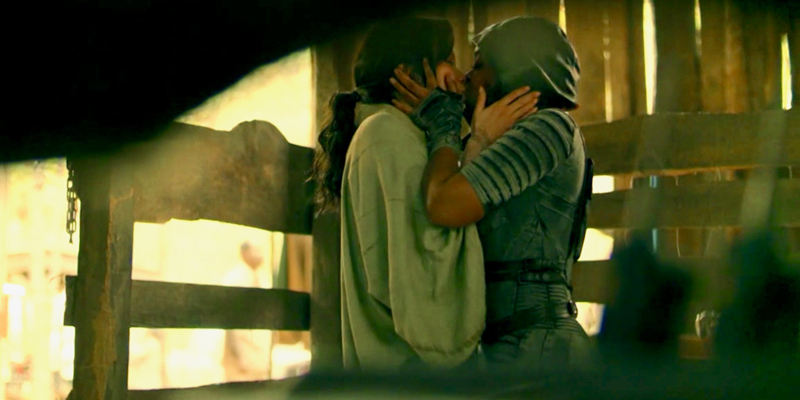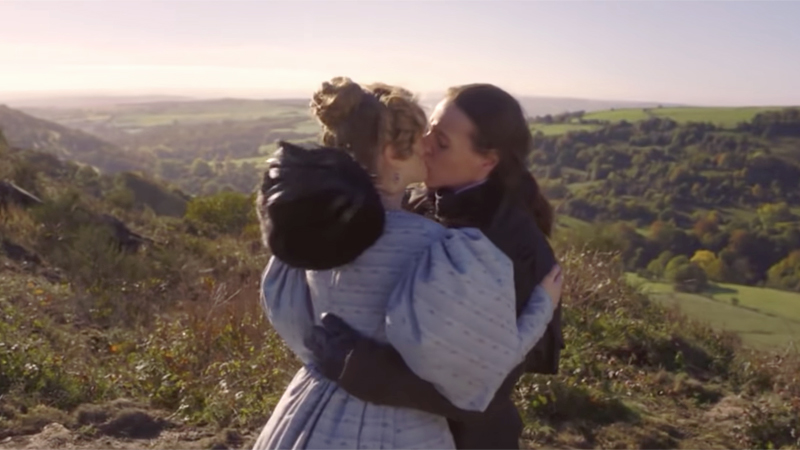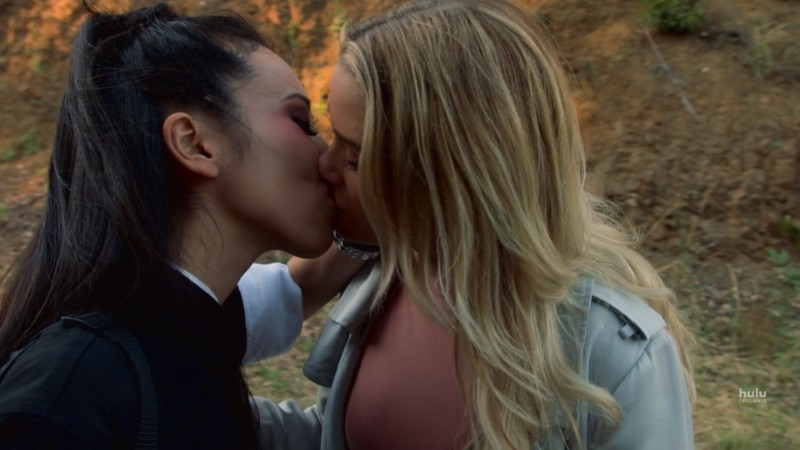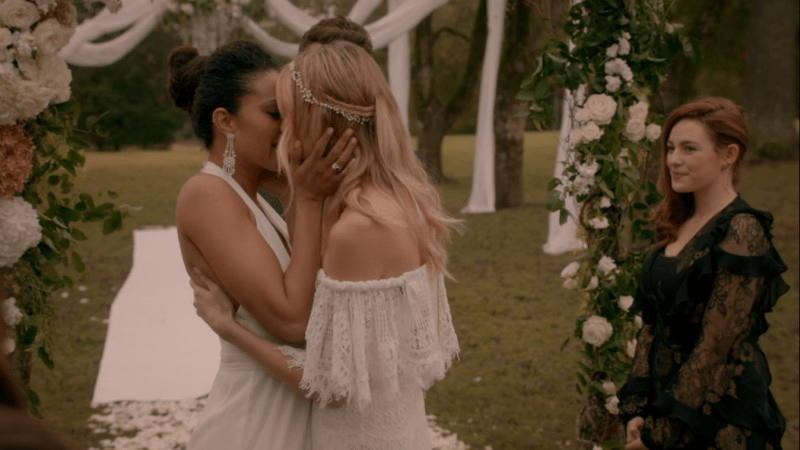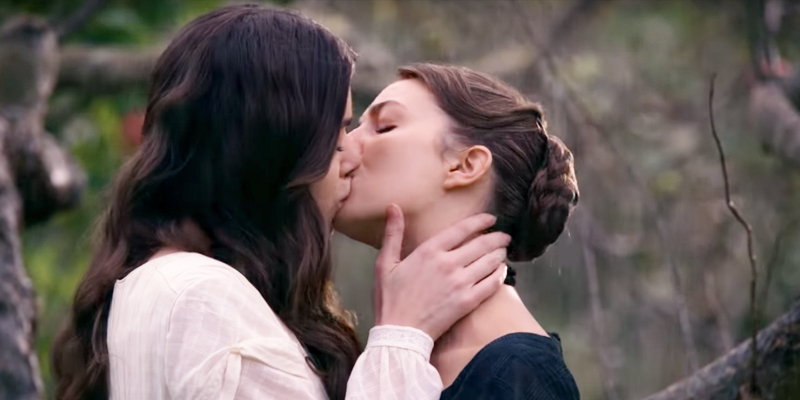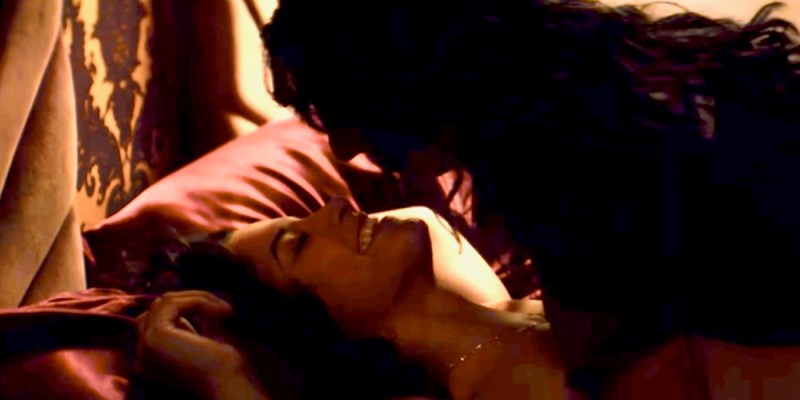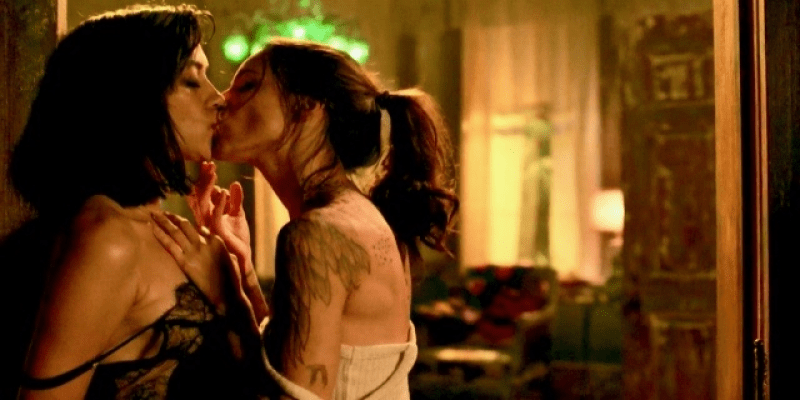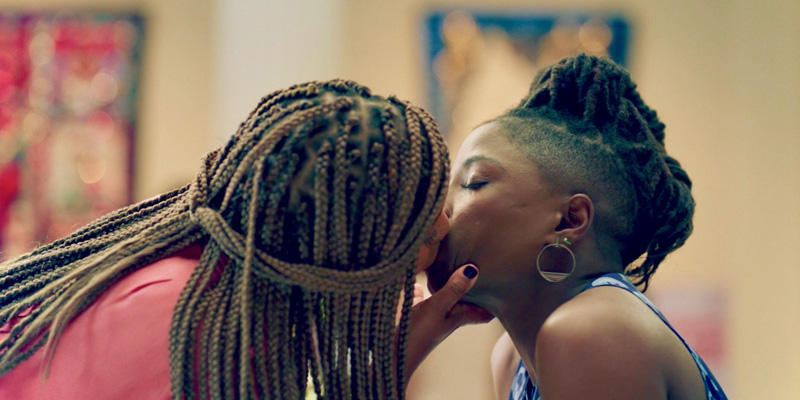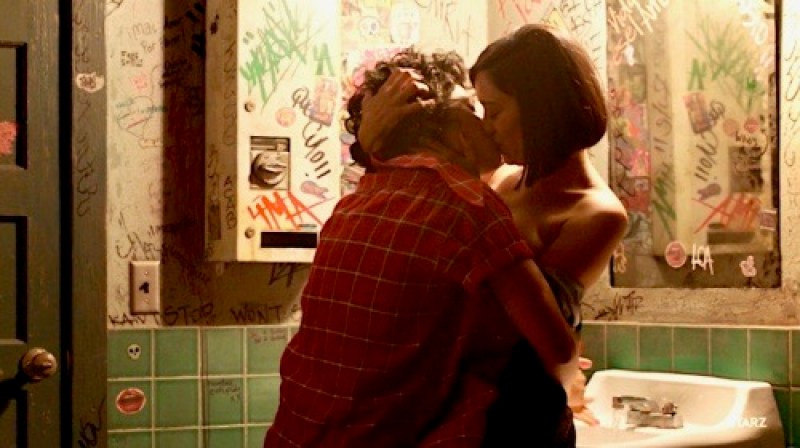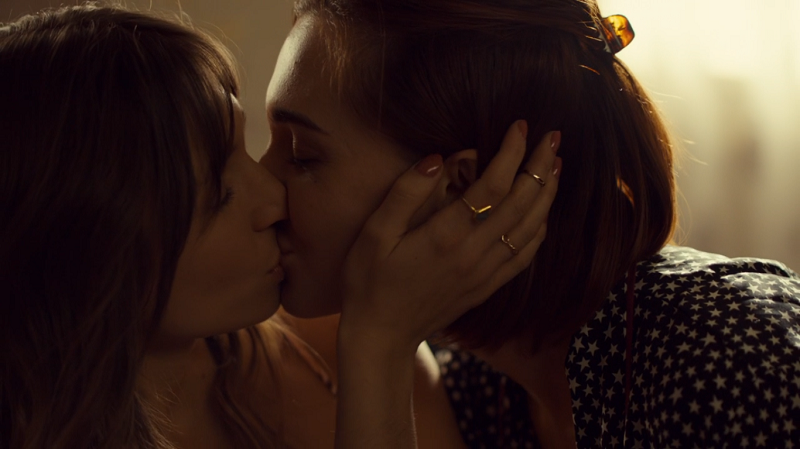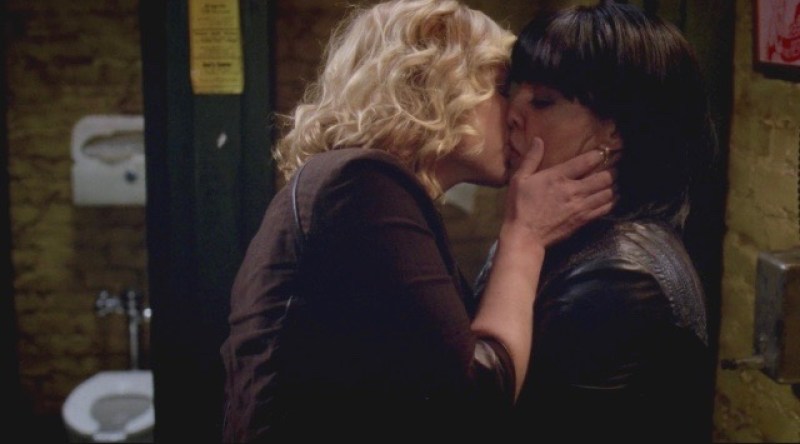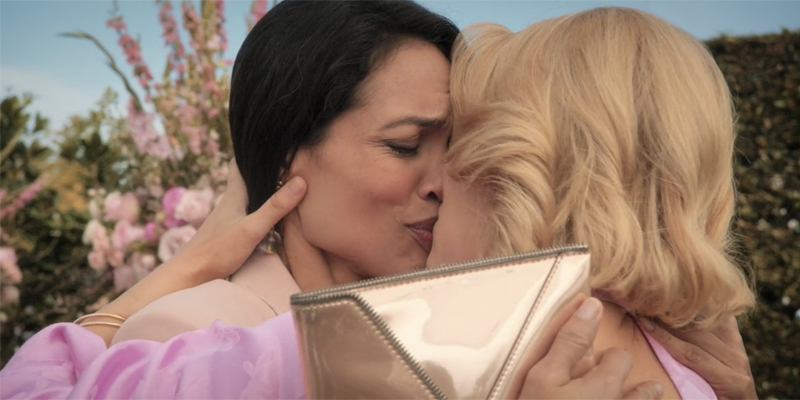 XOXO