There was a moment in our editorial meeting today where I heard myself say out loud, "We're running out of TV" and it was a horrible feeling! Not yet, though! This week, Heather wrote about Netflix's The Baby-Sitter's Club. Carmen shared her top ten favorite TV shows. Riese shared 11 newish TV shows with new lesbian and bisexual characters and her list of top ten favorite movies. Valerie watched Love Life and started believing maybe love isn't a lie. Nicole Lane reviewed Elizabeth Moss' Shirley. And hello PLEASE MEET YOUR NEW BATWOMAN.
Notes from the TV Team:
+ Hi, I know I'm literally five years late to this but I just discovered that there's a truly bonkers miniseries called Doctor Foster in which Gentleman Jack and Villanelle play opposite each other and they're both brilliant. It's on Netflix. There's a queer woman character, but it's not either one of them. I just felt compelled to let you know in case you also had missed that news because, like me, you had no idea who Suranne Jones or Jodie Comer were in 2015/2017. — Valerie Anne
+ Thank you all for your tips about Warrior Nun on Netflix. We don't have a TV Team writer who's qualified to write about this show; it's got some really gross and sloppy ableism going on, but I'm working to get it covered by a queer writer who can speak with authority on it! — Heather
+ Burden of Truth ended its summer run on The CW last night. Luna was able to do some Kalinda Sharma-esque sleuthing and uncover a key piece of evidence to secure a victory for Crawford/Chang. The season ended with Luna happy: succeeding in the classroom and in court and, possibly, striking up a romance with a classmate. No word yet on whether CBC/The CW will bring back BOT for a fourth season but, if not, I'm glad we got to see television's lone Native lesbian get a happy ending. — Natalie
---
In the Dark 213: "My Pride and Joy"
I'll be honest, despite Dean permanently ending his reign of terror on Murphy (and us) forever, this season finale of In the Dark felt a little anticlimactic to me. Everyone spent most of this episode sitting around and biding their time, and while it was great that Chloe was technically the one that saved the day, all in all not much happened. I guess we were supposed to feel some kind of relief before Murphy's new boyfriend caught on to their shenanigans, but I didn't really; there are still a lot of loose ends – like Sterling, for example – so I wasn't all that surprised when there wasn't time to rest easy.
But the good news is, the season ended with Murphy, Jess, and Pretzel together, my favorite trio. Sure, they're together and possibly on the run for the rest of their lives, but hey, together is together. This season overall felt a little too in the weeds for me; I didn't really care as much about the inner workings of the drug rings, and care way more about the characters and their relationships with each other, but maybe that's just me. It didn't end up being the show I thought it was going to be, and I have to admit that if Season 3 doesn't get back to the heart of things, I might have to drop it… We'll see.
---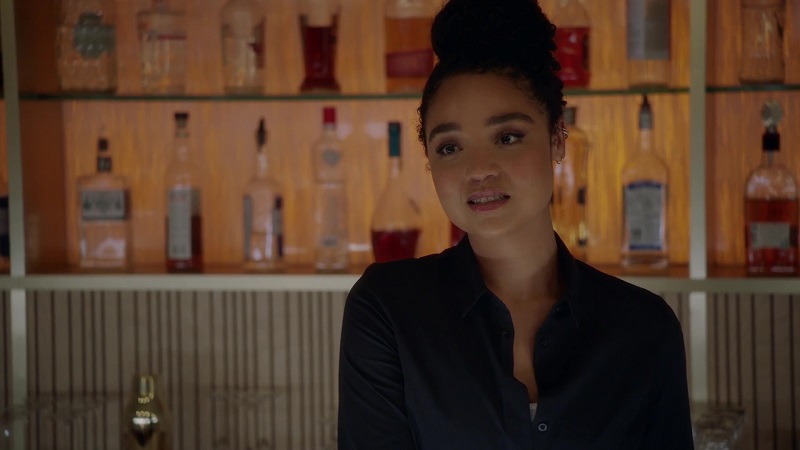 The Bold Type takes a page out of the Love Actually playbook this week and showcases the different types of love — forbidden love, first love, rekindled love, complicated love and unconditional love — as seen through the various relationships on the show. The suggestion that Kat and Ava's affair is forbidden, grates immediately: interracial couples in this country have known forbidden love. Queer women in this country have known actual forbidden love. What's happening with Kat and Ava isn't a forbidden love, it's ill-conceived…the show would do well to respect the difference.
Kat arrives at the Belle, excited about the photoshoot for the visuals that will accompany her podcast. But she won't be photographed alone: seeing the opportunity to take advantage of Ava's media presence, the Belle's manager wants the two to be photographed together. It all reminiscient of CNN's old Crossfire promos and Kat uses the moment to interrogate Ava about her admission that she's a lesbian…as if no one else in the room can hear them.
Kat: Were you trying to throw me off?
Ava: I'm sorry?
Kat: On the podcast, when you said you were gay?
Ava: (crosses her arms, defensively) I am gay, Kat.
Kat: Right, you just never mentioned it to me before.
The photographer interrupts, alerting Ava to a stray hair that's in her face. The electricity between the women is palpable and Kat feels it — when their hands brush, when she reaches up to push Ava's stray hair out of her face — but she does her best to swallow her feelings. Ava assures Kat that she's not hiding her sexuality, she's just a private person. Kat promises that she's not judging but Ava certainly feels judged. She tells Kat that she shared the details of her sexuality on the podcast because it seemed relevant at the time. Kat wonders why it wasn't relevant at the Republican mixer when the Karens were spewing their homophobia and Ava is stunned silent. She asks the photographer if the Belle has what they need and the shoot comes to an abrupt end.
After being reminded that she should be grateful to Ava for appearing on the podcast in the first place, Kat goes over Ava's place to thank her in person. Kat rambles about the podcast being bigger than the differences between them and bigger than whatever feelings she has for Ava. The lawyer seizes on the admission and Kat is forced to backtrack, badly. Ava accepts Kat's defense and prepares to lead her out but, before Kat goes, she urges Ava to do more to normalize queerness in otherwise hostile spaces. Ava takes offense to Kat's suggestion but neither of them is offended enough by the other to stop their lips from colliding. Their makeout session continues until Sutton's call summons Kat to the penthouse but, clearly, things are only getting started between Kat and Ava.
An artist rarely gets to pick the moment into which their art is injected…and, to be sure, this storyline stings even more because, at this moment, we are locked in a very public battle with white supremacy. I am willing to afford this show's writers some grace for the storm that surrounds these episodes. But, let's be clear: if the world didn't know the names of George Floyd and Breonna Taylor or if we weren't being ravaged by a pandemic, this storyline would still be offensive. It'd still be a problem that, four seasons in, The Bold Type sees Kat as a black woman or a queer woman but not both. It'd still be a problem that The Bold Type is romanticizing repugnant viewpoints, like hardline immigration and conversion therapy, and treating those issues like they're things we can just agree-to-disagree on, instead of the questions of humanity that they are. It'd still be a problem that, in order to tell this story — to get to whatever point the writers have in mind (I still have no idea what that is) — they make the show's lead black character into a shell of her former self.
This might not be what the writers intended — I'm sure they have some grand vision in mind — but I'm hardpressed to imagine a payoff that'll make all these problems seem worth it.
---