Welcome to week three of Boob(s On Your) Tube, your one-stop shop for (nearly) all the LGBTQ TV that happened this week. Thank you for your tips via Twitter and the comments section here on Autostraddle dot com; together we will frolic through this brave new world where queer characters are not hoarded on premium cable or trotted out during sweeps weeks as ratings stunts. It would feel too good to be true if showrunners would stop murdering every woman who loves other women. (Still glaring at you, Arrow.) Bu let's talk about the good stuff!
---
Marry Me
Tuesdays on NBC at 9:00 p.m.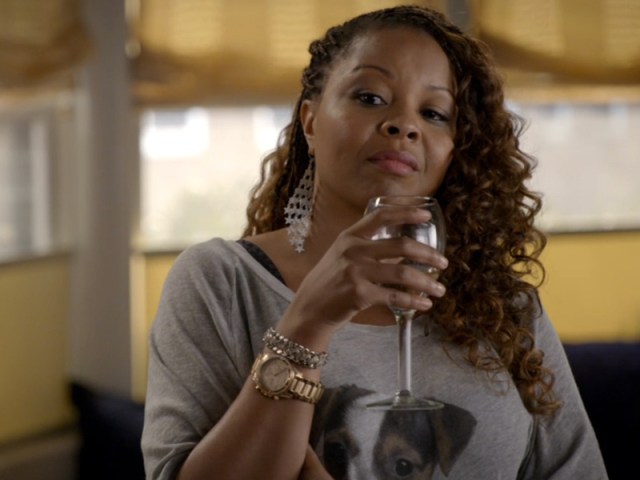 A big ol' thank you to Penny, who commented last week to say NBC's new Casey Wilson-centric sitcom, Marry Me, has a lesbian character. And yes, it does. And yes, she is fantastic. Her name is Kay and the way we find out she's gay is she casually mentions in conversation that she got "nipped" on Boobr, "a dating app for lesbians, like Grindr is for gay men or Tindr is for straight men and whores."
Marry Me's premise is as trite as it gets: A neurotic thirty-something flips out when her boyfriend of six years won't propose to her — but the show is surprisingly good. For starters, Casey Wilson, who plays Annie, is one of the most underrated comedic actresses working today. (RIP Happy Endings!) The cast has great chemistry that makes the relationships believable right away. And it's just really fucking funny. I have snort-laughed at least once during every episode.
The show also includes a whole handful of gay characters. Annie's dads are gay, and unlike Rachel Berry's gay dads, these guys get actual screen time. Bonus awesomeness: They are played by SNL alum Tim Medows and Scandal's former Mr. Cyrus Beene, Dan Bucatinsky. Best of all is Kay, a black lesbian character whose sexuality just is what it is. Kay is played by Tymberlee Hill, who you might remember as Intern Claire from Grey's Anatomy, but who I love most on Drunk History.
Best lines so far:
"I just got nipped on Boobr. I'm gonna go get it, hit it, then forget it."
"Candy is sweeter when you beg people for it."
"I am not going to help you stalk your ex-wife, again."
And here is a picture of her in her Halloween costume from this week's episode where she helps her buddy steal back a candy bowl from his ex-wife. Lesbian dinosaurs are my kryptonite.
If Happy Endings or New Girl is your jam, this is for you.
---
The Good Wife
Sundays on CBS at 9:00 p.m.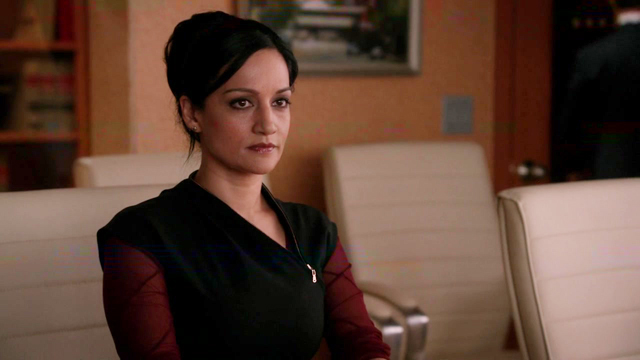 After last week's homosexy love fest, this week's The Good Wife was a bit of a let down. No lady parts smooshin' up against each other at all. But one very good thing did happen: Kalinda's kind-of boyfriend Cary was banned from seeing her. He's out on bail awaiting trial and the judge thinks Kalinda is a bad influence. That is fine by me. Maybe it means Kalinda will start having scenes with other characters again.
---
Degrassi
Tuesdays on TeenNick at 9:00 p.m.
Degrassi's 14th(!) season kicked off this week. We'll have a recap of the entire Imogen/Jack situation leading up to Season 14 for you on Monday, so you can look forward to that!
It is bisexual cutie pie Imogen's last semester in school/on the show and I've got big hopes for her for her final hurrah, which is ridiculous because 70 percent of all Degrassi characters die in the end, due to texting and driving and other various PSA-type dumb moves.
At the end of last season, Imogen kissed Jacqueline "Jack" Jones in the parking lot of Degrassi High, so I was hoping for some more of that Nickelodeon lovin' in the season 14 premiere. Alas, Claire's pregnancy/abortion dilemma took up all of our time. We did get an adorable peek and adorable Imogen, though, just for a second.
---
Arrow
Wednesdays on the CW at 9:00 p.m.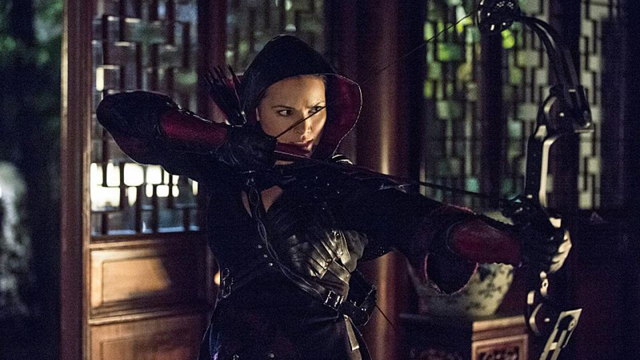 Last week on Arrow, Nyssa al Ghul showed up asking about her ex-girlfriend, Sara Lance, who died in the season three premiere because she was a bisexual TV person. This week, Nyssa found out Sara was dead — and buried in the grave that bore her name when she was only fake dead, like some kind of Alison DiLaurentis situation — and swore to take revenge on Sara's killer. Mostly that involved calling Sara "her beloved" and saying stuff like "I loved her with my heart and soul" and stalking around in the shadows and yelling at Oliver, which I approve of mightily.
Two very weird things about this episode: 1) Nyssa had more screen time this week than in any week when Sara was alive. 2) She didn't help solve the mystery of Sara's death at all.
At the end of the day, she and Oliver reached an impasse w/r/t Malcolm Merlyn (that's John Barrowman to you Whovians who refuse to watch CW superhero shows), and so she returned home to the League of Assassins and Oliver returned to his ArrowCave. No plot progress and not even a single make out flashback between Nyssa and Sara.
Forgive me, but I'm still willing to trade Laurel to see Sara resurrected (again).
---
The Walking Dead
Sundays on AMC at 10:00 p.m.
Lesbian Tara is still alive! The Walking Dead is still too gross for me to watch! Shutterstock still thinks dogs and cats dressed as witches are zombies! Happy Halloween!
---
Survivor's Remorse
Saturdays on Starz at 9:00 p.m.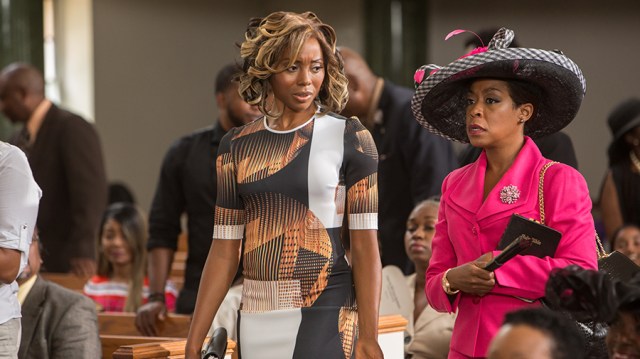 I know I've been on the fence about Survivor's Remorse, but this week, it pulled me in and sold me.
Cam is working on building his brand and bringing his family together, so he chooses a high profile church for them to attend together. M-Chuck's hookup from the night before comes with them, broken heels and all, not because M-Chuck invited her but because when M-Chuck and Cam's mom said, "Get in the car," she got in the car. M-Chuck holds the woman's hand in church, even though she doesn't know her name. It throws the pastor, which pisses off M-Chuck, so she tells Cam she's not going back.
Cam has a chat with the pastor the next day, offering him a giant tithe and saying he hopes they can leave the Old Testament gay bashing in medieval times. The pastor agrees, but in church the next Sunday, he asks all the gay folks in the congregation to stand up — he knows they exist, he's seen Glee — and tells them to get out of his church.
M-Chuck rushes the pulpit, but her family holds her back. In the end, Cam decides it's not the church for him. He's going to focus on doing right instead of listening to bigoted Bible thumpers.
A+ episode, and boy was I ever wrong about not loving M-Chuck.
---
Top Chef: Boston
Wednesdays on Bravo at 10:00 p.m.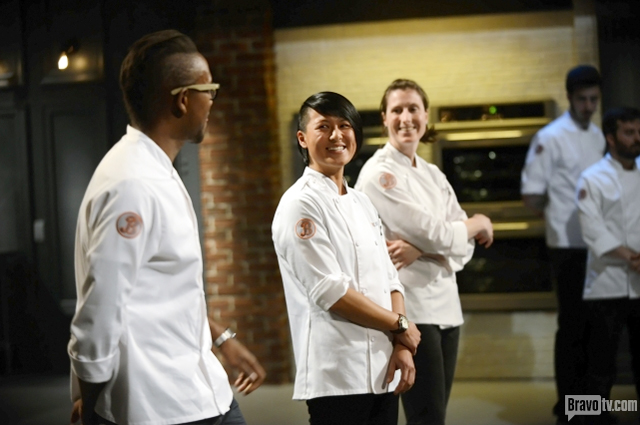 You guys, I think lesbian contestant Melissa King might actually have a shot to win this thing! She's getting a really good edit. She's sweet and smart and a good chef and this is the second week in a row that she's been one of the top contestants in the elimination challenge! Here's how it shook down:
This week's Quick Fire Challenge was to cook with tea because of the Boston Tea Party, and Melissa prepared one of the best dishes. Then they were off to Fenway Park to cook a dish using either popcorn, peanuts or pretzels. Melissa made corn and ramp soup with pickled ramps, fried calamari, truffle butter and bacon popcorn. And the judges loved it! She landed in the top three, but lost out to Gregory, who kind of seems unstoppable right now. He is this season's Nina. But Melissa hugged Gregory and patted him on the back and said, "Good job, man! Good job!"
Because she is the sweetest damn thing.
Sadly, Awful Aaron is still around, but everyone hates him now. I hate him even more this week because he said if he beat out a culinary arts teacher, it would be an "iron in the back" for chefs who don't have classical training. What even?
---
Jane the Virgin
Mondays on The CW at 9:00 p.m.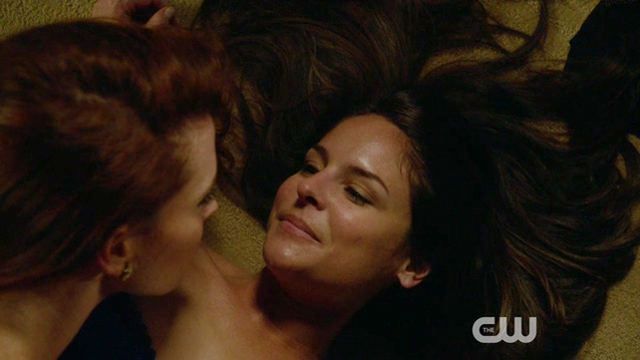 Luisa is still getting it with her stepmom on this week's Jane the Virgin. At a family getaway, they do some scissoring, etc. in Rose/her dad's hotel room. They take a breather and decide to eat some powdered donuts to regain their strength, but while Luisa is out getting the snacks, she peeps her dad and has to pull the fire alarm to keep him out of his own room where his wife is lounging around in post-coital bliss. It's a close call, but ultimately no lesbians are harmed.
---
Team TV Coverage You May Have Missed
Transparent Episode 106 Recap: Act Natural
Just when you think a family dinner can't be more awkward than a party thrown by Lucille Bluth.
Gotham Episode 106 Recap: Where Does the Good Go?
Renee Montoya is back, and so is the Penguin.
Faking It Episode 206 Recap: Can I Have Your Number I Think We Should Go Out
Amy meets another lesbian (finally) at a rave.
Grey's Anatomy Episode 1105 Recap: Is This The End of Calzona?
BRB, listening to Tegan and Sara and drinking wine from a box forever.
Best boob(s on your) tube this week, go!